This is a sponsored conversation written by me on behalf of Audible. The opinions and text are all mine.
This Christmas, we're headed up to Las Vegas to spend a few days with my parents and my little brother, who will be home from college.
I actually really love staying home for Christmas – our girls are old enough that it's really magical and fun, we have a house that I enjoy decorating, and there are lots of holiday things to do in the Phoenix area.
Also, it's so convenient not to have to pack anything up and to have all the gifts delivered right to my front door and not worry about how they'll fit in the car on the way home after the holidays.
Last year, my parents came down to spend Christmas with us, and it was a delightful time.
This year, though, when we brought up our Christmas plans, both Ella and Ani BEGGED to go to my parents' house for Christmas (90% of this might be that my dad is the best Elf on the Shelf hider in the family).
One of the reasons we picked Arizona after Bart's MBA was to be within driving distance of our families and be able to spend more time with them, so we weren't a particularly hard sell.
Which means that in a few weeks, we'll be making the drive up to Las Vegas as a family.
In the past, the majority of travel has been by airplane, since we lived far away from our family or we were going abroad, but the other night, Bart mentioned that our girls (with the exception of Star) haven't been on an airplane since we returned from London two years ago this week.
In the past year, we've driven to San Diego, twice to visit my sister and her family in southern California, to LA for a weekend at Universal Studios with my family, twice to Utah, twice to Las Vegas, and twice to Sedona.
Basically, we've logged quite a few miles on our car this year.
Bart and I have long loved listening to audiobooks on car trips together, but this past year is when we've really started being able to listen as a family, which has added a whole new element of fun to our traveling.
I've used basically every platform for listening to audiobooks there is, and Audible is hands-down the best one (almost every year, Bart asks my parents for a subscription as a gift for either his birthday or Christmas). It's the only place I've EVER been able to find every single title I've ever been looking for and not had to wait through ridiculous hold lines to finally get my hands on a copy of something I want.
The app is super easy to navigate and I love that there is a rating both for the book and for the narration, because in my nearly decade of consistent audiobook listening, I've discovered that many a great book can be ruined by a terrible narrator.
I also love that, if you're unhappy with an audiobook for any reason, you can exchange it for a different one, no questions asked, which removes a lot of the stress of picking a title for me.
We just download a book or two to one of our iPhones, plug it in to our car stereo and everyone can easily listen as we cruise along the highway and the girls (and sometimes me!) color while listening. I'm surprised by how well even Ani can follow along with most books.
When we're picking a title for the car, we tend to stick to the classics (I have a LONG list of things to get through with the girls, so it's nice to check some off our list and save my voice at the same time).
I love that many classics are being released with great new narrators, and I was delighted to see that Audible just added a new audio version of Anne of Green Gables narrated by Rachel McAdams (who has a voice I could listen to all day long).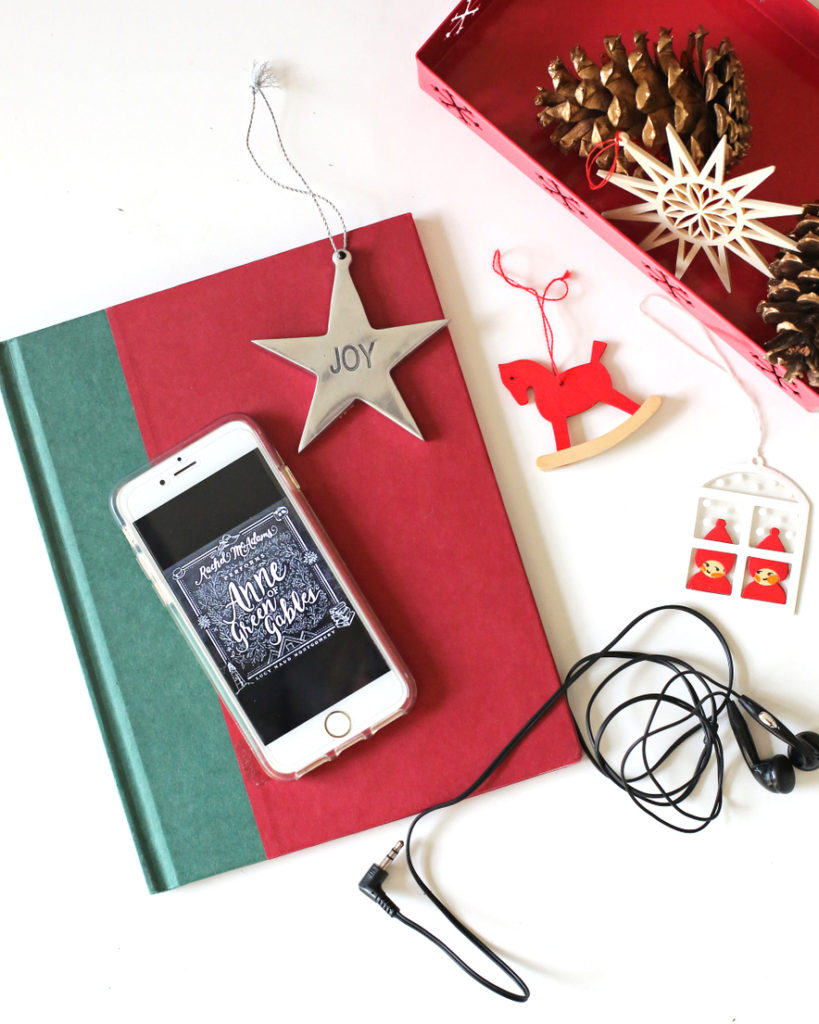 I think my girls are still a tiny bit young for Anne, but I can't wait to introduce them to her in a few more years. I think Anne is one of the most holiday-feeling stories with her adventures with family and friends and home, and if there's anything to make you feel cheerful, it's Anne Shirley.
You can try out Audible with a free 1-month trial, and their catalog is so enormous, you'll have no trouble finding something to listen to, whether you're driving for the holidays too or just facing a giant pile of presents to wrap after your kids are in bed and could use something fun to distract you.
And if one of your goals for 2017 is to read more books, this is the perfect way to get a jump on it!