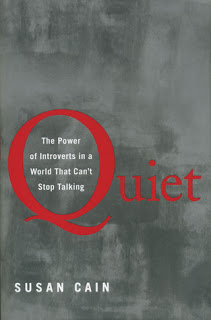 I am an introvert. No question.
So Quiet the Power of Introverts was fascinating to me the second I saw the title.
In fact, I had a hard time getting into the book (and another of my friends, who I feel like can read anything, said she too had a hard time with the print version), but once I checked out the audio version, I was instantly hooked and sped through it in a couple of days.
Anyone I talked to over the next couple of weeks got to hear WAY more than they ever wished to know about this book.
Quiet the Power of Introverts covers a lot of ground, without feeling like it's jumping around too much or just a bunch of random facts thrown together.
quiet the power of introverts by susan cain
She starts with how our society became so enamored with extroversion – how the swing toward valuing charming, outgoing, witty, exuberant personalities and away from quiet, subdued, and humble happened.
She talks about how the major places that produce American leaders (like Harvard's business school) are geared toward extroverts, who then go on to make policies in businesses and schools and other places that are catered toward extroverts (because that's all they know!). In schools, we highly value group work and participation, and in the business world, the trend continues to be teams, group brainstorming, and low-walled cubicles so everyone is together all the time. These systems might work for extroverts, but most introverts find that kind of environment draining and not particularly productive (amen, amen, amen!).
And then the book discusses how parents with introverted children (especially when the parent is an extrovert) can help their child magnify their own strengths, or how marriages with one extroverted partner and one introverted partner can find a happy middle-ground. Or how introverts and extroverts can work together in schools or businesses or governments.
I loved how non-superficial much of the discussion was. It wasn't a "introverts like to be alone" kind of book. It was a "introverts tend to work better in this kind of environment" or "introverts like these kinds of social situations, but tend to not enjoy these kinds."
For instance, (and here I recognized myself), most introverts like social situations, but not large, impersonal social situations. They want an opportunity to connect on a deeper level with a few people, rather than have surface conversations with many people. I suddenly understood why I am so talkative at book club (a group with the same people every time and a small number of total people), but why I find myself slightly overwhelmed at enormous social gatherings.
There is also a lot of the book focused around how introverts can exhibit extrovert qualities when they have a lot of passion for something. Even though they might not like to give speeches, they're willing to do it for something they believe strongly in. They may not be the person who voices their opinion any time questions are asked – they aren't going to talk just to talk – but when they care deeply about something, they'll make their voice heard.
I also appreciated how it discussed the kinds of strengths that tend to be associated with introversion, especially the kinds of strengths that are overlooked when extroversion becomes the ideal personality. I saw things about myself that I'd never quite understood about the way I deal with the world and how I like my life to run.
I feel like this is one I'll go back and read Quiet the Power of Introverts several times over my lifetime, and especially as my children start to exhibit introvert or extrovert personality-traits as they age. I'd highly recommend it to anyone who feels like an introvert, is married to, works with, or parents an introvert, or anyone who just wants some interesting reading.


If you liked this review of quiet the power of introverts, you might also like these books: