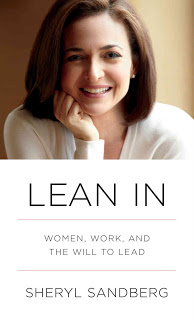 One thing I've come to realize recently about non-fiction is that I don't have to agree with everything the author says to really find a book interesting and worthwhile.
When I read Zero Waste Home, for instance, I wasn't suddenly about to shoot for one quart jar of trash per year. But I did find a lot of the ideas worthwhile and I loved seeing how one person lives their life.
Like Gretchen Rubin says, it's sometimes more useful to learn from one person's very specific experiences than broad generalizations.
Anyway, all that aside, you've probably heard of Sheryl Sandberg and Lean In Women, Work, and the Will to Lead long before this review of it. If you haven't, she is the Chief Operating Officer at Facebook (and made a whopping $845 million last year), and now become something of a spokesperson for equality for women in the workplace.
You won't be surprised to know that I sit on the boards of exactly no companies (billion dollar ones or otherwise), I haven't dressed up for work in three years, and my coworkers are more likely to spit chewed raisins into my hand than to offer me stock options (my mother is wondering why I even have raisins in my house. Okay, okay, I'm lying about the raisins. It's probably chewed cranberries).
And yet, I found Lean In totally fascinating and useful, both as a work-at-home mom and as a parent of two daughters.
lean in: women, work, and the will to lead by sheryl sandberg
The book is part memoir, part business advice. She talks about her own path, attending Harvard as an undergrad and realizing she was in WAY over her head, later getting an MBA and then landing in Silicon Valley, first with Google and then with Facebook.
There is also a lot of discussion about women in business, balancing responsibilities between spouses, finding mentors, and some of the differences between men and women that manifest themselves in the workplace. It is full of practical advice and inspiring ways of making the worlds of work and family better for men and women alike. I told Bart after I finished that anyone with any interest in business, male or female, ought to read this.
The chapter that I found perhaps the most fascinating was titled, "Don't Leave Before You Leave." She talks about how many women, assuming they will have children in the future, dial back on their careers from the beginning. They don't shoot for big projects, assignments, or promotions, worrying that they won't be able to manage it once they have children, even if they are still years away from having children. By the time they do have children, their jobs and careers are much less lucrative, interesting, and engaging than they might have been otherwise, and so the choice is not between staying home with children or a really great job, but between staying home and a somewhat mediocre career path.
Of course, you can't predict how your life is going to play out – if and when you'll get married or have children or what your financial situation will be – and so sometimes a job you assumed might only be for a year or two, ends up being something you do for a decade or more.  It seems to me that the more serious and ambitious you are about your career path, the more options will be available to you down the road.
I am really grateful that my parents were always very serious about encouraging us to pick degrees, careers, and jobs that we liked, that could support us financially, and that had some sort of upward trajectory and various options.
I also thought about if you choose a typically "family-friendly" job like teaching (which, after having worked in a school myself, I have my doubts about, but that's neither here nor there), you have intense competition from other people in similar situations. If you pursued, say, engineering and were as ambitious as possible during your full-time career, you're likely to be in a much smaller pool of people who have your skills and are interested in working part-time or on a contract basis if you decided you wanted to stay home with your children.
Hmm, four long paragraphs later.  . .
I really could write at length about every chapter in Lean In – I have lots to say about being equal partners in parenting and household responsibilities, about balancing work and motherhood (if you happen to have interest in that topic, I have loved reading Joanna Goddard's series of interviews with 15 different moms about how they make the two work – half of them work from home and half of them work outside the home), and the differences between how women view themselves and how men view themselves (the scenario she describes at Harvard's graduation speeches describes the difference between Bart and me to a T).
I think there are so many different ways to make your life work for you, regardless of your circumstances, and even though my life is just about as different from hers as you can imagine, I found section after section to relate directly to things I'm working on in my own life. If any of you have read this, I'd love to hear what you thought.
I like to read books that are getting huge amounts of publicity and it was fun to read this one after hearing her name and book mentioned so frequently in the last couple of months. Even better that I enjoyed it so much.
If you liked this review of lean in Women, work, and the will to lead, you might also like these books: