I've been looking forward to reading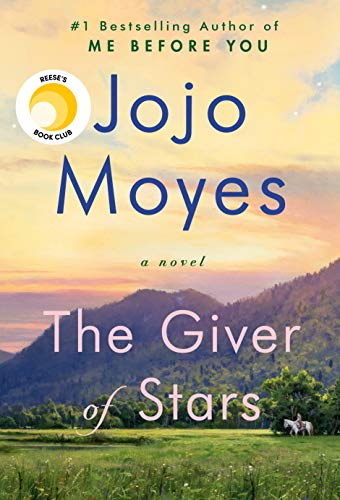 The Giver of Stars for nearly a year now.
It came out last October and was getting crazy buzz from the moment it was published, including getting named as a title for Reese's Book Club (to be honest, I find her picks EXTREMELY hit or miss – sometimes they're fab and sometimes I'm definitely cocking an eyebrow).
I put The Giver of Stars on the 2020 Everyday Reading Book Club List and it's been sitting on my bookshelf waiting for summer to roll around.
Actually, when it came right down to it, I ended up listening to it (since right now it's easier for me to get in listening time than it is to sit down with a physical book) and the audio version is EXCELLENT.
It's read by Julia Whelan who also read The Great Alone and Educated and Pretty Little Things and a bunch of other big name titles in the last couple of years.
If you're considering listening to it, I definitely recommend it.
The Giver of Stars by Jojo moyes
The Giver of Stars takes place in coal-mining country in Kentucky during the Great Depression.
The main character is Alice Wright who is from England, where her life is very confining with her extremely proper parents.
When she meets a handsome American, Bennett Van Cleve, she accepts his offer of marriage and returns to America with him to live with his father (who runs several of the Kentucky coal mines).
Unfortunately, her marriage isn't at all what she's hoped for and she finds herself just as lonely and confined in Kentucky as she was in England.
But then when First Lady Eleanor Roosevelt introduces traveling libraries as part of the WPA (Works Progress Administration to put millions of Americans to work during the Great Depression) and they are looking for women to ride on horseback out to remote homes and deliver library books?
Well, Alice sees this as a chance to have SOMETHING to get her out of the house and have some measure of freedom.
Her husband and father-in-law aren't thrilled at the idea (it seems rather indecent to them for her to be riding alone for hours on end), but Alice doesn't give them a chance to shut her down.
And she almost instantly falls in love with her new job – both the freedom and the sense of doing something worthwhile thrill her, plus she finally has a chance to develop some friendships with the other librarians.
The one she becomes closest to is Margery, who is somewhat notorious in their little town for speaking her mind, refusing to get married, and not shedding a single tear when her father died years earlier.
Of course, as you can imagine, things don't stay peaceful for long.
There's too much money in coal mining, too much distrust of women riding out alone, and wariness about spreading book learning for things to stay quiet.
And those are just the high-level issues.
You've also got complicated marriages, generational family feuds, and racial tension. The drama is coming. Big time.
Heads up, the beginning of The Giver of Stars is a bit slow. I never felt bored but I can see why some people have a hard time getting into it.
It actually reminded me a surprising amount of Where the Crawdads Sing (southern setting, woman that doesn't fit into society, murder trial) although I liked The Giver of Stars quite a lot more.
And speaking of reminding me of other books, you may have heard some of the buzz about similarities between The Giver of Stars and another book about the Packhorse Librarians of Kentucky that came out last year as well, The Book Woman of Troublesome Creek.
They both focus on the same historical event/time period and there are some similarities that some readers find troubling. I haven't read The Book Woman of Troublesome Creek yet, so I can't weigh in, but you can see a pretty robust discussion of it here (this one leans on the side of it being plagiarism) and here (which leans on the side of it not).
All in all, I really enjoyed The Giver of Stars, although I find myself a bit surprised by how many people are giving it a 10/10 or calling it one of their favorite books of all time. I really liked it, certainly, and am 100% glad to have read it but it wasn't an all-time favorite for me.
I can't wait to talk about this tomorrow on InstaStories for the Everyday Reading Book Club and hear what you thought of it too!
And if you have thoughts about The Giver of Stars, I'd love to hear them in the comments!
If you liked The Giver of Stars, you might also like these books: