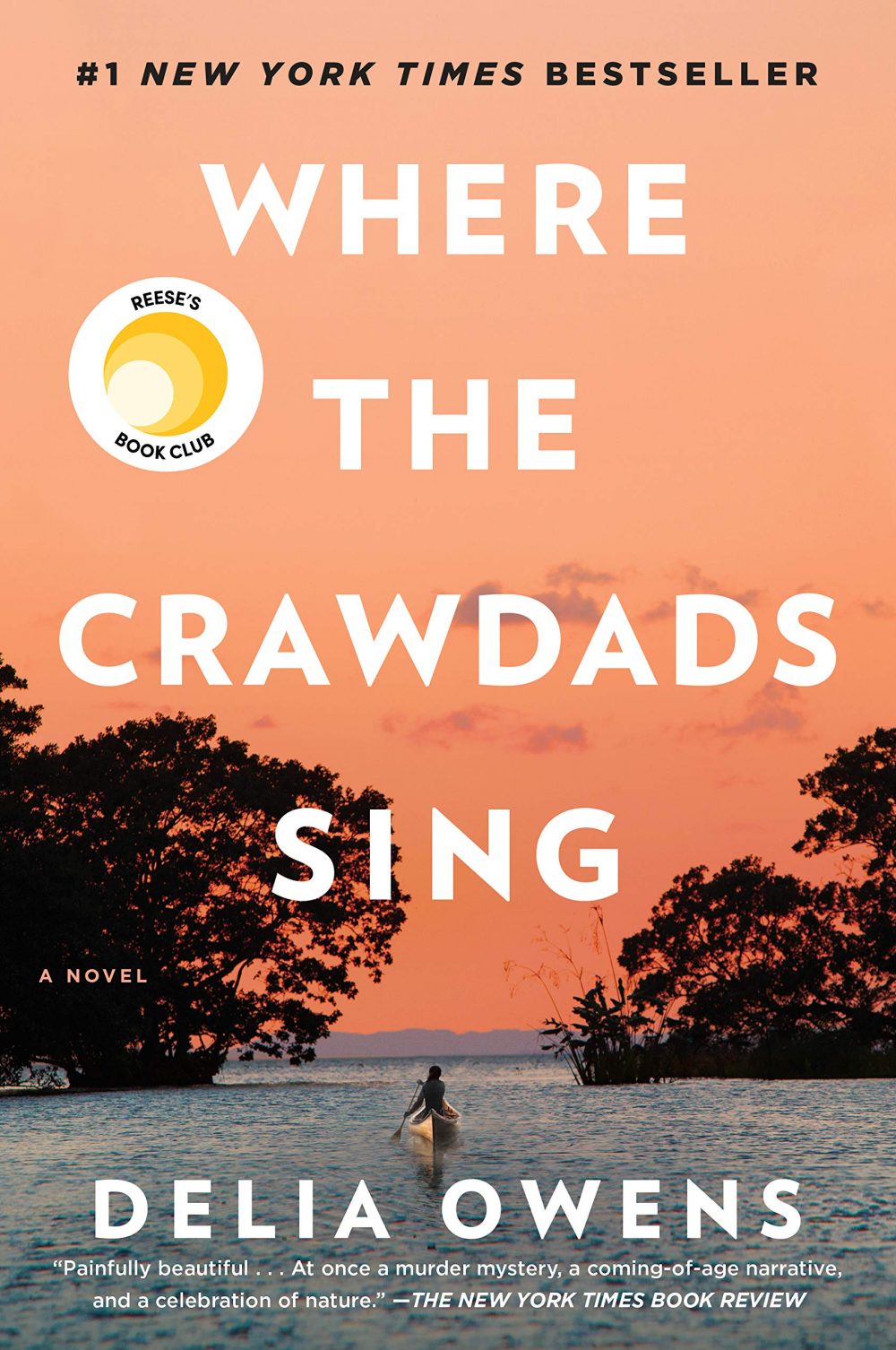 When I was choosing books for the 2019 Everyday Reading Book Club, I decided to include a few this year that I hadn't yet read but wanted to, and top of that list was Where the Crawdads Sing.
Since it came out in August 2018, it's been a runaway bestseller.
Reese Witherspoon picked it for her bookclub just as it was released and that sent it onto the New York Times bestseller list, where it rose steadily until to number one (it's now been on the list for 30 weeks).
It was Delia Owens' debut novel and . . . she's got to be feeling pretttttty good about life.
I went into this book knowing literally nothing about it. I downloaded it last month from Audible and started listening as I drove to and from the gym in the morning.
I have to admit, it took me a LONG time to get into it (like three or four hours of listening long). Because of the incredible hype of this book, I assumed it would just suck me in.
I think knowing a little more about the storyline would have helped me too (some books are better read knowing almost nothing about the story – for me, Where the Crawdads Sing, is not one of these stories).
where the crawdads sing by delia owens
The book has two storylines, both taking place in Barkley Cove, a fictional small town on the coast of North Carolina.
One begins in 1969 where two local boys, riding their bike, find Chase Andrews, former high school quarterback and part of a prominent family in the town, dead floating in the water under the fire tower.
The sheriff isn't sure what to make of this death. It seems unlikely that athletic, capable Chase would have fallen off the fire tower, but there are also no indications of foul play – no footprints, no murder weapon, not even a fingerprint (which, on its own, is suspicious).
The other story line begins in the 1950s, following a little girl named Kya Clark who lives in the marshes outside of town with her family. Considered "swamp trash" by most of Barkley Cove, her family is deeply unstable, thanks to her violent and alcoholic father. Shortly after the book opens, Kya's mother leaves along with all her siblings, leaving her alone with her father.
And then, he disappears as well, leaving Kya to fend for herself in the marsh, learning to rely on only herself for survival.
Naturally, those two storylines are going to intertwine at some point.
When I was on Anne Bogel's podcast a couple of years ago, I mentioned that I am always wary of books that claim "beautiful writing" because in my experience that is code for "slow read."
And Where the Crawdads Sing didn't do much to change that opinion – it's a beautifully written book and. . . it takes a long time for anything to really happen (especially in Kya's storyline).
But once I finally got into it, I was really interested to see how it was going to play out and the hours of our drive back from our spring break trip flew by as I listened to the last couple of hours.
It's an interesting mix of a coming-of-age story, mixed with a murder mystery, and a love letter to nature (I noted earlier that this was her debut novel – Delia Owens has written a few other non-fiction nature books about Africa). Those aren't genres I would normally combine, but she makes it work.
This book feels like the perfect lazy end-of-summer kind of read, where you're in no hurry, and have plenty of time to soak up the storytelling and ambiance of this book.
Did I love it? I'd say I liked it. I liked it quite a bit. But I don't feel like I have the intense love for it that so many other readers seem to have.
Although to be fair, I've thought about it pretty much non-stop since I finished it.
And will I see the movie when it comes out (Reese Witherspoon is producing it)? You BET.
I think it will be stunning as a movie, since the book has so much ambiance and listening to the Audible version felt like watching a movie in my head.
Have you read it? I'd love to know what you thought!
(By the way, after I finished Where the Crawdads Sing, I told Bart that I'd gotten tons of messages saying how surprised they were by the ending. I started telling him the storyline and he guessed the ending straight away. Guessing endings before they happen is basically his secret superpower)
If you liked this review of where the crawdads sing, you might also like these books: