I've always loved realistic fiction – it's so fun to explore the world you know through a character or setting that might be different from yours!
If you have middle grade readers (approximately 3rd through 6th grades), these are some of my favorite realistic fiction titles, featuring everything from sports to mysteries to siblings to outdoor adventures.
No matter what your interest is, I hope you'll find a perfect middle grade realistic fiction title to fit the bill on this list!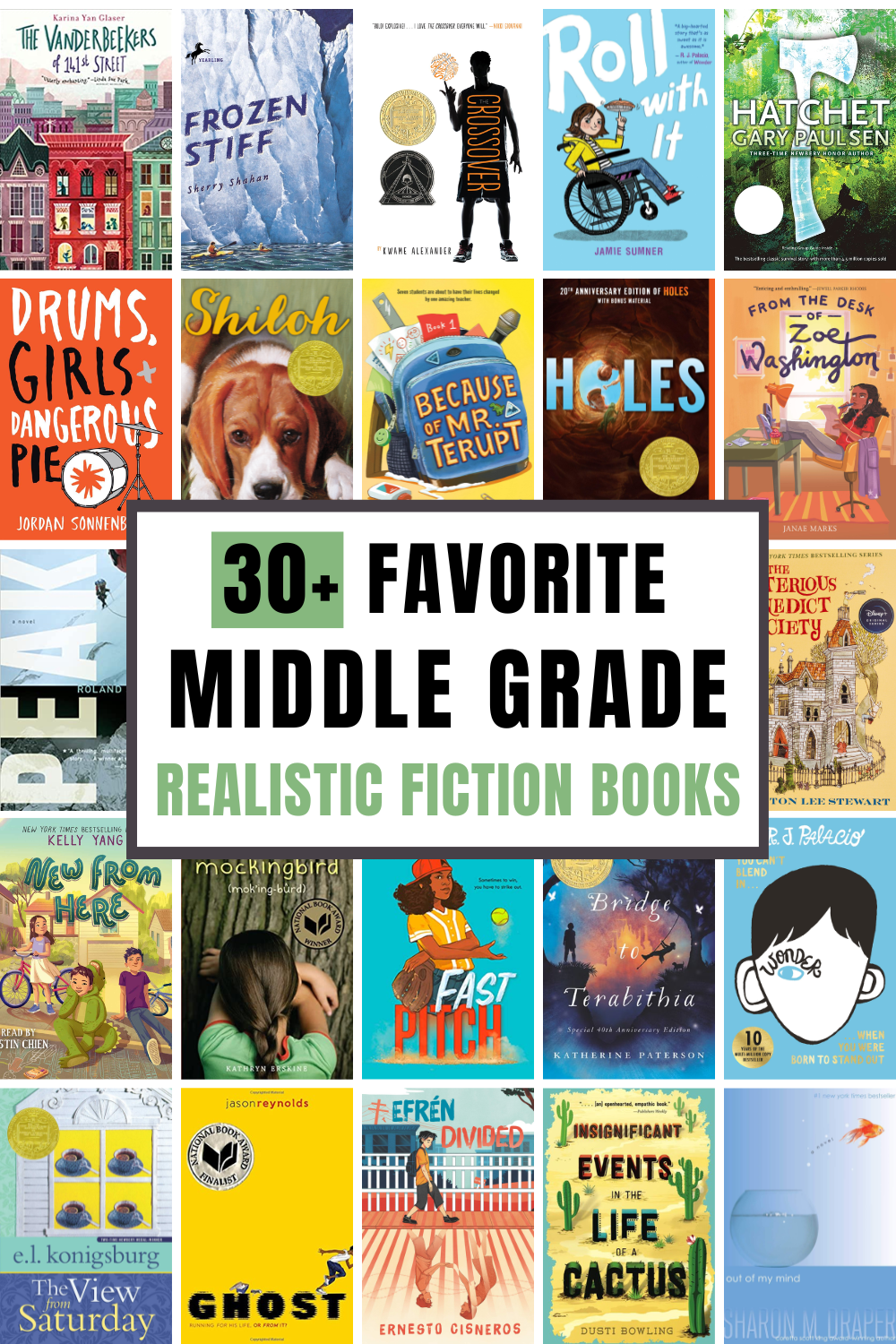 30+ MIDDLE GRADE REALISTIC FICTION BOOKS
From the Desk of Zoe Washington by Janae Marks
This book got recommended after I read Just Mercy and then I saw it compared favorably to Front Desk (one of my favorite books from last year) and it happened to already be on my shelf, so there was no way I couldn't pick it up.

New From Here by Kelly Yang
Moving to a new school in a new country is difficult, but doing all of that in the middle of the worldwide COVID-19 pandemic makes it all a hundred times worse. Ten-year-old Knox struggles to stand up to racism, hate and bullying at his new school in California where he recently moved with his Mom and siblings. He finds courage and the strength by embracing his unique qualities and attributes.
Short by Holly Goldberg Sloan
Julia fits into her role well as a Munchkin in her community theater's production of the Wizard of Oz. She has always been short for her age and hasn't really ever thought of herself as a performer. But this is about to change as she begins to see herself in a new way throughout the production.
The Great Shelby Holmes by Elizabeth Eulberg
The first book in this series came in Ella's Bookroo chapter book box and after she blazed through it, she checked out the next three books in the series from the library.  Shelby Holmes is nine years old (but in sixth grade, thanks to her smarts) and she loves to solve the toughest crime. And when John Watson – the narrator – moves in to her Harlem neighborhood? The dognappers don't stand a chance.

The Kid Who Ran for President by Dan Gutman
Would you vote for a kid for president? Judson Moon hopes the answer is yes. This is a funny and even a little bit educational look at what it takes to become president of the United States of America and how it's not as fun as a kid might imagine.

Ghost by Jason Reynolds
Ghost is a very fast runner – starting with a run from his dangerous father when he was a little boy. Now, he mostly runs away from his problems until an Olympic-runner-turned-coach sees Ghost's incredible raw talent and wants to help him harness it for the Junior Olympics. But Ghost will have to stop running from his past in order for that to happen and that might be the hardest thing he's ever done. This is the first book in a four-book series, each of which focuses on a different member of the track team. Jason Reynolds is a big name in the world of children's literature for good reason – this book is FIRE.

Out of My Mind by Sharon Draper
Melody is 11 and because she has cerebral palsy, she can't walk or talk or write. In fact, most of the people she interacts with think she has very low brain function. It turns out? She's actually super smart. If she can just figure out how to let anyone know it. This one is TERRIFIC.

City Spies by James Ponti
City Spies is the story of five kids from all over the world brought together to operate out of a secret MI6 base in Scotland, working on cases that adults can't get anywhere near. It's clever and funny and fast-paced and a total kid pleaser. This is the first in the series which currently has 3 books.
Bridge to Terabithia by Katherine Paterson
I mean, get your kleenex ready because this one is a tear-jerker. But it's also SO fantastically written and has so many wonderful things to talk about with your children. (Full review here)
The Crossover by Kwame Alexander
I'm sort of trying to read all the Newbery winners (not fast or on any sort of timeline), so I read this one several years ago, despite the fact that it's both about basketball and a novel-in-verse, two things I'm not particularly into. And then, predictably, I LOVED this story of twin brothers who are pushing hard to excel in basketball and follow in the footsteps of their pro player dad.

Holes by Louis Sachar
Holes is one of my favorite Newbery winners and since my girls love the Wayside School books, I couldn't wait to introduce them to this one. It was just as good as I remembered and when we finished, we had a special outdoor movie night with our giant screen to watch the film version.

The Vanderbeekers of 141st Street by Karina Yan Glaser
We love this fun story about five siblings who are about to lose their beloved brownstone home in Harlem, thanks to a cantankerous (and mysterious) landlord who refuses to budge.

Frozen Stiff by Sherry Shahan
In case Alaska didn't already seem dangerous enough to you, this book will really show you how WILD Alaska is. Cody and her cousin are excited for their camping and kayak trek into the Alaskan wilderness together with their moms, but when they sneak off together and then lose Cody's kayak along with her supplies, thing are going to get very dangerous, very fast.

Shiloh by Phyllis Reynolds Naylor
This Newbery-winning book about Marty Preston who finds a beagle in the hills falls immediately in love with the dog he names Shiloh. It seems like a match made in heaven until he discovers that the dog belongs to Judd Travers, a local alcoholic who abuses the multiple dogs he owns. The idea of letting Shiloh go back to Judd is unthinkable, but. . . .can he keep a dog a secret forever?

Insignificant Events in the Life of a Cactus by Dusti Bowling
My big girls listened to this one repeatedly. Moving is never fun, but it's especially unpleasant for Aven who was born without arms. A new town and school means she'll have to explain herself repeatedly to a bunch of strangers. But in her new town, she make friends with Conner, who also feels like an outsider in their school. And together, they embark on solving a mystery at the dilapidated theme park her parents are running.

When Friendship Followed Me Home by Paul Griffin
As a former foster kid, Ben Coffin has never really been one for making friends, and prefers the company of the characters in his beloved sci-fi books. This all changes when Ben rescues a dog from an alley adjacent to the library and the dog, Flip, leads him to a girl named Halley. Halley, with her colorful clothes and infectious laugh changes all of Ben's preconceived notions about friendship.
The Penderwicks by Jeanne Birdsall
This series is pretty recent (in the last ten years), but it has the feel of a classic and we all loved these stories about four sisters and their summer vacation. There's a reason these books are BELOVED. My girls have listened to all the books in the series many times.

The One and Only Ivan by Katherine Applegate
I pretty much don't care for animals (I know) and I STILL think this is one of the best kids books ever, Newbery winner or not. When a book is this sweet, funny, and well-written, who cares if it's narrated by a gorilla? Not me. (Full review here)

Peak by Roland Smith
Peak Marcello comes by his love of climbing naturally – his father (that he's had no contact with for years) runs a climbing company in Thailand. Peak has a hard time channeling his love into legal climbing though, and gets himself arrested after he scales a skyscraper in New York City. His options are to go to juvie or go live with his father. Obviously the latter sounds better but when he and his father reunite, he discovers that his dad wants him to be the youngest person to ever successfully climb Everest.

Frindle by Andrew Clements
Andrew Clements is just a master of the school story, and this is his most popular one, about a boy who wants to get his whole school calling pens "frindles." Andrew Clements is just a MASTER of the short middle grade novel.

Because of Mr. Terupt by Rob Buyea
I heard nothing but great things about this book and it really was terrific. It is told from the point of view of seven different fifth graders, as they begin a new school year with Mr. Terupt (a new teacher). Each of them come with their own baggage and respond to Mr. Terupt differently and he, in turn, deals with each of them differently. And then a big event at school changes everything for these students and their teacher. (Duhn, Duhn, Duhn. . . ).

Efrén Divided by Ernesto Cisneros
American-born Efrén Nava and his younger siblings live with their Amá and Apá and while their life includes a lot of hard work, it's also loving and happy. But everything falls apart when his Amá is deported to Mexico and it falls on Efrén to take care of his siblings and attempt to reunite his family.
Hatchet by Gary Paulsen
Ella (like so many readers before her) was completely absorbed by this story of a boy alone in the wilderness trying to survive after a plane crash.

Mockingbird by Kathryn Erskine
Mockingbird is about a girl with Asperger's syndrome whose brother was recently killed in a school shooting, manages to be meaningful, appropriate, and even (surprisingly) funny. I was far more impressed with this book than I expected to be. (Full review here)
Roll With It by Jamie Sumner
The publishers sent me multiple copies of this one, so I took it as a sign to read it. Ellie loves to bake and dreams of being a celebrity chef. She also has cerebral palsy. And she's just moved with her mom to live with her grandparents because her grandfather seems to be developing Alzheimers. That's a lot, but Ellie is going to handle it.

Escape from Mr. Lemoncello's Library by Chris Grabenstein
This is one of those middle grade novels that took the world by storm – it has been SO popular and for good reason. Mr. Lemoncello is a world-famous game maker AND he's designed the new city library. And on opening night, there will be a lock-in for kids where they have to solve the puzzles to find the hidden escape route. (You can see why it spent 100 weeks on the NYT Bestseller List). (Full review here)
The Terrible Two by Mac Barnett
My girls have listened to these books about the antics of two pranksters on repeat for months – if you have a child who likes humor, some slapstick, and a little naughtiness, these books are for them.

The View from Saturday by E.L. Konigsburg
This is the first book I remember reading as a child and thinking "This is a really well written book." I think my girls were a BIT too young for this one – it'd have been better to wait another year or two because it was hard for them to keep track of the four main characters and how their families and stories intertwined. For my part, I definitely enjoyed reading it again.
Wonder by R. J. Palacio
We listened to this in the car as a family and all my girls were SO INTO it. There were so many good discussions that came from listening to it together – everything from how genes work to how we judge others based on appearance to sibling relationships.

Fast Pitch by Nic Stone
Shenice Lockwood, is captain of the Fulton Firebirds, an all black and brown female softball team. She has more than a few strikes against her when it comes to the game of life, but she doesn't want to let them get her down.
Swindle by Gordon Korman
This book was on my 2019 Summer Reading Guide as a book for the whole family to enjoy and it's such a fun heist story. I used to read this one aloud to my fourth and fifth graders when I was a school librarian and it was a hit with virtually every single kid. 

Drums, Girls & Dangerous Pie by Jordan Sonnenblick
This book is young adult at its finest. I can't say enough good things about this novel about a teenage boy whose younger brother is diagnosed with cancer (Full review here).

The Year of the Book by Andrea Cheng
Asian-American Anna finds friendship rather complicated. She would rather turn to the characters in her books for companionship. But throughout her story, she learns what is means to be a friend and what it takes to make friends.
And if you'd like a printable copy of this middle grade realistic fiction book list that you can take to your library or screenshot on your phone for easy access, just pop in your email address below and it'll come right to your inbox!
if you liked this post about middle grade realistic fiction books, you might also like these other posts: