After I recommended (e.g. gushed endlessly) about All Thirteen earlier this year, there have been hundreds of requests for more great middle grade nonfiction.
("Middle grade" generally refers to books aimed at kids in the second half of elementary school and through middle school, so somewhere between the ages of 8-14).
As with any book, age suggestions are going to be extremely variable based on your child, their reading ability, and their emotional maturity for some challenging historical topics.
I hope you love these books as much as I have – they're all living proof of the old adage that "truth is stranger than fiction."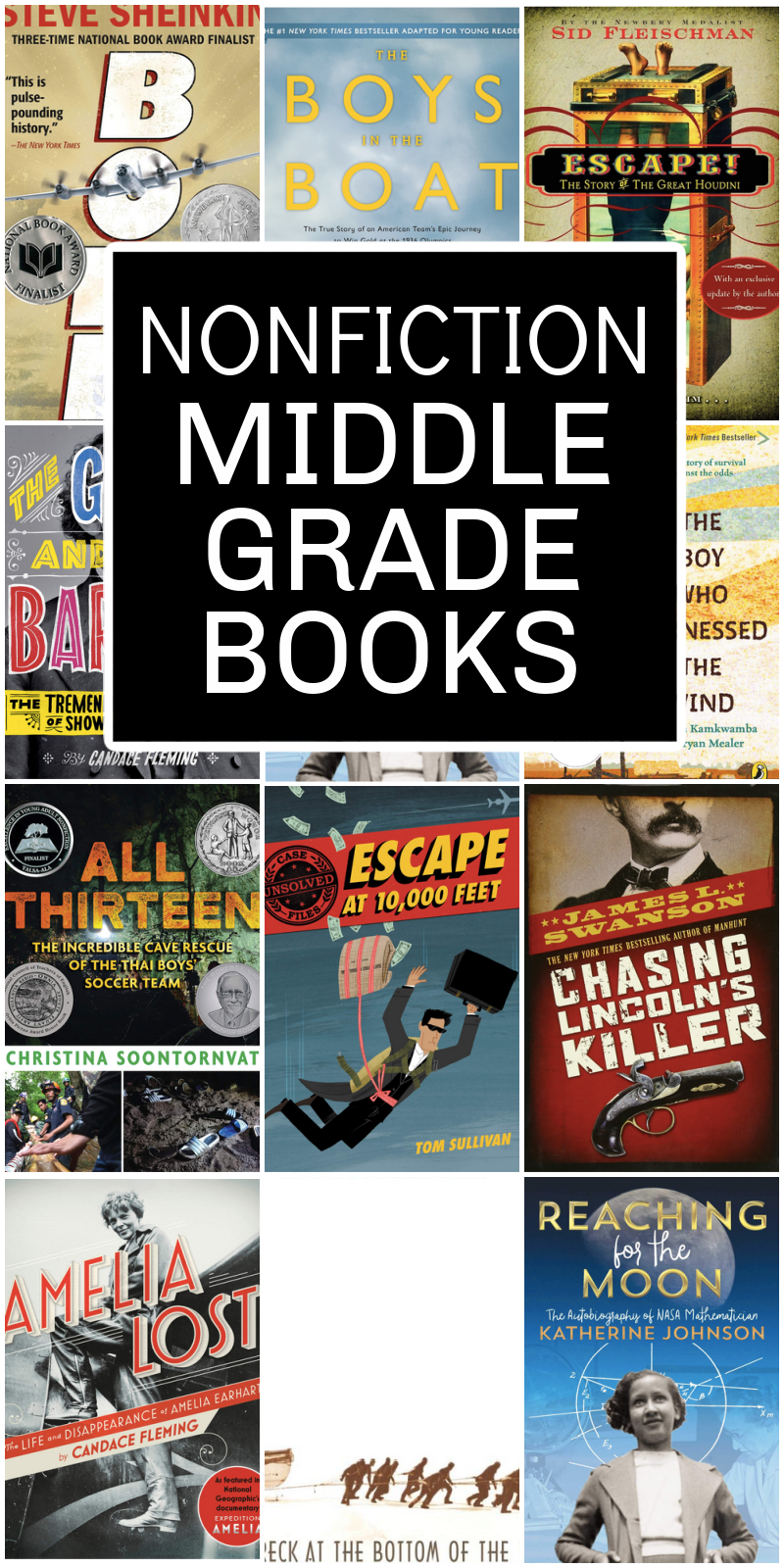 11 Nonfiction Books for Kids
Shipwreck at the Bottom of the World: The Extraordinary True Story of Shackleton and the Endurance by Jennifer Armstrong
I first learned about Shackleton in college when a friend wrote a paper about him and I was hooked on this incredible story of Ernest Shackleton and his 27 men who got trapped in ice as they attempted to cross Antarctica and then spent five months camping on ice floes, finally navigating 800 miles of open ocean in a tiny boat to find a rescue ship. I just handed this one to Ella.
The Boys in the Boat (Young Readers Adaptation): The True Story of an American Team's Epic Journey to Win Gold at the 1936 Olympics by Daniel James Brown
My mom and I both read this incredible book about a team of young college boys who competed in the 1936 Olympics in Nazi Germany and pulled off an astounding win against all odds. A year or two later, when we went on a trip to Seattle together, we visited the University of Washington where the team was from and saw their boat hanging on display in the ASUW Shell House. This young reader's version is aimed at about grades 4-7 and it's terrific!
Escape! The Story of The Great Houdini by Sid Fleischman
I read this one maybe a decade ago and couldn't stop telling Bart ALLLL about it – I certainly knew who Houdini was, but I didn't know much at all about his life. And it's a life full of surprises, mysteries and half-truths. I loved every page of it. If you read Houdini and Me from the 2021 Summer Reading Guide, this is a TERRIFIC companion book to it. (Full review here)
Amelia Lost by Candace Fleming
The format of Amelia Lost is a clever one – it alternates between the disappearance part (the Coast Guard that's hearing her radio signals but can't seem to get her to hear them, the people that, tuning in on AM radios, claim to have heard her over the next few days, and the desperate search for her goes on) and her life, starting at her birth and eventually meeting up with the final doomed flight portion. I loved this because – for me and most readers, I'd guess – her mysterious disappearance is the most fascinating part of Amelia's story. By not hoarding it for the end, I didn't feel like I needed to race through the book to get to the "good" part. (Full review here)
The Great and Only Barnum by Candace Fleming, illustrated by Ray Fenwick
If your child was obsessed with The Greatest Showman, this book is for them. It is almost unreal how fascinating the real P.T. Barnum was and what a life he lead. I included this one on the family reads section in the 2020 Summer Reading Guide. (Full review here)
Reaching for the Moon: The Autobiography of NASA Mathematician Katherine Johnson by Katherine Johnson
You may know that Amazon has a category called Best Nonfiction for Kids and this was one of the editor's picks out of the hundreds of books included. As a young girl, Katherine Johnson became famous after the movie Hidden Figures came out, and this book is so fun because you get to see her whole life from her early days where she discovered she had exceptional aptitude for math and the willingness to work hard to use that. Even better? She's the author, so you get to hear her incredible story in her own words.
The Boy Who Harnessed the Wind (Young Reader's Edition) by William Kamkwamba and Brayn Mealer, illustrated by Anna Hymas
You may already know this incredible story from the adult version of the book or the Netflix show. William Kamkwamba's tiny Malawi village is struck by drought, which means that life looks terribly bleak. And then William – looking through the science books at the  tiny village library – stumbles on the idea to build a windmill to bring electricity to his family.
Bomb by Steve Sheinkin
This book about the development of the atomic bomb during WWII was so good that I read it by flashlight when the power went out. It's the August book for the Everyday Reading Book Club and I cannot WAIT to read it again! When I asked for nonfiction books for kids suggestions, this was the MOST recommended title. For good reason. (Full review here)
All Thirteen: The Incredible Cave Rescue of the Thai Boys' Soccer Team by Christina Soontornvat
I mean, you already know I'm obsessed with this book. If you  haven't read this incredible story of the young boys who got trapped with their soccer coach in a cave during a flood, you should change that immediately. I'm pretty sure there is NO book I've ever talked about in the 15 years I've been blogging that I've gotten more positive feedback about. (Full review here) 
Escape at 10,000 feet : D.B. Cooper and the Missing Money by Tom Sullivan
I had never even heard of D.B. Cooper until Ella read this book and told me all about it in detail. (Then I felt like a GENIUS when it was referenced in the new Loki show on Disney+). It's a little bit of an outlier on this list because it's not a traditional book with tons of texts – instead, it's more like a cross between a textbook and a graphic novel. It's SUPER fun. (Ella's review here)
Chasing Lincoln's Killer by James L. Swanson
What really impressed me about Chasing Lincoln's Killer is the fact that Swanson kept the story so streamlined. I think that many many non-fiction writers struggle with staying on topic. There is always so much tangentially related (and often fascinating) information that they want to squeeze in there, and so the story wanders off into other avenues, before returning, eventually to the main story line, only to be derailed shortly thereafter. This book? Does not do that. This book is extraordinarily tightly edited – never once did I think, "why in the world are you going on and on about this? What does this have to do with anything?" This book clocks in at just 200 pages – there is not a wasted word. (Full review here)
And if you'd like a printable copy of this list that you can take to your library or screenshot on your phone for easy access, just pop in your email address below and it'll come right to your inbox!
Any other favorite nonfiction books for kids around those ages? I'd love to hear!
If you liked this list of nonfiction books for kids, you might like these posts too: