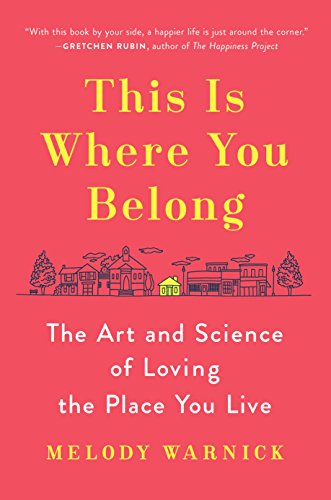 I first heard about This Is Where You Belong on the Modern Mrs. Darcy podcast when the author was a guest, and it took me all of ten seconds to request the audio version from my library.
By some miracle, it came up the very. next. day, and I listened to that book every moment I could.
We've moved lots of times in our marriage (from Utah to Texas to Massachusetts, back to Texas, then North Carolina, Arizona, London, back to North Carolina, and now in Arizona), and this has been the most difficult move for me.
Although I generally like living here, Arizona doesn't feel at all like home to me and I have very little place attachment so far (much less than I ever did in Texas and North Carolina).
I've struggled to make friends here more than I have in our previous homes. I think there are a lot of factors at play here, including the fact that I'm busier with older children and that my peers are too (less time for play dates and park outings than when I had two little children that weren't in school).
I also feel like more people are from Arizona, so they already have a system of friends and family in place, versus Texas where our community was mainly transplants from elsewhere or in North Carolina where almost everyone I knew was there for school and thus looking for new friends.
And after so many moves, I'll admit that I feel slightly burned out on making new friends – I just basically want to live by my old friends that I already know and have a history with, instead of suffering through the initial steps of getting acquainted and developing a friendship.
All of which is to say, this book was basically written for me.
this is where you belong by melody warnick
Like me, Melody Warnick knows a lot about moving. At the opening of this book, her family has just moved to Blacksburg, Virginia, which is move #6 for them.
She's initially not very thrilled by Blacksburg, but decides that she's going to make the most of it. The resulting experiment as she tries different research on how to feel more place-attached is really fun, and reminded me quite a bit of The Happiness Project (only one of my all-time favorite books). Like The Happiness Project, this didn't feel gimmicky to me – she wasn't making big life changes for the sake of writing a book, but rather trying out different strategies to improve the life she already had.
Mixed in with her experiments is lots of research about people moving (Americans now move an average of almost 12x in their lifetime, which is WAY more than other countries), how and why people become attached to the places they live, whether it's where they were born or a hometown they adopted by choice or by necessity, and why placemaking matters at all.
Another reason this book was particularly fun for me is that Warnick moved to Blacksburg from Austin, Texas, so I was familiar with many of the locations, events, and traditions she mentioned. Especially thrilling was when she described the annual chalk walk that takes place in town just north of Austin – that town was the one we lived in for six years and we attended multiple time (you can see a little photo of Ella participating here).
I found This is Where You Belong so reassuring that I wasn't the only person who has ever moved somewhere new, and looked around after a while and thought, "What am I doing here? Do I even belong here?"
And when I was about halfway through, Bart and I sat down and had a heart-to-heart about taking advantage of the things Arizona has to offer, and that weekend we went out to a near-ish-by lake with our girls and enjoyed the rocky shore and the sunny morning.
I need to pick up a hard copy so I can reference more of her suggestions for creating attachment to your hometown for you and your family members.
And if you're really distraught over the results of the election last night (I wrote this post before a new president was elected, so I don't know what those results are at the moment) and you've been threatening to move to Canada if Donald or Hillary is elected, this might be a good book to pick up as you move to a new country.
Less dramatically, it's also a great gift book for the non-fiction lovers in your life or anyone who has just moved to a new location.
Or just read it and think about how happy you are to live somewhere you love.
Audiobook checked out from my local library
If you liked this review of this is where you belong, you might also like these books: