Have you heard about Audible's Great Beginnings sale?
With spring break and summer road trips right around the corner, this is a REALLY great time to stock up on audiobooks for a fraction of their regular cost.
Basically the Great Beginnings sale has more than 550 audiobooks that are part of a series (200+ total series) on sale for $5.95 each.
Considering that using one of your monthly Audible credits will run you $14.95 and that buying them on their own without a membership is usually more like $20-$30, you can see why this is such a good deal.
One catch? You have to have to be an Audible member to take advantage of this sale. If you've never done a free trial, you can sign up here for free, get a free Audible book, and then buy whatever sale titles you want.
Once you've bought your books, you can cancel your trial immediately if you'd like and your books are yours to keep forever!
Other catch is that the sale ends tonight, so if you have your eye on any of these, grab them now!
Here are a few audiobooks included in the Great Beginnings sale that you might want to check out: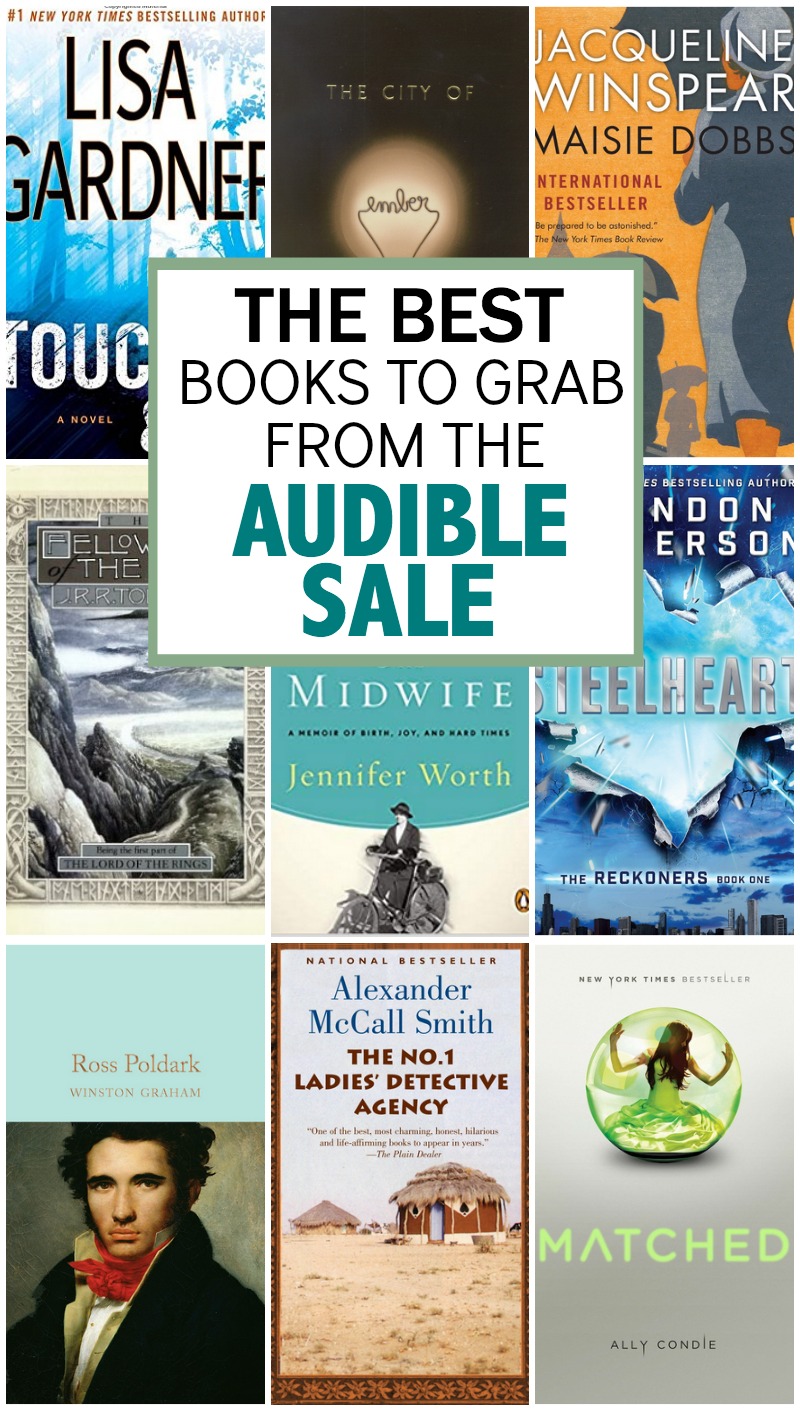 Audible's Great Beginnings Sale
Steelheart by Brandon Sanderson. Bart LOVES Brandon Sanderson, but hasn't read this series, so when he saw them on sale yesterday, he snatched up all three in the trilogy.
Matched by Ally Condie. This YA dystopian novel was such a fun read (I'll admit the next two books in the trilogy were less impressive). (Full review here!)
The No. 1 Ladies' Detective Agency by Alexander McCall Smith. This wildly popular series
Legend by Marie Lu
The City of Ember by Jeanne DuPrau. I have such vivid memories of reading this book in grad school (not for school. . . .just when I needed a little break from my data heavy courses).
Ross Poldark by Winston Graham. Would you believe I haven't seen this show? Maybe I should start with the books first.
Gregor the Overlander by Suzanne Collins. You'll recognize Suzanne Collins' name from The Hunger Games, but before there was Katniss there was Gregor and Bart sped through this entire middle-grade series in a few weeks on audio.
The Fellowship of the Ring by J. R. R. Tolkien. I personally find these series overly long and descriptive (I do like the movies!) but I married into a family that is full of Tolkien fans. If you want to share these with your kids but would rather save your voice, the audiobooks have amazing reviews!
Call the Midwife by Jennifer Worth. If you've seen the show and want the whole story, the entire trilogy is on sale for $5.95 for each installment.
Maisie Dobbs by Jacqueline Winspear. If you love mysteries, WWI or a strong heroine or any combination of the three, this is a great series.  (Full review here!)
Touch & Go by Lisa Gardner. I actually haven't read the first book in this series (I didn't even REALIZE it as a series until I saw it on here), but I was GLUED to this book. Be warned – lots of swearing. (Full review here!)
If you find some other gems in the Audible Great Beginnings, let me know!
If you liked this post about Audible's Great Beginnings sale, you might also like these posts: