The first thing I have to say about At Home in the World is that I don't usually like travel memoirs.
The second thing I have to say about At Home in the World is that I LOVED it.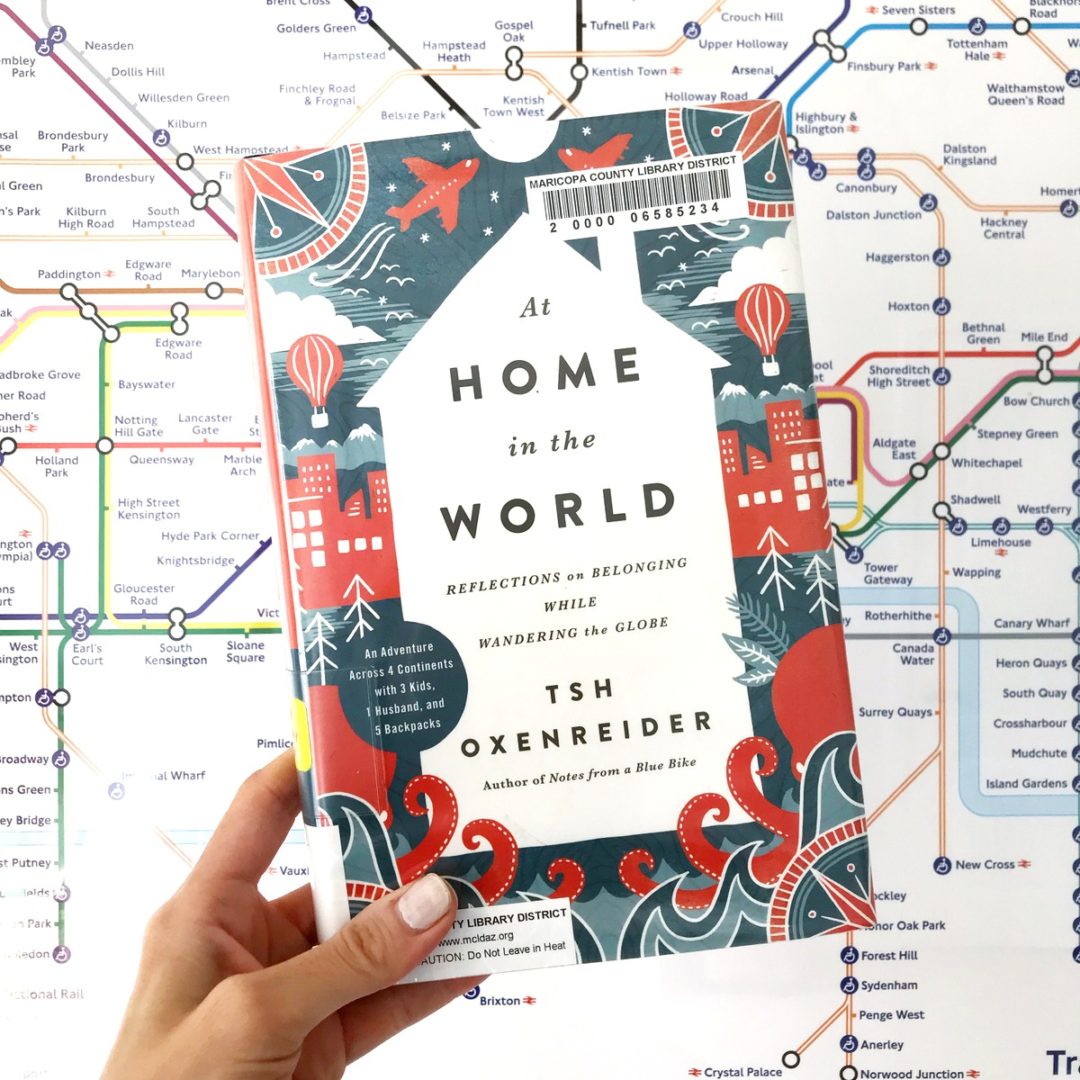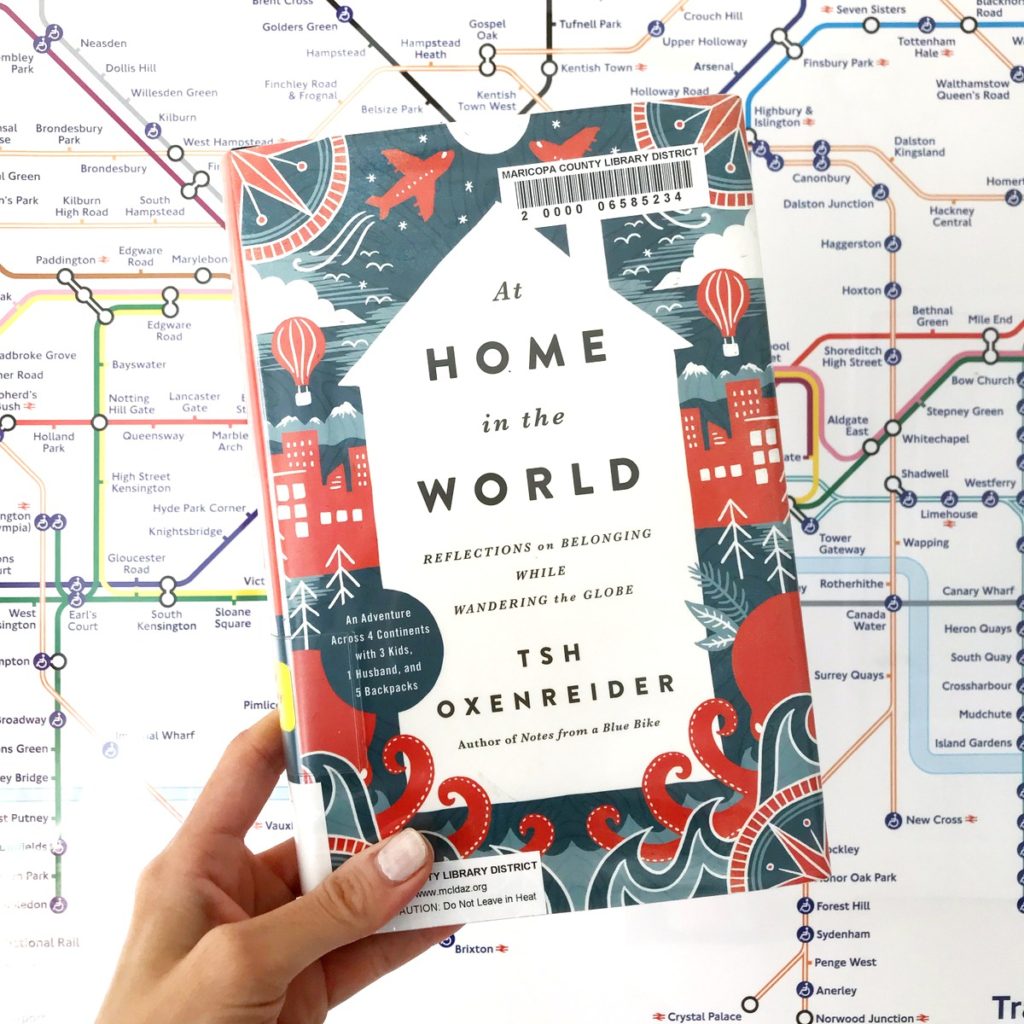 This was the third book in the last round of Tell Me What to Read and the only one of the three that I felt compelled to write a full post about.
I was already aware of Tsh Oxenreider from her podcast The Simple Show, which I listen to fairly frequently, and I knew I liked her, so I wasn't a hard sell on this new book about her family's year spent wandering the world, starting in Beijing and ending in London.
In this age of blogs and social media, it seems like so many families are going on the road, whether it's for a year-long trip around the world or to travel endlessly with no final destination in mind.
I love following along on those, but I personally have zero desire to do that myself.
After a month of traveling in Europe, I was SO happy to settle down in London, unpack my suitcase, acquire a library card, and learn the grocery store aisles.
The idea of spending nine months traveling the globe makes me feel like snuggling down in my own bed and possibly never getting out.
If there's tension between wanderlust and homebody, I'm definitely more on the homebody side.
The interesting thing to me about At Home in the World is that this is the same tension that Tsh feels (yes, I'm pretty sure we're on a first name basis).
She's traveled extensively throughout her college years and then with her husband (whom she met while they were both working in Kosovo), including living in Turkey for several years.
Now they've settled down in Oregon with their three young children and after a few years, they decided it's time for another adventure.
They sell their house, put their belongings in storage, pack up five backpacks and they're off.
And not only are they off, they don't know where they'll come back to.
Will their new home be back in Oregon? Texas, where Tsh grew up? Some new American city or a village they discover on their adventure around the globe?
They're not sure.
And as they travel, Tsh works to balance that love of travel, of seeing the world, of exploring new places, with her love of roots, stability, and community.
I generally read books at only two paces. I'm either flying through it at breakneck speed or reading one or two pages and then putting it aside for . . . oh, six months.
But this was one of those books that I just couldn't rush through. I just savored each new spot that visited, each beautiful new country they explored, and every reflection on family and home and community that Tsh shared.
I also racked up a lot of library fines on this book – I should have just bought my own copy.
She is a magnificent writer in a way that feels absolutely approachable, like a dear friend telling you about some really cool adventures without making you feel like you've missed out on life by not being along.
I loved her from the first pages of the introduction where she talked about how tired she was of travel being mutually exclusive with a happy family life. That this book wasn't about travel as a way to escape from your life, but a way to make your current life even more rich and full.
I felt that same way when we went abroad with our girls – it wasn't a chore having them along; it was even more meaningful and fun to have our whole family exploring new cities together.
I finished this book up on our cruise and couldn't wait to come home and snuggle the girls and go out on a new adventure with them, even if it's not around the world and it's not nine months long.
One thing that really stuck with me is that the more you travel, the better you get at it, and that goes for children too. The more you make travel a regular part of your family culture, the more aptitude you'll all develop for it.
And mostly, you'll all hunger for more adventure and more opportunities to explore the globe together and recognize how much this world and the people that make their home on it have to offer.
Have you read this one? I'd love to hear what you thought about it.
And I'd REALLY love to hear if you have the travel itch to sell your house and wander the world or if you'd prefer to stay home most of the time and just take short trips?
If you liked this review of at home in the world, you might also like these books: