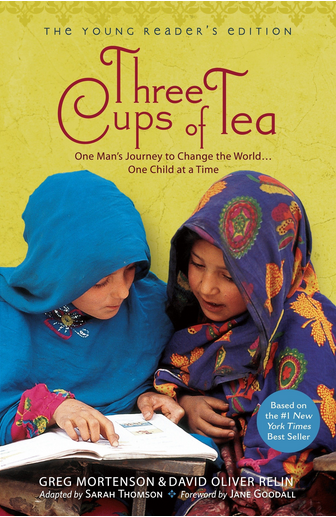 7 of 10: Three Cups of Tea: One Man's Journey to Change the World… One Child at a Time is one of those books where the writing and the story didn't match up that well for me.  
This is kind of a hard book for me to write about (which is why, even though it's now nearly the END of January, I'm just now writing about this book which was the DECEMBER "Tell Me What To Read" winner).
three cups of tea by greg mortenson, david oliver relin and sarah thomson
I mean, you can't help but be impressed by Greg Mortenson's story; he gets himself lost in the mountains and stumbles on this little Pakistan village, where they are so kind to him that he vows to come back and build a school for them. Except, you know, he has no money and he's not exactly a builder or anything. Details.
He manages to raise the money, though, and the project snowballs into dozens of schools in villages all over the area. Mortenson dedicates his whole life to this venture – leaving his wife and children at home for months at a time as he goes to oversee the building of these schools, raise more money, etc. There are some dangerous experiences (he's kidnapped at one point and is nearly killed), and 9/11 changes a lot of things, but he's so enthusiastic and committed that it's impossible not to be impressed and inspired.
But the writing. Oh man, you guys who said it was dry? You weren't kidding. I made a feeble ten page attempt at the adult version and decided to read the young reader's edition instead.
It's hard to read a book where you feel like the story is powerful and important, but the writing just gets in the way, over and over again. It was hard to keep all the people involved straight, and I felt like narrative kind of jumped around.
Anyway, complaints aside, I'm glad to have read Three Cups of Tea, since it's so widely known and Moretenson's tactics are so different from the way much of the world is addressing problems in the Middle East, but I can't help but wish they'd picked someone else to write the book.
If you liked this review of three cups of tea, you might also like these books: