How to be an American Housewife by Margaret Dilloway was published in 2010 about a Japanese woman who marries an American GI after World War II and moves to the United States, living the remainder of her life as an American housewife and mother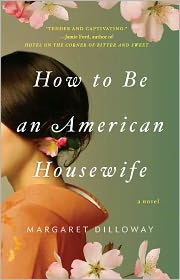 A couple of weeks ago, I presented at KidLitCon with three other librarians. Two of us couldn't be there in person and participated on our panel via Google Hangout.
Our panel was about critical reviewing ("critical" meaning "thoughtful and analytical," not "only negative") and one of the things we talked briefly about was whether to write your own summaries of a book or to use the publisher's copy.
One of the reasons I like to write my own is that I often feel that the publisher's summary slants the book in a way that I feel is not really very accurate. Sometimes it makes the story appear to be about something it's not really about at all. Sometimes it skews the characters. Sometimes I feel quite certain the person writing the summary didn't actually read the book at all.
How to Be an American Housewife is one of those books where I thought the summary was quite a bit off base.
how to be an american housewife by margaret dilloway
It says (thank you, Goodreads): A lively and surprising novel about a Japanese woman with a closely guarded secret, the American daughter who strives to live up to her mother's standards, and the rejuvenating power of forgiveness. 
I reread that after finishing How to Be an American Housewife and was surprised at how off-base that summary felt to me.
The closely guarded secret? I didn't feel like that was the crux of the story.
It came up a few times, but one of the defining parts of the book – I do not think so. Also, when the secret is finally resolved, it happens so fast that, even without remembering that it was supposed to a main plot point, I noted how brief and swift it felt.
As for the American daughter trying to live up to her mother's standards, I didn't see that at all. To me, it felt more like it was a disconnect between the two of them.
Actually, reading that summary makes me wish the book had more closely followed what the summary suggests the book is about. It sounds quite fantastic.
Unfortunately, while it was a quick and entertaining-enough read, I didn't particularly love it or have any desire to bore Bart with long detailed descriptions of it. It was a squarely three-star book for me. Fine, but not fantastic.
For the record, I would have summarized the book as follows: "Shoko, realizing that post-World War II Japan holds few prospects for her, marries an American and returns home with him, where they live in relative poverty and raise two unexceptional children, until her hearts starts to suffer from previous exposure to the atom bomb. Fearing she won't live much longer, she requests that her daughter and granddaughter return to Japan and make peace with her brother who has never forgiven her for marrying an American."
If you liked this review of How to Be An American Housewife, you might also enjoy these books:
The Great Alone (a fantastic novel about making a new life in a foreign land – Alaska, in this case). 
I am paid for my participation in the BlogHer Book Club, but I choose which books to read and my reviews are strictly my own opinions. If I think a book is terrible, I'll say so. If I rave about a book, it's because it's one I'd give to my mom or a good friend.