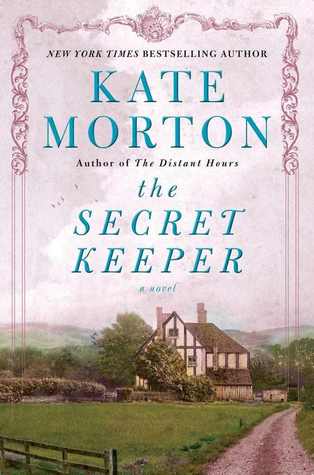 I finished The Secret Keeper on August 31, just in time to complete my three books for summer reading. And, happily, I ended with the best of them all.
My mom has been recommending Kate Morton to me for AGES (seriously. . .years) and like a complete idiot, I have read exactly none of Kate Morton's books.
Now, I'm a convert. The Secret Keeper was stellar.
the secret keeper by kate morton
The book begins in the 1960s, when Laurel is sixteen. Her family (which is a remarkably close and happy family) is celebrating Gerry's second birthday, but Laurel is starting to pull away from her family just a bit, as she grows up.
While the family plays and picnics by the creek, Laurel retreats to the treehouse for a bit of privacy. But her daydreams about her future (and boys, obviously) are shattered when she sees her mother, Dorothy, returning from the house where she retrieved the knife for the birthday cake, approached by a strange man.
The man obviously knows her mother, calling her by name, which seems strange, but there's hardly time to dwell on that because moments later, Laurel's mother stabs him with the knife, killing him instantly.
As you can imagine, Laurel is never quite the same.
Life moves on – her mother claims it was self-defense and Laurel corroborates that story for the police, and the subject is never mentioned again by any members of the family.
The story now splits into two parts – Laurel, fifty years in the future, now an extremely successful actress, knows her mother is close to death, and finds herself desperate to understand, before it's too late, what exactly happened with her mother and this mysterious man she murdered. Her only clues are a picture of her mother and another pretty girl taken during WWII and an inscribed copy of Peter Pan. Her mother is less and less coherent and Laurel is racing down the clock of her mother's life to get any details she can, not least of all so she can find out if her happy, idyllic childhood was all a farce.
The other story takes place in the early 40s, during WWII, in London where Dorothy has come to pursue a life more exciting than the one in her family's little town. Her dreams of wealth and grandeur seem to be encapsulated by the lovely woman who lives across the street from her, Vivian, whom she sees as a kindred spirit – someone full of life and vitality. Besides Vivian, the only other person she really knows well in London is her boyfriend, Jimmy, who, despite his lowly background, is starting to make a name for himself as a photographer. Jimmy and Dorothy plan to get married, but Jimmy doesn't want to until he can provide for her a little better, especially as Dorothy dreams more and more of the kind of life she sees Vivian living.
The two stories go back and forth, as Laurel searches for clues about what unfolded in 1940 that led up to her mother's shocking actions twenty years later. She may not know much about her mother's early life, but she is pretty sure the secrets are buried during those intense days of the London Blitz. Somehow, she knows, Vivian is crucial to this story, and so is Jimmy, but it's now so long ago, it's hard to track down the major players.
The Secret Keeper was just SO fun to watch unfold. I knew there was a twist coming, but I couldn't figure out what it was going to be. And when it DID come, I was completely taken off-guard, but it was so perfect and so gratifying that I actually laughed out loud (I was getting ready while reading it – Bart probably wondered why it was taking me 45 minutes to put on my makeup and do my hair).
Everything about this book delighted me – the characters, the historical backdrop, the vibrancy of London both in the present and during WWII, and, most of all, the clever plotting and meticulous unfolding of the mystery.


Read it. I'm almost certain you'll love it.
And I'm feeling happy I have three more of Kate Morton books to read in the coming weeks.


if you liked this review of the secret keeper, you might also like these books: