This post is part of a sponsored campaign with Martha Stewart Decoupage and Blueprint Social. I was provided supplies and compensated for my time, but I designed my project, wrote this entire post, and single-handedly failed to vacuum Ani's room before taking photos. Don't look too closely.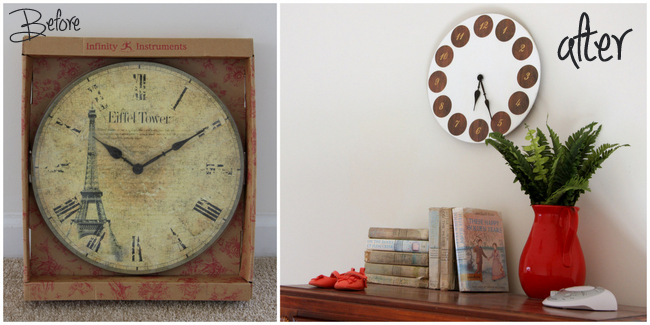 You don't really think I have any idea what mid-century modern means, right? I've only seen it on Pinterest. Sounds nice, though. And when I opened up the box of Martha Stewart Decoupage (a word I will never learn to spell) materials and saw the rolls of faux-wood paper, it was the first word that popped into my mind.
Also, one of the other MBA wives (and instant friend), Jessica gave me a huge pile of stuff to take to Goodwill and said I could have anything out of the pile I wanted.
Well, you don't have to make an offer like that twice. And this clock, which was still in its box, was just dying for a little makeover.
Now that I can't see my kitchen clock from every room in my apartment, I find myself fighting the urge to mount a clock in every room in the house.
I'd never done any decoupaging before, but opening the box of supplies made me want to decopague everything in my house – as usual Martha has the coolest products. They're even dishwasher safe, so obviously I need to do another project where I can test this out since I don't plan to run my clock through the dishwasher.
Like all projects I do, this was a really easy one.
I used:
1. Start with a clock that is NOT your style at all.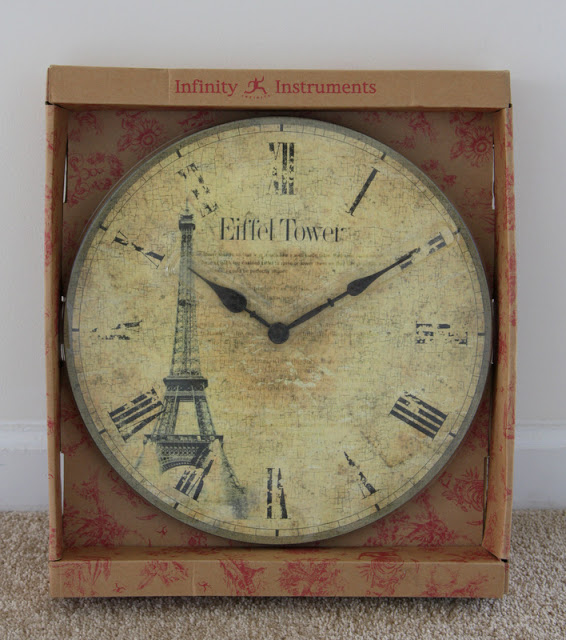 2. Paint your clock with white acrylic paint (I needed about three coats). I didn't bother taping off the hands because I could just scrape the paint off as needed. Let it dry.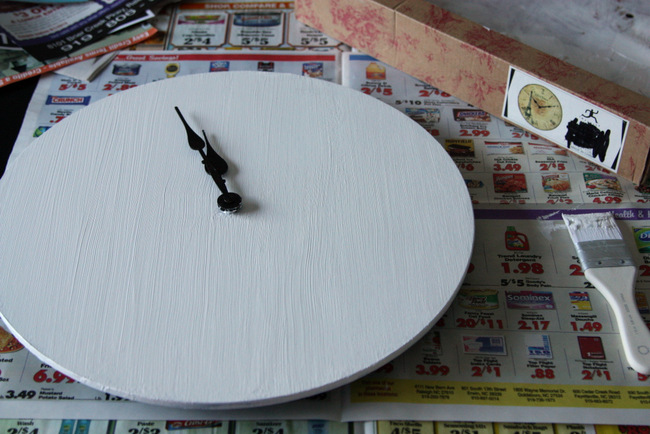 3. Cut 12 circles out of the wood decoupage paper (a hole punch makes this WAY easier. I've definitely gotten my $5 out of this thing). Paint a thin, even coat of decoupage onto the clock face, then quickly arrange your circles around the edge. Let dry completely.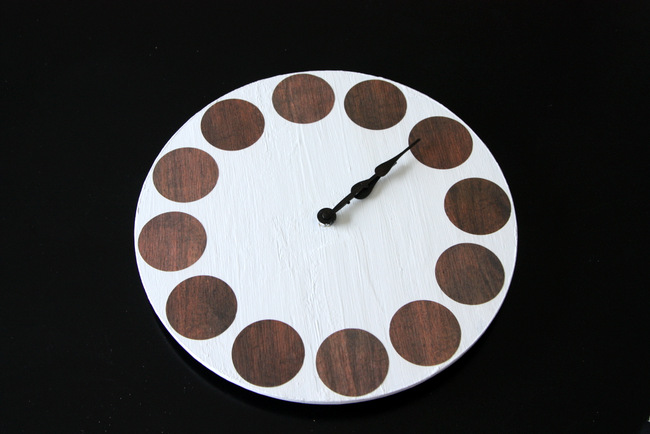 4. Paint a thick coat of decoupage over the top to seal and let dry.
5. Attach your stencils to the appropriate circles, then fill them in with gold paint. You'll probably need 2-3 coats. As soon as you've finished the last coat, remove the stencils. Let dry completely.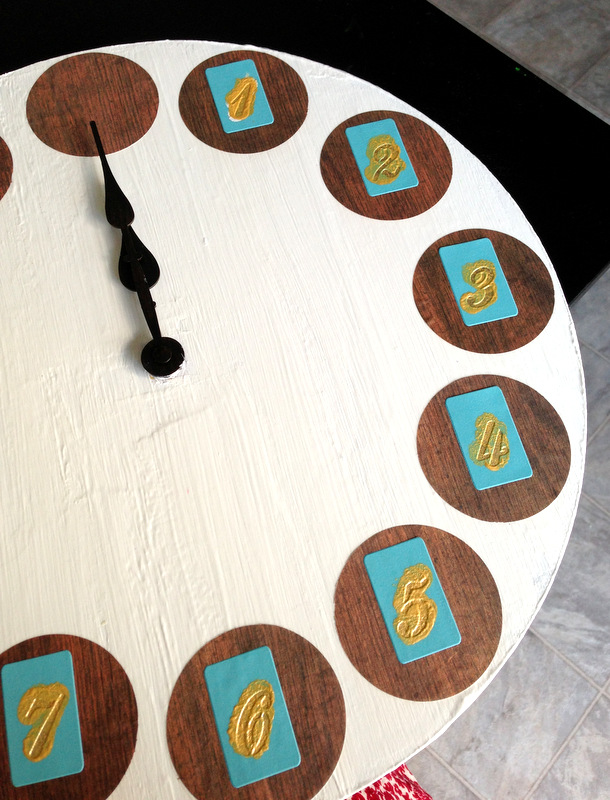 Ta-da!I've hung this one in Ani's nursery which is really nice for keeping track of when she's gone down for a nap or gotten up. Much less time spent shouting to Bart, "WHAT TIME IS IT?!" (and less opportunity for him to respond, "time for you to get a watch." I actually have a watch. Multiple watches, in fact; I'm just not usually wearing them at 7:00 a.m.).
And if I'm showing you the clock hanging in the nursery, you might as well see the entire nursery, right? Right.
Let me tell you, this is a big step up from the bathroom in our apartment.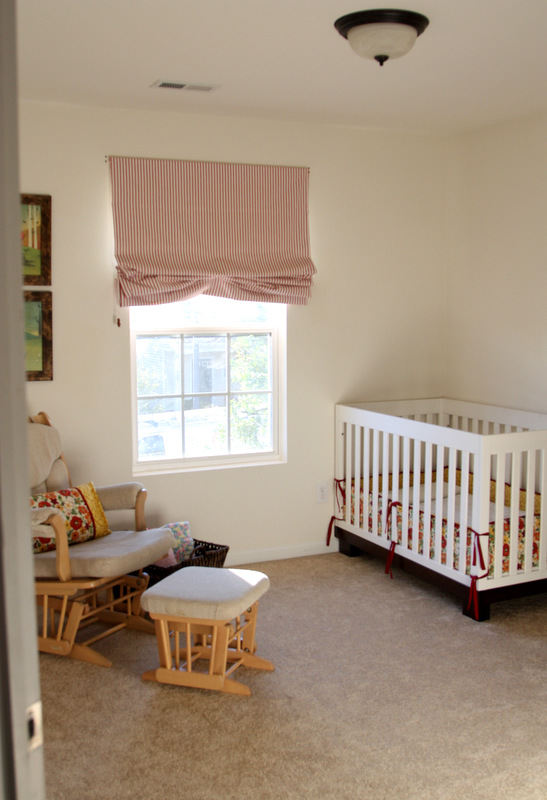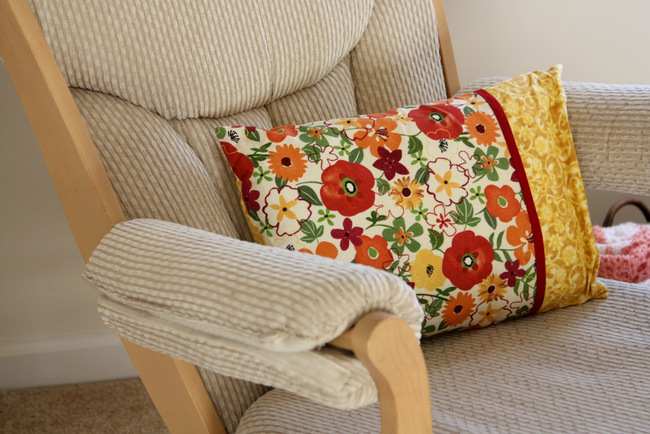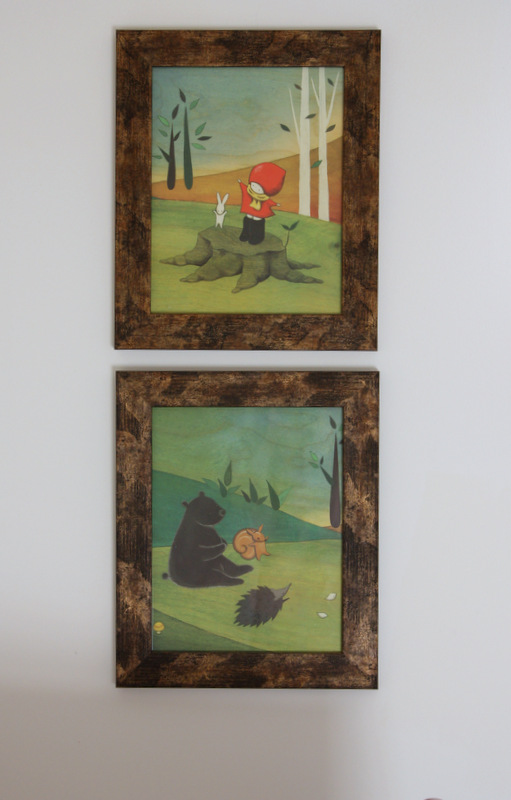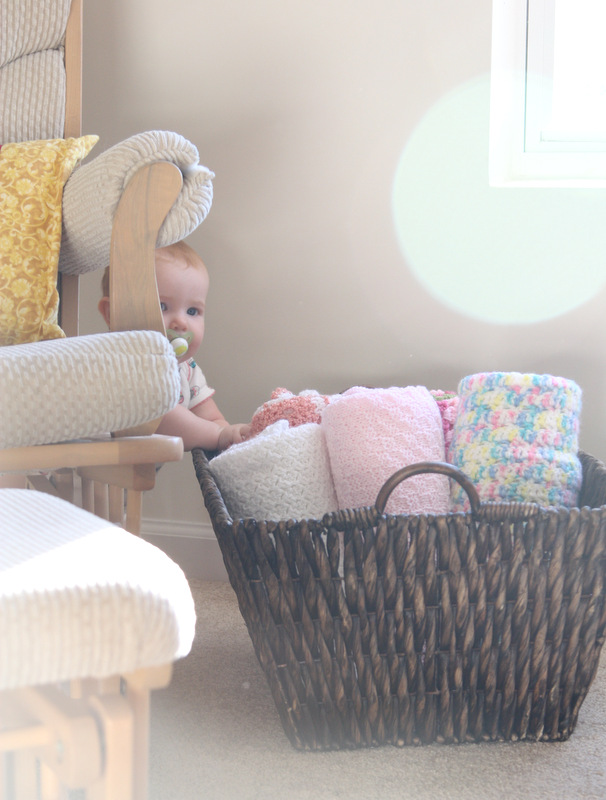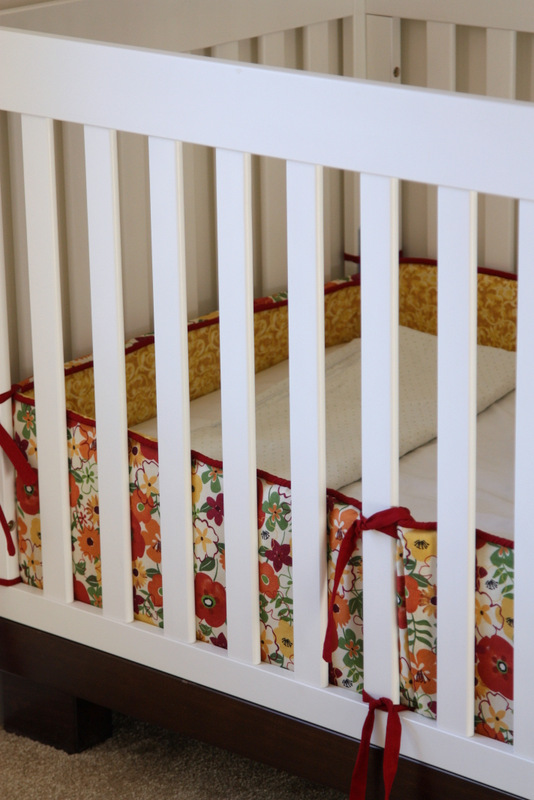 We bought this dresser at a garage sale in Texas, and, after haggling down to half the price (total = $15), discovered it wouldn't fit in our car. So then the guy who sold it to us offered to just bring it over in his truck. People in Texas are super nice.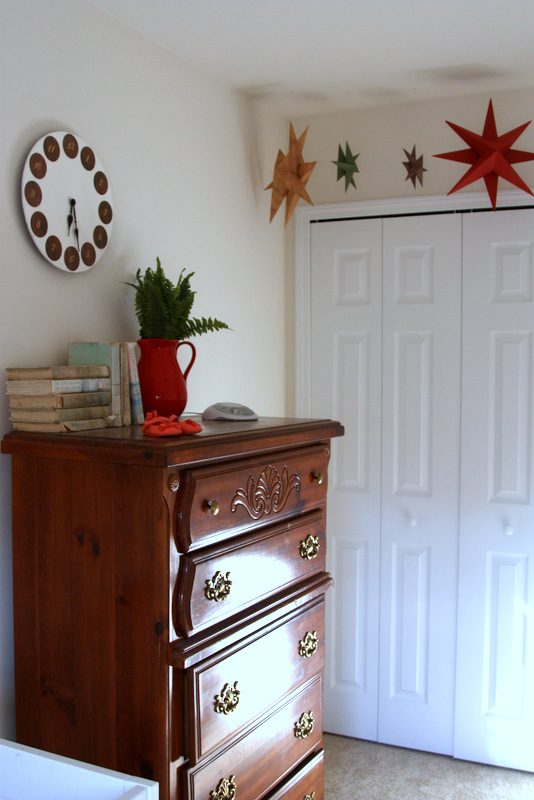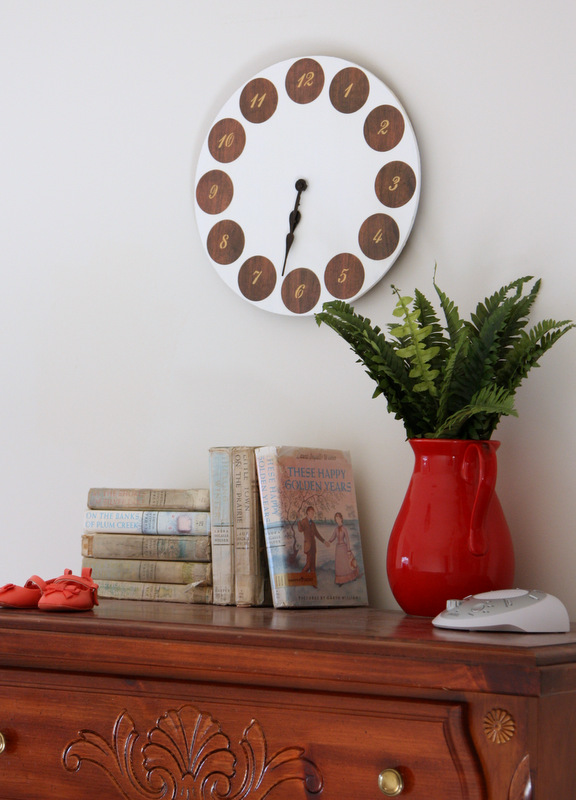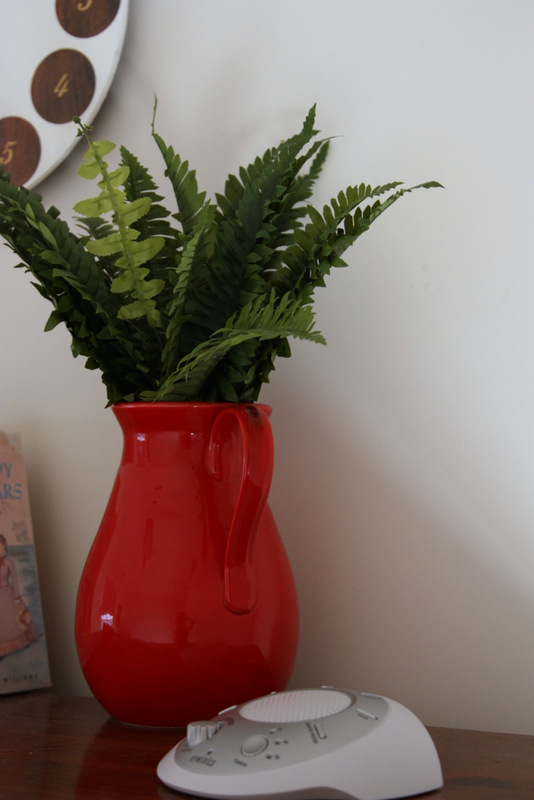 My mom read me the Laura Ingalls Wilder series when I was five or six, checking them out of the library one by one. The next year, the library replaced their set and my mom bought these from the library sale for 25 cents each. If there was a house fire, these would be high on my list of things to grab.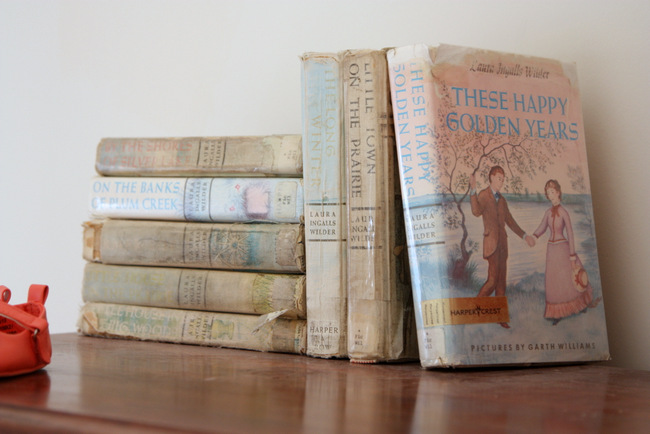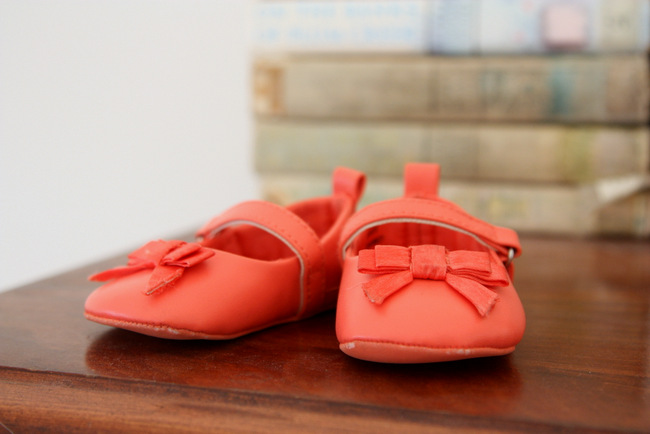 This closet with room to spare? Fills my heart with glee. We had a total of three closets in our apartment (one of them being the pantry/hall closet) so having a closet that isn't jammed to the brim is pretty much the best thing ever.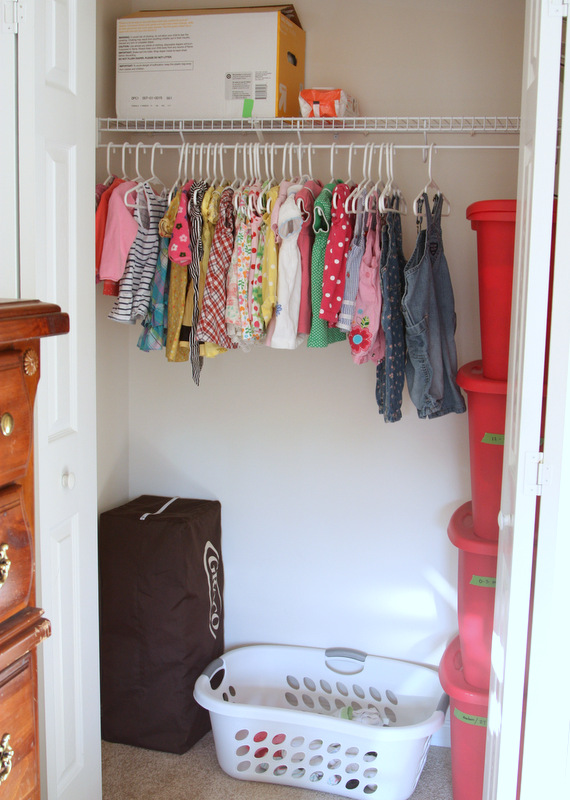 I originally had these stars hanging above Ani's crib, but after about an hour, I took them down. I was just too nervous about them falling or the tacks dropping out or the string falling on her, etc (and I'm not a particularly nervous parent. I don't even use carseats (I kid. Of COURSE I use carseats)).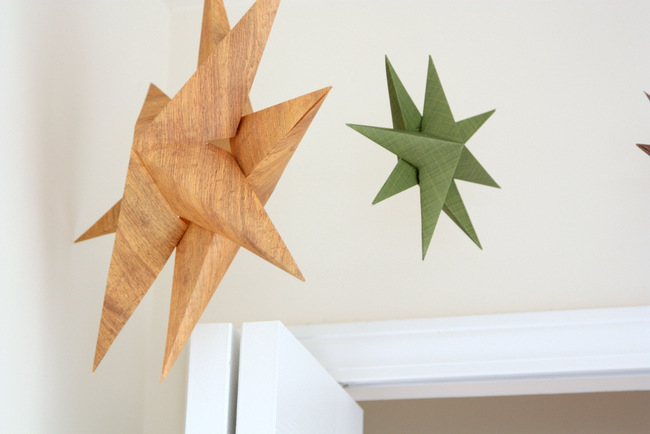 Sources (as if you care – pretend to, if you'd like):
Curtain: Pottery Barn Kids (left by the previous occupants – when I discovered how much curtains cost, we just went with it)
Prints: from a poster of this book
Frames: Michaels
Crib: Amazon (gift from my parents)
Bumpers and Chair Pillow: Made by my mom
Glider: Bought on Craig's List
Basket: Ross
Baby: Made by me
Blankets: Made by various friends and relatives
Dresser: Bought at a garage sale
Red pitcher: Sur La Table (gift from my mom)
Ferns: Michaels
Little House book series: Wisconsin library sale in 1992
Stars: Made by me (the wood ones are using the leftover decoupage paper)
Check out other fun projects and products on Facebook, Twitter, Pinterest and Plaid's blog.