A few people (this is a wild exaggeration – one single person inquired) have asked for details about the homeschooled version of preschool I'm doing with Ella this year.
So for
all of you
Rachel
, here's what we're doing.
But first, a couple of notes, because I can never resist sharing ten times more information than anyone could possible want.
simple at home preschool
1. I aim to do this Monday, Wednesday, and Friday for about an hour or 90 minutes while Ani naps. Aim being the keyword. If we have a friend over in the morning or new stickers, I don't feel bothered if we skip.2. I would not do this if Ella wasn't totally interested and wanting to do it. As it is, though, she cries when it's time to stop and begs constantly, "Can we just do a little more school?" So, I think she likes it.3. This has made my life much easier. Now instead of wracking my brain each morning for ways to entertain Ella while Ani naps, I have ready-to-go activities. All I have to do is sit on the couch and read things aloud. Which happen to be two of my favorite activities in the world. Throw in some chocolate snacks and it would pretty much be my personal trifecta of happiness.
4. We are doing a co-op preschool also this fall, with four other children her age. So, that's the other two mornings of the week.
So! Now that you've plowed through those four things, here's my very official and impressive curriculum, which I should probably patent immediately.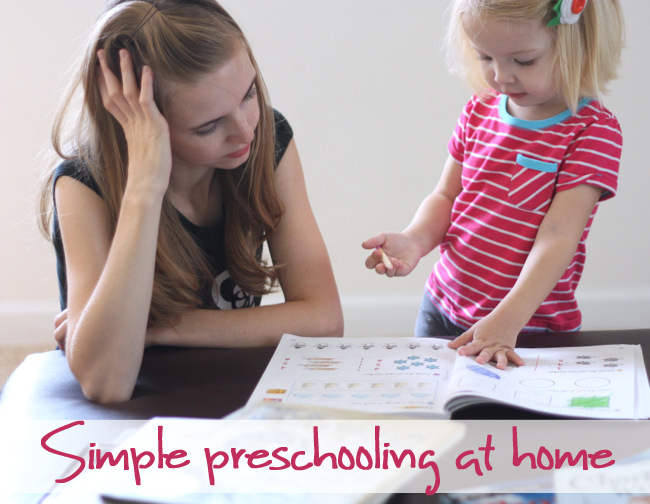 Math: I bought this kindergarten math workbook and she does one or two lessons a day. She loves it and always chooses this to do first. The lessons are fairly short and I usually bulk them up a little by making up additional questions or problems with the provided pictures. Once a week or so, I have her play this Todo K-2 Math app (free! and quite impressive) to practice tracing numbers, doing basic addition, etc. She likes it and I try not to fall asleep because the music is very soft and soothing.
Reading: Ella already knew all her letters and the sounds they made, so we've been working our way through Phonics Pathways (we checked it out from the library). I'm not at all in a hurry for her to learn to read (since she's just barely three and I don't feel like there is any rush), so we do part of a lesson each day, sometimes repeating the same lesson a couple of days in a row. I want to make sure it's fun for her, rather than stressful. She also will often pull the book out in the evening and have Bart help her sound out words from the many many lists of words in the book. (I'd originally planned to use Teach Your Child to Read in 100 Easy Lessons, but my mom happened to mention to me that she'd used it with one of us and not been impressed at all – apparently of the four different things she used to teach the four of us to read, it was her least favorite).
Read-Aloud: I read aloud to her for about 15-20 minutes. We started with Socks (I liked it, but it's not my favorite), and now we're doing Charlotte's Web which I think is much better and she seems to be following it more easily. Next, I plan to do The Mouse and the Motorcyle or Ramona the Pest. Sometimes she snuggles with me on the couch, sometimes she plays with Legos or blocks while I read to her.
Picture Books: My goal is to read all the Caldecott Winners and Honor books this year with her. We usually do three or four, depending on how long they are.
Other things I'm planning to add:
Handwriting. I have done zero research on this, but I'd like to add a handwriting workbook to our routine, since she loves letters and she really loves workbooks (it's like she's my child or something).