You know how there are always some surprises about your children?
One of them for me is how much my girls LOVE math.
I remember crying about math basically every single day from second grade through seventh grade (my poor mother) and even though I'm pretty good at math, I would never have considered it a favorite subject.
My girls, though? Obsessed with math.
Last year, when Ani was having a really rough morning and nothing I tried could snap her out of it, I finally offered to print her off a worksheet of math problems.
She immediately cheered up, did all 20+ problems and then went off to school with a smile.
I cannot imagine a moment in my life where a sheet of math problems would have cheered me up, but my girls are clearly not me!
Because of all the math love in our house, I'm always on the lookout for good  books about math and numbers.
Whether you have math lovers or math haters in your house, I hope you'll all find these math books fun and engaging!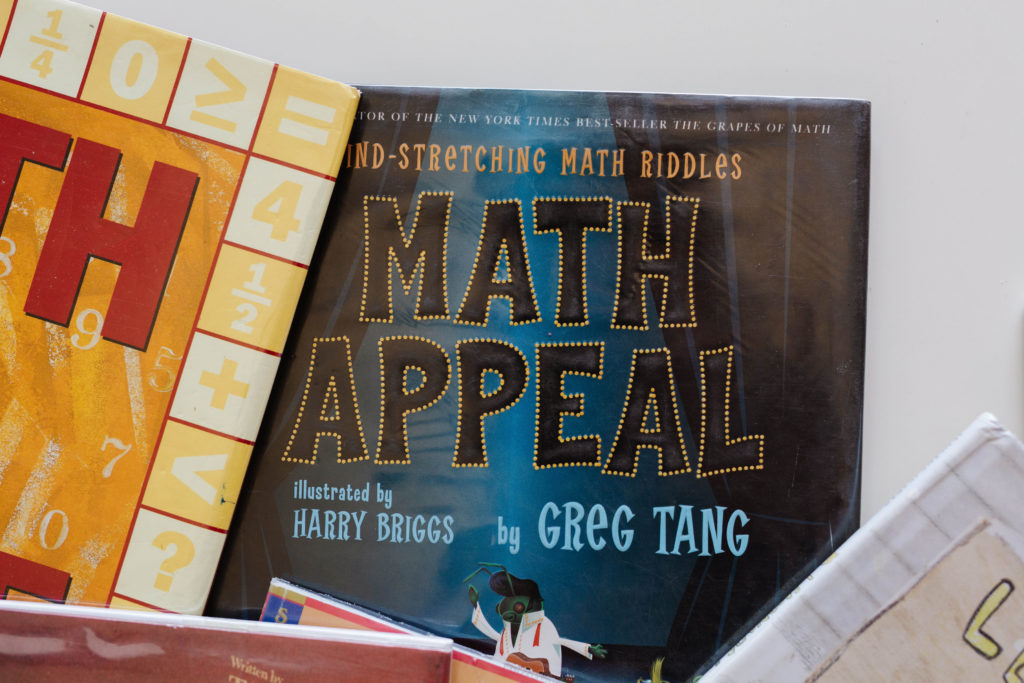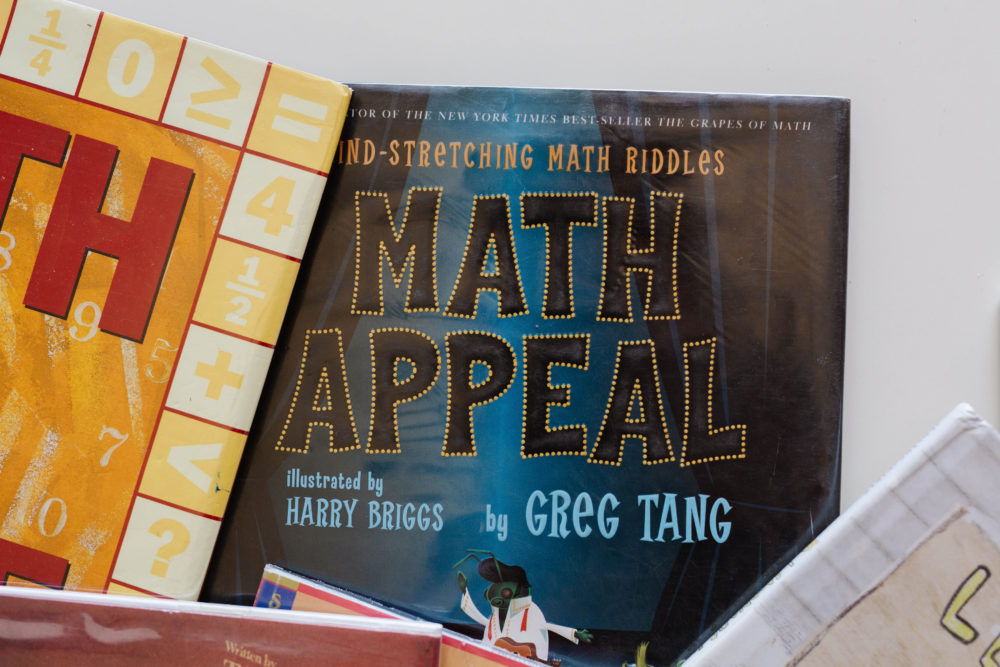 13 Fun Books About Math and Numbers
Zero the Hero by Joan Holub, illustrated by Tom Lichtenheld
Zero thinks he's awesome. But the other numbers? Not so much. They think he's basically nothing. After all, adding or subtracting with him changes nothing. And even worse, multiplying and dividing by him makes the OTHER numbers disappear. But when Zero dejectedly heads out, the counting numbers suddenly realize just how much they need him.
The Cookie Fiasco by Mo Willems, illustrated by Dan Santat
Any child knows this dilemma. There are four friends. . . .and only three cookies. How can everyone get an equal share of cookie? And when Hippo keeps BREAKING the cookies, well, things go from bad to worse. Or do they?
7 Ate 9 by Tara Lazar, illustrated by Ross Macdonald
This book is loaded with puns and although you won't be learning a lot of math facts in it, it's a fun look at all the different ways we talk about numbers.
365 Penguins by Jean-Luc Fromental, illustrated by Joëlle Jolivet
It's pretty delightful when a penguin shows up on your doorstep. What a treat! And when a second penguin arrives the next day? Well, two is better than one. But when this continues on for a YEAR? 365 penguins is a LOT of penguins.
12 Ways to Get to 11 by Eve Merriam
A hen is looking for her twelve little chicks. But number eleven is missing – where could that little chick have gone off to? This fun counting book is perfect for young readers polishing up their early number skills.
How Much is a Million by David M Schwartz, illustrated by Steven Kellogg
We've all thrown out things like "There are a million crumbs on this table!" but how much is a million really? This delightful book shows all sorts of different ways to help children (and adults!) conceptualize how BIG those numbers really are with detailed illustrations and delightful examples.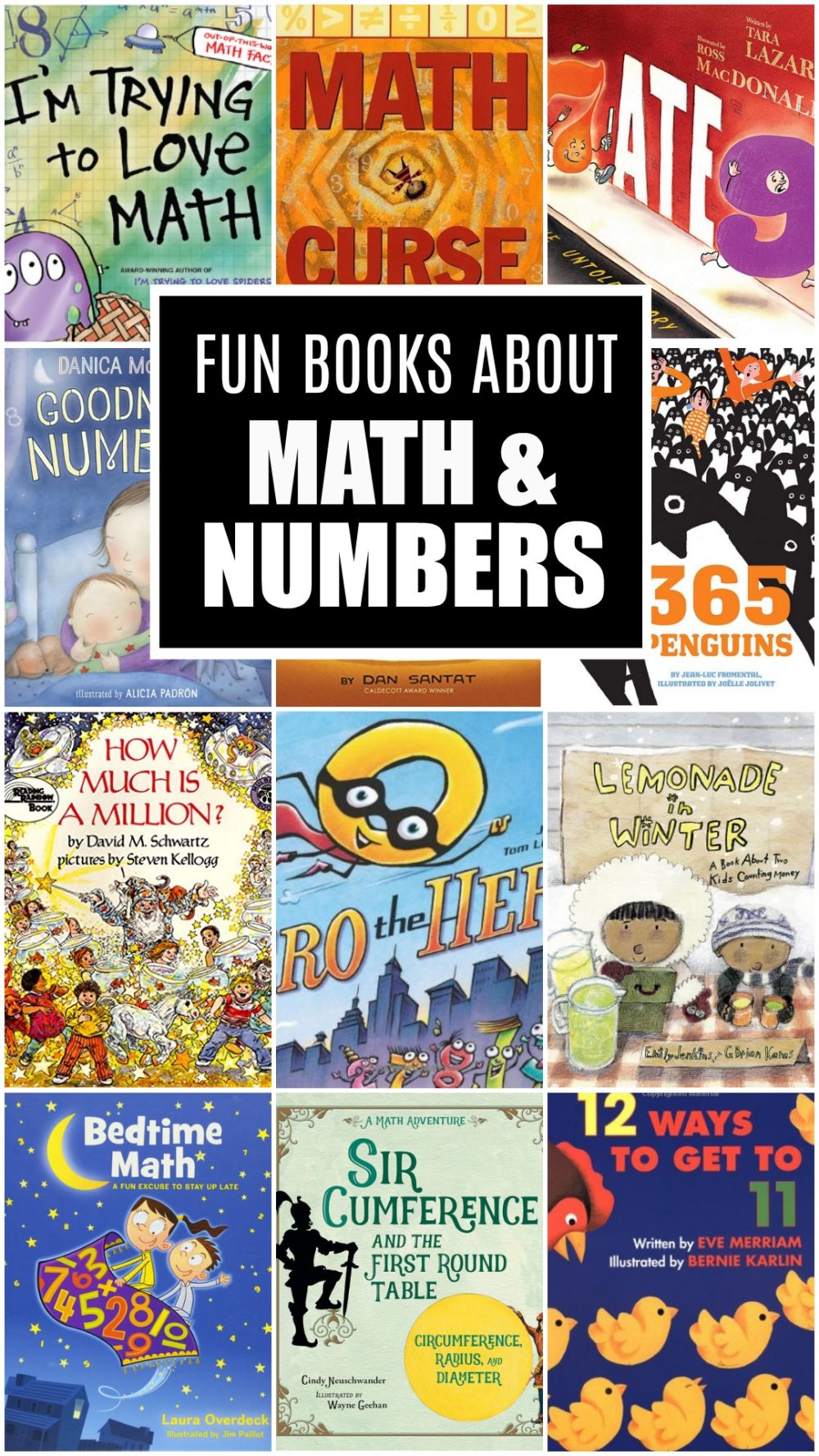 Lemonade in Winter by Emily Jenkins, illustrated G. Brian Karas
When you think lemonade stand, you probably think warm sunshine and a summer breeze. Pauline and John-John aren't deterred by the winter weather – they're going to have a lemonade stand anyway. This book is perfect for talking about money and entrepreneurship, plus it's just a delightful, amusing tale.
Math Curse by Jon Scieszka, illustrated by Lane Smith
When I asked for recommendations on books about math, this was probably the most suggested. When a young girl's teacher mentions that you can think of almost everything as a math problem, the little girl is suddenly stuck with a math curs where every part of her day becomes a math problem. It's a great way to help children see that math and numbers are EVERYWHERE and that they can be fun too.
I'm Trying to Love Math by Bethany Barton
For every child who has ever said, "When will I ever use this?!" this book is the answer. With lots of laughs and visual humor, Bethany Barton walks her readers through all the ways we use math every single day. And how it's pretty darn cool.
Goodnight Numbers by Danica McKellar, illustrated by Alicia Pardon
This might look like a basic bedtime book, but it's cleverly  introducing your child to the idea that numbers and math are all around us.
Sir Cumference and the First Round Table by Cindy Neuschwander, illustrated by Wayne Geehan
If geometry seems terrifying to you, this delightful picture book does a terrific job of making it fun as Sir Cumference, his wife Lady Di of Ameter, and their son Radius look for a solution when another kingdom is threatening to attack.
The Grapes of Math by Greg Tang, illustrated Harry Briggs
Greg Tang's name came up frequently when I was researching books about math. His fun picture books have math rhymes to give lots of delightful practice in problem solving. He has a whole slew of math books and they have teaching guides at the back of the book in case you want a little extra hand-holding.
Bedtime Math by Laura Overdeck, illustrated by Jim Pailot
If you want more than a picture book about math, this slim volume is filled with interesting math word problems that are perfect for car rides or doing around the dinner table (and the problems adapt to different age levels and abilities). If you want a way to infuse math into daily life in a way that feels fun instead of horrible, this is a great place to start (and there are multiple volumes in this series!)
And if you'd like a printable copy of this list that you can take to your library or screenshot on your phone for easy access, just pop in your email address below and it'll come right to your inbox!"
Any other favorite books about math or numbers that I missed? Let me know in the comments!
If you liked this list of books about math, you might like these posts too: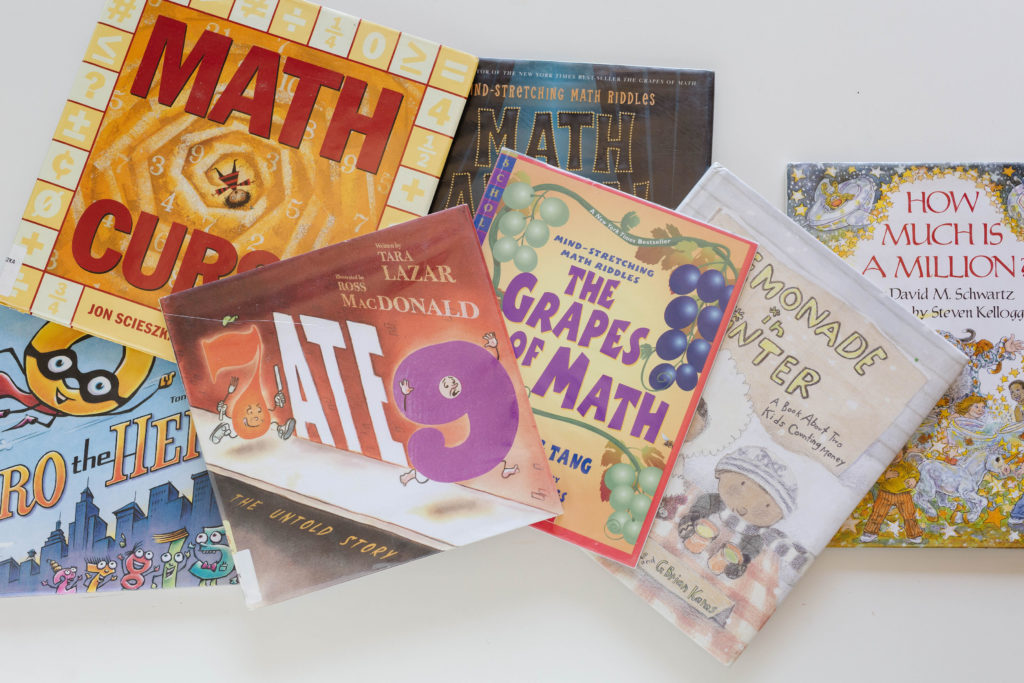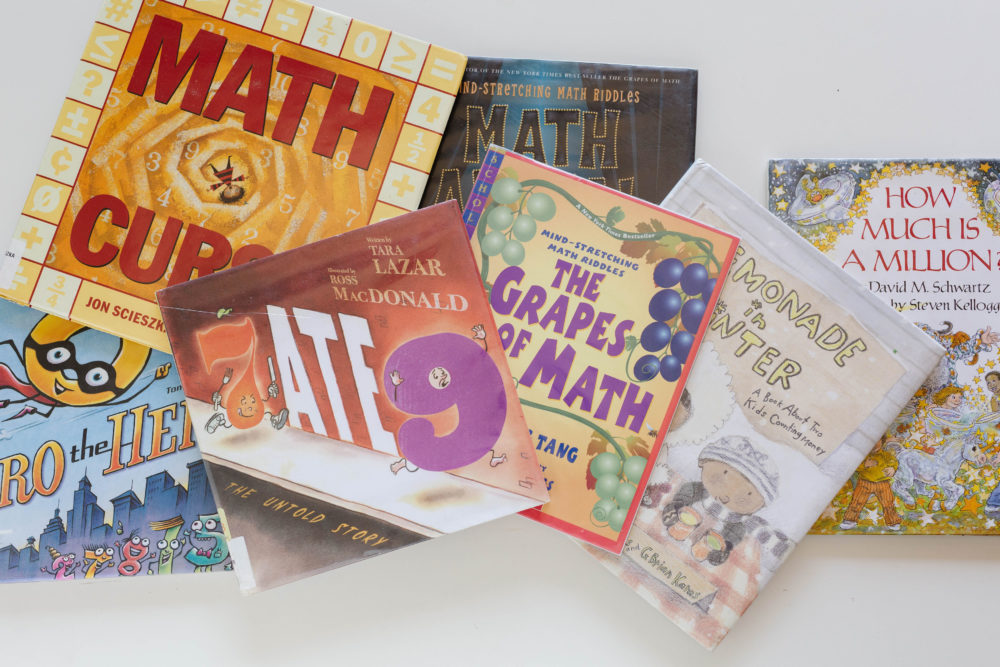 Photos by Heather Mildenstein
Reader Interactions