This corn chowder is packed with vegetables, plus you can sub in whichever ones you have on hand, and it's DELICIOUS.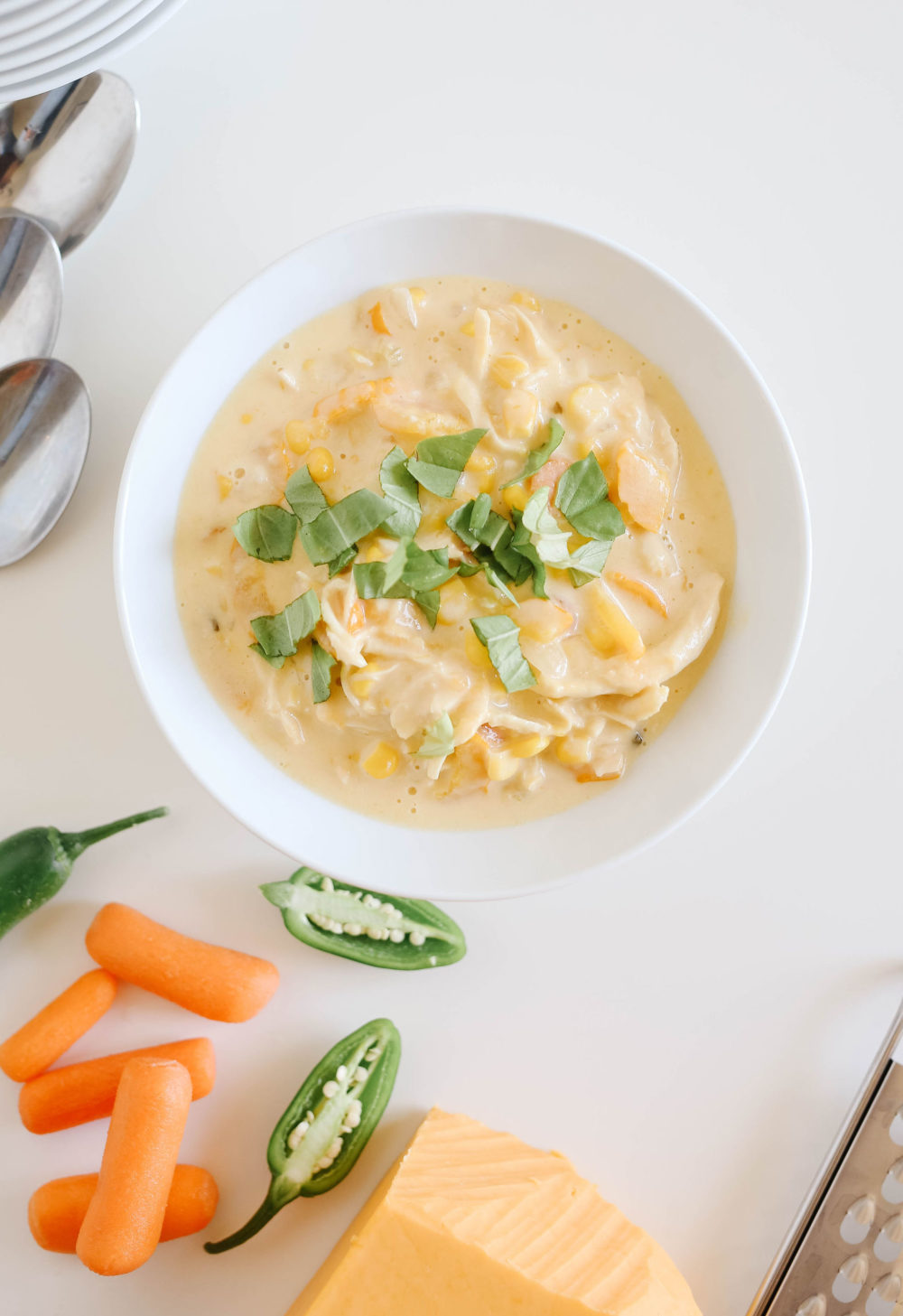 In our last meal rotation plan, I added this corn chowder, which I'd never made before.
It was FANTASTIC and was a great way to use up the zucchini that kept growing at lightning pace in our backyard garden.
Everyone in the family liked it and once you chop up the vegetables and get those cooking, everything else is super easy and just simmers along while you set the table, clean up the kitchen and get the other parts of our dinner ready.
I usually served it with these zucchini muffins because. . . zucchini overload.
By the way, these jalapeños were from my garden, but usually I use canned jalapeños because they're less spicy and they last forever. I open the can when I need one, put the rest in a tupperware in my fridge (with all the brine and carrots) and then pull one out when I need one. They last for MONTHS – actually, I've never had one go bad – and it's so convenient and easier on kids with less of a spice tolerance.
With the seeds taken out of the jalapeños, this corn chowder isn't spicy, but has a great flavor.
If you're looking for something cozy and delicious to put on your fall menu, this corn chowder is a total winner.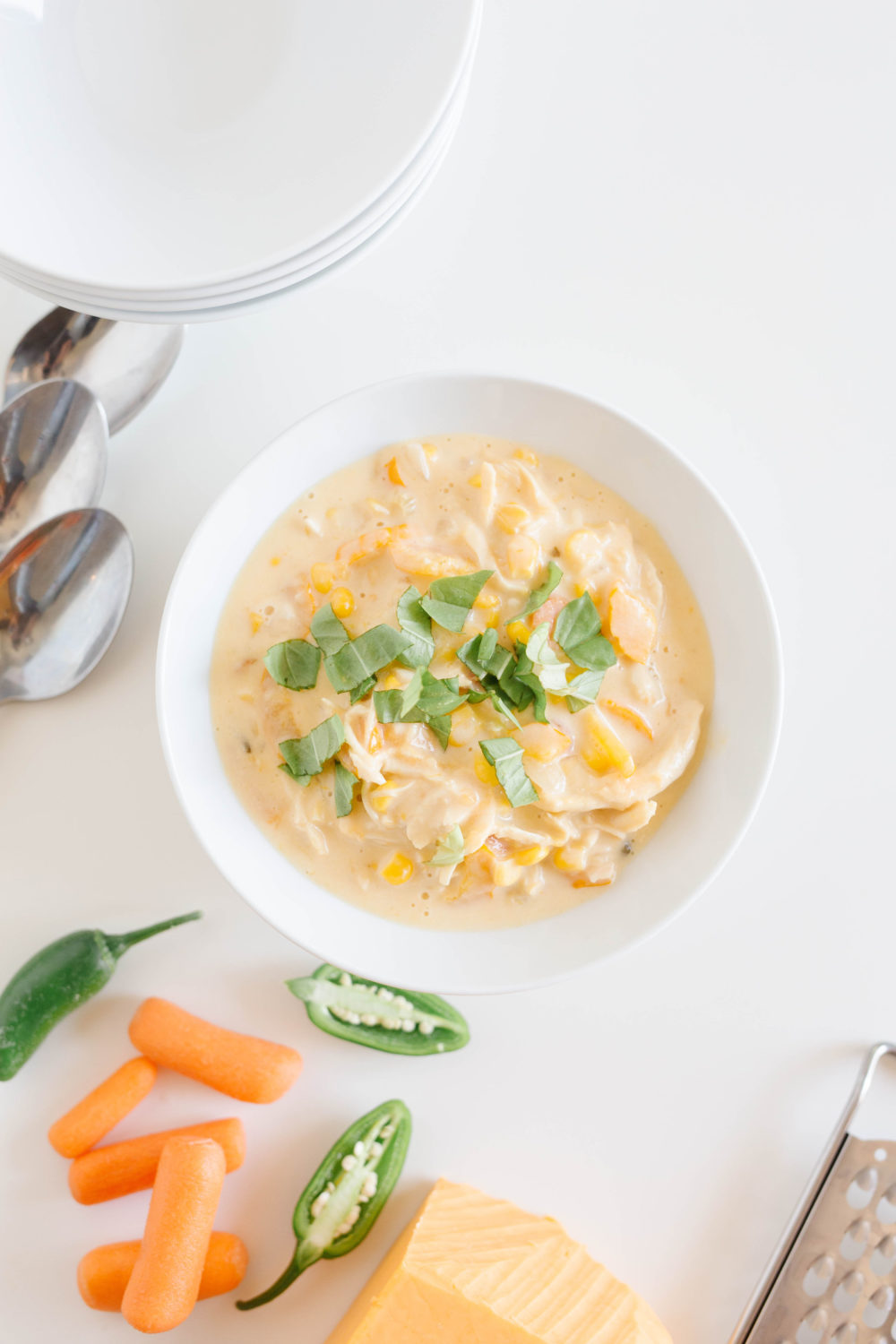 The Best Chicken Corn Chowder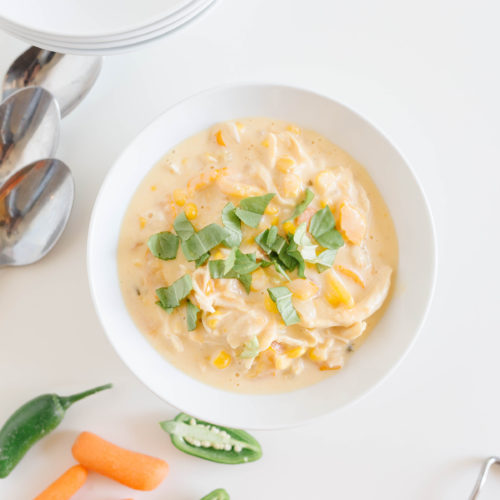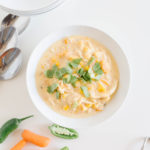 Chicken Corn Chowder
This corn chowder is creamy and flavorful and bursting with vegetables. Plus, it's easy to sub in whatever vegetables you have on hand!
Ingredients
2

Tablespoons

olive oil

2

medium

carrots

diced

2

stalks

celery

diced

1/2

medium

zucchini

diced

1

medium

yellow onion

diced

1

jalapeño (seeds removed)

diced

2

cloves

garlic

minced

3

Tablespoons

flour

3

cups

chicken or vegetable broth

1

cup

fresh or frozen corn kernels

2

chicken breasts

fresh or frozen

4

ounces

cream cheese

1

cup

milk

1

cup

cheddar cheese

shredded

1/2

teaspoon

salt

1/2

teaspoon

pepper
Instructions
In a large pot or dutch oven, heat the olive oil over medium heat, then add the carrots, celery, zucchini and onion and cook until softened, about 10 minutes, stirring occasionally.

Add in the jalapeño and garlic, stirring until fragrant, about 1 minute.

Sprinkle the flour over the vegetables and stir until the flour coats all the vegetables, about 1 minute.

Add the chicken broth and let heat, stirring frequently, about 5 minutes, until slightly thickened.

Add the chicken breasts and cream cheese and bring to a low boil, stirring occasionally, until the cream cheese is melted and the chicken is cooked through.

Remove the chicken and shred in a stand mixer or with two forks (or just chop it), then return it to the pot, add the corn, milk and cheddar cheese and cook until it's hot and the cheese has melted.

Salt and pepper to taste, then serve immediately, garnishing with basil if desired.
If you liked this chicken corn chowder recipe, you might like these recipes too:
Photos by Heather Mildenstein