When I took over for the previous librarian at the elementary schools where I worked in Massachusetts, I discovered that she LOVED Cinderella.
She had collected enough different Cinderella stories that she had enough to read one every week to the first graders for the entire year.
I didn't continue that tradition (because my attention span is too short to read the same version of one story over and over again for a year), but I enjoyed looking through them and seeing the similarities and differences.
Since then, I've loved reading different versions of the same story and my girls get a huge kick out of it too.
Recently, I requested every Little Red Riding Hood story I could find, and we enjoyed reading them all and comparing the different ones.
Here are the Little Red Riding Hood Retellings we liked best: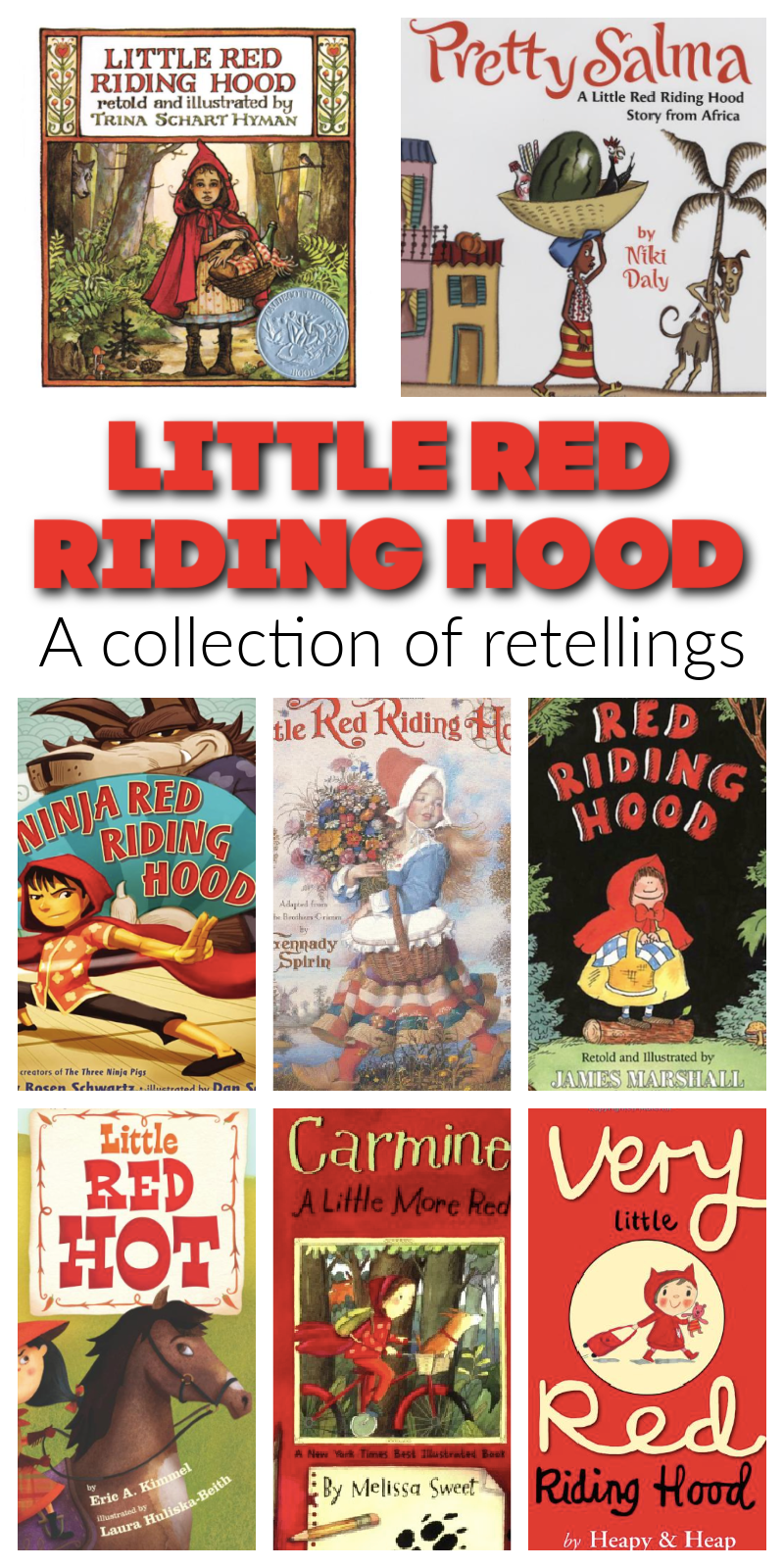 retelling of little red riding hood book suggestions
Little Red Riding Hood retold and illustrated by Trina Schart Hyman
If it's good enough for the Caldecott committee, it's good enough for me (that's not a hard and fast rule, but in this case it is). I love the beautiful, old-fashioned feeling illustrations and the retelling of the classic. My girls can't get enough of this one, and even though I usually go for a book that's a little less text-heavy, in this case, I don't mind a bit.



Pretty Salma: A Little Red Riding Hood Story from Africa by Niki Daly
This African version was probably my girls' very favorite about Salma who goes to pick up groceries for her granny and takes a shortcut through the wild side of town and meets Mr. Dog who convinces her to lend him her clothing, piece by piece. When he eventually is dressed as Salma, he returns to Granny and tries to fool her into thinking he's Salma. Ella asked almost every time, "If you were hugging me and felt a tail, you'd know it wasn't me, right?" Yes, I'm pretty sure I would realize it wasn't my child. Let the record show that Bart wasn't particularly a fan of this one – he thought the illustrations were a little off-putting.
Carmine: A Little More Red by Melissa Sweet
I absolutely love Melissa Sweet's illustration style and this book is one of her best. It's a fun mash-up of the Little Red Riding Hood story and an alphabet book, with lots of excellent words like "dilly-dally" and "voila" thrown in, which makes reading it aloud extra fun. And Melissa Sweet's illustration style with lots of collages means there are endless interesting things to look at and fun little surprises tucked into every page. (I also need to get my hands on her Little Red Writing).



Little Red Hot by Eric A. Kimmel, illustrated by Laura Huliska-Beith
I first discovered this book when it was on the Texas 2×2 list and I probably read it to Ella 50 times. I love that the Big Bad Wolf is called Señor Lobo and I always do my best (or worst, probably) Texas drawl for Little Red Hot. Also, I always want some quiche afterward.
Very Little Red Riding Hood by Teresa Heapy, illustrated by Sue Heap
In this one, Little Red is extremely little. Toddler little (assuming toddlers are sent to walk to their grandmother's house alone). When she meets the wolf along the way, they go to Grandma's house together for a little sleepover, but when bedtime arrives, that turns out to be much more scary for a little homesick girl than a wolf could ever hope to be.



Little Red Riding Hood adapted from The Brothers Grimm by Gennady Spirin
This one is really fun because the illustrations are done in a 17th century Dutch style, so it's a little like walking through a European art museum (but your feet aren't so tired at the end). I also love that there's a little background on the history of the Little Red Riding Hood story in the front. Definitely worth including in your Little Red collection.



Red Riding Hood retold and Illustrated by James Marshall
You guys, I love James Marshall so much. His books just tickle my funny bone. Even after reading a huge stack of Little Red retellings, his was fresh and hilarious ("And he gobbled her right up. 'I'm so wicked,; he said. 'So wicked.' But really he was enormously pleased with himself."). Probably my next goal in life should be to build up my James Marshall collection, which currently is a pathetic zero.



Ninja Red Riding Hood by Corey Rosen Schwartz, illustrated by Dan Santat
Oh man, this one is fun. It's all done in limerick and the big bad wolf is so so hungry because the Three Little Pigs have taught everyone Ninja skills and he can't find a meal. He decides to take some classes and then feels ready to take on Little Red. But. . . he might not be ready.
And if you'd like a printable copy of this list that you can take to your library or screenshot on your phone for easy access, just pop in your email address below and it'll come right to your inbox!
If you have other favorite Little Red Riding Hood read aloud books, I'd love to hear about them!
if you liked this post about our favorite retellings of little red riding hood, you might also like these posts:
Reader Interactions