Once the Christmas picture books are put away, I'm always hungry for a new set of seasonal books.
Especially now that we live somewhere with actual winter weather, it only seems right to collect a big stack of children's books about winter and snow.
If you are always excited for seasonal books, pop in your email address and I'll send you a list of the best spring picture books!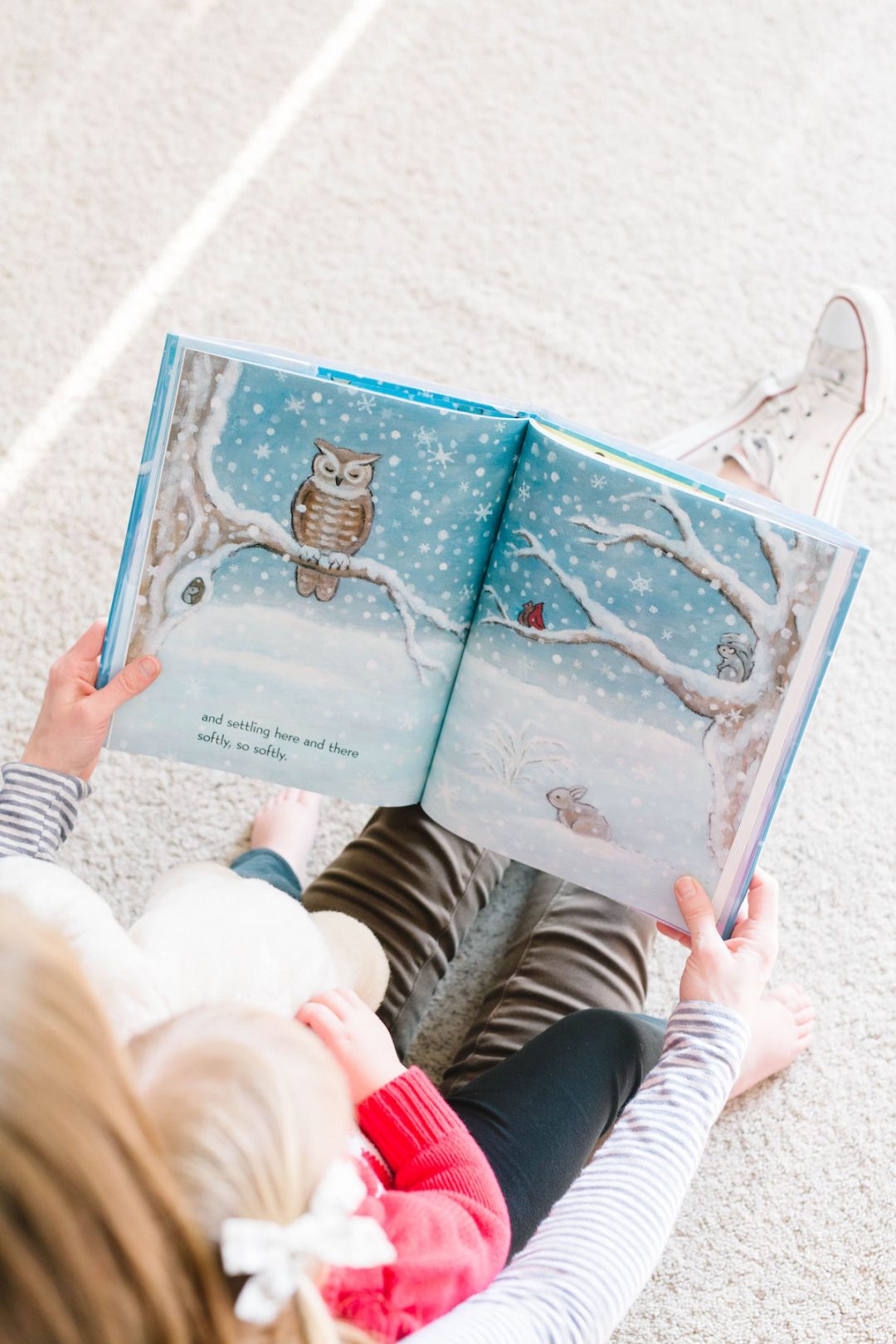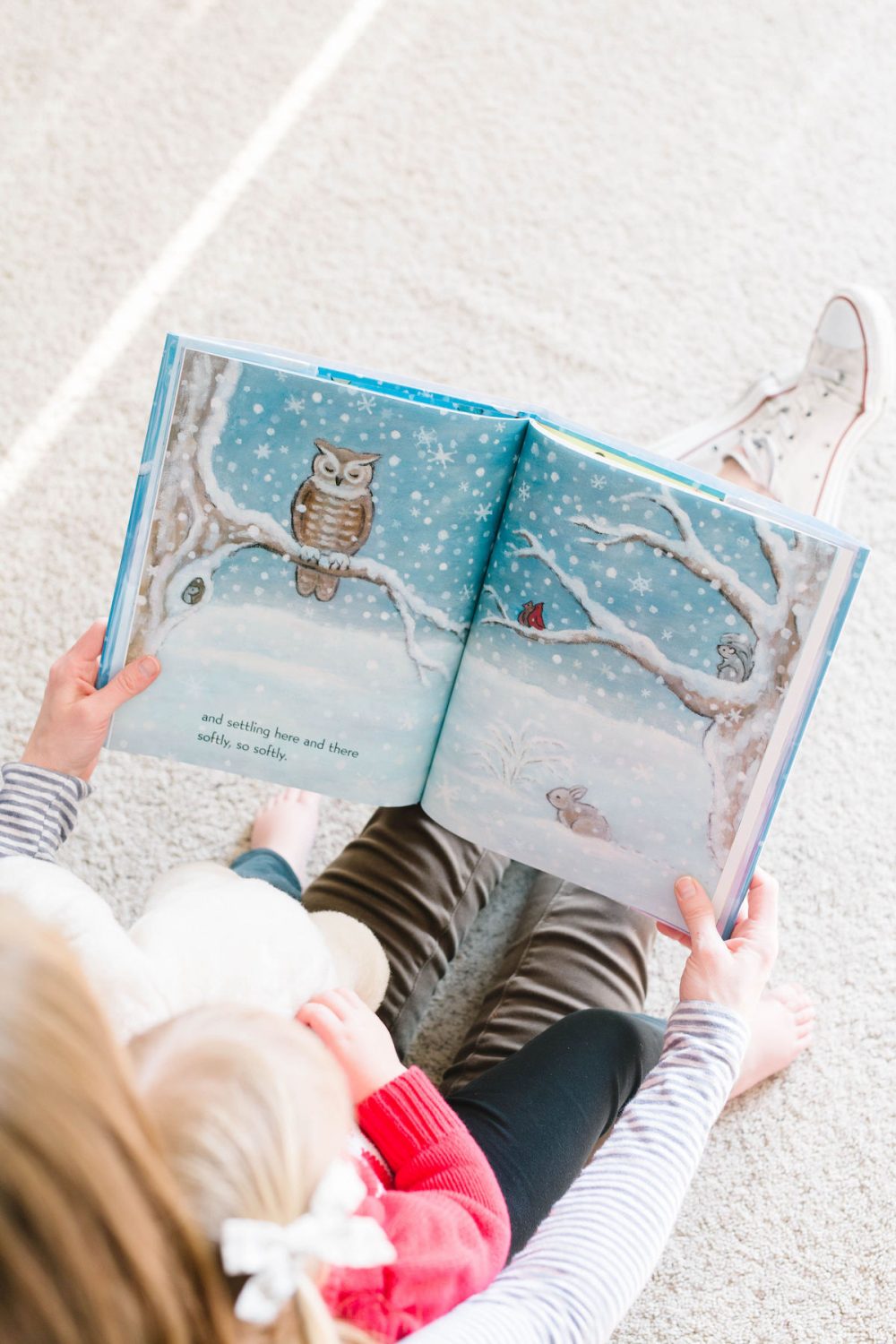 Pulling these books out reminded me of when Ella was about five (we lived in Arizona) and after reading First Snow together, Ella asked me, "Is snow real or just in books?"
No matter what your weather is like, I hope you'll love these children's books about winter as much as we do!
And obviously they're all best accompanied by a mug of hot cocoa.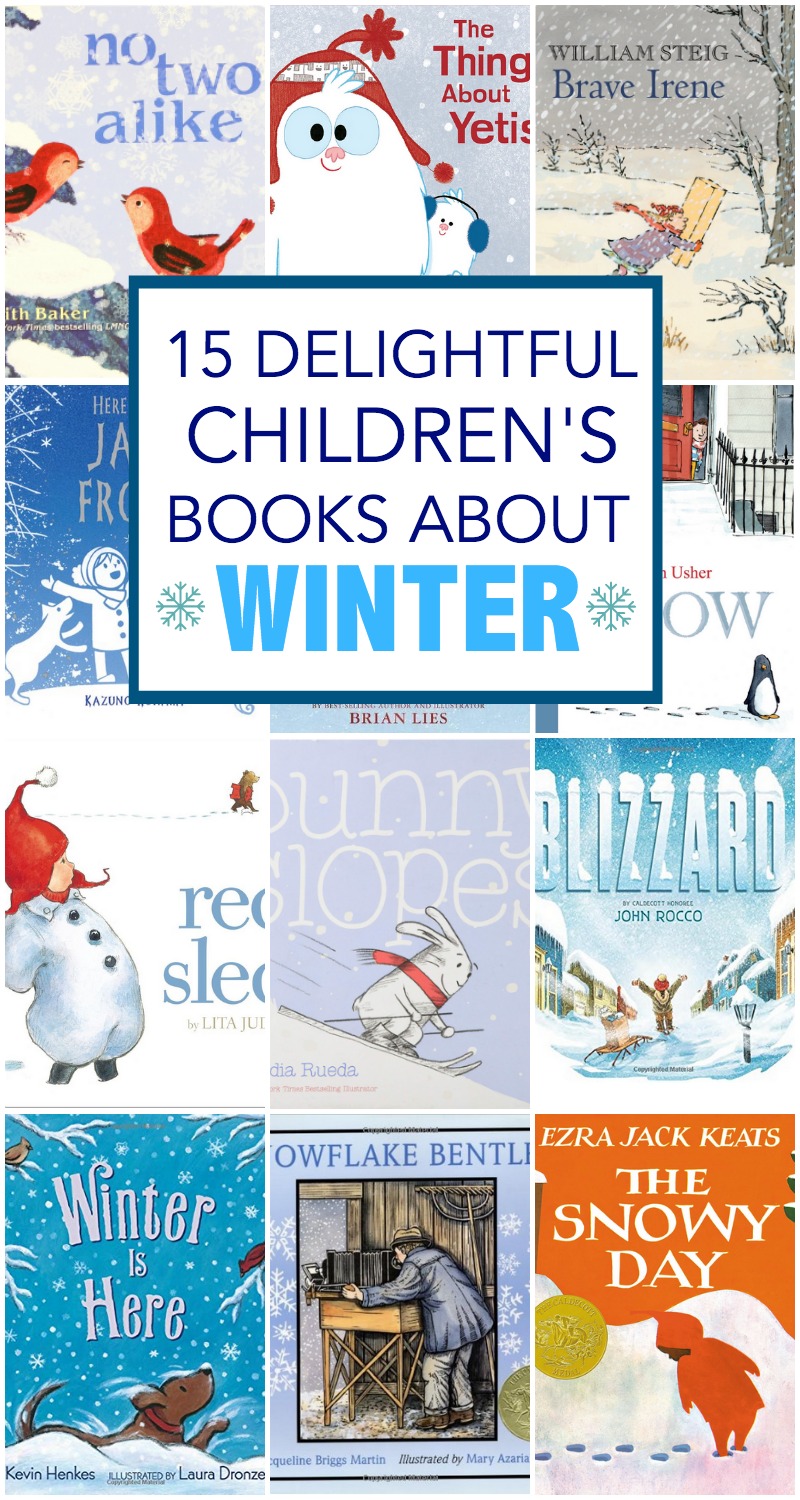 15 Delightful Children's Books about Winter
The Snowy Day by Ezra Jack Keats
This is the ultimate winter picture book in my mind. It just doesn't get better than Peter headed out into the fresh snow to play every classic winter game there is, from snowball fights to making foot prints to creating snow angels. My favorite bit is when he puts a snowball in his pocket to save for later.
Snow by Sam Usher
I love this four book series about a young boy and his grandfather in each of the seasons, going out and having wonderful adventures (after the grandfather takes forever to get ready, of course). In this one, Sam is VERY anxious about how long his grandfather is taking because it seems that every child and animal in town has headed out to play together in the snow.
Blizzard by John Rocco
Blizzard is so visually appealing – it's almost like being in the blizzard yourself. This book is based on the author's own experience as a child during a blizzard in 1978 where 53 inches of snow fell in Rhode Island. At first, the little boy is delighted by the snow but when it keeps falling it's clear someone will need to g to the store. But only someone who is light enough to walk on top of the heavy-piled snow.
Snowflake Bentley by Jacqueline Briggs Martin, illustrated by Mary Azarian
This Caldecott winner is a non-fiction introduction to Wilson Bentley who loved snowflakes from his very earliest years and spent decades figuring out how to photograph them. And subsequently discovered that no two snowflakes are exactly alike.
Oliver and Amanda and the Big Snow by Jean Van Leeuwen, illustrated by Amy Schweninger
You probably already know that Oliver and Amanda hold a special place in my book-loving heart. To me, they're just everything magical and wonderful about childhood (assuming in your wonderful childhood, you are a pig). From building a snow fort to sledding down the hill, this is a winter wonderland come to life.
Bunny Slopes by Claudia Rueda
I love an interactive book (I have a whole list of our favorites here!) and this one is a beloved addition to our collection. Bunny is ready to ski, but the book is so horizontal. Could you tip it a bit so he can catch some speed? Of course, you'll have to watch out for bumps and holes too!
Red Sled by Lita Judge
I have such clear memories of reading this nearly wordless book to Ella time after time when she was about 2. In it, a group of animals find a sled leaning against a house and they decide to take it for a ride.
Before Morning by Joyce Sidman, illustrated by Beth Krommes
This duo won a Caldecott with The House in the Night and I am equally enamored with this story about a busy family that includes a little girl who longs for her whole family to spend the day together at home, unhurried. And a beautiful snowy day grants her wish in a beautiful way.
Winter is Here by Kevin Henkes, illustrated by Laura Dronzek
Kevin Henkes' books are always must-reads for me, and this new one accompanied by Laura Dronzek's paintings beautifully capture a winter day as the snow begins to fall and animals and children both prepare to settle in for the season.
Here Comes Jack Frost by Kazuno Kohara
Her book, Ghosts in the House, is my number one favorite Halloween book, and this one does an equally job using spare colors to make a striking story. Here, a little boy is desperate for someone to play with as all the animals head off to hibernate and the birds fly south for the winter. Winter seems like a complete drag until Jack Frost appears and not only helps him discover how wonderful winter can be, but also brings the friendship he's been longing for.
Got to Get to Bear's! by Brian Lies
Bear is known for never asking for anything, which means when a note arrives requesting that Izzy come quickly, Izzy drops everything to get to Bear's, notwithstanding the blizzard that is beginning to rage. Along with their other friends, Izzy makes her way to Bear's in this delightful story of friendship.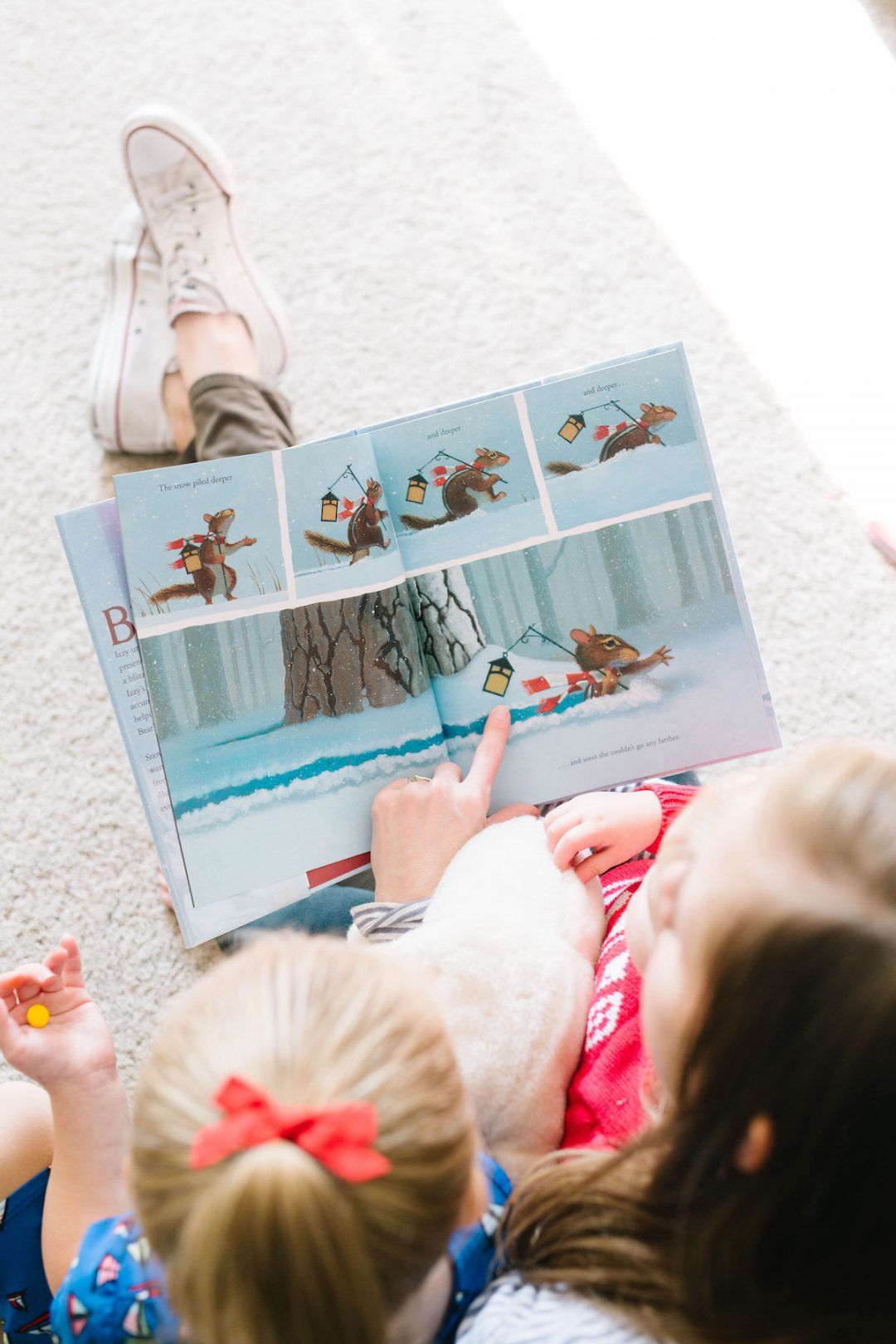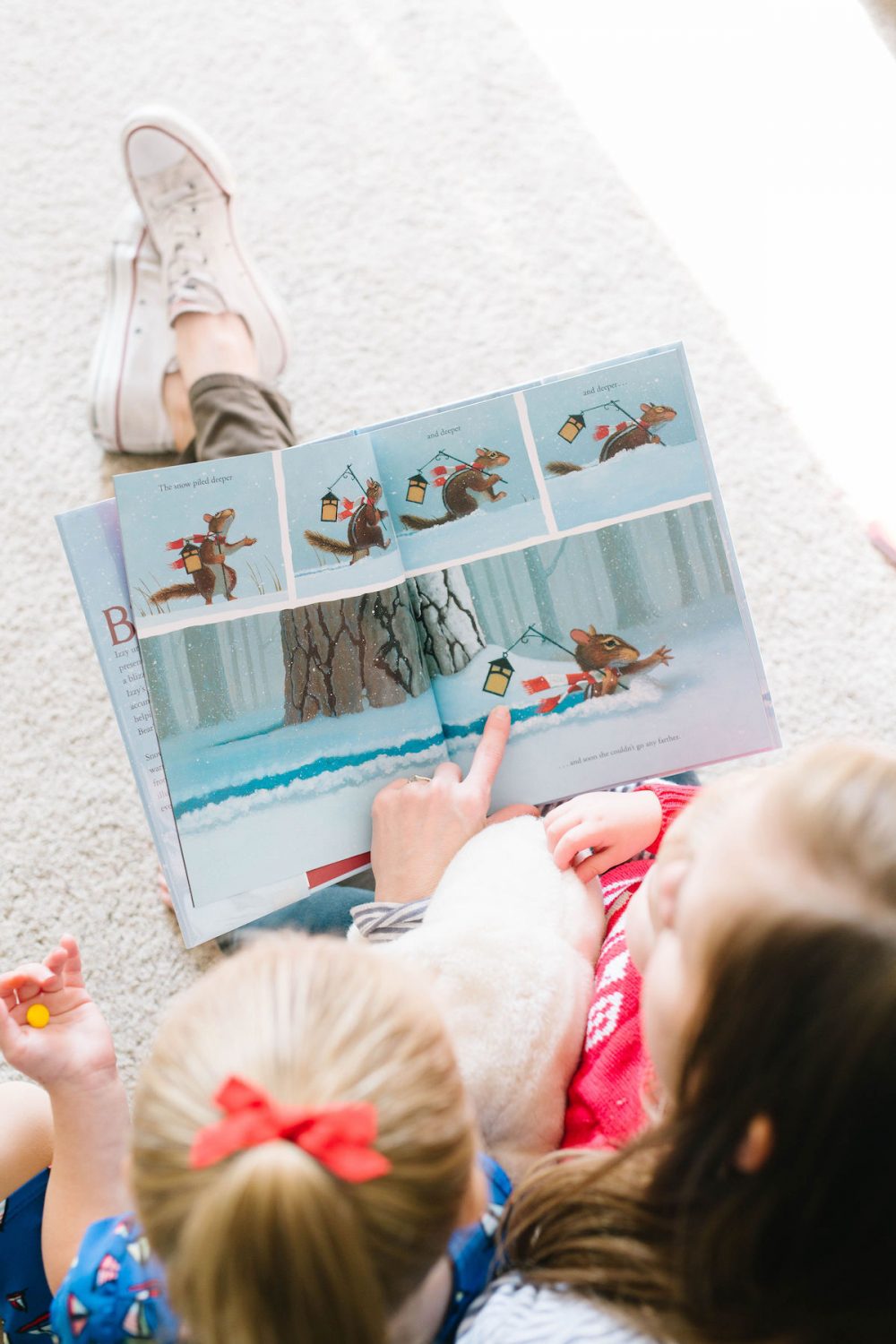 Brave Irene by William Steig
Irene's mother is the dressmaker who has just finished a spectacular ballgown for the duchess to wear to that night's event. But Irene's mother is feeling very ill, so Irene volunteers to take it to the palace, braving a very serious snowstorm to deliver the dress in time.
First Snow by Bomi Park
In this sweet book, a little girl spies a snowstorm through her bedroom window and quietly slips out to make snowman and enjoy the soft beauty of a snowy morning. I love the wonder the illustrations convey and the quiet text that lets the art do most of the talking.
Little Red Gliding Hood by Tara Lazar and Troy Cummings
If winter means ice skating to you, you'll love this retelling of Little Red Riding Hood. Little Red needs a new pair of skates and she's hoping to win them in the figure skating competition. But the only partner she can find has some awfully big eyes, ears, and teeth. Is it worth the risk?
No Two Alike by Keith Baker
You might know Keith Baker from his best-selling LMNO Peas series, but I'm equally enchanted by this book that follows two birds through a winter wonderland where many things, from birds to snowflakes, are almost but not quite alike. I actually haven't picked up a copy of this in years, and even still, I can recite almost the entire thing from memory – it's so charming and memorable.
The Thing About Yetis by Vin Vogel
The thing abut yetis is that they LOVE winter. Hot cocoa, snow castles, snowball fights – every last bit of it. Except sometimes winter is COLD and the thing about yetis is. . . they miss summer. Is it possible to bring a bit of summer to a winter day? This book is for every person who has wished for a summer day in the dead of winter.
And if you'd like a printable copy of this list that you can take to your library or screenshot on your phone for easy access, just pop in your email address below and it'll come right to your inbox!
Any other favorite children's books about winter I missed? Leave them in the comments!
If you liked this list of 
children's books about winter, you might also enjoy these posts:
Photos by Heather Mildenstein
Reader Interactions