Holiday books can be hit or miss, but these are the best Halloween books in my opinion – they're clever, well-written, and beautifully illustrated! You won't want to miss any of these Halloween picture books.
I have never been particularly into Halloween, even as a kid.
Dressing up is not my thing, I hate scary stuff, and basically it was a reasonably fun holiday, but nothing I looked forward to all year or something.
But now as an adult, I am QUITE into Halloween.
My girls are obsessed with it and love talking about their costumes, I love that, as a grown-up, there's so much less pressure to wear a costume, and I can just buy myself all the candy I want on clearance after Halloween.
Also, I love decorating my house and putting out my growing display of the best Halloween books for our family. Every year, I buy one or two new ones to add to our collection, and it's so fun to see them come out in October, be read daily for a month, and then put away to anticipate for another year.
I'm kind of dying that this year, all my books are in storage, so we have to make do with the library's Halloween books.
Here are my list of the best Halloween books, whether you're looking to build your own collection of Halloween picture books or just grab a few new titles from the library: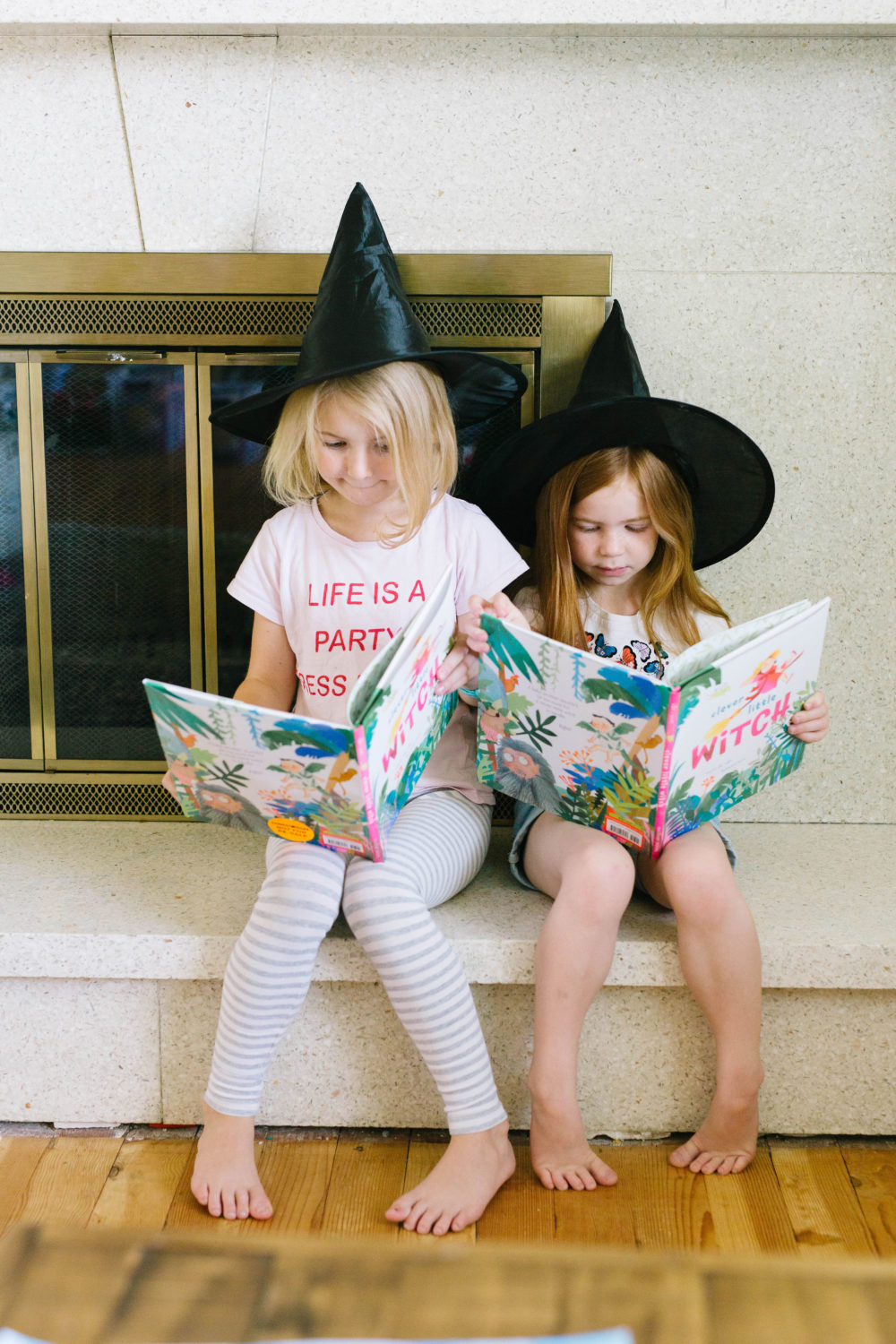 The Best Halloween Books
Pumpkin Trouble by Jan Thomas
Jan Thomas is a sure hit at our house – every one of her books just amuses everyone to no end (although I have a special place in my heart for Let's Sing a Lullaby with the Brave Cowboy) and this pumpkin-themed one is no exception. Duck wants to carve a pumpkin to surprise his friends, but then he falls in and can't get out, so he waddles away to find someone to rescue him, but all his friends think it's a haunted pumpkin and flee in terror.
Ten Orange Pumpkins by Stephen Savage
I am obsessed with Stephen Savage's artwork (all these years later, and I still think Where's Walrus? ranks among my favorite picture books), but this children's books about pumpkins was new to me, although it came out about 4 years ago. The story begins with ten pumpkins, but one by one, pumpkins begin to disappear and you have to keep a close eye on the illustrations to figure out what's happened to each of them, which makes for a fun Halloween mystery.
Bone Dog by Eric Rohmann
I've been reading this one almost every year since it came out, but for some reason, this was the first year it really appealed to me. My girls really latched on to it this year, and we've read it at least a dozen times this season. When Gus loses his beloved dog Ella to old age, she promises him that she'll always be with him. And when Halloween rolls around and some spooky skeletons corner Gus, she keeps her promise.
The Widow's Broom by Chris Van Allsburg
To me, this is the ultimate Halloween book, since my parents owned a copy when I was growing up and I looked forward to it every October. When a witch's broom loses the power of flight unexpectedly and plunges the witch and the broom into a widow's garden, the widow kindly nurses the witch back to health and then finds herself the new owner of a broom that may not be able to fly anymore, but definitely still has some magic left in it. Chris Van Allsburg's books all have that slightly strange, magical feel to them, and this one has to be one of the best Halloween books.
I'm a Witch's Cat by Harriet Muncaster
This book delights me every time – both the story and the art are so original! A little girl is sure her mother is a good witch, and she's that witch's cat. Together they mix potions, cultivate a magic garden, and shop for eyeballs and fingers at the grocery store. And each page is a hand-made 3-D scene made from paper and other objects, and then photographed. There is basically no end of things to look at in this book.


Oliver and Amanda's Halloween by Jean Van Leeuwen and Ann Schweninger
I've thought this was one of the best Halloween books since I was a child, and I finally ordered myself a copy of this one last year. I couldn't be happier to own these sweet stories of my favorite pigs picking costumes, making homemade donuts, and heading out to trick-or-treat. Oliver and Amanda forever!
Popcorn by Frank Asch
This Halloween book was out of print for a while (and used copies were wildly expensive). Happily, now it's back in print and better than ever. I think we read our copy at least 50 times last October. When Sam's parents leave him home alone to attend a Halloween party, he decides to throw his own bash and tells all his friends to bring a treat. Every last one of them brings popcorn kernels and when they pop them all, the entire house is filled with popcorn, which they have to eat before Sam's parents get home.
Ghosts in the House by Kazuno Kohara 
This is one of the BEST Halloween books. I loved it from the moment I first saw it in my picture book class in grad school, and I haven't even remotely tired of it in the years since then. When a sweet little witch moves into a house full of witches, she promptly gathers them up, launders them and puts them to work as curtains, sheets and tablecloths. The illustrations, all black and orange and white, are stunning.
Boo Haiku by Deanna Caswell, illustrated by Bob Shea
This one is new this year, and I couldn't love it more. Each page has a haiku and you have to guess what's being described. Even after many readings, my girls still get a kick out of guessing, and it's a fun way to introduce haiku. Plus, the illustrations by Bob Shea have a bold, modern feel to them that I love.
Mouse's First Night at Moonlight School by Simon Puttock, Illustrated by Ali Pye
When Mouse goes to school on the first night, he's so scared that he hides, despite the fact that his teacher, Miss Moon, is the sweetest friendliest witch you can imagine. And when no one can find him, an impromptu game of hide-and-seek is on for the whole class.  
Eek! Halloween by Sandra Boynton
Oh Sandra Boynton. You can do no wrong. This board book about terrified chickens wondering what is going on when they find animals in costume around the barnyard is predictably hilarious and catchy. This is pretty new, but it quickly earned a spot as one of our Halloween favorites.
Dog and Bear: Tricks and Treats by Laura Vaccaro Seeger
I think Dog and Bear are hilarious, and this is one of my favorites. In these Halloween themed episodes, they shop for costumes, welcome trick-or-treaters, and head out to collect candy of their own, all with amusing results. It's just one of the sweetest and best Halloween books. 
Creepy Carrots by Aaron Reynolds, illustrated by Peter Brown
This book is like watching an old black and white horror movie, in the best, picture-book, child-friendly sort of way. Jasper Rabbit won't stop eating carrots, so the carrots decide to get back at him, and soon Jasper is seeing carrots lurking wherever he goes. I need to get myself a copy of this book for my collection!
And if you'd like a printable copy of this list of the best Halloween books that you can take to your library or screenshot on your phone for easy access, just pop in your email address below and it'll come right to your inbox!
Any favorite Halloween books? I'm always looking for more suggestions!
And if you want more ideas, you can check out this list and this list, both of which have other great Halloween titles.
If you liked this post about the best Halloween books, you might also like these posts: