For the last couple of weeks, Ella and I have made a little game of finding books with the Halloween sticker on the book spines at the library. She's become very adept at spotting them and we now have an enormous stack of Halloween books sitting in our living room.
Per usual, most holiday books are deeply underwhelming to me, but here are some of the ones we've really been enjoying over the past few weeks (and will continue to until the library won't let us renew them anymore).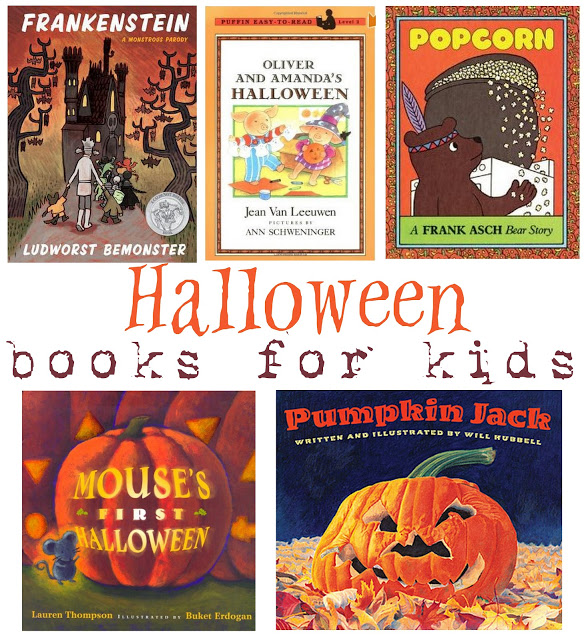 Oliver and Amanda's Halloween – I've mentioned before my deep and abiding love for Oliver & Amanda Pig. The illustrations are so bright and vibrant, the stories are sweet, and it's pretty much my favorite set of early chapter books ever. This one is no exception.
Popcorn – I remember my mom reading this one to me as a kid, so it delights me that Ella loves this book so much. This story of a bear who invites his friends over for a Halloween party and then pops such a huge kettle of popcorn that the house is completely filled up always makes me giggle a little.
Mouse's First Halloween – This is a darling little Halloween book (or board book) for quite young children. Mouse is out on Halloween night and keeps seeing fall/Halloween objects that scare him, but after each one, he follows up his "eeek!" with a "not so scary after all." I die of the cuteness when Ella recites it to me.
Pumpkin Jack
– I like this slightly longer story about a boy who puts his beloved
jack-o-lantern out in the garden when it starts to rot after Halloween
and then watches all year as the seeds sprout and a new pumpkin grows
from the remains of the first.