I love Halloween books – ones that involves trick-or-treating and costumes and jack-o-lanterns (most of the ones on this list would fall into that category).
But I also love picture books that are perfect for reading around Halloween but aren't so specifically Halloween focused that you'd feel silly reading them in April.
Here are 18 picture books that would fit in seamlessly with your Halloween book collection in October and then slide comfortably back on to your regular bookshelf come November 1st!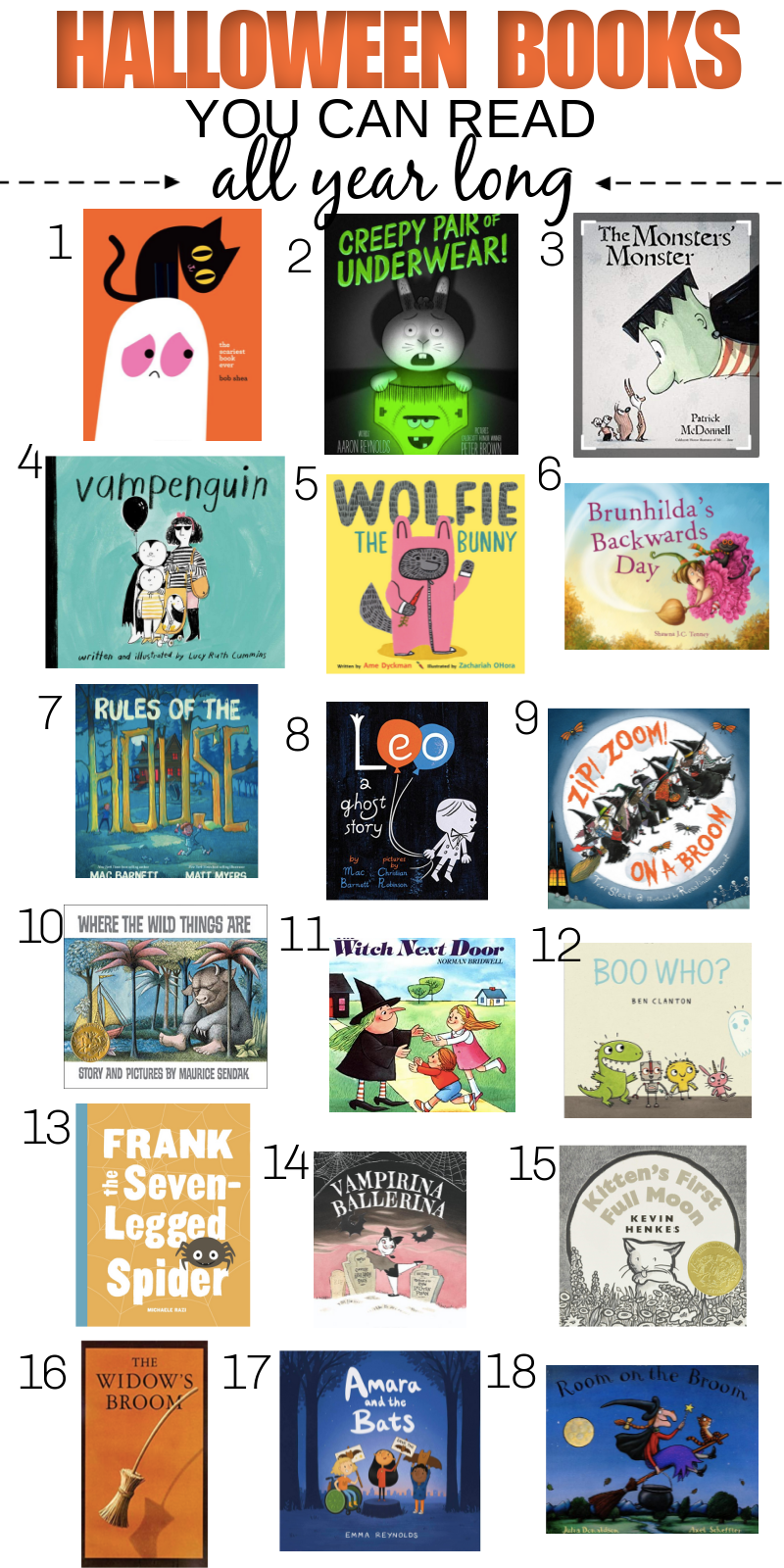 18 Halloween Books You Can Read All Year Long
The Scariest Book Ever by Bob Shea
This is the scariest book you've ever read! Or. . . is it? The narrator is terrified of all the horrible things waiting for him out there, but he is NOT going to be tricked into going out in the scary forest. Even if you tell him that it's just bunnies out there. Bunnies picking pumpkins, in fact! With cupcakes! There's no way that can be happening in the scariest Halloween book ever. Could it?
Creepy Pair of Underwear by Aaron Reynolds, illustrated by Peter Brown
This companion book to Creepy Carrots is so hilarious and has the same black-and-white silent horror film feel that Creepy Carrots has. This one has only black and white and green illustrations that perfectly accompany the story of Jasper Rabbit when he finds a pair of glow-in-the-dark underwear at the store and absolutely MUST have them. But it turns out that it's very hard to sleep when your underwear is glowing all night long. And it's even harder to get rid of those glow-in-the-dark undies. Perfect for picture book reading all year long and to add to your collection of Halloween books!
The Monster's Monster by Patrick McDonnell
When three little monsters team up to big the biggest monster they can imagine, they can't wait to see how BIG and BAD he's going to be. But things seem to have gone all wrong when this new monster comes to life and his first words are "dank you." What are they going to do with a monster who doesn't know how to be bad?
Vampenguin by Lucy Ruth Cummins
Stumpkin – also by Lucy Ruth Cummins – is one of my very very favorite Halloween books, so I was THRILLED to see this new release that's perfect all year long. In this one, baby Dracula and his family head out on a weekend morning to visit the zoo. Baby Penguin lives in that zoo with her own family. Neither baby Penguin or baby Dracula are the kind to stay where they're supposed to be and so they switch spots, with baby Dracula's family not noticing the switch. Will they take home a baby penguin in place of their actual child?
Wolfie the Bunny by Amy Dyckman, illustrated by Zachariah Ohora
The Bunny family has adopted a new child and everyone is thrilled. Except the sister, Dot, who seems to be the only who can tell that Wolfie is a wolf and is sure to eat them all up the moment he gets a chance, even if he is wearing an adorable bunny suit.
Brunhilda's Backward Day by Shawna J. C. Tenney
Although it follows a witch, I love the bright shiny illustrations of this book, which makes it feel appropriate all year long. Brunhilda loves being a nasty witch, delighting in eating spiders for breakfast and admiring all the warts on her face. And, of course, playing evil tricks on children. But when her cat whips a secret potion that turns all her bad things into good things, can she set things right?
Rules of the House by Mac Barnett, illustrated by Matt Myers
For a while, this was the favorite picture book in our house and definitely doesn't just fit into our Halloween books because and I'm pretty sure I read it one thousand times over a month long period. A dad takes his two children to a cabin for the weekend where the rules of the house are posted very clearly. The son is a rule-follower to the max, but the daughter disregards them, laughing at her brother for being such a goody two-shoes. Until the house, unhappy at having the rules broken, comes to exact punishment from the ruler-breaker.
Leo the Ghost by Mac Barnett, illustrated by Christian Robinson
Leo is a perfect friend – he's a great cook, he likes drawing and he's very unobtrusive. He also happens to be a ghost and when he tries to befriend the new family that's moved into his house, they are terrified. So Leo heads out into the world, hoping he can find a real friend who won't be scared of him.
Zip! Zoom! on a Broom by Teri Sloat, illustrated by Rosalinde Bonnet
It may look like a Halloween book on the outside, but it's much more. A counting book told in rhyme, you have ten witches who all want to cram onto one broom. As you'd expect, one by one, the witches topple off. Make sure to watch for the numbers hidden on each page!
Where the Wild Things Are by Maurice Sendack
Oh how I love this gorgeous Caldecott winner – it's a classic for a reason and when you have Max dressed up in his costume and a whole host of monsters, well, it makes a good addition to your Halloween books during the month of October.
The Witch Next Door by Norman Bridwell
Written by the same author/illustrator of Clifford the Big Red Dog fame, this delightful story follows a brother and sister who are both curious and delighted when a witch moves in next door. But not every neighbor wants a witch living next to them and when they coming knocking on the door, it's anyone's guess how the witch will react to being told to move.
Boo Who? by Ben Clanton
This book is available as both a board book and a traditional picture book and it's the sweet story of Boo, a ghost who wants to play with the other monsters in the neighborhood. But it's hard to play tag when no one can feel you and hard to play catch when a ball goes right through you. Would anyone even notice if Boo just disappeared?
Frank the Seven Legged Spider by Michaele Razi
This was a new addition to our Halloween books a few years ago and we've all been delighted by the tale of Frank who loves being a spider. But when he wakes up one morning to find one leg missing, he wonders . . . is he still a spider?
Vamperina Ballerina by Anne Marie Pace, illustrated by LeUyen Pham
It's not just little human girls that want to be ballerinas – little vampires want to be ballerinas too! But it's not easy when you have to take night classes and you can't see yourself in the mirror. It turns out the pink is also NOT a flattering color for the undead. But all of that pales (no pun intended) in comparison with the worst thing of all – stage fright!
Kitten's First Full Moon by Kevin Henkes
This is another Caldecott winner that works perfectly as a Halloween book with the black-and-white illustrations and a big full moon. And bonus for not being the least bit spooky.
The Widow's Broom by Chris Van Allsburg
I actually do keep this one with our Halloween books because in my home growing up, it was a Halloween book and so in my mind, it should only come out in October. But there's no reason you can't enjoy this story all year long about an old woman who discovers an injured witch in her garden and nurses her back to health. The witch quickly departs but leaves behind her broom which retains some magical powers.
Amara and the Bats by Emma Reynolds
When a bat gets trapped in her family's attic, Amara falls in love with the little creatures and she loves to go see them fly through the night sky outside her home. But when her family moves to a new city, they discover the bats are all gone. So she sets out to bring the bats back, with plenty of help from her family and community.
Room on the Broom by Julia Donaldson, illustrated by Axel Scheffler
Oh, it's good to be a witch, flying through the air on a broomstick with your cat in tow. But then her hat goes tumbling down to earth, followed by her bow and her wand. Who is going to help the witch find them? And what will they want in return?
And if you'd like a printable copy of this Halloween book list that you can take to your library or screenshot on your phone for easy access, just pop in your email address below and it'll come right to your inbox!
Any other Halloween books that are equally at home the other eleven months of the year? Leave them in the comments!
If you liked this Halloween Book list, you might also enjoy these posts: