October feels like the beginning of the holiday season and there is no better way to usher in the festivities than with some Halloween read alouds. These six spooky books are perfect for reading aloud or listening to in audiobook form with your elementary schoolers!
Last year was the first year I did a holiday read-aloud with my girls.
I'd heard about Bunnicula for YEARS (it was super popular at my school libraries in Boston), but I'd never actually read it, so when October rolled around, I figured it might be fun to read aloud to Ella.
I had no idea what it was about, but we jumped right in and soon discovered that Bunnicula is a rabbit that's found by a family when they go to see a Dracula movie. They bring the little bunny home, but the other pets in the house are convinced that Bunnicula is a vampire rabbit and out to get every other member of the family.
Ella and I loved every page of it (Ani found the idea of a vampire rabbit too scary for her, and she refused to be in the room while I read aloud the only very-slightly spooky book to Ella), and Ella went on to listen to the audio versions of the entire Bunnicula series over the next few weeks.
It was just such a fun way to welcome Halloween, and I've been on the hunt for other spooky books (but not TOO scary) to read or listen to this year.
Here are six spooky books that are perfect for the elementary-school crowd: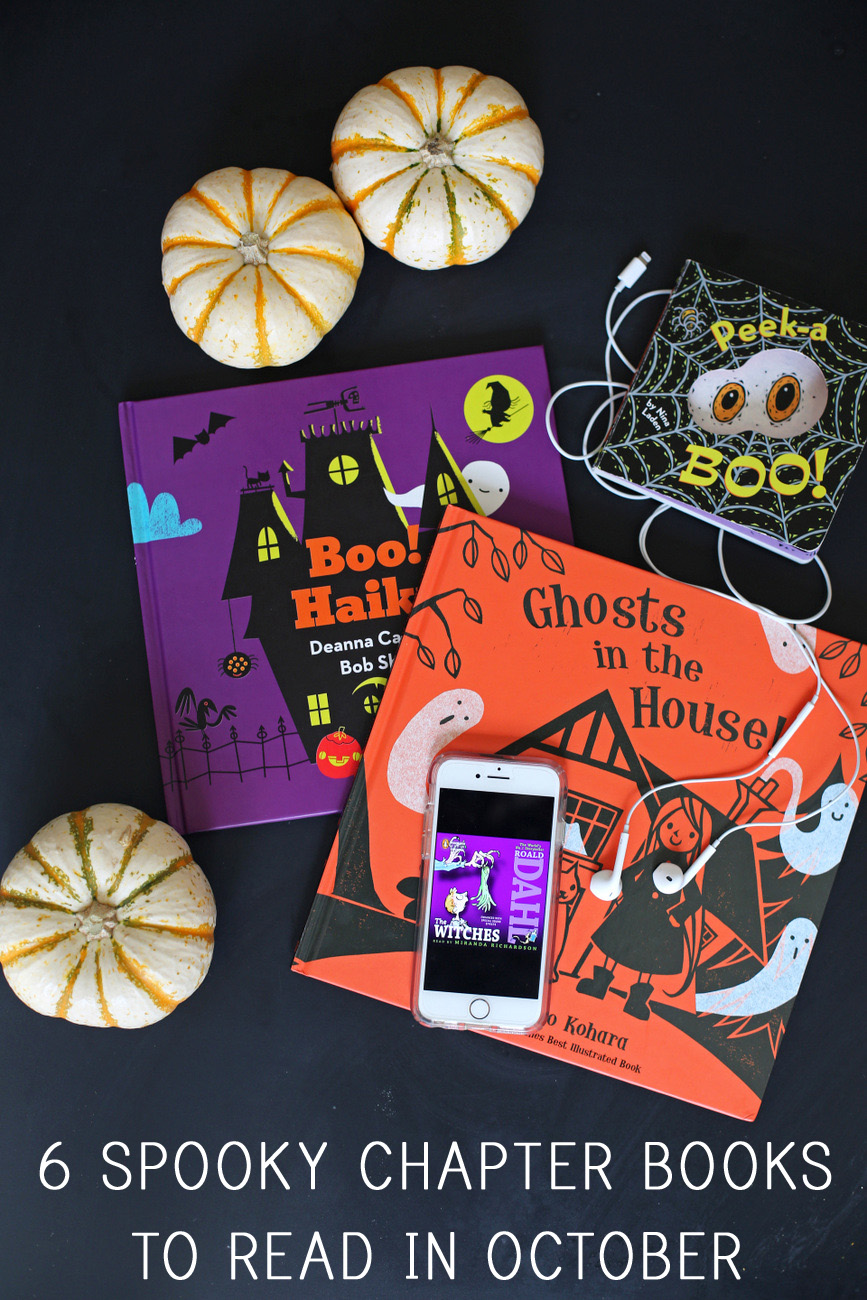 6 Spooky Halloween Read Alouds
I saw part of the movie of this when I was a kid and it scared. me. to. death. So I've never read the whole book, but we had a CD with the first chapters of a bunch of different Roald Dahl books and Ella LOVED this one, so this month, we're reading this one together. And the new audio versions of Roald Dahl's books are insanely good – The Witches is narrated by Miranda Richardson.
I started listening to this in the car back in 2008, and after ten minutes stopped so I could re-start it with Bart because I knew he'd love it. This book about a young girl detective and her skeleton sidekick is laugh-out-loud funny and if you love this one, you're in luck, because there are ten books in the series. This is the one I'm planning to read next year to Ella. Note that the series gets older and darker as it goes on, like Harry Potter. (Full Skulduggery Pleasant review here!)
My mother-in-law and I were talking about this post when I was there last week, and she suggested this one. She is a wealth of great information about children's books, and their family loves Lloyd Alexander. I wasn't even familiar with The Prydain Chronicles until we got married and Bart's parents gave me the whole series as a gift (and then Bart went back and read them all again before I got to them!). This one is perfect for Halloween.
Doesn't October just make you want to re-read Harry Potter? Just me? I just finished Harry Potter #5 and now I'm dying to go through the whole series again – they are basically the perfect Halloween read alouds. And there isn't a better audiobook around than Jim Dale's Harry Potter versions. Last year, I read this one to Ella in October before we went to Harry Potter world and it was just so magical to go back to Hogwarts. I wrote about the right age to introduce your child to Harry Potter in this post (and the comments are magical!).
Bunnicula by Deborah and James Howe
This was such a fun read last year – it's not too long, and it's not overly scary, just the right amount spooky. Plus, the audiobook version includes the first three books, so you'll be covered for the whole month! The ideal Halloween read alouds or listens!
We picked a Hank the Cowdog book up from the library on CD when I was a child and on a long long road trip from Las Vegas to Idaho. We all fell asleep, but my mom listened on her own and laughed so hard it woke us all up. We've been Hank fans ever since – these are some of the most amusing audiobooks ever. Ella has listened to TONS of the series, and I never get tired of the narrator (who is also the author). There are dozens of books in the Hank the Cowdog series, but this one is perfect for Halloween.
If you'd rather listen to these spooky books instead of reading aloud (and all of these are amazing on audio!), there's nothing more convenient than Audible. You can try out a free 30-day trial of Audible and get two free audiobooks to listen to, whether it's one of these six or something entirely different. Audible has the most enormous collection on the planet, so you'll never run out of something to read.
And if you have favorite spooky book recommendations, I'd love to hear!
If you liked this post about Halloween read alouds, you might also enjoy these posts: