October feels like the beginning of the holiday season and there is no better way to usher in the festivities than with some Halloween read alouds. These 18 spooky books are perfect for reading aloud or listening to in audiobook form with your elementary schoolers!
In 2017, I did a Halloween read aloud with my girls for the first time.
I'd heard about Bunnicula for YEARS (it was super popular at my school libraries in Boston), but I'd never actually read it, so when October rolled around, I figured it might be fun to read aloud to Ella.
I had no idea what it was about, but we jumped right in and soon discovered that Bunnicula is a rabbit that's found by a family when they go to see a Dracula movie. They bring the little bunny home, but the other pets in the house are convinced that Bunnicula is a vampire rabbit and out to get every other member of the family.
Ella and I loved every page of it (Ani found the idea of a vampire rabbit too scary for her, and she refused to be in the room while I read aloud the only very-slightly spooky book to Ella), and Ella went on to listen to the audio versions of the entire Bunnicula series over the next few weeks.
It was just such a fun way to welcome Halloween, and since then, we've read a Halloween read aloud book together every October.
It's one of my favorite traditions!
Or if you'd rather listen to these spooky books instead of reading aloud (and all of these are amazing on audio!), grab an audio copy of them from your library or from LibroFM or Audible!
Here are 18 spooky Halloween chapter books that are perfect for the elementary-school crowd: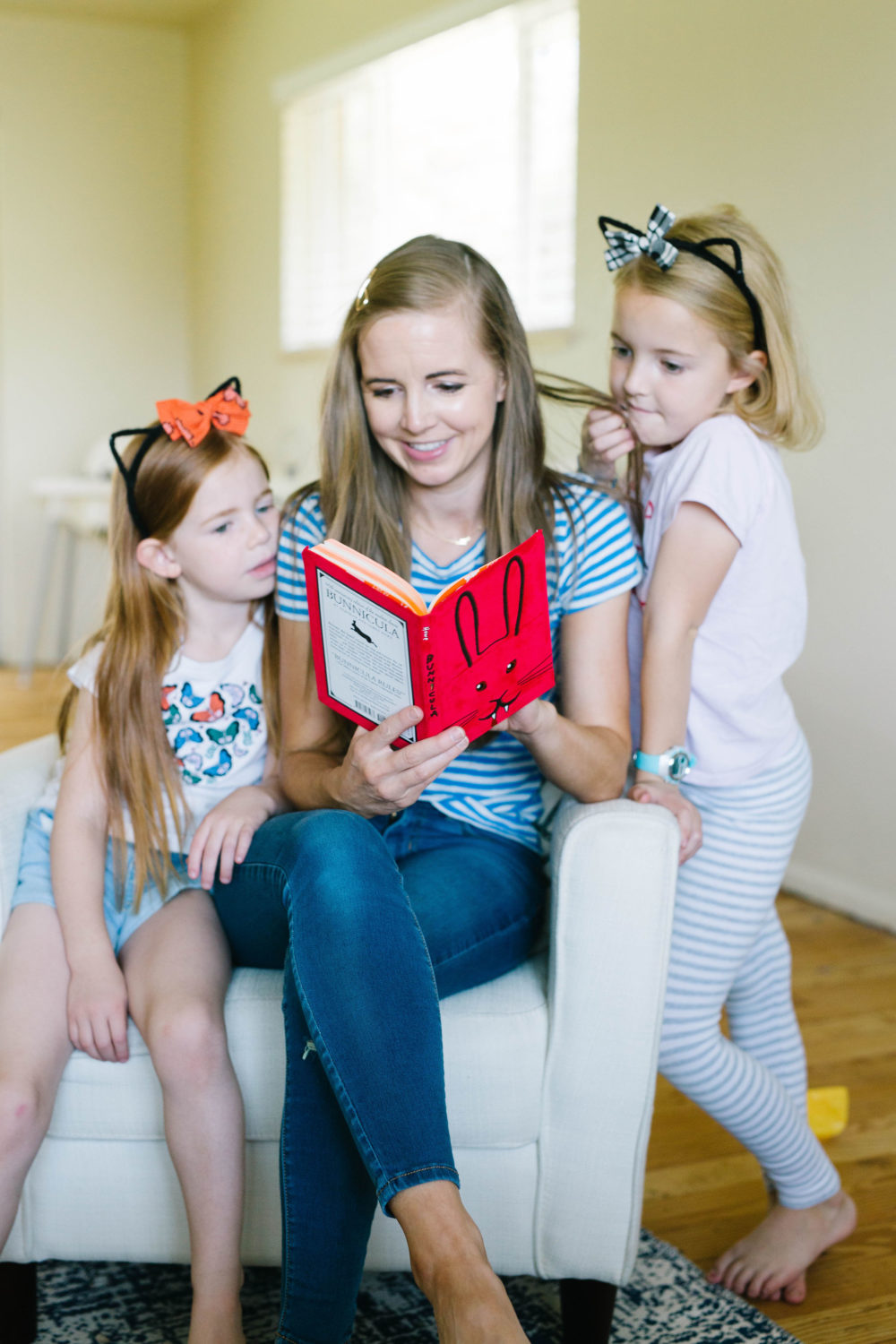 18 Spooky Halloween Read Alouds
The Marvelous Magic of Miss Mabel by Natasha Lowe
This is a perfect non-scary but festive Halloween pick with a sweet old fashioned feel! Mabel is left on a doorstep as a baby and the widow who finds her takes her and raises her as her own child. When Mabel is quite young, they discover that she has magical abilities and she wins a place at a prestigious witch school. But it's not all that Mabel hopes – way too much tradition and far too little experimenting with interesting magic. We all loved it!
Skulduggery Pleasant by Derek Landy
This book about a young girl detective and her skeleton sidekick is laugh-out-loud funny and if you love this one, you're in luck, because there are ten books in the series. Ella read the whole series last year and loved it, but it was a bit much for my then-third grader. Note that the series gets older and darker as it goes on, like Harry Potter. (Full Skulduggery Pleasant review here!)
Harry Potter and the Sorcerer's Stone by J. K. Rowling
Doesn't October just make you want to re-read Harry Potter? Just me? They are basically the perfect Halloween read alouds. And there isn't a better audiobook around than Jim Dale's Harry Potter versions, if you'd rather listen to them. I read Harry Potter to my girls every October (we repeated #1 and #2 two yeas ago since my littler girls didn't remember them at all) and it was just so magical to go back to Hogwarts. I wrote about the right age to introduce your child to Harry Potter in this post (and the comments are fantastic!).
The Wishmakers by Tyler Whitesides, illustrated by Jessica Warrick
I think we got this book in our Bookroo subscription and when we were looking for a new title for a family read-aloud, the girls picked this one out of a few options I gave them. They were all fans from page 1. The main character opens a jar of peanut butter and discovers a genie inside. But he's not limited to three wishes – he can have as many wishes as he wants! The only problem is that with every wish granted comes a consequence. Oh, and also? He needs to use wishes to save the world from destruction. If you have readers who love a book that's a little on the wacky side, this is the book for them!
The Black Cauldron by Lloyd Alexander
My mother-in-law and I were talking about Halloween read alouds, and she suggested this one. She is a wealth of great information about children's books, and their family loves Lloyd Alexander. I wasn't even familiar with The Prydain Chronicles until we got married and Bart's parents gave me the whole series as a gift (and then Bart went back and read them all again before I got to them!). This one is perfect for Halloween (and you're fine to read this one without reading the first book in the series, although they're short enough you could get through both #1 and #2 in October with no problem).
The Witches by Roald Dahl
You can't have a Halloween book list without witches! I saw part of the old version of this movie when I was a kid and it scared. me. to. death. So I've never read the whole book, but we had a CD with the first chapters of a bunch of different Roald Dahl books and Ella LOVED this one. The new audio versions of Roald Dahl's books are insanely good – The Witches is narrated by Miranda Richardson.
Kiki's Delivery Service by Eiko Kadono
Kiki is a half-witch and when she turns thirteen, she can't wait to fulfill her witch destiny by choosing a new town to live in for a year. She can't wait to use her powers to bring delight to the people of her new home but it turns out that it's trickier than she expected to get a new place to accept a witch among them.
Nightmares! by Jason Segel and Kirsten Miller, illustrated by Karl Kwasny
This first book in a comedy horror middle grade trilogy features Charlie Laird who is dealing with his dad's recent marriage to a woman he's almost positive is a witch. And as if that weren't bad enough, he and his dad moved into her mansion which is quite likely a haunted house. Because now nightmares are plaguing him and  . . . those nightmares are starting to come to life. Ella just read this one and absolutely loved it. 
Bunnicula by Deborah and James Howe
This is such a perfect Halloween chapter book and a great first Halloween read aloud book – it's not too long, and it's not overly scary, just the right amount spooky. Plus, the audiobook version includes the first three books, so you'll be covered for the whole month! The ideal Halloween read alouds or listens!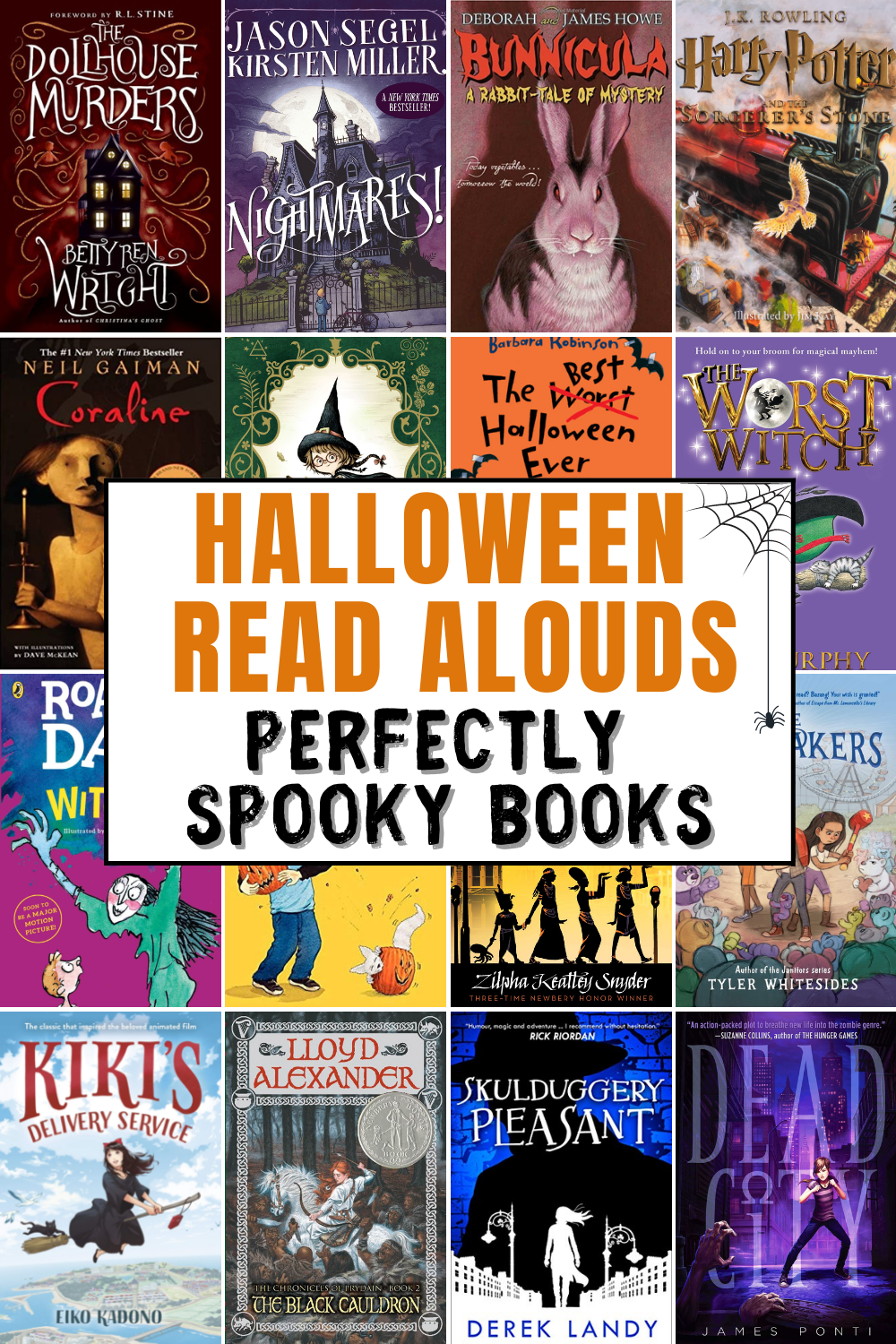 The Best Halloween Ever by Barbara Robinson
If you loved The Best Christmas Pageant Ever, this is the perfect Halloween read aloud. The Herdman kids usually get up to all sorts of mischief on Halloween, but with Halloween canceled this year, it might be the perfect time for them to SAVE it.
Dead City by James Ponti
Ella is a HUGE James Ponti fan, so when we spotted this series on the library shelf, she picked it up despite her usual disinterest in zombies. And then she LOVED it. Molly Bigelow attends the Metropolitan Institute of Science and Technology but at night, she's a zombie hunter, like her mom who she's just discovered is the most famous zombie hunter in the history of New York City.
Hank the Cowdog and the Case of the Halloween Ghost by John R. Erickson
We picked a Hank the Cowdog book up from the library on CD when I was a child and on a long long road trip from Las Vegas to Idaho. We all fell asleep, but my mom listened on her own and laughed so hard it woke us all up. We've been Hank fans ever since – these are some of the most amusing audiobooks ever. Ella has listened to TONS of the series, and I never get tired of the narrator (who is also the author). There are dozens of books in the Hank the Cowdog series, but this one is perfect for Halloween.
The Egypt Game by Zilpha Keatley Snyder, illustrated by Alton Raible
I read this book as an elementary schooler when we were doing a unit on Egypt and was fully prepared to hate it and then devoured the whole thing. Melanie Ross and April Hall think they have nothing in common when they first meet. But when they discover they both are obsessed with ancient Egypt, they quickly invent "the Egypt Game" in a deserted storage yard, complete with costumes and secret codes. But then strange things start to happen. . .. 
Coraline by Neil Gaiman, illustrated by Dave McKean
This book is definitely creepy! Coraline steps through a door into a world that looks almost identical to her. But there are some key differences too, including versions of her parents who want her to stay on this side of the door. If your child can handle something fairly creepy, this is a fun pick for older elementary readers. (Neil Gaiman's Newbery winning title, The Graveyard Book, would also be a fun pick).
The Dollhouse Murders by Betty Ren Wright, illustrated by Leo Nickolls
This is a possibility for this year's Halloween read aloud for our family – I can't believe I've never read this super popular title! Every night Amy hears strange noises coming from the dollhouse and when she wakes up the next morning, the dolls aren't where she left them. Amy's great-grandparents were murdered years earlier and it seems that the strange goings-on in the dollhouse might be connected to to that mystery.
Amari and the Night Brothers by B. B. Alston
I've read about a million books with comparisons to Harry Potter or Percy Jackson and this was one of the first that really lived up to the hype – I read this aloud to my girls and we were all completely sucked in! Amari's mourning the disappearance of her beloved older brother (the police say he's almost certainly dead), but when she gets a pre-recorded message from him, she discovers that there is a supernatural world she's known nothing about and that her brother was heavily involved before his disappearance.
Invisible Inkling: Dangerous Pumpkins by Emily Jenkins, illustrated by Harry Bliss
The girls and I read the first Invisible Inkling book together last year and really enjoyed it – I was so pleased to see that there is a Halloween one too where Hank and his invisible pet/friend celebrate the spookiest holiday together. It's a perfect Halloween read-aloud that's not too long.
The Worst Witch by Jill Murphy
This book kicks off a seven book series, so if you want something you can really dive into, The Worst Witch is hard to beat! It follows Mildred Hubble who is starting her first year at Miss Cackle's Academy for Witches. And it's not going well – she's messing up everything she possible could, including making an enemy out of the teacher's pet.
And if you'd like a printable copy of this Halloween read alouds list that you can take to your library or screenshot on your phone for easy access, just pop in your email address below and it'll come right to your inbox!
Also, please let me know your favorite spooky book recommendations, I'd love to hear!
If you liked this post about Halloween read alouds, you might also enjoy these posts: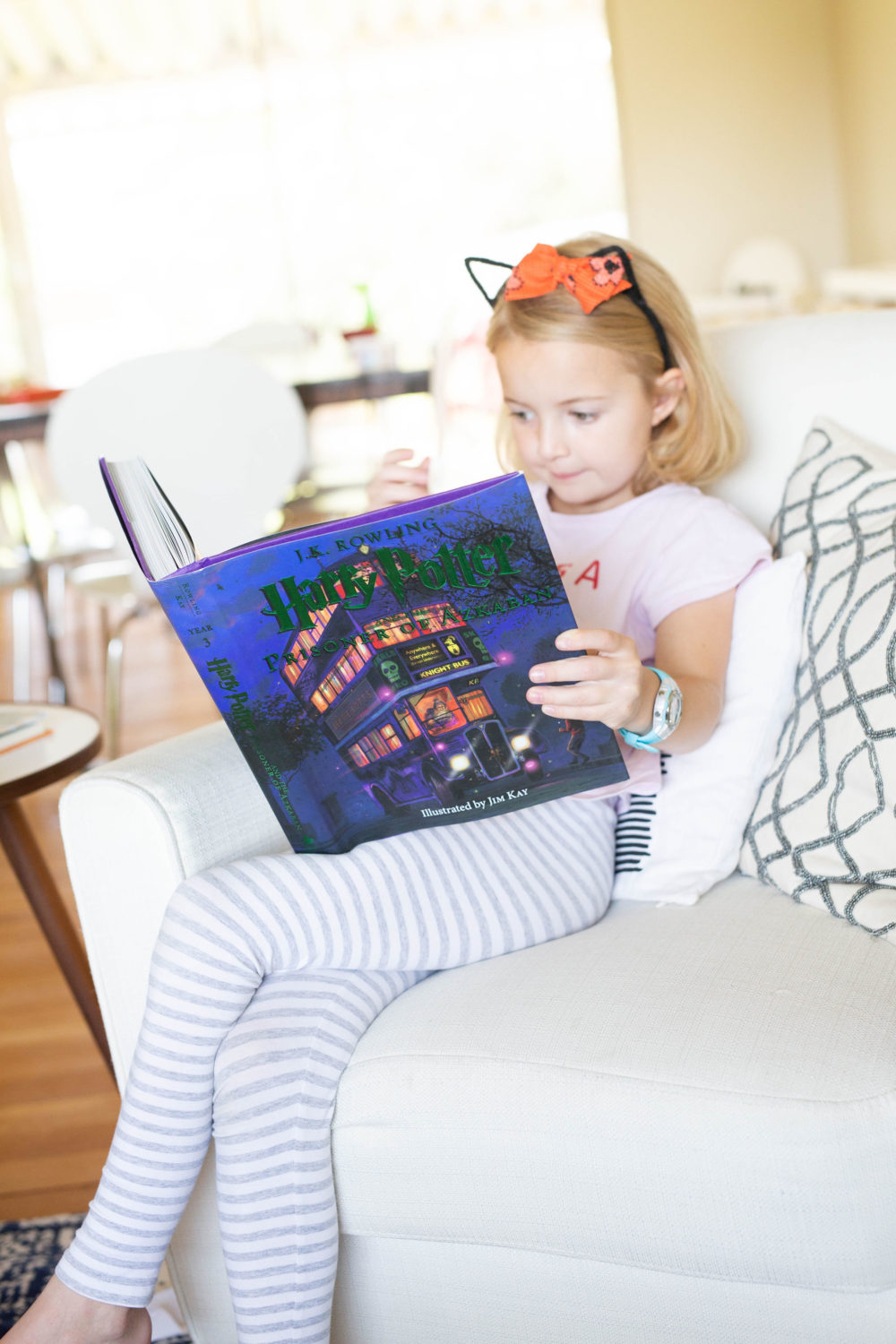 Photos by Heather Mildenstein