Picking up new Easter books for kids is a really fun way to celebrate the holiday, whether you tuck them in their Easter basket or display them all month long. These 14 children's Easter books are some of our family favorites!
You already know that any holiday is a good excuse for me to check out basically every Easter children's book the library owns.
Here are some of my favorite Easter books to add to your collection or an Easter basket, whether you buy them or check them out from the local library: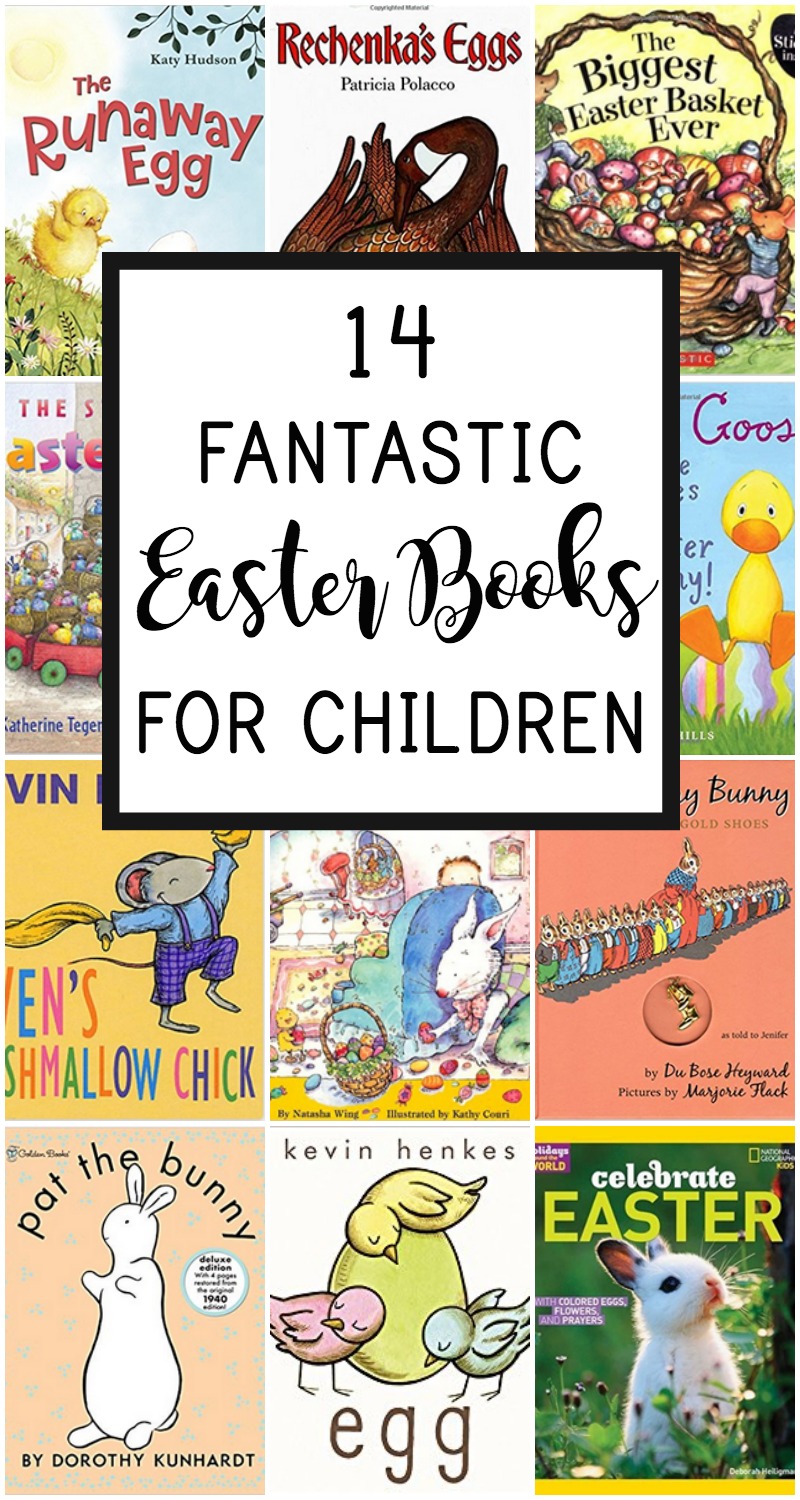 Favorite Easter Books for Kids
Here Comes the Easter Cat by Deborah Underwood and Claudia Rueda
I am so obsessed with all the Cat books from this duo. In this Easter edition, the narrator asks Cat why he's so grumpy and Cat reveals that he wants to be the Easter Cat, taking the place of the Easter Bunny. And he will NOT be dissuaded. With the text acting as the voice of the narrator and the Cat communicating via hand-drawn signs, this book is just plain hilarious.
Pat the Bunny by Dorothy Kunhardt
How can you leave this classic book out of the mix of Easter books for kids? If you're looking for a perfect board book to add to an Easter basket for babies that will be loved all year long, this is the one.
Marshmallow by Clare Turlay Newberry
Oliver is used to being the center of attention and he is not thrilled when a baby rabbit arrives. But . . . you can only resist a snuggly bunny for so long.
Owen's Marshmallow Chick by Kevin Henkes
I love Kevin Henkes' holiday board books and they make perfect Easter books for toddlers. Here, Owen determines that each new Easter treat is "my favorite." But the yellow marshmallow chick might be his most favorite.
Duck & Goose, Here Comes the Easter Bunny! by Tad Hills
My girls have never met a Duck & Goose book they didn't like.
The Runaway Egg by Katy Hudson
Chick has a new baby brother on the way, but he doesn't quite get what's so exciting about it. But when the new chick pops out of its shell, he's suddenly overtaken with a strong desire to protect that little brother.
Egg by Kevin Henkes
This one reads almost like a graphic novel, beginning with four eggs in four different shades. But as the other three hatch, the green one remains in tact and when it finally does hatch, there is an unexpected surprise inside! (If you can't get enough Kevin Henkes, you can also try When Spring Comes that he wrote and his wife illustrated).
The Night Before Easter by Natasha Wing and Kathy Couri
My girls are obsessed with looking for the eggs hidden on each page of this Easter spin on the classic Christmas poem.
Holidays Around the World: Celebrate Easter by Deborah Heiligman
I just love every book that National Geographic puts out for kids – they're stuffed with gorgeous photographs, full of interesting info, and incredibly readable.
The Biggest Easter Basket Ever by Steven Kroll and Jeni Bassett
If you have kids who get really competitive about an Easter Egg Hunt, this is a nice book to read beforehand, about two little mice that learn to cooperate in the contest for the biggest Easter basket
The Country Bunny and the Little Gold Shoes by DuBose Heyward and Marjorie Flack
This Easter classic from 1939 is about a little country bunny who really wants to grow up to be an Easter bunny. Of course, everyone tells her she can't be, but eventually she grows up and organizes her 21 children to help, and the longed-for title is hers!
Rechenka's Eggs by Patricia Polacco
Patricia Polacco is hard to beat when it comes to spectacular picture books. This one is about Babushka who always wins the prize for her painted eggs in Russia each Easter. But one year, she rescues a wounded goose and the goose accidentally breaks every egg Babushka has spent the winter working on. Does she still have any chance of winning?
Jennie's Hat by Ezra Jack Keats
He's most famous for The Snowy Day, but I grew up reading this one about a girl who eagerly anticipates her hat from her aunt and is sorely disappointed when it arrives very plain. But it doesn't stay plain for long, thanks to some unexpected friends.
The Story of the Easter Bunny by Katherine Tegen and Sally Anne Lambert
I love this delightful fable about how the Easter bunny came to be. According to this picture book, it was originally a kindly elderly couple that wove baskets and dyed eggs for the neighborhood children. But as they get older and more frail, their rabbit stepped up to keep the tradition going.
And if you'd like a printable copy of this list that you can take to your library or screenshot on your phone for easy access, just pop in your email address below and it'll come right to your inbox!
If you have favorite children's Easter books I've missed, let me know in the comments!
And if you liked this post about Easter books for kids, you might also like these posts: