I've said a million times that one of my favorite ways to celebrate the holidays is with some good picture books.
My girls love looking for them at the library or going to the book store and checking out the newest titles, and I love displaying them for the month.
Of course, Valentine's Day is so fun ANYWAY – all things pink and chocolate – so a few Valentine's Day books just add to the festivities. Here are some of our family favorites: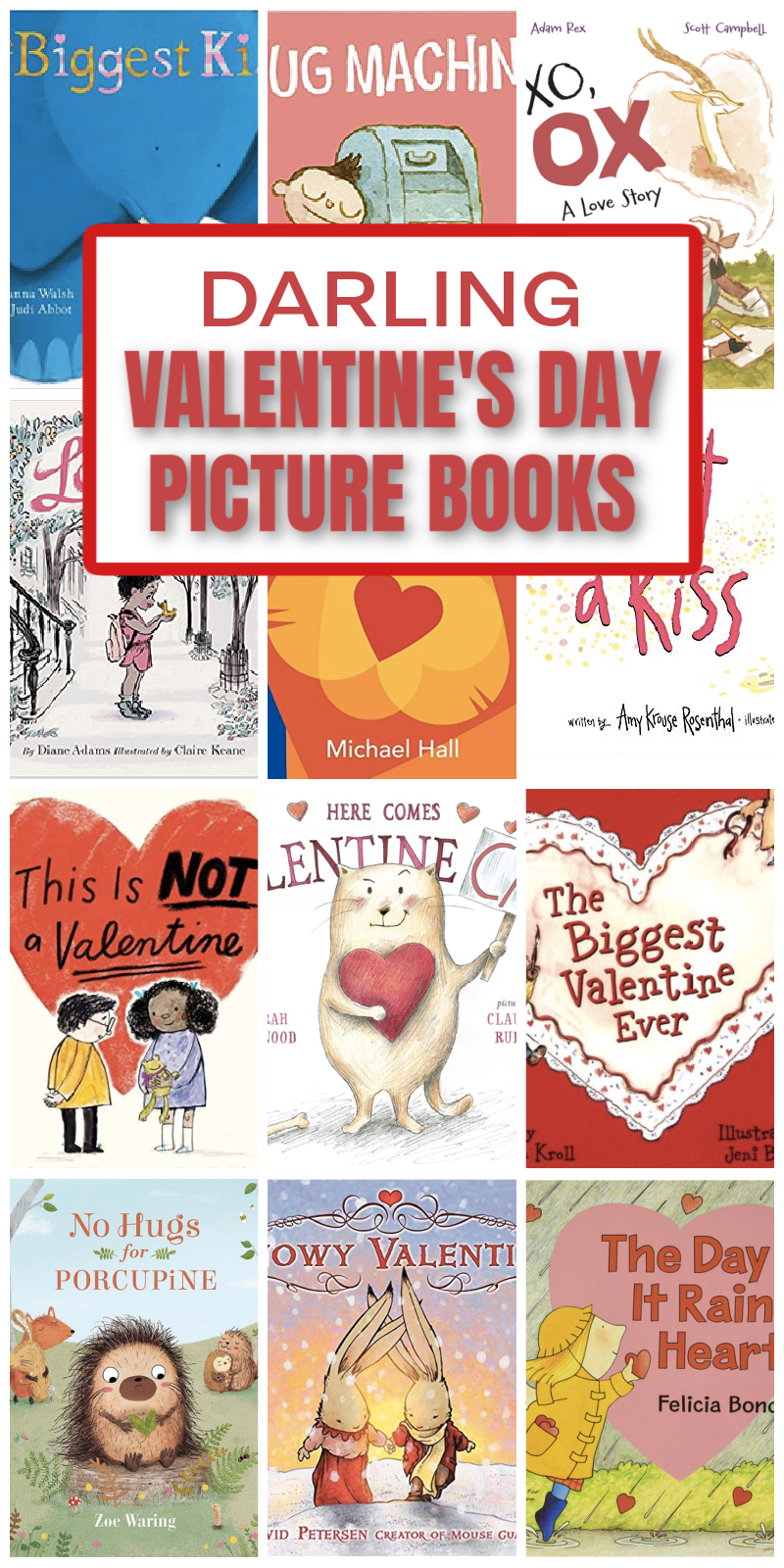 12 favorite Valentine's Day Books
This Is Not a Valentine by Carter Higgins, illustrated by Lucy Ruth Cummins
This was new to our Valentine's Day books collection last year, and I just love how it follows a little boy giving the most thoughtful little gifts to the little friend he has his eye on. It's such a sweet way to recognize that the best Valentine's of all are the ones that acknowledge "I pay attention to you and what you like." It's been getting KILLER reviews, and it deserves them all.
Plant a Kiss by Amy Krouse Rosenthal and Peter H. Reynolds
I'm basically obsessed with everything Amy Krouse Rosenthal does (Little Pea, anyone?) and this glittery book is no exception. The catchiest rhyme you can imagine about a little girl who plants a kiss and, what do you know? Something grows.
Hug Machine by Scott Campbell
I was dubious about this one for some reason, but it just made me smile and then it made me laugh. It's just so darn cute, about a little guy who is a hugging machine, ready and willing to hug absolutely everyone and everything. (How is a hug machine fueled? By pizza, of course).
Here Comes Valentine Cat by Deborah Underwood, illustrated by Claudia Rueda
Dear heavens, I'm obsessed with the whole Cat series by this duo (there is a Christmas one and an Easter one too). The back and forth between the off-screen narrator and the cat, who communicates mostly by signs and facial expressions, never stop to make me laugh. I'm so happy to have this one in our Valentine's Day books now.
My Heart is Like a Zoo by Michael Hall
I would never have believed how many animals you could make entirely out of hearts, but Michael Hall creates the coolest images of shapes and colors in all his books, and this one is perfect for every little animal lover (which is every child in my house).
Love Is . . . by Diane Adams, illustrated by Claire Keane
If you're the kind of parent who feels a little sad about how fast your children are growing up, maybe pass on this one. Or at least grab some tissues. It's just so sweet, and I love the beautiful illustrations.
The Biggest Valentine Ever by Steven Kroll, illustrated by Jeni Bassett
I feel like any parent who ever saw a "fun" project go to pieces in front of their eyes can totally relate to this story about Valentine making gone wrong. It has a happy ending, much like I always hope ours do.
The Day It Rained Hearts by Felicia Bond
I can only imagine how nuts my girls would go if it actually rained hearts. In my mind, this is one of the most classic Valentine's books out there.
No Hugs for Porcupine by Zoe Waring
Poor Porcupine. Nobody wants to hug him. I mean, it's pretty dangerous! Happily, a friend comes up with a perfect solution!
Snowy Valentine by David Petersen
I know almost nothing about snowy Valentine's Days, but this is a cute story about a rabbit searching for ideas for his wife for the holiday. Each of his animal friends suggest a new idea, but they all fall flat until a bird shows him that his walk has created a footprint heart in the snow.
The Biggest Kiss by Joanna Walsh, illustrated by Judi Abbot
Do you basically want to kiss your baby's cheeks off every dang day? So do I (thanks, babies, for all having fat little cheeks). This book basically forces you to kiss your baby on each page as a penguin leads the way through a parade of animals, all who need a little smooch of one kind or another.
XO, OX: A Love Story by Adam Rex, illustrated by Scott Campbell
I'll admit this book might not be for everyone, but our family was obsessed with this hilarious story about Ox writing love letters to glamorous Gazelle who is NOT impressed.
And if you'd like a printable copy of this list that you can take to your library or screenshot on your phone for easy access, just pop in your email address below and it'll come right to your inbox!
Any favorite Valentine's books that I missed?
If you liked this post about Valentine's Day books, you might also enjoy these posts:
Reader Interactions