So far, this has been a great reading year for me.
Two things seem to have made a big difference.
One, I've been sticking pretty hard to my habit of putting my phone and laptop away by 9:45 p.m. and reading in bed until I turn off the light at 10:30 p.m.
Two, I've been doing a LOT of puzzles. We started using our playroom table as a puzzle table now that my big girls are all into puzzles and Tally's old enough not to mess with the puzzles, and so the girls usually work on a puzzle while I read aloud at night and then after they go to bed, I often pop in my earbuds and listen for an hour or more while I work on the puzzle alone. It's such a nice, relaxing way to end the day for me, plus it means I'm CRUISING through audiobooks.
Here are some of the books I'm in the middle of right now.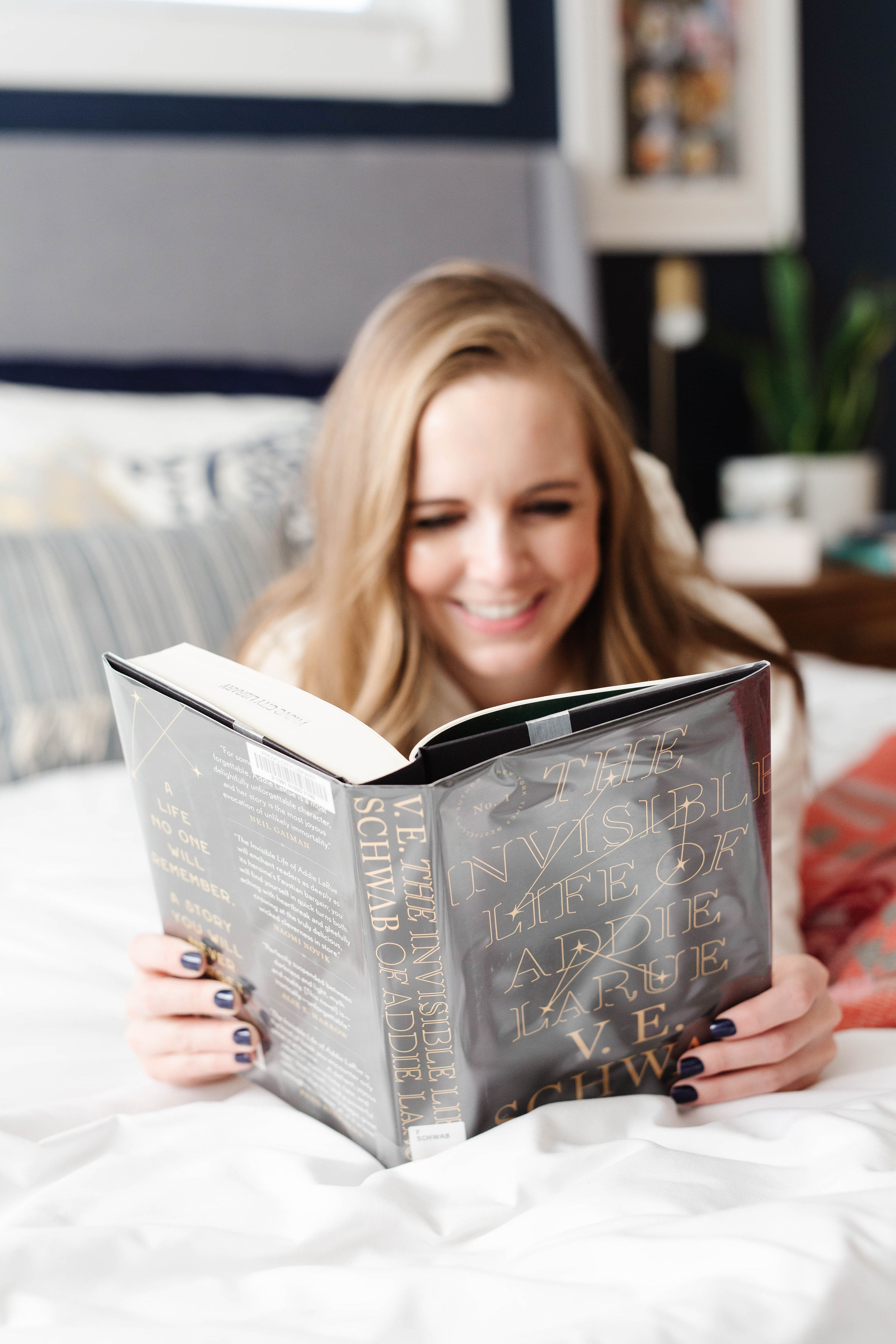 The Invisible Life of Addie LaRue by V.E. Schwab
When I asked about book club title possibilities last fall, SO many people mentioned this book (which, to be honest, I hadn't even heard of before this) as one of their favorite books of the year. It's about a young woman in France in the 1700s who makes a deal to live forever but the downside is that she is cursed to be forgotten by everyone she meets. I'm not that far into it yet, but so far I'm enjoying it!
Upstairs at the White House: My Life with the First Ladies by E.B. West and Mary Lynn Kotz
This is the February book for the Everyday Reading Book Club and it's fun to revisit these stories of life in the private quarters of the White House from the chief usher who worked from FDR's administration through Nixon. The best news is that it's included in Kindle Unlimited, so you can read it for free if you'd like to join us this month! (Full review here)
Walk Two Moons by Sharon Creech
I'd never read anything by Sharon Creech until I was an adult and then when I was making some serious progress through my lifetime goal of reading all the Newbery winners, I listened to this on audio and really loved it. Ella is now reading Newbery books for a school contest, so I offered to read this one for our read-aloud and they're all quite enjoying it (I have to admit that this time around I haven't loved it as much as when I listened more than a decade ago). (Full review here)
A Taste for Love by Jennifer Yen
This is my current audiobook listen which I chose 100% because the blurb said "for fans of Jenny Han." This is no To All the Boys I've Loved Before, but it's still fun and charming and I'm enjoying listening while I work on my latest puzzle.
Dragon hoops by Gene Luen Yang
One of my reading goals this year is to read more graphic novels and when my sister-in-law raved about this one and then it picked up a Printz Honor last week, I didn't need more convincing. And so far, it's excellent!
What are you reading right now? I'd love to hear!
IF YOU LIKED THIS POST ABOUT WHAT I'M READING, YOU MIGHT LIKE THESE POSTS TOO: