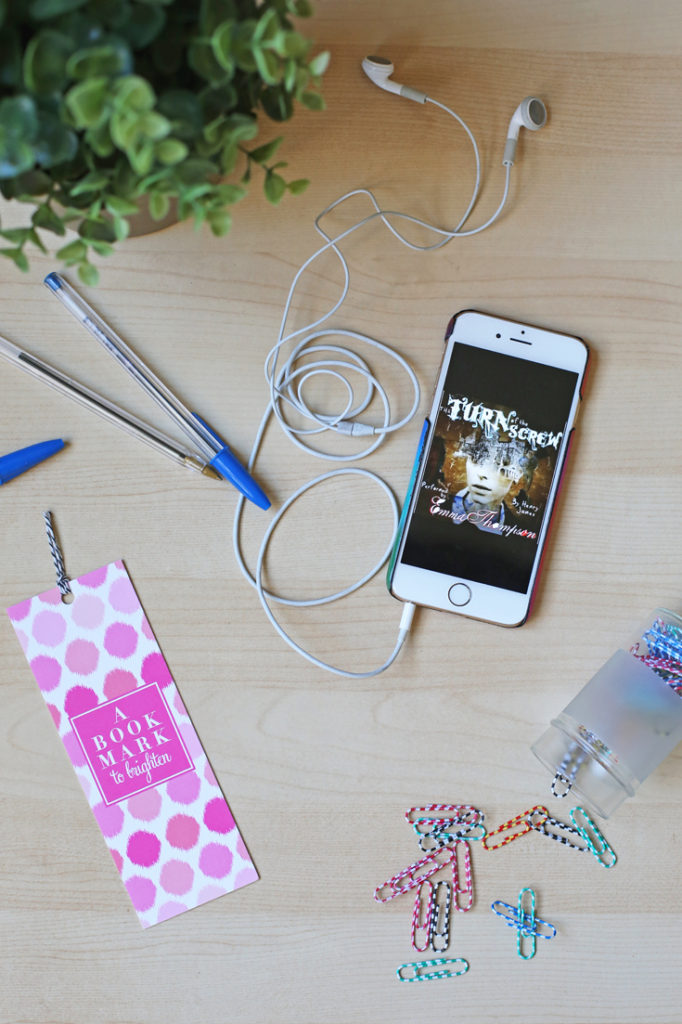 This post is sponsored by Audible, which I personally consider the #1 best source for audiobooks – I've been able to find audiobooks there that I couldn't find from any other source! They have more than 180,000 titles and you can get a free 1-month trial here.
If you've been reading my blog for five minutes, you know I'm a huge audiobook lover.
I was interviewed on two podcasts in the last couple of months (Modern Mrs. Darcy's excellent What Should I Read Next, although be warned that if you listen, your to-read list will immediately balloon to ridiculous size, and Extraordinary Moms) and in both cases, I found myself talking way too much about my love for audiobooks.
I feel like audiobooks are the best way to get in more reading when your life doesn't leave a lot of room for snuggling in bed with a book for hours at a time.
But if you haven't listened to audiobooks before, it can seem like a totally different world from the print book world.
If you'd like to get started, here are a few of my best suggestions for making it easy on yourself to make audiobooks a part of your routine and get through a lot more books than you might otherwise:
Start with something easy. I've said it before, and I'll say it again: listening to audiobooks is a skill. When I was first getting into audiobooks, I checked out a lot of middle grade fiction since I could keep track of it better. I also listened to books I'd been meaning to re-read for ages. Don't kill yourself trying to start with The Brothers Karamazov (37 hours anyone?). Otherwise, chances are good that you'll listen for thirty minutes, and never pick listen to another audiobook. And that would be too bad.
Also, pick something short. You know how Dave Ramsey says to pay off your smallest debt first because it gives you a little boost of accomplishment that helps you gear up to pay off a bigger debt? That's how I feel about audiobooks too. I'm listening to The Nightingale right now, which is excellent so far, but I'll admit when I see that it is 17 hours long, that's a little bit intimidating. On the other hand, I saw The Crossover pop up recently when I was browsing through audiobooks and I remembered that I'd been meaning to read it since it won the Newbery last year. It clocked in at 2 hours and 16 minutes, and I pounded through it in a day and a half, and that felt really good. It's nice to get a few successes under your belt before you put your head down and plow through a 25 hour long audiobook. (On the flip side, if you find a narrator and story you love, it's really nice to know your listening needs are covered for a couple of weeks – my library in Texas closed for a month one year for renovations, so I checked out Homecoming and Dicey's Song and loved every second of them).
The narrator matters. One thing I love about Audible is that not only is there a rating for the story, but also for the performance. I've listened to many books where I thought, "I'm not sure I would have liked this if I'd read a paper copy," and other books where I finished and thought, "Should have read this one instead." There are so many great narrators out there and it makes a good book even better. Audible Studios just released The Turn of the Screw, narrated by the inimitable Emma Thompson and there's nothing I love more than listening to a book read by a voice I already love (Audible has a bunch of amazing performers who have read the classics, like Dan Stevens, Kate Winslet, and Jake Gyllenhaal). If you don't love a narrator, make your life better and pick something different.
Speed it up a little. I think one reason I struggled with audiobooks is because they're just usually quite slow. I like to listen at 1.5 or double speed, depending on the narrator, and that helps it be more like a conversational pace, rather than a "put me to sleep" pace. Audible actually goes up to triple speed – when Bart was driving back and forth between Las Vegas and Phoenix two summers ago, my parents gave him an Audible gift subscription and he listened at triple speed on every drive, which meant he was getting through about 30 hours of audio every weekend (not even counting his daily 80 minute commute during the week). I've never listened that fast, but he said it really wasn't that big of a deal. If you try 3x speed, let me know.
Listen in the car with your children. Ella has an insatiable appetite for games, which means that every time we drive to the grocery store or to dance class, it's a never ending stream of "let's play the alphabet game!" or "how about we play I Spy?" Listening to audiobooks in the car means we all enjoy the drive more and I don't feel so exhausted by the time we pull into the parking lot. Since audiobooks are one of my favorite things, and children's lit is right up my alley, it's fun to share this with my girls and make errands a little more pleasant for everyone.
var ts=document.getElementById('ti-pixel-tracker'); var axel = Math.random() + ""; var num = axel * 1000000000000000000; var ti=document.createElement("img"); ti.style.display="none"; ti.src="https://tracking.tapinfluence.com/trk/0emqA/cMOjy/p.png?p=sq9ES" + String.fromCharCode(38) + "i=Vl8x8" + String.fromCharCode(38) + "ord="+ num + String.fromCharCode(38) + "s=" + encodeURIComponent(document.referrer); ts.parentNode.replaceChild(ti,ts); new TAP.CogFrame('/v1/cogs/0b942e5c-efa9-11e5-b5b3-22000a7d00a4/comments').drop({"program_id":"0b92d21e-efa9-11e5-b5b3-22000a7d00a4″,"post_id":"389acab8-f202-11e5-abd1-22000a7d00a4″,"host":"api.tapinfluence.com","apiHost":"api.tapinfluence.com","sort_order":"desc","limit":"20″,"offset":"0″,"sort_by":"created_at","protocol":"https://"});