When we bought this house in the fall of 2018, we knew we wanted to do a garden.
But the spring of 2019 just felt too crazy as we worked on house projects  and we decided we'd wait until the spring of 2020.
I'll admit, I worried a little that another year would slide past us, but, thanks to Coronavirus, we've had every weekend at home to do nothing but work on the yard, and now here we are with a functioning garden.
I've had a bunch of questions about how we made our garden boxes, where we got dirt, and what we're planting, so if you're curious, here it all is one place.
Let the record show that I am FAR from a master gardener, so all of this is something of a giant experiment. But it feels so good to have finally started a garden and I'm anxious to see how it all turns out this summer.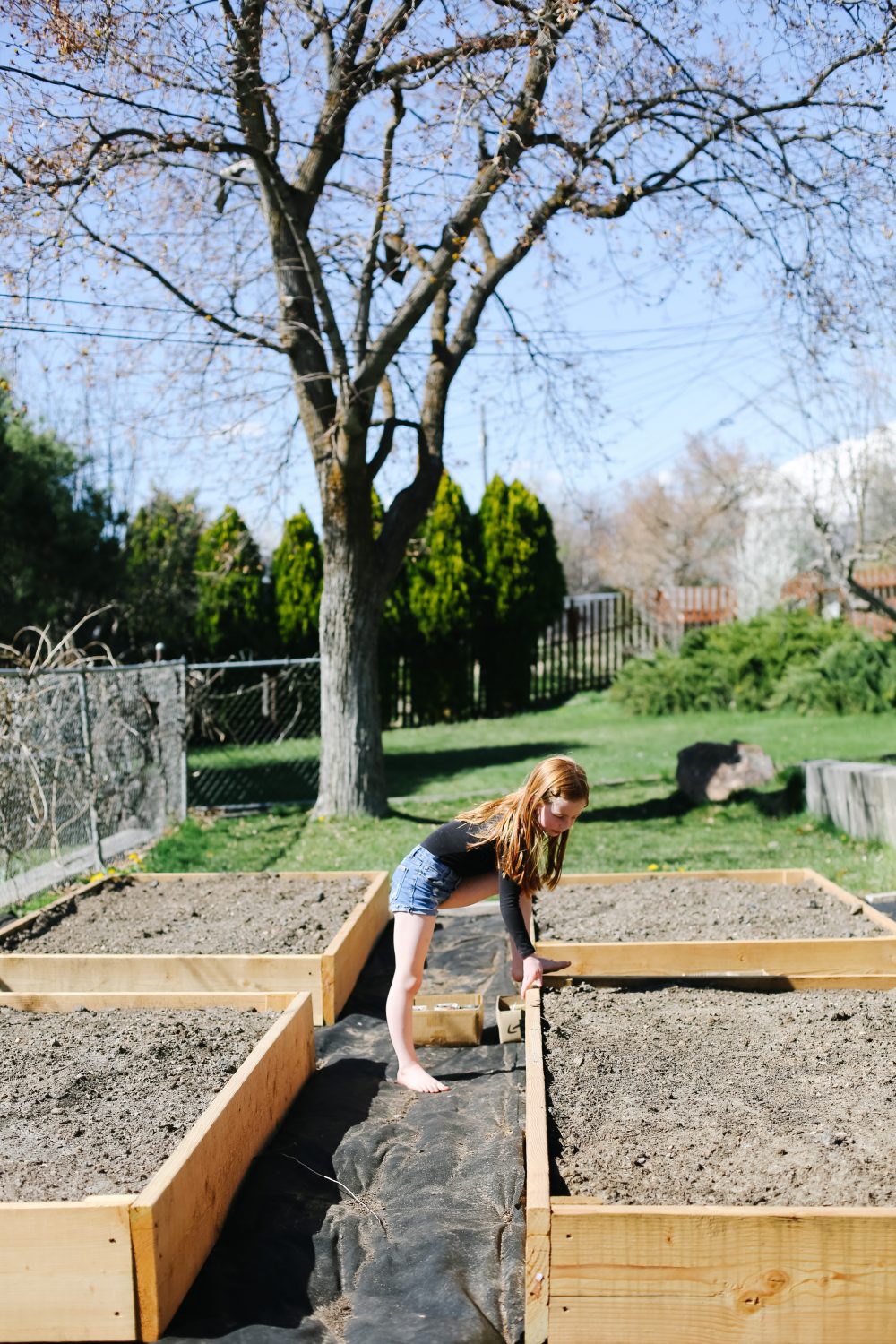 Garden Boxes
There is a dedicated garden spot in our yard that we knew from the beginning would house our garden boxes. The previous owners gardened straight in the dirt, but we knew that would mean an INSANE amount of weeding (which is probably why they both lived to be 90+) so we were set on garden boxes.
We bought weed barrier and laid it over the entire area (about 22 feet by 12 feet) and staked it in place with these garden staples.
Then we built four garden boxes (and by we, I mean Bart).
They're each 4 feet by 8 feet and 9 inches tall and they were SUPER simple. Basically just use a drill to screw the four pieces together with an additional piece of 2×4 in each corner to secure them. You can stake them into the ground if you like, but we didn't bother, since our ground is fairly flat and the boxes are heavy enough that we weren't worried about them moving around much.
The cost to build the garden boxes and put down the weed barrier was about $300.
SOIL
I called around to a few places to see about dirt delivery and we settled on Old Mill Landscape which had great reviews. We ordered 3 cubic yards of garden soil and they delivered it right to our driveway a few days later. It took Bart about 3 hours to load it into the wheelbarrow and deposit it into the garden boxes on a Saturday, while the girls and I raked it smooth between each load. We probably could have gotten by with 2.5 cubic yards – as it was our boxes are VERY full – pretty much right up to the top with dirt.
The cost for the soil was $150, plus an $85 delivery fee.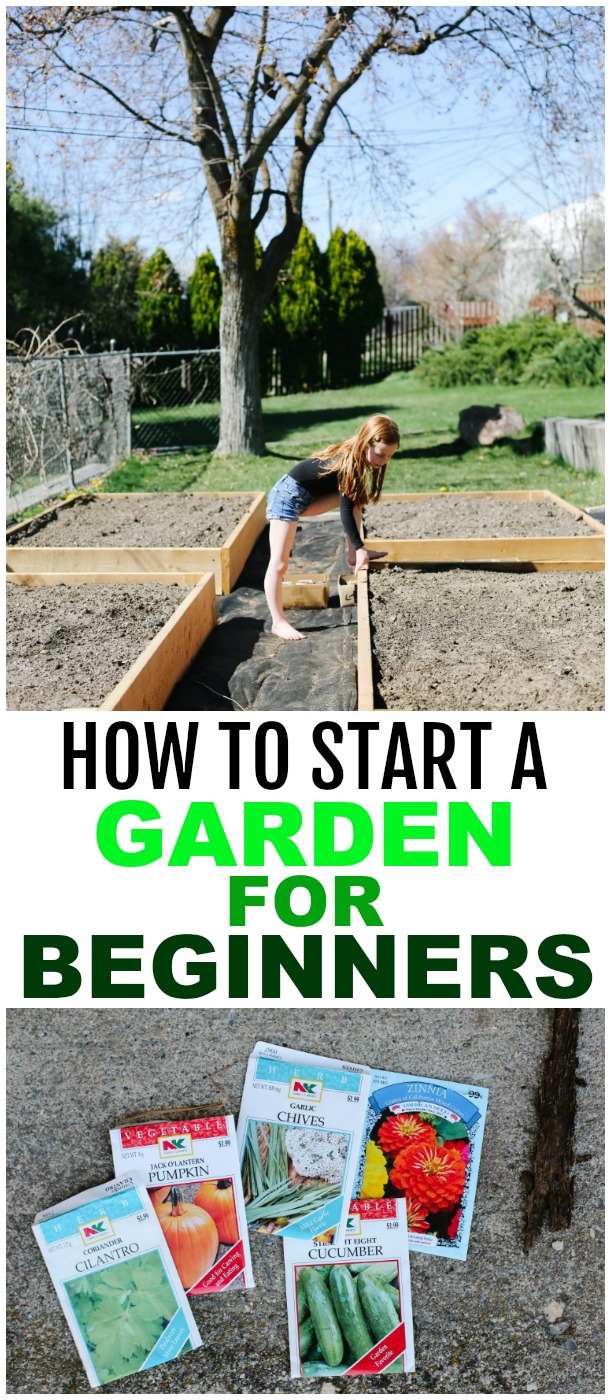 Woodchips
We had two trees in our yard that needed to be removed and when the tree people came, they left us a huge pile of wood chips for free, which we're putting around the garden area over the weed barrier.
They gave us WAY more wood chips than our trees produced since their whole truck was filled with them.
I don't know how much the wood chips would have cost to purchase, since ours were free, but we paid $250 to have the tree removed.
What we're planting
I'm lucky to have a mother-in-law who is a pretty serious hobby gardener and my sister Landen who is an even MORE serious hobby gardener, so I had someone to ask question to like "when can I plant this" and "what grows well in Utah?"
We are doing a combination of things that seemed fun and reasonably easy to grow and I'm excited to see how they do. We planted the following: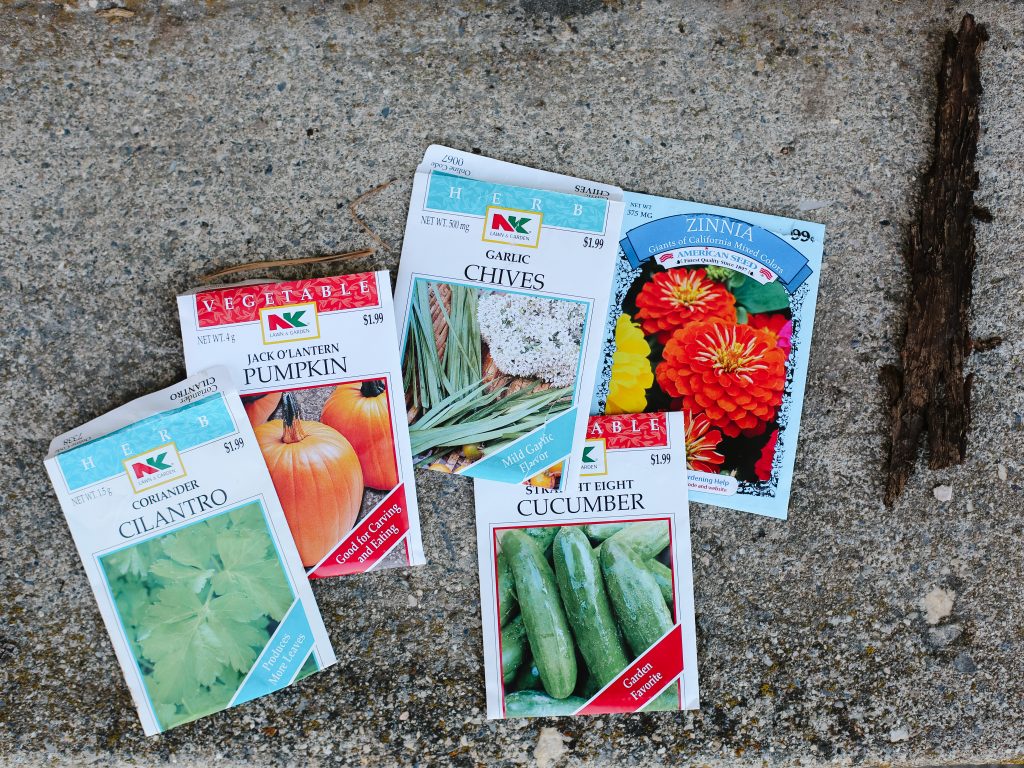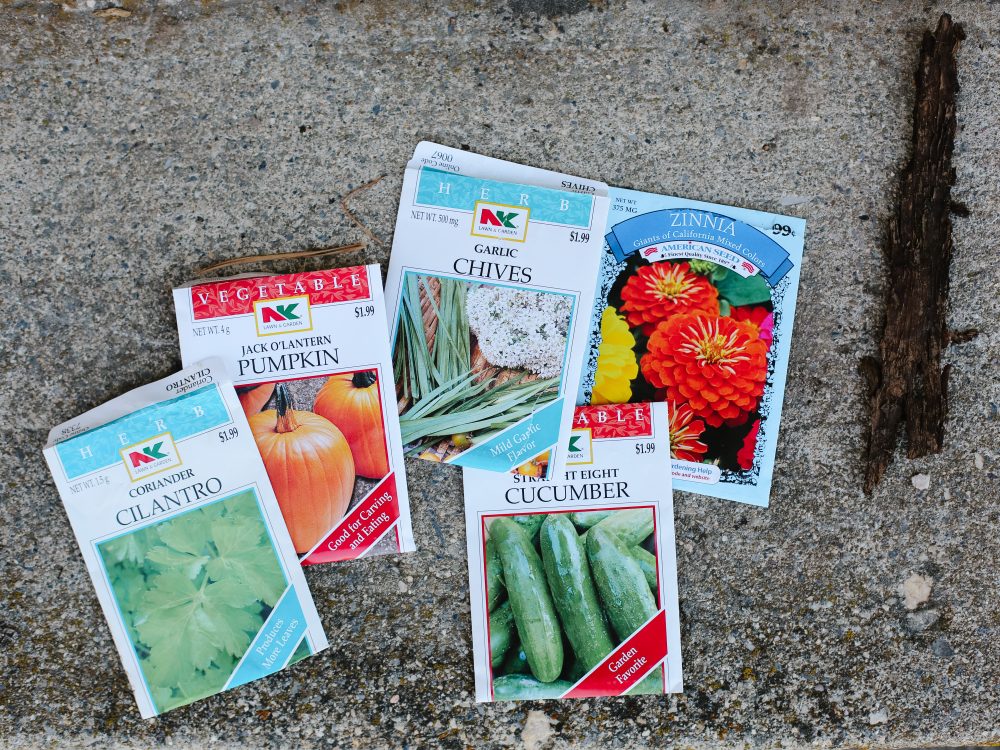 HERBS:
Basil (this is an easy thing to grow – I've grown it everywhere we live, including in Arizona where it was the only thing aside from our citrus trees that didn't succumb to the endless blazing sunshine).
Cilantro
Chives
VEGETABLES:
Bell peppers
Jalapeno peppers
Cherry tomatoes
Tomatoes
Beets
Carrots
Peas (this is another super easy thing to grow – you'll just probably want them against a trellis or put some netting in for them to grow up against).
Garden Beans
Zucchini (I've never grown this one, but apparently it's another easy one to grow)
Summer Squash
Pumpkin
Cucumber
FRUIT: 
Raspberries (these aren't in our garden box, but against our fence)
Watermelon
FLOWERS:
Cosmos
Zinnias (these sprouted in literally four days and are growing like weeds!)
Snapdragons
Most of these, we started indoor seeds that we'll transplant outside as the weather warms up, but we did already plant the carrots, beets, peas and cilantro in one of the garden boxes, since they are hardier and can withstand a the spring frosts on cold nights.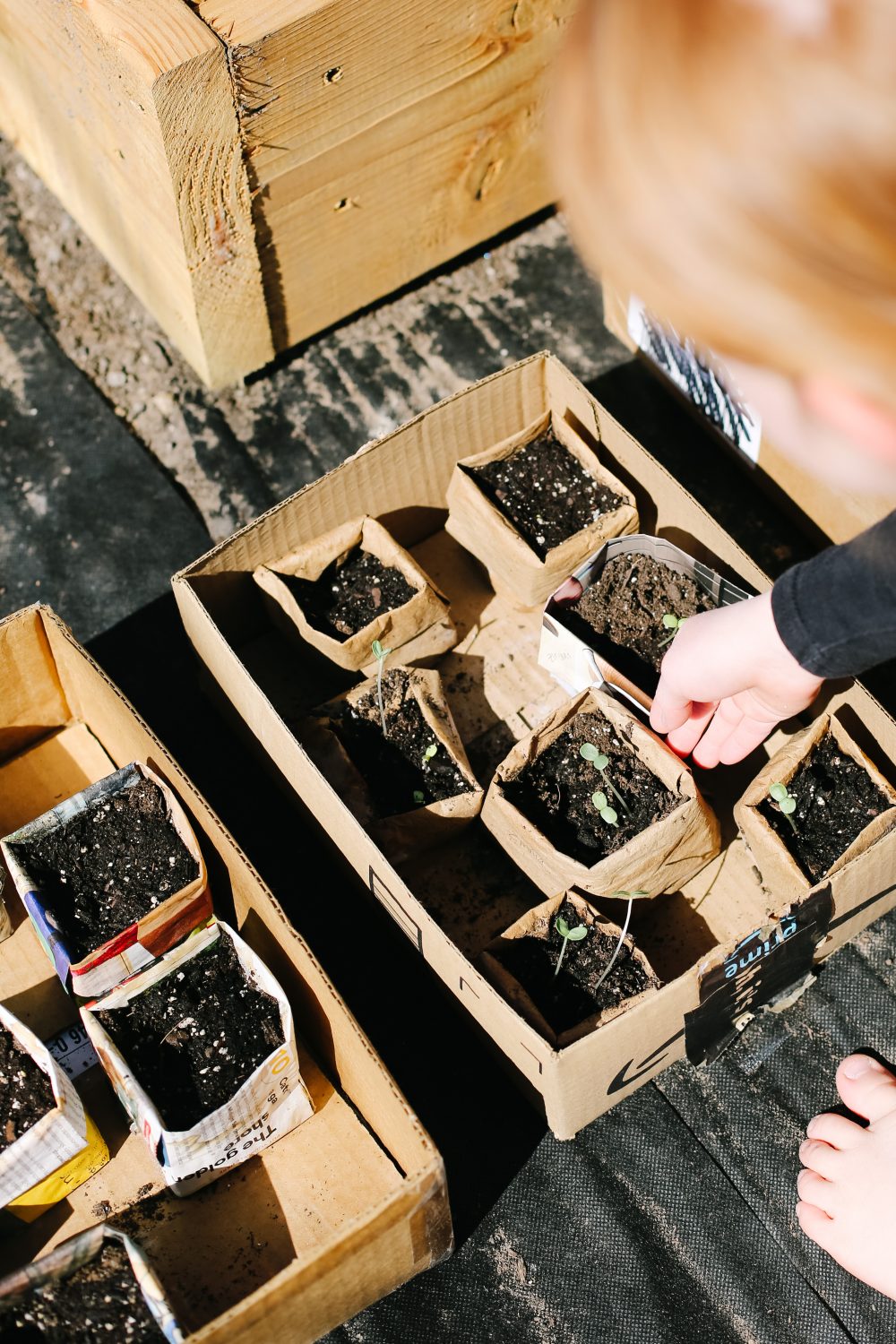 I used this YouTube tutorial to make little seed boxes since I didn't want to make an extra trip to buy seed cups during quarantine and I had tons of packing paper sitting around.
I originally had them all packed together, but they started to grow fuzzy mold on the outsides really quickly and I've spread them among more boxes now so that they have room to dry out every day after watering. They sit under a sunny window in our dining room, but I've taken them out a few times on sunny days, especially after I noticed the mold, to help them dry out quickly.
Any other questions about how to start a garden? I promise zero answers.
If you liked this post about
how to start a garden

, you might like these posts too: