One of my favorite things about moving into a new home is the process of figuring out how to make the house work for ME and my family.
I want my house working with me as a partner, rather than it feeling like an enemy I'm constantly fighting with.
I want it to be easy to keep tidy, not just for me, but for my kids too.
When I see something lying around, I want to know exactly where it should go and when I need something, I want to know exactly where to find it.
Here are some of the things that help me make home organization easier.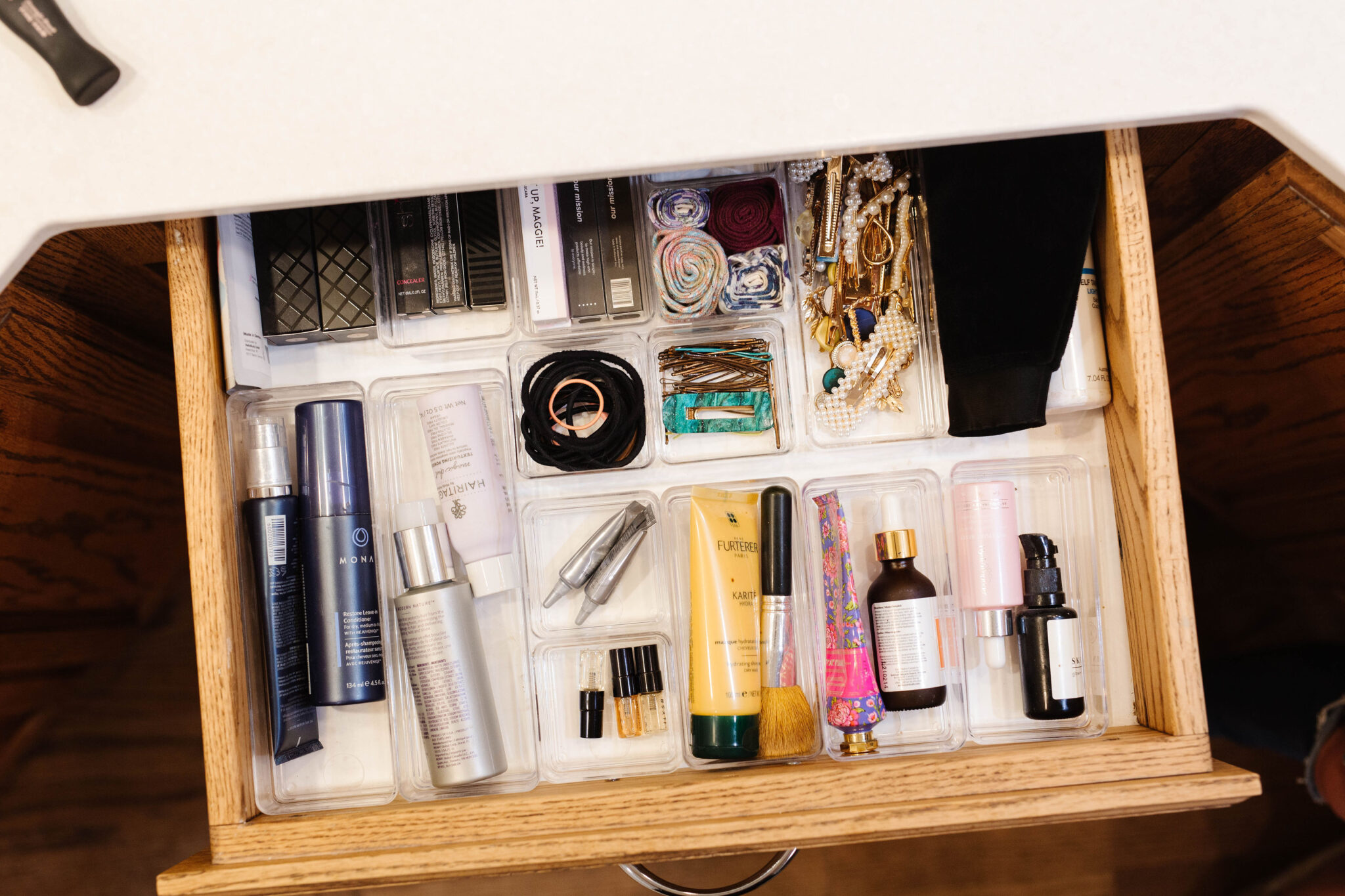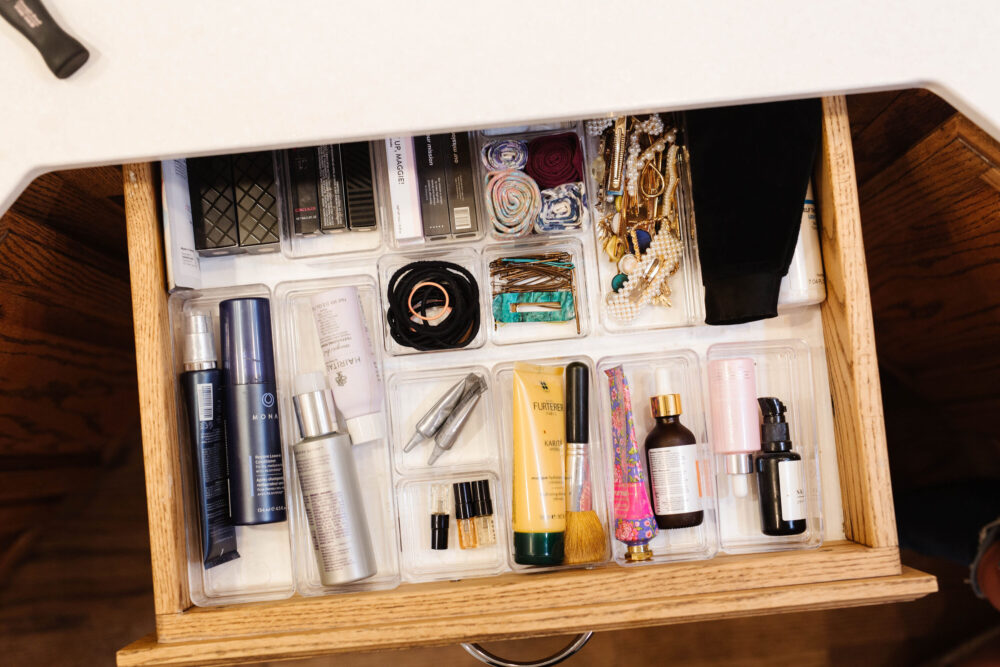 Identify daily usage. When we bought this house, I immediately started thinking about backpacks. Where would they go that would be easy for my girls to actually put them away and that wouldn't be a huge heap of backpacks by my front door every day? Our house has no natural spot for a mudroom, but we added lockers to our laundry room and it's super easy for my children to put their backpacks on their designated hooks every day. If I see a backpack lying around and point it out, they know exactly where it should go. The more I think about the daily flow of our lives, the more I can figure out how to make spaces for those things to live. Shoes, coats, purses, library books, dishes, backpacks, electronics, and makeup are all some of those things we use virtually daily and need to have a home for.
Notice problems. 90% of the time, if there is something lying around, it's there because it doesn't really have a home. Instead of being annoyed about stuff sitting around where it shouldn't be, I try to figure out "where could this go that would make sense?" When I actually focus on the item and think about where it might live in my home, I can usually figure out a spot that works or create a home for it.
Keep it simple. If you make the system too complicated, it probably just won't work. A shoe basket by the front door is a simple system that everyone down to a toddler can manage. A bin in your drawer for socks only requires you to toss them in the right spot. All our stuffed animals go in one large basket that makes it easy to clean up. A system that requires a lot of effort will almost always fall quickly apart – keep it as streamlined and easy as possible.
Remember that a house is to live in. I don't live on Instagram or Pinterest – there are six people in my house that eat, sleep, dress, play, work, and more. I don't expect it to be spotless at all times. I want it to be neat and clean and easy to maintain, but I also try to remember that a house is a tool for our family, not a decorative showpiece.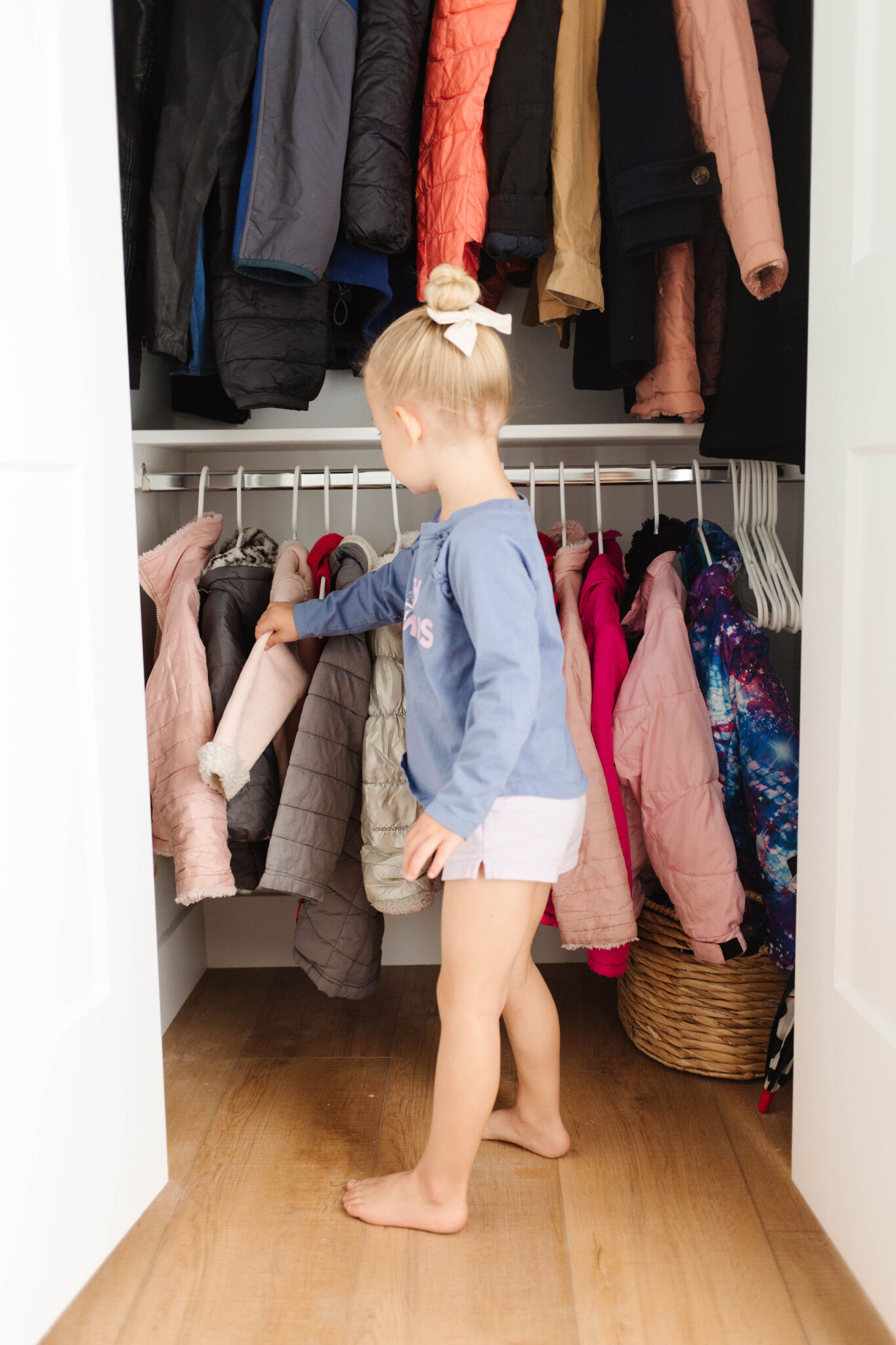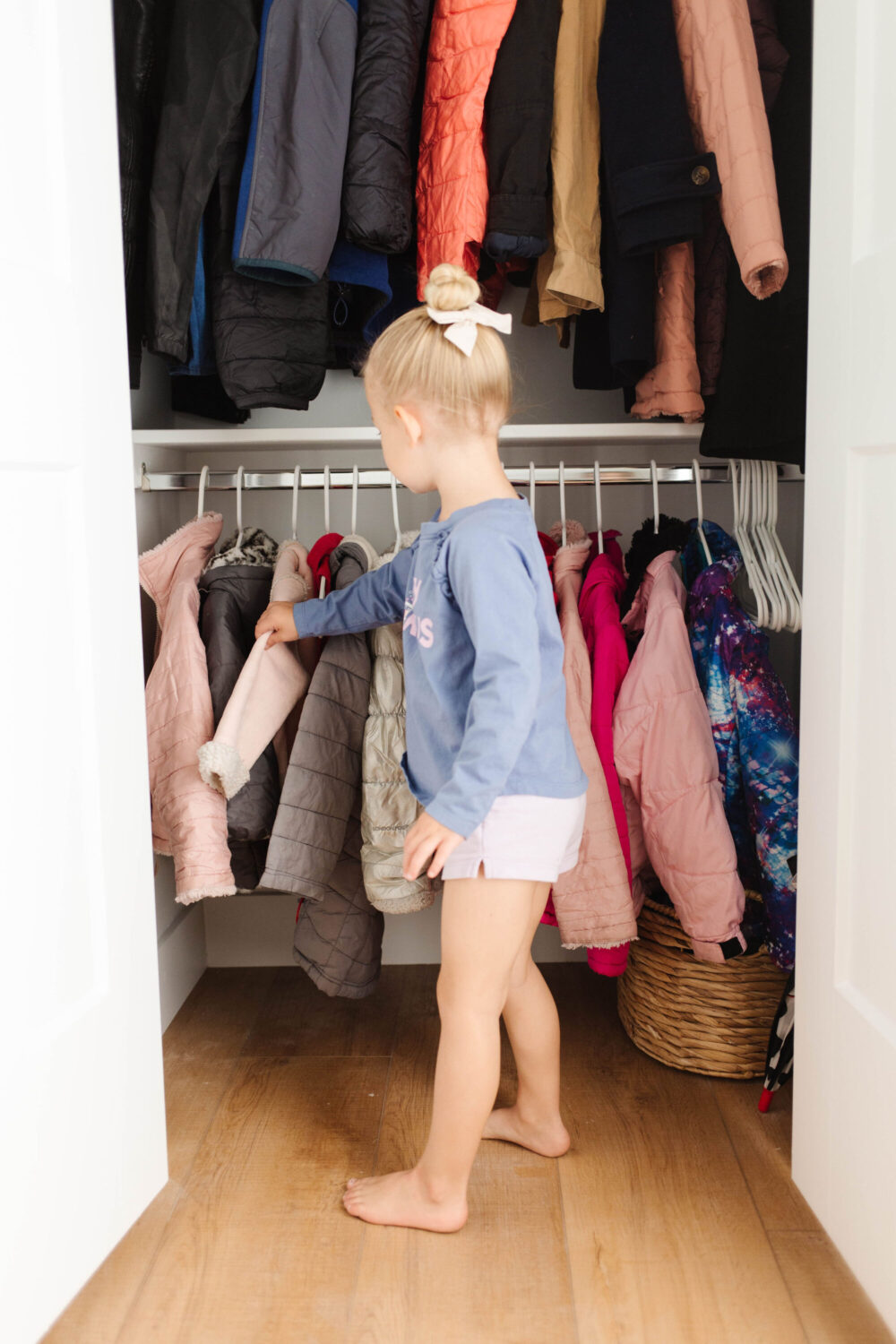 And here are some of the simple home organization systems that work well for me:
Add a shelf in a closet. In our last house, one of the biggest pain points was our coat closet. The rod was too high for the girls to hang up their coats and when we added hooks to the back of the door, the coats were always falling off the hooks when the door was opened and the sleeves or hoods would constantly get caught in the door. When we added a coat closet in our new house, we did two shelves and rods instead of one so that the girls could easily hang up their own coats and it's basically my favorite thing ever. We added shelves for this same reason in our girls' closets in Arizona (it took about 20 minutes and $25) and it makes a massive difference. High shelves in the dead head space of a closet are equally awesome because it gives you another space to store infrequently used items
Use Drawer dividers. I HATE when drawers become junk drawers and most drawers are just too big to NOT become junk drawers. I have these clear dividers which I love, but I also use these super inexpensive ones from Target in my other bathroom drawers and they're equally excellent. If they don't fit tightly in, I like these little adhesive dots to keep them in place. I also use endless numbers of IKEA drawer dividers in my desk and kitchen drawers. It's $2-$5 that will save you hours of time over the long run when you can easily find exactly what you're looking for.
Hang Hooks. I am the biggest fan of hooks – pretty much everything looks better on a hook than sitting on the floor. In my office, both in our old house and our new house, one of my first orders of business was to hang a hook rail (I've used this one both times – it's sturdy, a little bit cool, and affordable). I love that I have a place to hang my purse, my library bag, and a sweater for my freezing office. We also hung these command hooks on the glass panel of our shower so our towels would be within easy reach (in our Arizona house, we had hooks mounted on the wall just opposite the shower door because it was within easy arm reach when you stepped out of the shower). We bought these little white ones for our girls rooms so their headphones had a natural home.
Put out a tray. I am a big fan of a tray or small bin. On my desk, I have a tray that holds my scissors, stapler, tape, coin jar, and a few other miscellaneous things. Because they're in a tray, they look much neater than if they were just sitting on my desk. In my closet, I have a tray where I keep my headbands, my earbuds, and a few other things that don't really belong with anything else. It makes it easy to put things in the right place and easy to grab the things I need when I need them.
I'd love to hear some of your best home organization tips – what helps you think about how to organize your house and what tricks or tools help keep it organized?
If you liked this post about home organization, you might like these posts too: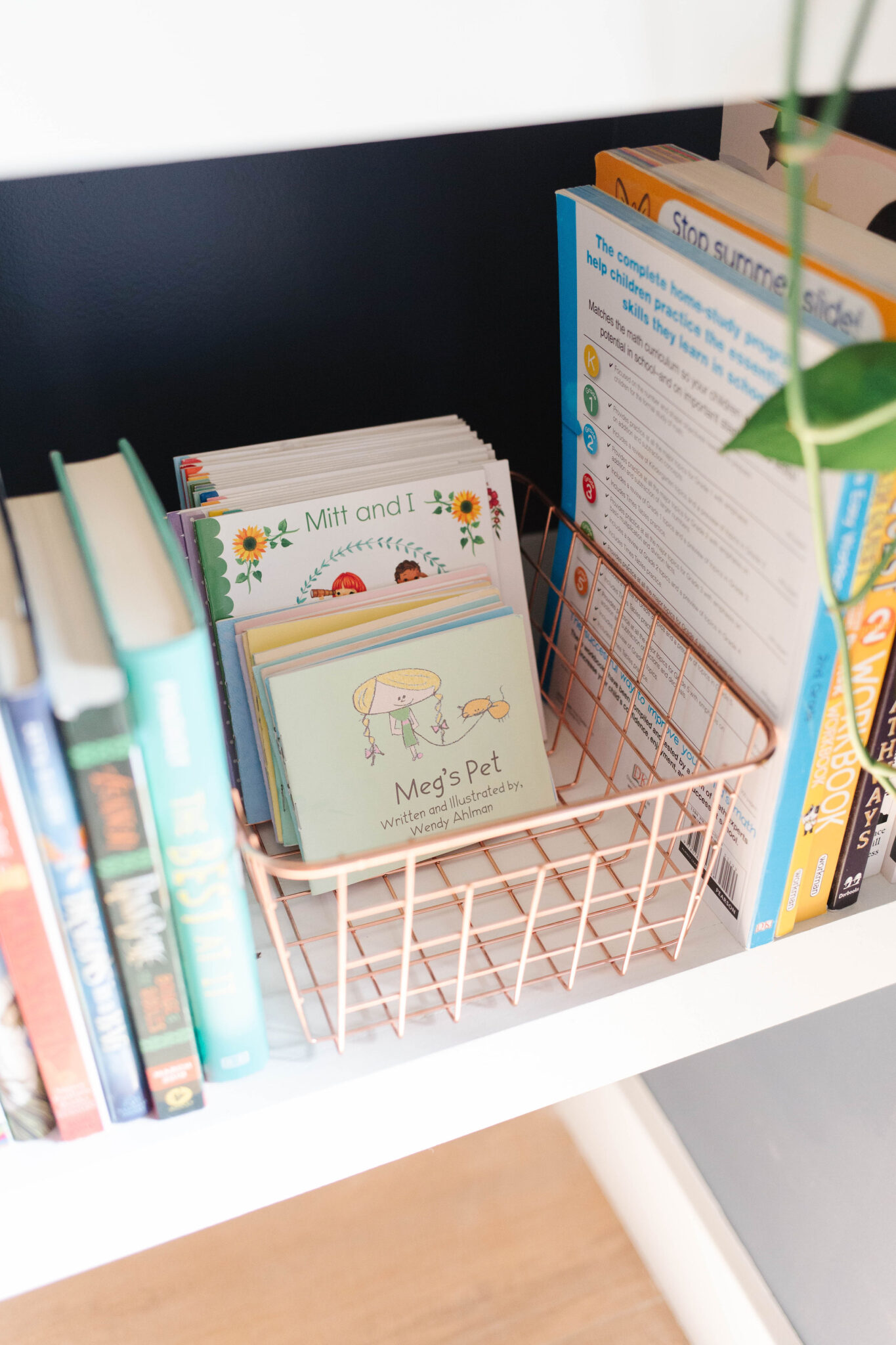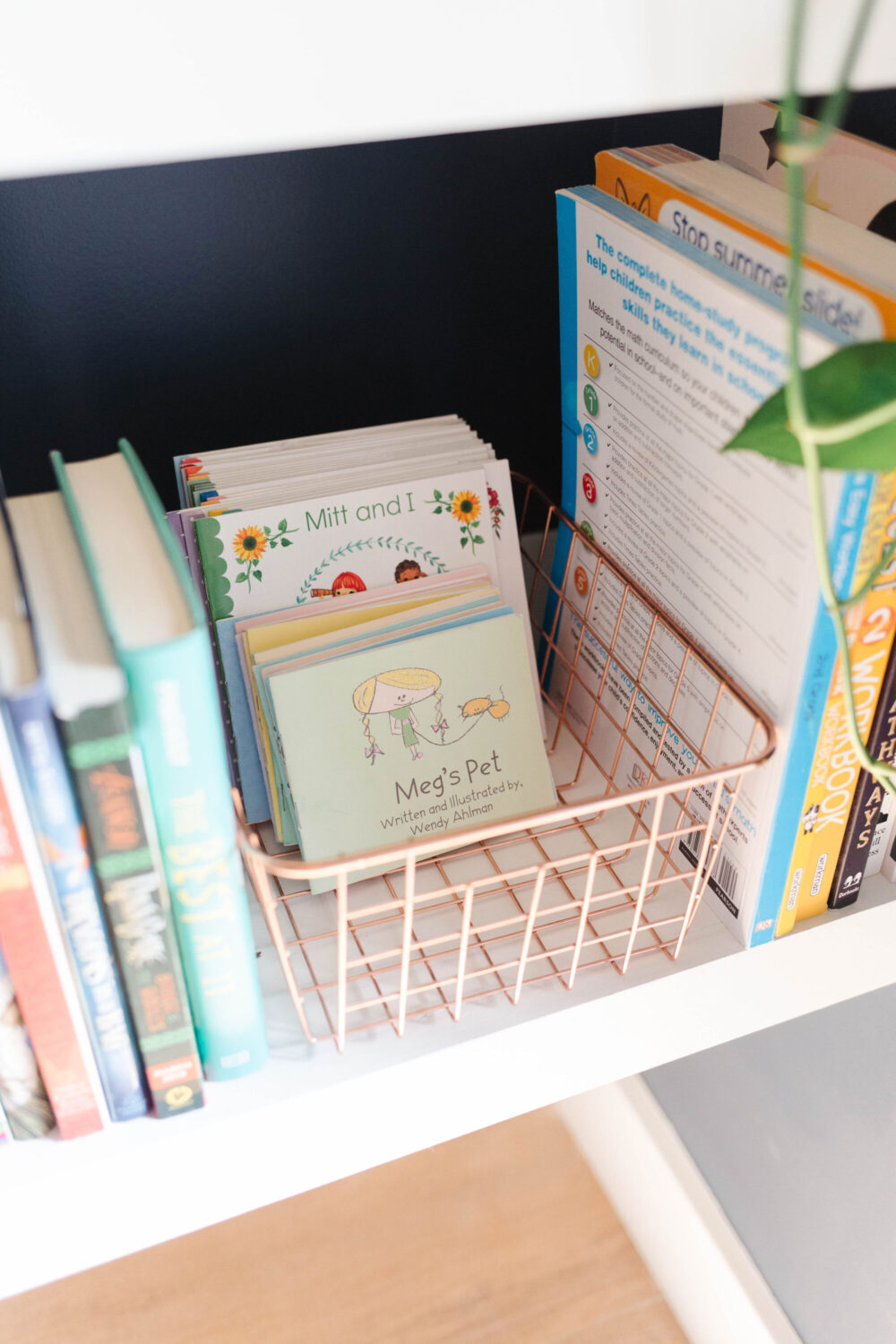 Photos by Heather Mildenstein