Since we moved into this house with a ticking clock (in the form of a baby), I was really gung-ho about getting things settled as fast as possible.
Also, I hate feeling like I'm living transitionally, so it's a huge priority for me to get our house feeling like a home and a place where I like to be. I can't tell you how down it made me the first week or so when we had no furniture, nothing on the walls, and about four things in the fridge. It's just so unpleasant.
Anyway, now that we live in our ninth house since we got married almost a decade ago, here are some tricks I've learned for making your house feel like home.

1. Hang pictures quickly. I know some people fear putting holes in their wall. I am definitely not one of them; you can patch a tiny nail hole in about four seconds. Also, I almost always make Bart hang things because he's way more of a perfectionist than I am, so things end up hanging much straighter and more evenly when he does it. So I guess tip #1 is actually "Make Bart hang pictures quickly."
2. Break down the boxes. A pile of boxes makes me feel like I'm living out of a suitcase. I get everything out of boxes as fast as I can (it's harder to ignore a pile on the counter than it is an anonymous box), and then I break those boxes down and either give them away on Craigslist or store them in a closet or under a bed.
3. Make your house smell good
. When you move into a new place, it usually smells either like someone else or like an empty house, neither of which is what I'm going for. This pregnancy especially made me REALLY into good smells, and this house was a combo of empty house and wet dog (there hadn't been dogs here before, so I'm not sure what that was all about, but it was not pleasant). We plugged one of the
Unstopables Scented Oil Warmers
in the front room and it's made a huge difference. When Bart came in through the front door after a basketball game last week, he said, "It smells AMAZING in here? What is that?" Way better than the first few weeks when every time we walked through the laundry room we'd both say, "does it still smell like dogs in here?" There are three scents in the new
Unstopables line
and my favorite is the Lush (seriously, I can't get enough of it. Ella likes Shimmer the best, but I don't know if that's because she likes the smell the best or just that it is pink). I also keep a candle on my desk (but. . .of course I can't find the matches right now).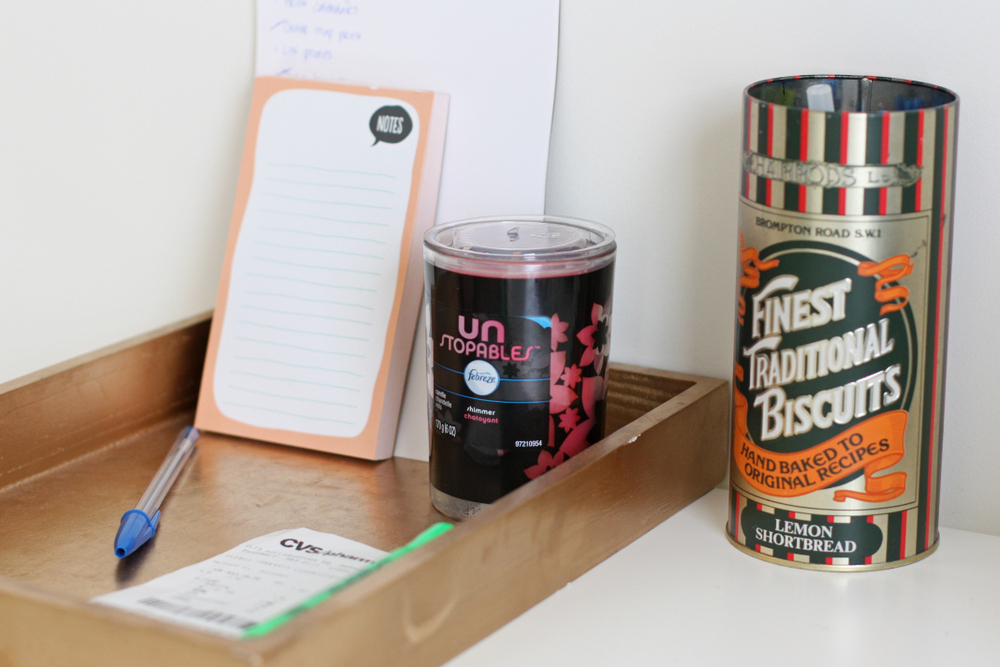 4. Set up the things you need to keep life running smoothly ASAP.
My first priorities are getting toilet paper, basic groceries, and cleaning and laundry supplies in their regular places. If I can make dinner, run some laundry, and go to the bathroom, that makes me feel like I'm not living out of boxes. And cereal totally counts as dinner when you're moving.
5. Make your beds
. I'm like a bed-making evangelist, but I can't help it. A bed looks so much better made and it takes all of three minutes (if that). I may have boxes in every room on those first few days, but at least my beds are made. I'm also one of those people so crazy that not only do I make my bed every day, but on laundry day, when I strip the bed to wash the sheets, I STILL make the bed with the bare pillows and comforter because I can't stand my bed looking like a mess all day while the laundry runs. And every couple of days, I spray the bedding with
fabric refresher
to keep everything smelling fresh. I read a Nate Berkus article the other day that said "Everyone deserves to live beautifully." I basically feel the same way about a bed – everyone deserves to go to bed in a nicely made bed.
6. Buy some live plants.
(Disclaimer that Bart would 100% disagree with this because he hates the idea of dirt inside a house, but. . . I keep buying plants). I love the look of greenery in a house and you can buy plants for just not that much money, whether at the grocery store or the garden section of Walmart or Home Depot. Having something alive in your house makes it feel like someone who cares lives there.

7. Pick one place to be a stash zone. It's so easy to have a pile of homeless items in every room, but then the whole house feels like a disaster. I try to limit one room to be the place for things I haven't figured out yet or haven't found a home yet. Preferably a room or closet with a door so I can shut it and not see it ten thousand times a day.
8. Invite people over. I like this for two reasons. One, it forces me to get things done, knowing that someone is going to be showing up on my doorstep (my cousin and his wife and their daughter came to visit for a long weekend ten days after we moved into this house. You better believe that lit a fire under me to get a shower curtain up, some pictures hung, and food in the pantry). Two, nothing makes a house feel more like a home than filling it with people you care about. And those people won't REALLY care if you don't have pictures hanging on the wall.
I was selected for this opportunity as a member of Clever Girls and the content and opinions expressed here are all my own.