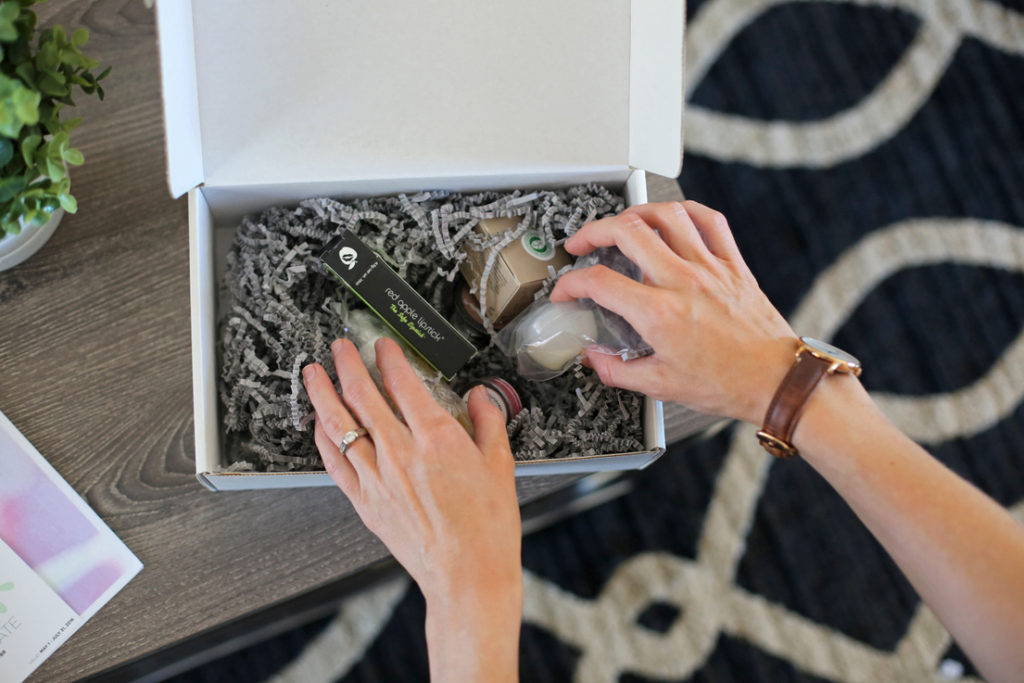 I've learned lots of wise things from my mom (including making my bed every single day), but one of my favorites is that as a mom, you have to make your own sunshine.
No one is around to pat you on the back for going to the grocery store or putting the laundry away or reading an extra bedtime story.
Since I spend most of my time at home with these three little girls, I've tried to build things into my daily routine that make my life happy. None of them take a long time or costs a lot of money.
simple things that make me happy
Getting the mail. I don't know what it is about getting the mail, but I look forward to going out to the mailbox every day, and my girls love this little outing. Even if it's just junk mail, it makes me feel good to immediately toss it in the recycle bin and know that it won't be floating around the house. Of course, the best is when something fun comes in the mail, like a box from CrateJoy. Have you heard of them? They're basically the marketplace for subscription boxes so you can see all the different options in one place. They sent me the Raw Box and the Benevolent Beauty Box and they were both so fun (and so different!). I love that I can find whatever subscription box I want to try myself or give as gifts, plus it was delightful to see some of my favorite book subscription boxes like LitJoy Crate and OwlCrate on there.
Having the fridge stocked with good lunch foods. Lunch is so hard as a stay-at-home or work-from-home mom. I go out to lunch approximately once every two months (I miss those days at Duke where Jessica and I went out almost every Friday with our little crew of girls!), and it's always when I'm starting to feel the hustle of getting everyone down for naps and quiet time, so I don't want to have to think too much about what I'm going to eat. I usually eat one of the same two or three things, so I try not to run out of sourdough bread, avocados, eggs, feta, and sausage (I bought this mango and serrano chile sausage last week on a whim, and it is the MOST amazing thing ever. I'm basically looking forward to the next day's lunch from 12:45 p.m. onward).
Listening to podcasts. I love listening to audiobooks, but listening to podcasts feels completely indulgent because I'm not making any progress through a book, I'm just listening for the sheer joy of it. If I get up early enough to get ready for the day while my girls are still snoozing, I love listening to an episode or two while I put on my makeup and do my hair. If not, laundry, dishes, and an evening run are a great time to squeeze in a little listening.
Taking gummy vitamins. I know this is the dumbest thing ever, but for years, I took prenatal vitamins that were just the kind you swallow and while I didn't dread taking them, it certainly wasn't something I looked forward to. Then, after realizing that one brand was causing me serious insomnia, I switched over to the gummy ones, and I've never looked back. Taking two every day brings me just a TON of satisfaction, because it's doing something good for me AND tastes like a little evening treat at the same time. And I never have to share.
Reading before bed. This feels like the ultimate treat to me – even if it's only 10 minutes, it makes me feel like I have some time to myself and that my life isn't packed from the moment I wake up until I collapse into bed. I always try to have two or three or four books on my bedside table so that I have plenty of options depending on what my mood is (I've learned that non-fiction is great for helping me wind down, while a really fun chick-lit book makes me want to binge-read way past midnight).