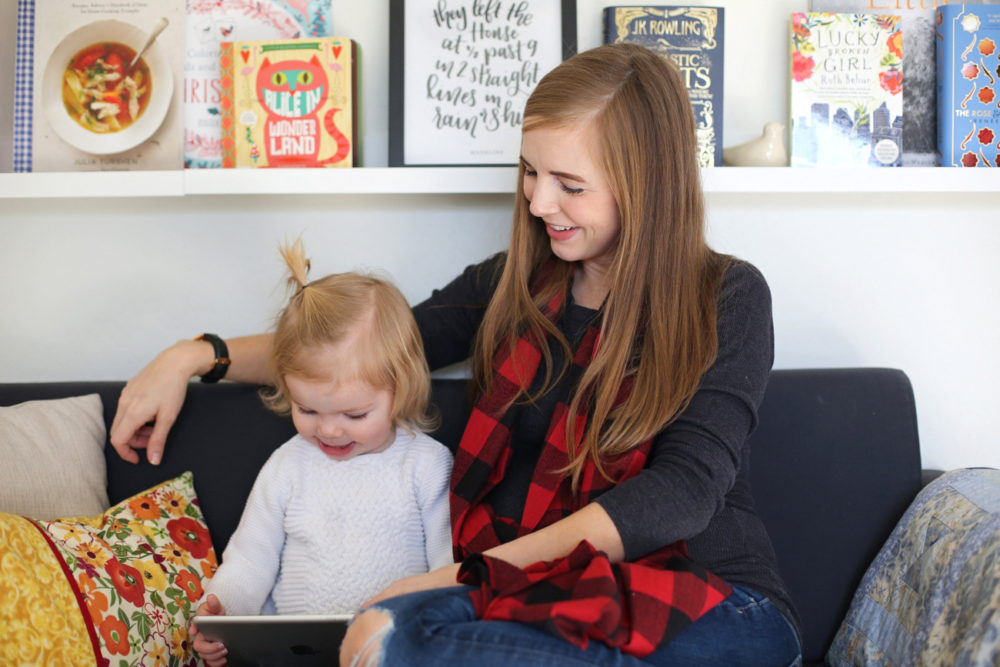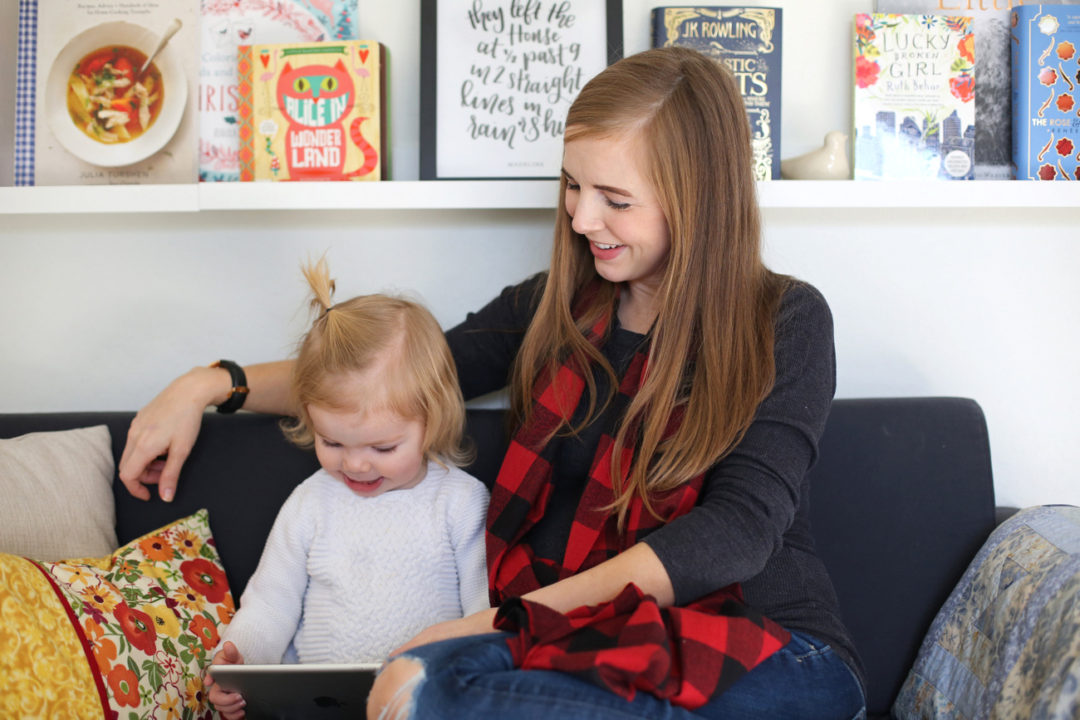 One of the questions I get asked all the time is about audiobooks for kids.
How do you get them started listening? What apps or tools do you use? And what books are good on audio?
It turns out my sister Merrick, who also has young children who love audiobooks, has been getting a ton of the same questions, so together we came up with some of our best tips for introducing them to children, plus our favorite audiobooks for kids, both boys and girls.
First, my favorite places to get audiobooks for kids:
The books on CD at the library. These are perfect for keeping in the car and listening while you run errands together or drive back and forth from gymnastics or dance or soccer. My girls are SO much happier in the car when we're listening to something (right now, we're working our way through the Henry series by Beverly Cleary). The older girls also each have a CD player in their room – I showed them how to work the CD players when they were about three-years-old, so they can listen during quiet time.
Audible. Nobody has a better audiobook collection than Audible and their app is very straight-forward to use. Your monthly membership gives you the number of credits you choose (generally between 1 and 3) and each month you can use each credit to get an audiobook from their collection, which then you own forever. Also, if you sign up for a 30-day trial, you can get two free audiobooks and even if you cancel your membership immediately after downloading your two free titles, they'll stay in the app forever so you can listen at your leisure (ahem, summer road-tripping this summer).
Overdrive. Every library I've ever belonged to in the US (and, thanks to our many moves, I've belonged to a LOT of libraries) has had an Overdrive collection. You use the app to download audiobooks (or e-books) onto your phone and then you can listen in your car or while you exercise or whatever. I often download things for the family onto my phone and then just use the auxiliary cord or bluetooth connection in the car to play them through the sound system. Every library's collection varies in how good it is, but most of them are pretty decent, and it's a free way to access a lot of titles. Like the library, the most popular books will generally have a hold line. My girls listen to most of their audiobooks through Overdrive on our iPad and Nook during quiet time while they do some other activity. Here's a little tutorial for Overdrive that will have you up and running in less than five minutes – it's super easy.
Hoopla. Like Overdrive, this is a library service that many many libraries have subscriptions to. Unlike Overdrive, which works like a library with a limited number of copies of any given title and require you wait in a hold line if other people have it checked out, Hoopla gives you a flat number of checkouts per month (my library is 10 a month – I don't know if that's standard or not) and every title is immediately available without any wait times. I use Hoopla much less than Overdrive because they have fewer titles and it doesn't go up to double speed (only 1.5x), but it's still a solid service.
So now you have your audiobooks . . . how do you actually have your children listen?
My first secret is to give an overview of the story first. Give your child a 90 second synopsis of the story (or at least the first part of the book) and who the major characters are, so that when they start listening, they have something to latch on to. I find that most children are pretty good at listening to audiobooks because they're already accustomed to having someone read aloud to them (whereas adults generally haven't listened to a book be read aloud in decades).
Second, give them something to do with their hands while they listen. My girls love to work on jigsaw puzzles, play with play-doh, string beads, build with Legos or Magna-tiles, or paint their nails while their audiobook plays along.
Third, pick a book above what they can read themselves. For me, this is one of the beauties of audiobooks for kids – they can listen at a much higher level than they can actually read, so they can listen to better stories, hear richer vocabulary and follow more complex story-lines than they could manage on their own, which helps improve their reading and comprehension skills. And it's so fun! Plus, if you have a struggling reader, it's an opportunity for reading to be just the magic of story and language instead of struggling along with the technical skills of reading.
And then here are nine audiobooks for kids (or audiobook series) that have been big hits in our family: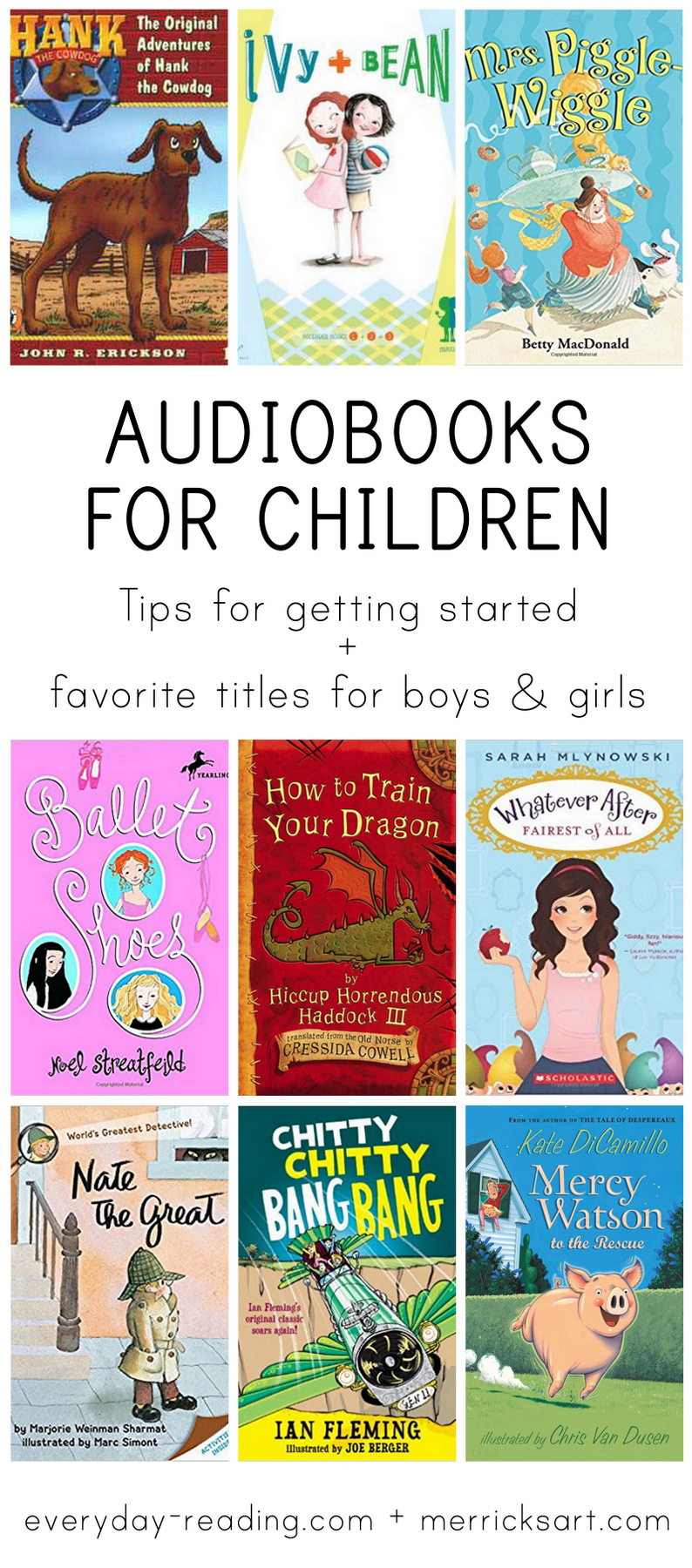 Hop over to Merrick's blog to see three more tips for helping your children get into audiobook listening, plus nine more great audiobooks for kids!
And let me know if your family has favorite audiobooks, since we've got lots of road tripping ahead this summer.
Sign up for my FREE course!
My free 5-day course Raising Readers: Tips, Tricks, & Titles for Every Family is full of really good hands-on ideas for creating a culture of reading in your home.