Spring break is over and I'm glad to be getting back into a normal-ish routine.
But one nice thing about spring break was a little more time to read books and we went through piles of library books in the last couple of weeks as we enjoyed some more leisurely mornings to pull out a spring break book and read it in bed or after lunch.
Let's be honest, I wouldn't mind if it was spring break for another two weeks.
Whether you're out of school right now or not, these books are perfect to read over Spring Break during warmer afternoons outdoors or crisp mornings under a snuggly blanket.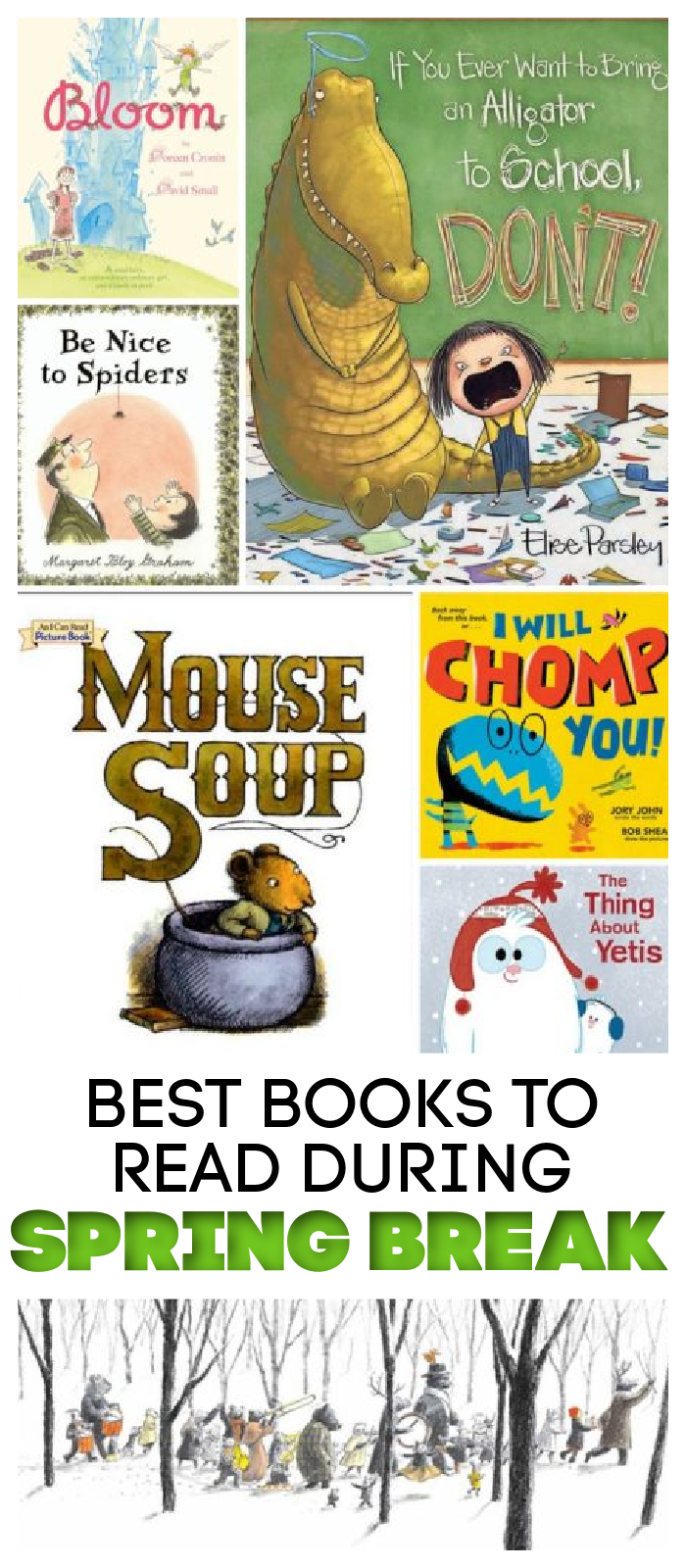 a list of the best spring break books
If You Ever Want to Bring an Alligator to School, Don't! by Elise Parsley
It starts out innocently. You just want to bring something better than a lame stick or rock for show-and-tell when your teacher requests nature-related items. But an alligator might be a little too much excitement, and when you land in the principal's office because the alligator tried to eat a student and also chewed gum in class and couldn't stop drawing funny pictures while the teacher was trying to teach, you might start to wish you'd brought a nice boring rock instead. Also, Ani memorized most of this book and hearing her recite it was just the best. I wish I'd thought to record it before we returned this library book.
Astronaut Handbook by Meghan McCarthy
I think I requested this one, although I can't remember where it was even recommended to me (my mind, it is a steel trap, obviously). Surprisingly, it's turned into one of my girls' favorite books and we've read this at least a dozen times since it came home with us from the library. They love the little thigh restraints on the toilet to keep you from floating off the seat and they really love counting down to blastoff. As for me, it makes me want to read or watch The Martian again.



I Will Chomp You by Jory John and Bob Shea
This book, which reminds me of the classic There's a Monster at the End of This Book, is filled with a (not very) scary monster of some sort who warns the reader away, threatening to chomp you if you venture closer. Turns out that the reason the monster wants you gone is that he's hidden all his cakes at the end of the book and he REALLY doesn't want to share.



Be Nice to Spiders by Margaret Bloy Graham
Originally published in the 60s, we've loved this reprint of the story of a spider, Helen, left at the zoo gates when her owner moves to a new apartment that doesn't allow pets. She takes up residence in the lion house and when she eats up all the flies, the lions are thrilled. Helen moves from cage to cage, catching the flies and leaving the animals delighted, but when the mayor comes, the zookeeper insists that the spider webs all be swept up and Helen flees to a crack in the ceiling of the camel house until all the flies return and the zoo is no longer the clean, happy place it was weeks earlier.



Bloom by Doreen Cronin and David Small
You may know Doreen Cronin from her Click Clack Moo books, but this one is very different (and the illustrations by David Small give the book an entirely unique feel). In a kingdom made all of glass, there is a muddy little fairy named Bloom and when the kingdom grows bigger and shinier, the people complain so much about her that she leaves and goes to live in the forest. But after many years, the glass kingdom is falling apart and suddenly everyone wishes that Bloom would return to help repair things. But when the king and queen both fail to enlist Bloom's help to save the kingdom, they send a very small little servant girl to request her help. Can an ordinary girl save the kingdom? She just might be able to. I love this sweet story that emphasizes hard work and this is Ani's choice for pre-quiet time reading almost every day right now.



The Tea Party in the Woods by Akiko Miyakoshi
As soon as I opened this book, I knew this had to be a book that was originally printed in another country. It definitely has an international feel to it that I loved from the first page. A quick look at the copyright page verified that it was indeed originally published six years ago in Japan and was only translated into an English edition last year. This fairy tale has bits of Little Red Riding Hood, but it is really a story all its own. Kikko wakes up on a snowy morning to discover that her dad has gone to Grandma's house to help clear her walk but has forgotten the pie he was supposed to take. Kikko hurries along after him, but when she follows her dad to a house she's never been to, she realizes that what she thought was her father is actually a bear wearing a hat and coat and she finds herself invited to a tea party of forest animals. The sketches are mostly black and white with a few pops of yellow and red and it has a really magical feel to it.



Mouse Soup by Arnold Lobel
I love Arnold Lobel and this one just tickles my funny bone. A mouse is quietly reading his book when a hungry weasel leaps from behind a tree, grabs the mouse and takes him home to make mouse soup. But the mouse is quick on his feet and says that mouse soup is only good with stories in it. The weasel agrees to add some stories if the mouse will tell some, but insists he makes it quick because he is VERY hungry. The mouse shares four short (and typically amusing in good-old-Arnold-Lobel fashion) stories and then sends the weasel out to get components of each of the stories to add to the soup. Of course, while he's gone, the mouse slips out and escapes back to his own home. If only Arnold Lobel had written 100 more books.
The Thing About Yetis by Vin Vogel
This is the perfect book for this in-between season where some parts of the country are already fully into summer (that would be us) and some are still buried in snow. Yetis love winter. They love hot chocolate and sitting by the fireplace and making snowmen. But. . . sometimes they miss summer. They miss swimming and popsicles and sandals and late summer nights. It's a fun way to think about the exciting parts of every season, plus the illustrations are so happy.
And if you'd like a printable copy of this list that you can take to your library or screenshot on your phone for easy access, just pop in your email address below and it'll come right to your inbox!
If you want more recommendations, you can check out previous lists here or follow along on Instagram for daily picture books ideas!
if you liked this post about best spring break books, you might also like these other posts: