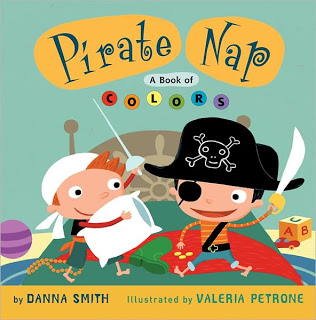 When Pirate Nap arrived, I opened it and set it on the counter without reading it. The next day, I came home from running an errand and Bart, who had been home with Ella, said, "This is my new favorite picture book we own."
Well. What more is there to say?
(There's more. Don't get your hopes up).
pirate nap by danna smith
This book is written in rhyme which I often find so grating I want to shred the book up (but I wouldn't, of course, because that would set a bad example). These rhymes worked like a charm for me – they scan nicely, they aren't stupid, and I didn't feel that nagging sensation that the author was just trying to find a word that rhymed, regardless of how it fit into the storyline. In fact, sometimes I find myself just reciting pages of it out loud (especially embarrassing when Ella isn't even around).
The illustrations have a fun, modern feel to them that I love. And while it's touted as a "Book of Colors," the color aspect is subtle. Each page mentions a different color and the name of that color is printed in the color, but it's not so overt that you can't just enjoy the story.
Ella is a little young for colors right now, but she loves pointing out the dog and the hat on each page.
It's just such a rollicking, fun little book. I'd definitely give this one as a gift (maybe with a big pirate hat or eye patch, just because what gift isn't improved with an eye patch?).
Copy sent by publisher