It has been SO FUN to read Upstairs at the White House together this month. It's been years since I first read it and I've loved revisiting it and remembering how interesting every person really is.
Of course, once you read one good book on a topic, the best thing is MORE good books on that topic and so many of you sent me terrific recommendations for other presidential biographies, memoirs, and collections about the families that live in the White House.
Here are twelve books you might enjoy after you finish Upstairs at the White House. I've already got my own library card maxed out!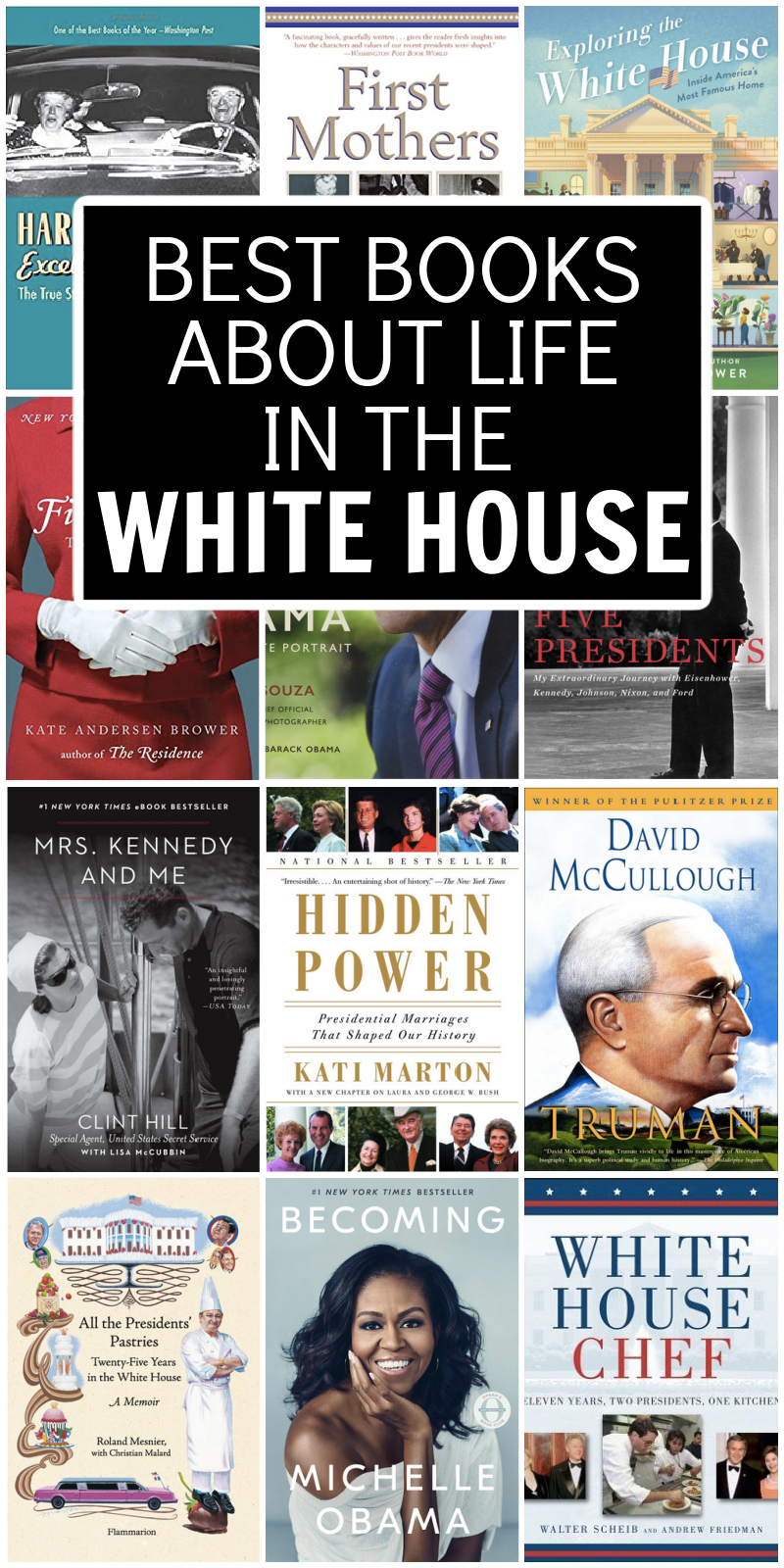 best presidential biographies
Harry Truman's Excellent Adventure: The True Story of a Great American Road Trip by Matthew Algeo  
What a different world to leave the White House after being president and then just take a road trip from Missouri to New York and back again – no Secret Service detail, no convoy. Just the two Trumans in their car, stopping at diners, staying in little motels and trying to keep a low profile. I cannot WAIT to read this one.
First Mothers: The Women Who Shaped the Presidents by Bonnie Angelo
I read one entire book for fun during my freshman year in college (aside from winter break) and it was this one. If you loved the behind-the-scenes look in Upstairs at the White House, this one is a similar concept and runs from Sara Delano Roosevelt to Virginia Clinton Kelley and every chapter was just so fascinating about the relationships between these boys who grew up to be presidents and their mothers. Bonus! It's currently on sale for $1.99.
Exploring the White House: Inside America's Most Famous Home by Kate Andersen Brower
If you want a middle grade book about how the White House runs, who works there, and what it's like to visit, this is the perfect child's companion for Upstairs at the White House. This one just came out in December, so it's brand new!
First Women: The Grace and Power of America's Modern First Ladies by Kate Andersen Brower
About a million people recommended her book The Residence after Upstairs at the White House and it's definitely a fun book! I'm excited to read this one of hers too!
White House Chef: Eleven Years, Two Presidents, One Kitchen by Andrew Friedman and Walter Scheib
The best part of Upstairs at the White House for me was watching how things changed (or didn't change) with the installation of a new president in the most famous house in America. This book does the same as the White House chef shares his experiences cooking for both the Clinton and the Bush family and for their biggest events at the White House.
Five Presidents: My Extraordinary Journey with Eisenhower, Kennedy, Johnson, Nixon, and Ford by Clint Hill
I'd never heard of this book but as soon as I read the description, it shot to the top of my to-read list. Clint Hill was a Secret Service agent for five presidents. And not just any presidents. He was part of the traumatic events that included Kennedy's assassination, Johnson taking over after Kennedy's death, Nixon's resignation and then Ford becoming the only non-elected president. Talk about a front seat to history.
Mrs. Kennedy and Me by Clint Hill and Lisa McCubbin
This was probably the most recommended book over the past month during the Everyday Reading Book Club discussions. It's written by the same Secret Service agent who wrote Five Presidents but instead of focusing on five U.S. presidents, this one is specifically about Jackie Kennedy and his role in her life, protecting her as First Lady and being with her in Dallas the moment when JFK was shot.
Hidden Power: Presidential Marriages That Shaped Our History by Kati Marton
If there is one thing I learned from Upstairs at the White House, it's how different all the presidential marriages are, so I'm very excited to dive into this book that covers twelve presidents and First Ladies, from Edith and Woodrow Wilson to Laura and George W. Bush.
Truman by David McCullough
This (gigantic) book has been on my to-read list for at least ten years. Nobody does American History like David McCullough and I can't wait to finally start this one.
All the Presidents' Pastries: Twenty-Five Years in the White House by Roland Mesnier and Christian Malard
One of the fun things about Upstairs at the White House is that it covers so many presidents and this book is the same – this pastry chef worked at the White House during the administrations of Jimmy Carter, Ronald Reagan, George Bush, Bill Clinton, and George W. Bush!
Becoming by Michelle Obama
This was one of the Everyday Reading Book Club picks a couple of years ago and it's so fun to see all the history that leads up to actually becoming a First Family and then what life inside the White House – especially as a mom with young children – is like.
Obama: An Intimate Portrait by Pete Souza
If you're the kind of person who wants to SEE history, this book is for you. Pete Souza was the official White House photographer for both Ronald Reagan and Barack Obama and his photos give such fascinating peeks into life as the president. His photojournalism book of Obama is much more well known, but his book about Ronald Reagan, Images of Greatness, is also available!
And if you'd like a printable copy of this list that you can take to your library or screenshot on your phone for easy access, just pop in your email address below and it'll come right to your inbox!
Any other favorite books about US presidents and their families? I'd love your recommendations!
If you liked this list of best presidential biographies
, you might like these posts too: