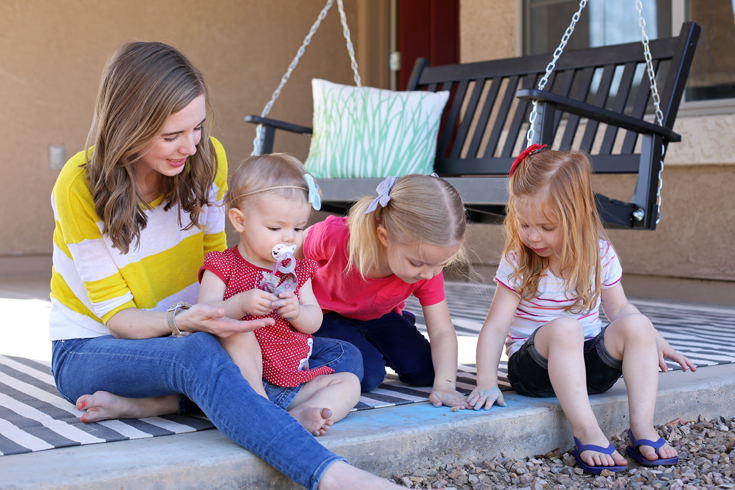 One of my main goals for my children's childhoods is for them not to feel like it was too rushed.
This isn't only for their sake, but also for mine, because nothing brings out the worst in me like being in a huge hurry.
My personality is one where I tend to want to take a lot on and accomplish as much as possible.
But I know that when I have too much going on and I feel panicked at the sight of my calendar and to-do list, I quickly spiral down into my worst version of myself.
I remember that Cup of Jo wrote last year about the seven most common reasons people are chronically late. Number four leaped out at me: "You try to get one more thing done."
That is SO me. I'll have everything ready to leave for dance, but then think, "Oh, I've got five minutes until we have to go, I'll just quickly wipe down the mirror in the girls' bathroom" and then suddenly someone has taken their shoes off and I think, "I should grab that box from the basement to run to the post office while I'm out" and the next thing you know, I'm getting annoyed at the girls for not being able to get in the car in three seconds, and cursing every red light on the way to dance.
That is not how I want to live.
And that's definitely not how I want my girls to remember me.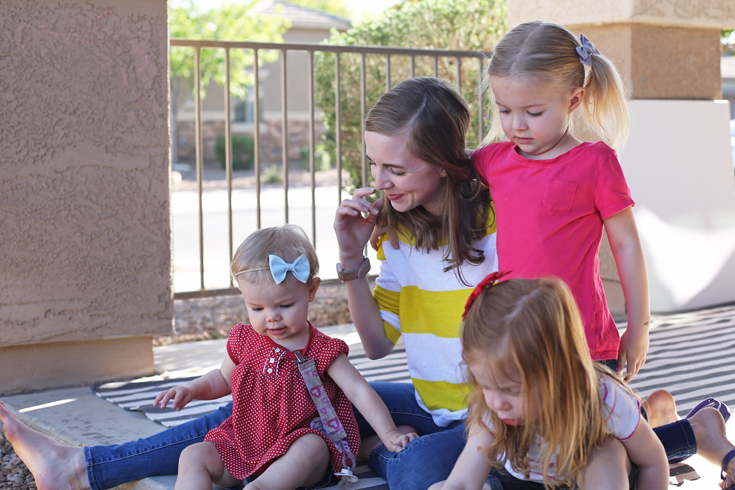 I don't want to be so busy that I always shut down suggestions to go to the park before dinner or last-minute invitations from friends to go swimming.
I don't want to be too busy to enjoy my life and the people I live with, and I really don't want to look back at these years and think, "I missed them because I was trying to write one extra blog post or because I wanted to squeeze in one more errand while we were out, even though everyone was falling apart in the back seat."


My ideal life is one that is full of things that make me happy (reading books on the couch with my girls, having people over for dinner, being part of a book club, exercising, my blog work), but not so packed that I can't enjoy what a wonderful life I have.
Of course, busy-ness is so subjective. Some people can manage multiple huge responsibilities and not seem like they are breaking a sweat, while others have one doctor's visit on the calendar and the whole week is shot.
And some things you just can't really take off your plate, like children or a job.
For me, not feeling too rushed is, in large part, a matter of my perspective, and I have a few little routines I do that help me feel like I can manage everything I need and want to.
One of them is that I try NEVER to say that I'm busy. When someone asks how I'm doing, I purposefully always choose something other than, "Oh, I'm so busy!" or "Things are pretty busy!" I don't want to present myself as someone who is really busy and I don't want to see myself as someone who is defined mainly by being busy.
The second trick I use is a little mantra I repeat to myself where I say, "I have plenty of time to get this done."
I've noticed over the years that I tend to be way less productive when I feel too busy and overwhelmed because I end up bouncing around from project to project without finishing anything up, which just makes me feel MORE overwhelmed.
I try to slow down and just focus on one project at a time, and remind myself that I can worry about the next item on my to-do list once this one is completely finished and I'll make time to get everything that is absolutely vital done.
I also try to actively take note of the things that make me feel too busy or that make my life start to come apart.
I know that Friday afternoons are my least productive working times, so I try not to plan on getting any serious writing or work done during that time – I use that block to catch up on emails, plan for the week ahead, and outline upcoming posts. Otherwise not only do I get very little done, but I feel super frustrated by how little I got done and start the weekend feeling behind (very unpleasant).
I also know that dinner has become more of a sticking point for me where I feel frazzled and like I'd rather just make pancakes every night. So this year I'm trying to do two crockpot meals a week (on Mondays and Wednesdays when I have a babysitter come in the afternoon), and also pick easier dinner recipes in general. When I don't have that stress about what to make for dinner every night at 5:45, I'm a much nicer mom, and that mental weight off throughout the day goes a long way.
Figuring out what the main pain points are for me has made a huge difference in how stressed I feel.
I also know that I'm a morning person, not a night person. I'm not one of those people who gets a huge burst of energy in the evenings – if I have something I have to get done in the evening, I know it will take me the WHOLE evening. A blog post that I could crank out in 40 minutes earlier in the day takes me two hours after the girls are in bed. So I try to front-load my projects into the first part of the day so that once my work time and quiet time are done, I don't have too many things to do in the late afternoon or evening. I can get more done between 7 a.m and 8 a.m. than I can between 8 p.m. and 11 p.m.
And I remind myself that balance is an ever-shifting target. When Star took three naps a day, our schedule looked different than it does now with her only taking one most days. Adding a school schedule to the mix has increased how much I'm trying to get done in a day.
I'm not trying to find an answer that will work forever, but just something that will work for the next few days or weeks or months, and then I can readjust as needed.
And mainly I want to avoid feeling like an extra red light on the way to storytime is going to give me an aneurysm.