Unbelievably, March is just around the corner, which means it's time to start requesting books for St. Patrick's Day!
With the Irish holiday just a few weeks away, these St. Patrick's Day children's books are just right for celebrating all things green and gold.
Whether you're looking for an informational book about the holiday, a classic folk tale, or just a fun tale of a tricky leprechaun, one (or more) of these St. Patrick's Day books will fit the bill for your preschool or elementary-age child. Pull out your Irish accent (mine is horrendous) and read away!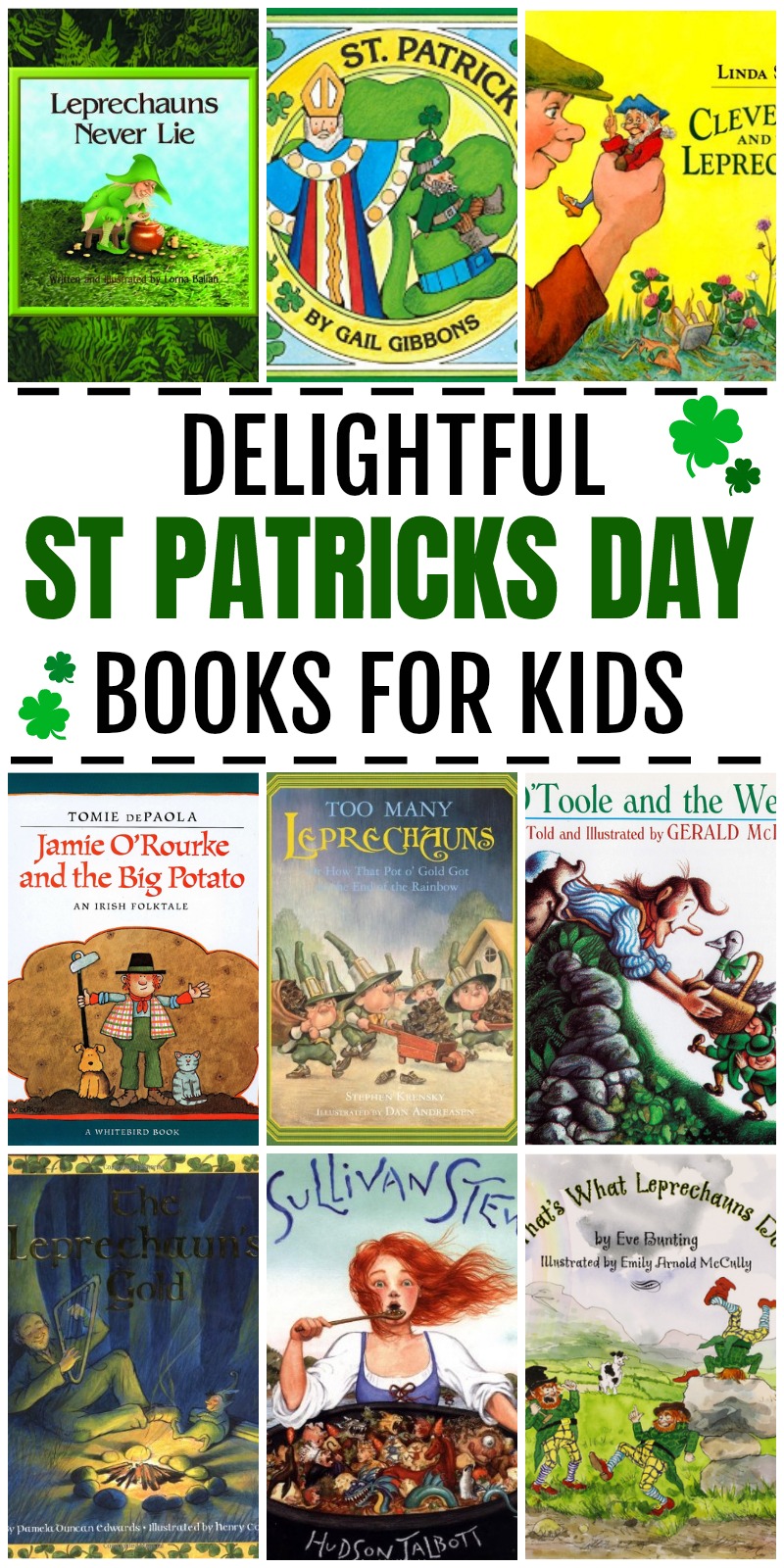 9 Delightful St Patricks Day Books for Kids
Jamie O'Rourke and the Big Potato by Tomie dePaola. I always love it when beloved authors write books that work for the holidays too; it's so comforting to see familiar illustrations in a new story. Tomie dePaola's retelling of a popular folktale recounts lazy Jamie O'Rourke's dismay when his wife – who does all the work in the house – is injured and Jamie fears they may starve. Until he happens on a leprechaun and thinks he might be able to provide without doing any work himself.
St Patrick's Day by Gail Gibbons. It took me only a few weeks of being a school librarian to discover that Gail Gibbons is one of the biggest names in elementary-level non-fiction. This one details the life of St.Patrick, how St. Patrick's Day is celebrated, and shares six legends about Patrick himself. Pair with one of the fiction books on this list for a perfect St. Patty's match.
Leprechauns Never Lie by Lorna Bailian, illustrated by Lecia Balian. Ninny Nanny refuses to do any work. Any work, that is, except searching for leprechaun gold. Of course, she spends so much time and effort doing so, she might have been better off just doing her chores in the first place. The lesson in this book isn't overbearing, but it does lend itself nicely to a little teaching moment.
Too Many Leprechauns: Or How That Pot o' Gold Got at the End of the Rainbow by Stephen Krensky, illustrated by Dan Andreasen. When Finn O'Finnegan comes home to visit his mother for a relaxing vacation, he's displeased to find that a whole crew of busy leprechauns are making the quiet town noisy around the clock. Fortunately, Finn is more than a match for those leprechauns.
O'Sullivan Stew by Hudson Talbott. When the tax collectors take the witch's horse, Kate O'Sullivan's village starts to go hungry, thanks to the witch's anger. But feisty Kate won't give up easily and she sets off to recover the horse, which lands her in trouble with the king Fortunately, her quick wits and storytelling skills save the day. If you're looking for a St. Patrick's Day book to read aloud, this is the one.
That's What Leprechauns Do by Eve Bunting, illustrated Emily Arnold McCully. A leprechaun's main job is to hide gold at the end of the rainbow. But they also certainly like getting up to mischief too. This silly and light-hearted tale by one of children's literature's most beloved authors is definitely a pot of gold.
Tim O'Toole and the Wee Folk by Gerald McDermott. The sly humor in this book, as Tim O'Toole is tricked out of one treasure after another, thanks to his inability to keep his mouth shut about his new possessions, delights me every time. Plus, I always love reading books by Caldecott winners.
Clever Tom and the Leprechaun by Linda Shute. A retelling of the Celtic story "The Field of Boliauns," Clever Tom thinks he can outwit the leprechaun and make off with his gold. But it turns out the leprechaun has a few tricks of his own up his sleeve. If your child loves folktales, they'll especially love the pages at the end detailing leprechaun folklore.
The Leprechaun's Gold by Pamela Duncan Edwards. When two harpists set off to compete in a musical contest, one of the two tries to sabotage his companion in order to better his chances. But, as happens in most folk tales, cheaters never prosper. I'm a big fan of Henry Cole's illustration style, and this book is no exception.
And if you'd like a printable copy of this list that you can take to your library or screenshot on your phone for easy access, just pop in your email address below and it'll come right to your inbox!
If you have other favorite St. Patrick's Day Children's books that I've missed, I'd love to hear them!
If you liked this list of St. Patrick's Day Children's Books, you might also like these posts: