The Fourth of July is just around the corner and on the actual day, reading patriotic books with my kids is probably not on my agenda.
But the weeks leading up to the holiday are the perfect time for checking out some 4th of July books for kids and helping them understand the significance of Independence Day.
I love a good BBQ or setting off fireworks as much as the next person on the Fourth of July with my kids, but I want to make sure they also understand what we're celebrating with all those hamburgers and sparklers, and these Fourth of July books for kids are a great lead-in to those conversations.
Alternatively, these are great patriotic books for other days of remembrance like Memorial Day or 9/11 or Veteran's Day or President's Day.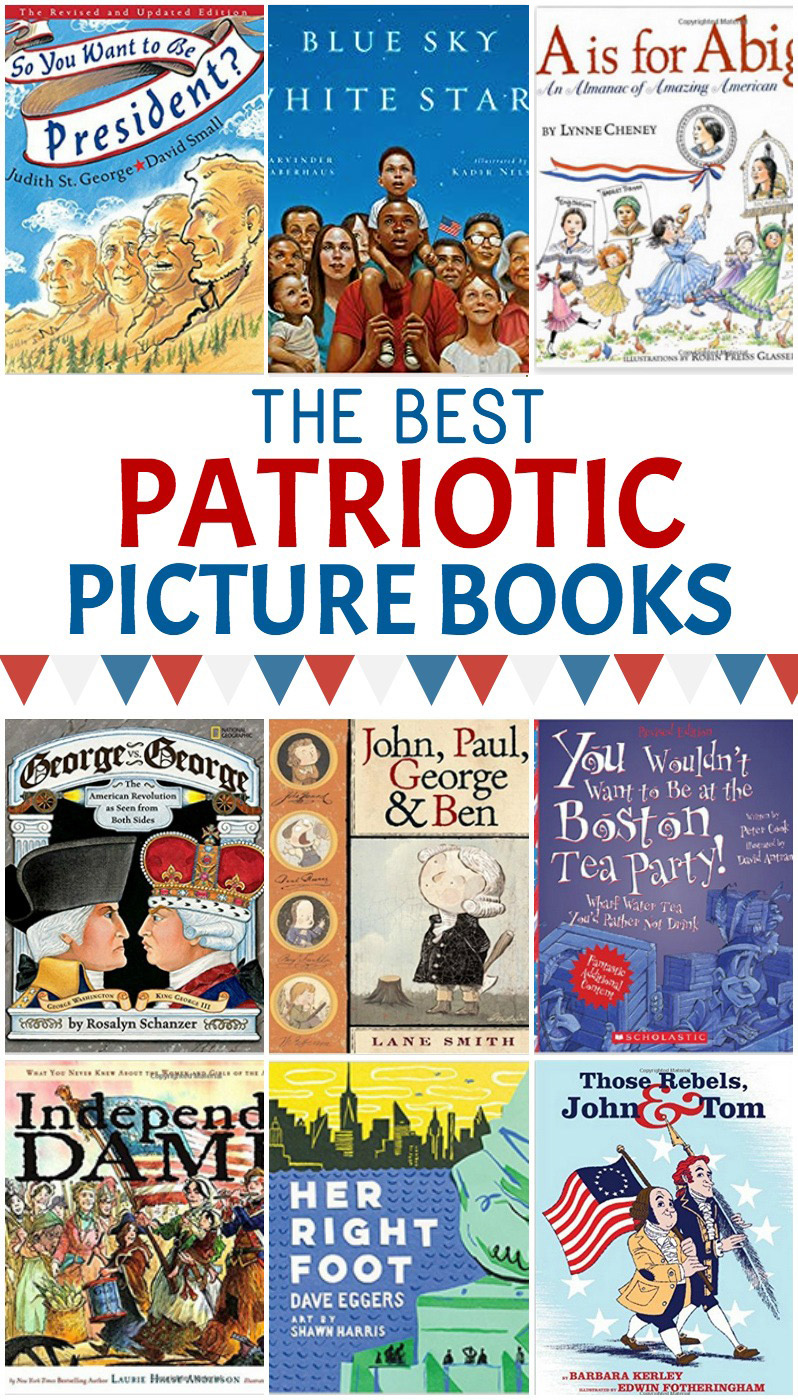 Patriotic Books for Children
Blue Sky White Stars by Sarvinder Naberhaus, illustrated by Kadir Nelson. This book has very little text and showcases images that represent America, from the Statue of Liberty to the Grand Canyon, from a NASA blast-off to Civil Rights marchers. It's a great conversation starter with children, and I am obsessed with Kadir Nelson's illustrations – his art is just off-the-charts amazing.
So You Want to Be President by Judith St. George, illustrated by David Small – This Caldecott winner is one of my favorites. It's definitely on the longer side for a picture book, but it's packed with interesting info and really funny.
Her Right Foot by Dave Eggers, illustrated by Shawn Harris. This non-fiction book garnered approximately forty million awards when it came out a couple of years ago and for good reason. This look at the Statue of Liberty and what she represents with her right foot walking forward is so touching. You can watch a little book trailer here to get a feel for it.
John, Paul, George & Ben by Lane Smith. I LOVE Lane Smith and his wacky brand of humor, and this book made Bart and I both cry with laughter when we picked it up in a bookstore in New York City years ago. It still does!
You Wouldn't Want to Be at the Boston Tea Party!: Wharf Water Tea You'd Rather Not Drink by Peter Cook, David Antram and David Salariya – This whole series is wildly popular (when I was a librarian, I couldn't keep them on the shelves), and this one is perfect for understanding the seeds of the American Revolution.
Independent Dames: What You Never Knew About the Women and Girls of the American Revolution by Laurie Halse Anderson, illustrated by Matt Faulkner. I love Laurie Halse Anderson's fantastic historical picture books and this one is no exception.
And if you'd like a printable copy of this list that you can take to your library or screenshot on your phone for easy access, just pop in your email address below and it'll come right to your inbox!
Any other favorite patriotic books? Please share in the comments – I always appreciate more good suggestions for 4th of July books for kids!
Reader Interactions