I don't love watching movies.
There are certainly movies that I love, but generally the idea of sitting down to watch a movie sounds like FOREVER to me and it's almost never how I'd choose to spend an evening (Bart, on the other hand, loves movies).
But a television show? Those I love.
I like the shorter length, since 45 minutes sounds much more feasible to me than 2 or 2.5 hours.
I like getting to know characters over a long period of time and watching a story play out with much more detail than a movie would allow.
And I love watching an episode of our current show with Bart before we go to bed.
If we're home and don't have any pressing work or house projects, we watch an episode almost every night.
Over the past 13 years, we've worked our way through a lot of TV shows (including many where we've watched 1-2  episodes and called it quits).  These are some of our favorite tv shows we've watched together.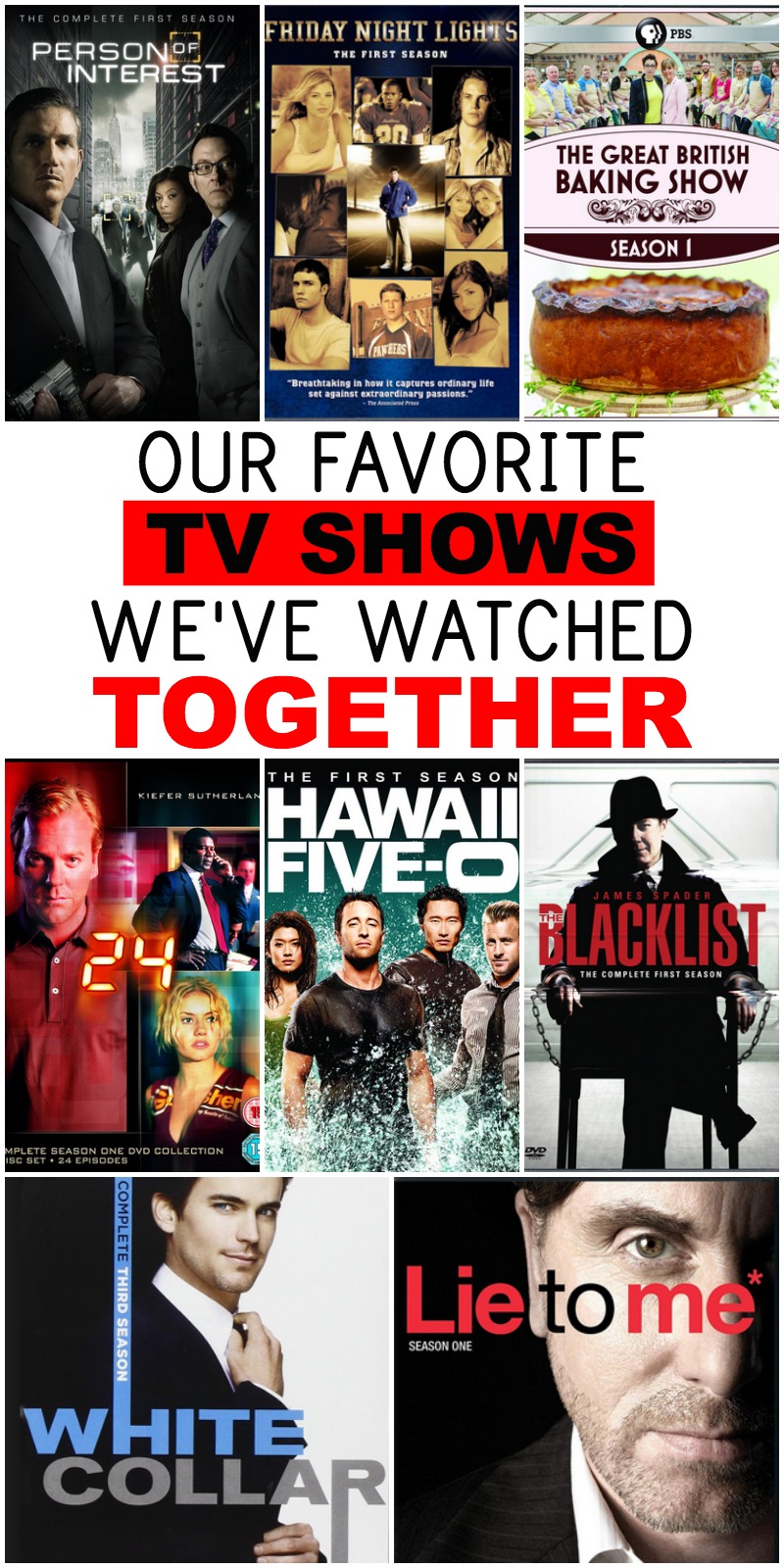 Our Favorite TV Shows We've Watched Together
White Collar
If I had to choose an all-time favorite show, it would be this one about an art forger who comes to work as a confidential informant for the FBI after he escapes from prison to pursue the girl who promised to wait for him and has now disappeared. I LOVE the crisp, bright feel of the show, the witty dialogue and especially the pitch-perfect relationship between Neal and Peter. And all the supporting characters are SO GOOD too. Bart and I watched the whole series together and then I re-watched the whole thing over the course of a month or so when I was nursing newborn Star.
The Blacklist
This is one of those shows where you kind of forget how good it is until you watch another show and realize that most shows don't have the high level of acting and plotting that this one does. When the FBI's most wanted criminal shows up at FBI headquarters and turns himself in during the first 3 minutes of the show, you know it's going to be good. And when he refuses to work with anyone except a brand-new profiler, well. . . .it just keeps getting better. We just finished it a few weeks ago and I just LOVED it (and can't wait for the next season).
Hawaii Five-O
I've never seen the original Hawaii Five-O but we loved watching this reboot of it and spent more than a year working our way through all the seasons on Netflix (I'm not sure they're on there anymore). It also made me a LITTLE worried we might get murdered in Hawaii. . . .
Person of Interest
Bart watched the first episode of this on his own a few years ago and then immediately re-watched it with me so we can could see the whole series together. It's about a guy who created an AI machine that can predict both terrorist attacks and murders, but the government only wants the terroirst attack portion. He doesn't feel like he can sit back and watch people get killed when he could stop it, so he starts trying to prevent those murders on his own, with the help of a former Special Forces guy. I LOVED this show for most of it, but by the last season, it got a little dark and depressing for me and I wasn't sad when it was over.
Friday Night Lights
This is definitely not the same as most of the shows on the list (we definitely have a type of TV show we watch together), but this show about small town Texas high school football got recommended so many times and it was filmed near us in Austin, so it was fun to see familiar places pop up (including the main street of our little town in the opening scenes of the pilot where I'd ridden my bike to work at least 100 times). I know basically nothing about football and I loved this show so much. It's one I would definitely go back and watch.
24
This was the first show Bart and I watched together (in fact, we watched the entire first season on a cruise we took on our first anniversary) and I just never get tired of Jack Bauer.
Lie to Me
My mom recommended this one to us and we really liked it about a reseracher who studies micro expressions and is really good at determining if and why people are lying. Which means, of course, he's brought in on all sorts of crimes. There are only three seasons of this one.
The Great British Baking Show
This one is REALLY a departure from our norm, but I turned it on one night while I was folding laundry and Bart wandered in and watched the whole episode with me and we've watched all the available seasons together now. I would NEVER want to be on this show, but I love watching it.
What are your favorite TV shows? We're always on the lookout for a new option!