This post is sponsored by Audible
In 1994, when the Winona Ryder and Christian Bale version of Little Women came out, my mom told me that if I read the book, she'd take me to see the movie.
I read the book in a few days and loved every second of it (I went on to read Little Men and Jo's Boys a bunch of times too, and I might actually like those ones even better than Little Women).
True to her word, my mom and I had a special date to go see the movie in the theater, and I've loved that movie ever since. It might be one of my favorite book-to-movie adaptations.
My mom loves those kinds of books and movies and I remember many afternoons of her ironing or folding laundry while watching the Colin Firth Pride and Prejudice or Anne of Green Gables. I would estimate that I've seen both of those at least twenty times.
I inherited both my love of those kinds of movies and my inability to not iron everything I own from her.
Later, after I got married, Bart and I were visiting and she told us she'd heard about a new BBC mini-series called North & South. Two hours later, we were all completely glued to the screen and it became one of my very favorite book-to-movie adaptions (despite the fact I've never actually read the book . . . ).
One of my favorite memories from our year in Boston was when Bart and I watched Little Dorrit in our tiny apartment decorated for Christmas – we still quote lines from that one.
And I don't just like the classics made into movies.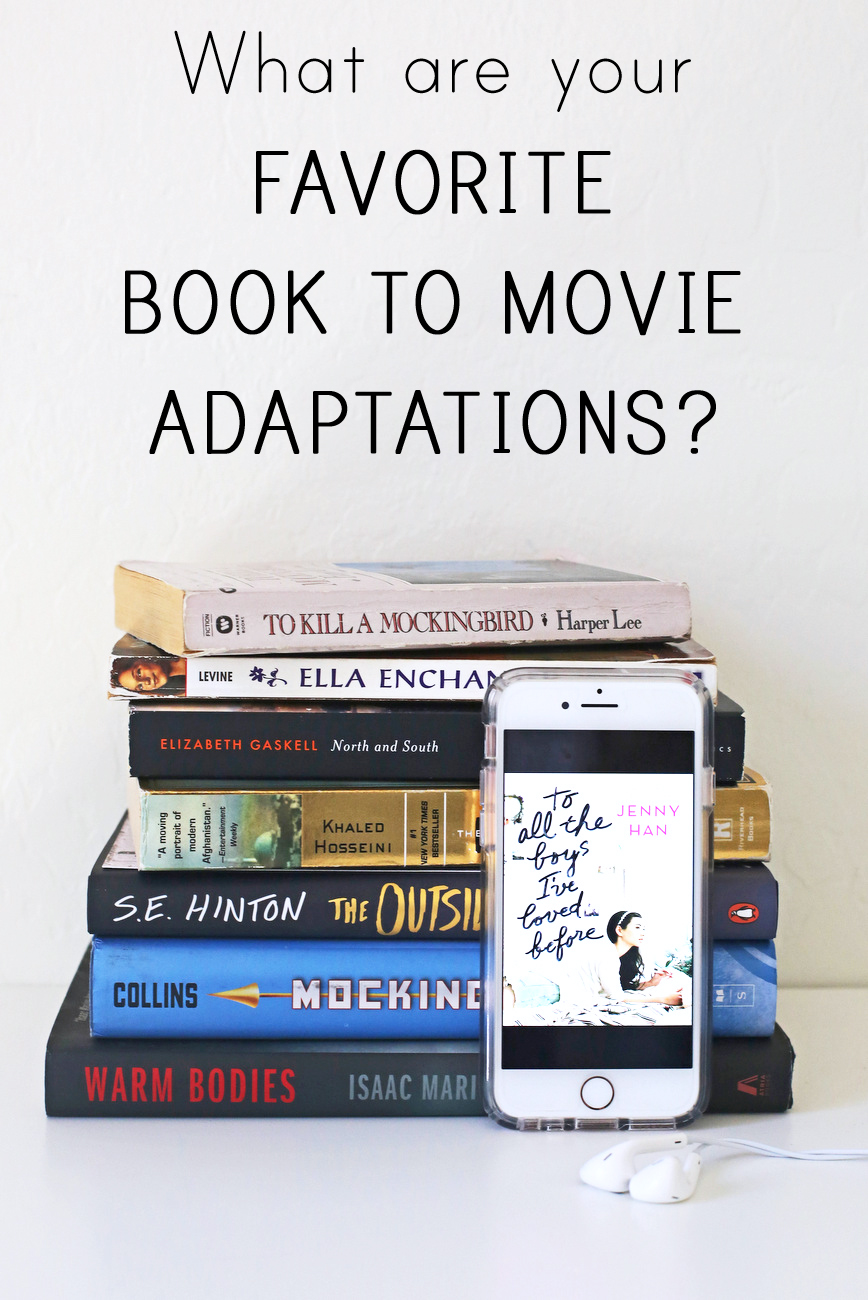 When I flew home from New York City earlier this summer, I watched both P.S. I Love You and Something Borrowed on the airplane. I'd read both of those books, but never seen the movie of Something Borrowed (I'd watched P.S I Love You when I was pregnant with Ella, which was a very idea – that movie doesn't mix well with pregnancy hormones).
When I saw the trailer for The Circle, I immediately downloaded the audiobook and started listening because I wanted to see the movie and I usually like to read or listen to the book beforehand (I'm not quite done with it, and I don't think I'd particularly recommend it – it's kind of getting me down, actually. But I still want to see the movie when I finish listening).
Some book-to-movie adaptations, of course, are truly terrible. I think Ella Enchanted has got to be one of the worst ones ever. I loved that book so so much and then the movie was just a complete embarrassment. Shortly after we got married, I told Bart he should read the book and he did and loved it (luckily for him).
Then he wanted to watch the movie and even though I warned him it was a catastrophe, he was sure it couldn't be THAT bad. After we watched it, he agreed that, actually,  yes, it was pretty abysmal.
And sometimes I think the movie versions are BETTER than the book itself. I listened to Divergent years ago and . . . didn't really get the hype, but then Bart and I watched the movie together in a tiny hotel lobby outside of Bath, England and I really enjoyed the movie a lot.
And it goes without saying that the movie that I'm most anxious about right now is the adaption of my beloved To All The Boys I've Loved Before.
I've been watching all the behind-the-scenes photos and interviews and I'm just crossing my fingers that it turns out as good as I hope.
Sometimes I think it helps to put a little distance between reading the book and watching the movie version so you're not so hyper-critical of any differences, but I also probably won't be able to resist reading the whole series again before the movie comes out.
Of course, the easiest way to read a book before the movie version comes out is by listening to the audio version and no one has a bigger or better collection than Audible.
They have this fun page of books that have been made into movies sorted by genre, and I've been loving looking through them (I'd forgotten all about The Book Thief until I saw it over there and I loved both the audio version and the movie version. Also The Help!).
If you haven't tried out Audible yet, you can sign up for a 30-day trial and get a free audiobook download.
And I'm dying to know what your favorite book-to-movie adaptations are (or which ones made your inner reader die a little inside?). I could talk about this all day!
This is a sponsored conversation written by me on behalf of Audible. The opinions and text are all mine.