On Friday, I hosted my To All the Boys I've Loved Before viewing party and it was SO fun!
Michelle, one of the blog readers, had offered to host it at her house and . . . guys, her house was gorgeous. She also had a lot of seating (although a few people still sat on the floor like champs) and a big TV.
Plus, she made it so easy for me to show up with the food and not have to worry about anything else. I thanked her by immediately spilling soda on her kitchen floor. You should invite me over too.
Sodalicious kindly donated fantastic chocolate chip and oatmeal chocolate chip cookies (I think Lara Jean would have approved) and we also served popcorn, pokky sticks, little yogurt drinks (which I bought at Costco, not the Korean grocery store), and crackers with my standard no-fail dip.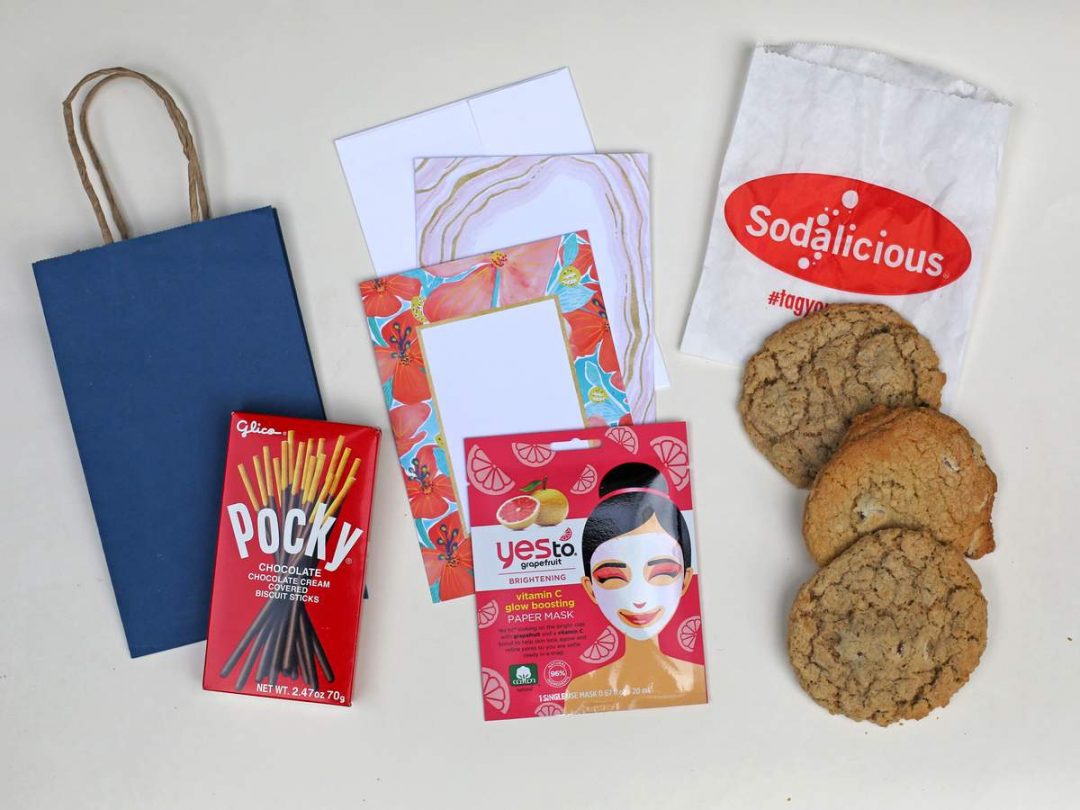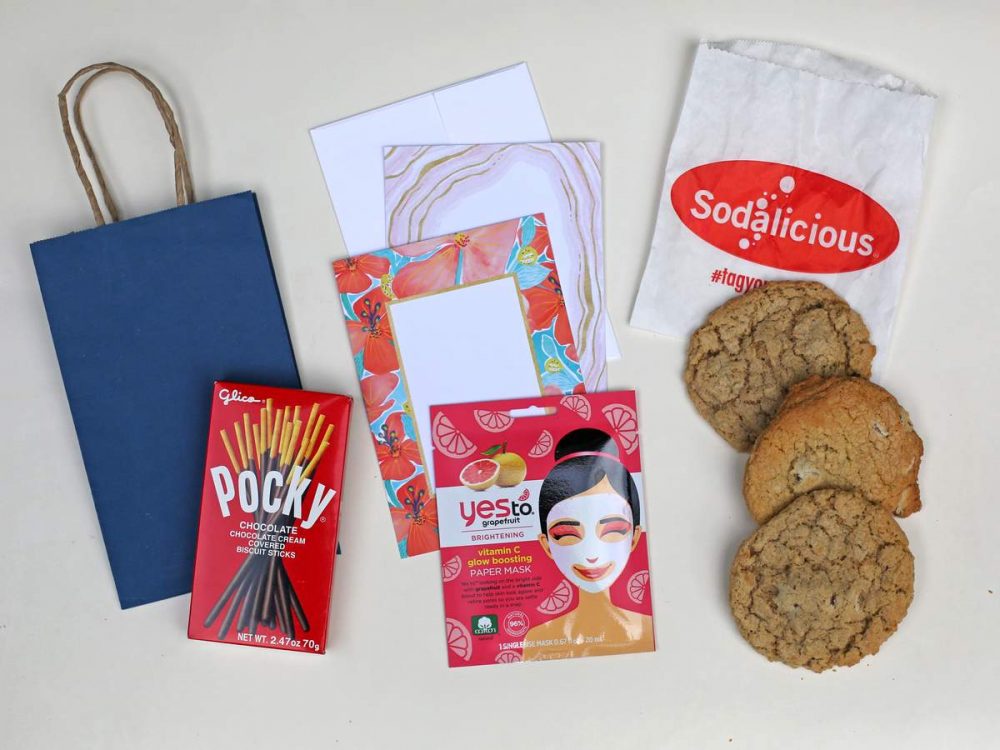 In fact, it's such a standard for me that when my sister Landen was helping me unload everything she said, "I made a bet with myself that you would bring this dip." She wasn't wrong.
For drinks, we had milk and then a mango coconut soda that I called "ManGO-GO and Coconut Sparkler" and a cranberry lime sparkler that I called "Josh's Stupid Cranberry (+ Lime) Drink."
Why yes, I was irrationally pleased with those.
We also had mini swag bags with gorgeous gold-foil stationary from Mixbook, sheet masks from Yes To and bags of chocolate chips.
Everyone showed up around 7:30 and got name tags and I tried to meet as many people as I could while they got snacks and then at 8 we turned on the movie.
You guys, watching a movie you're THIS excited about with 30 other people who are REALLY excited about it? It is so fun.
Everyone laughed at the right parts and afterward, we all sat around and talked for 30 or 40 minutes about our favorite parts and what we'd missed in the movie.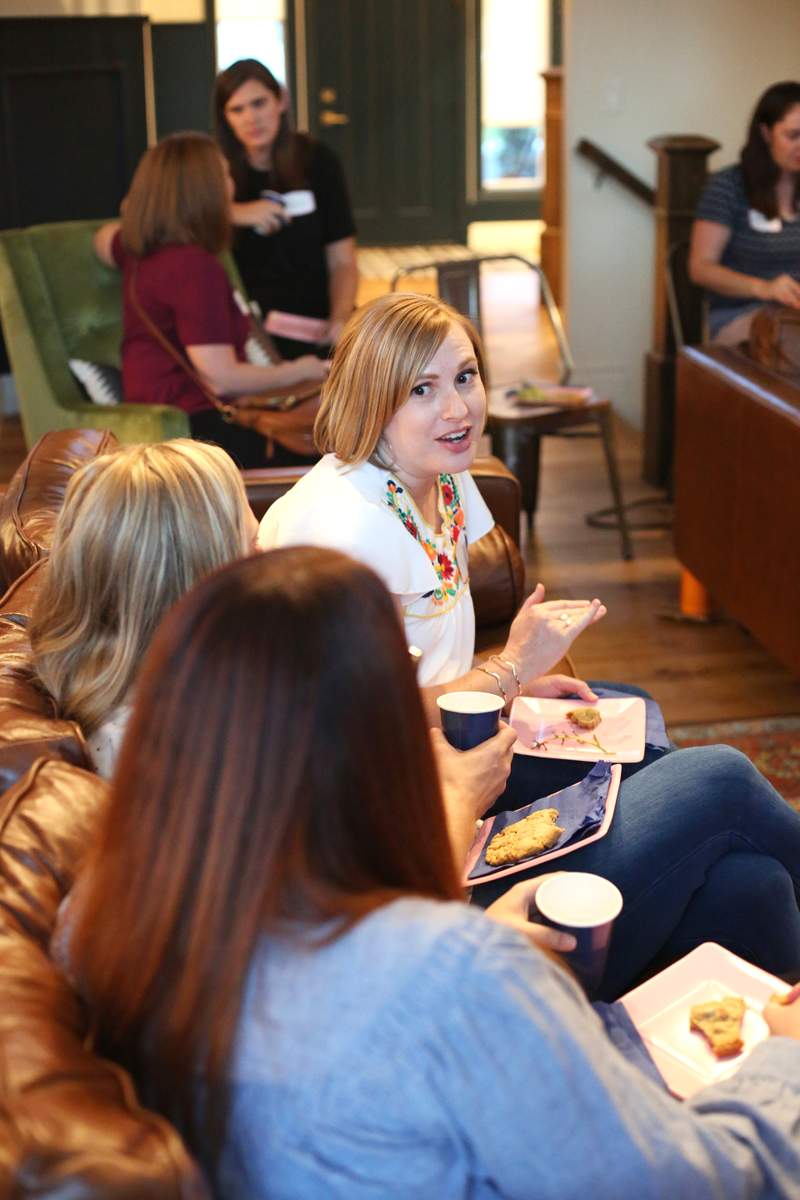 Then I came home and watched it again the next morning.
So, what did I think of the movie?
Wellllll, I basically loved it.
I'm personally not terribly bothered by book to movie adaptations.
I always feel like movies are a different medium than a book and of COURSE they can't fit everything into a movie, plus some things don't work as well on a screen as they do on a page.
I also can generally separate them in my mind – when I read Harry Potter, I still have my own images for Harry and Dumbledore and Hagrid and Ginny in my head, even though I've seen all the movies.
I'm 100% sure that when I read the book version of To All the Boys I've Loved Before again (you know, next week), that I'll still see my own Lara Jean and Peter K and Kitty in my head.
Either way, I thought this was a GREAT adaptation.
I felt like, despite quite a few changes to the plot line, it really maintained the heart of the book in a very impressive way.
And the casting was SPOT on.
I couldn't have loved Lara Jean any more (and of course, it's so so fantastic that all the sisters were played by Asian-American actresses).
Kitty? Perfection.
Peter Kavinsky? Yes. 100%. I was pretty worried when they first cast him because he looked ZERO like how I imagined Peter to look, but as the first trailers started coming out, I warmed up to him and by the time the movie came out, I was all in. And he completely delivered.
The dad? They couldn't have picked a better dad than John Corbett, could they have?
Chris? She's probably my least favorite character in the book, but in the movie she was perfect.
I could basically name every person in the movie.
Also, it was just so FUNNY.
I laughed out loud so many times and I loved that MANY of the characters got to be funny – Lara Jean, Peter, Kitty, Dr. Covey, Chris, Lucas. The whole nine-yards.
And did you see Jenny Han's cameo at the homecoming dance as a chaperone? Score.
I accidentally just went and read all the tweets that Jenny Han has re-tweeted this weekend as reactions from the movie came rolling in and I'm just SO. HAPPY. that everyone seems to be loving it as much as I did.
I've loved these books since I read the first one more than four years ago, and I still love them just as much as I did back then.
The music, the sets, the dialogue?
Just a win all around. I might need to go watch it again right now as one does on a Tuesday morning.
Things from the book that I missed in the Netflix version?
Well, of course I wish they could have put the WHOLE movie in, but here are the things I missed the most.
The letter to Peter. I LOVE that letter so much because I feel like it really helps you understand why Peter is so popular and why Lara Jean liked him in the first place. But it also gives you some insight into why she's not interested in him anymore.
The dance off! I have read this scene in the book probably a good 15 times because I just love how perfectly it sums up her relationships with her sisters and her happy home life. I would have paid good good money to see this on film.
The Estate Sale. Bart listened to the book earlier this year, after I'd been talking about it for nearly two years, and although he certainly didn't love it like I did (does anyone?), he got a huge kick out of this scene and we've both quoted lines from it so many times. I just love how much it shows about both of them. And it's so funny.
The kiss with Josh. GUYS! I know they kind of went a different direction with Josh in this one, but that kiss was such a key plot point and I wanted to see it happen!
Now I'm just crossing my fingers like CRAZY for the next two to be made because, guys? I need to see John Ambrose in that WWII uniform driving the convertible and roaring away from Peter and Genevieve at the nursing home.
Someone please make that happen ASAP.
What'd you think of the movie? Have you watched it yet? And if you haven't read the book yet. . . . what are you waiting for?!
Huge thanks to Mixbook, Yes To, and Sodalicious for helping make all my party dreams come true