Our neighbors just had a little boy a few weeks ago, and a month or so before he was born, a couple of my friends and I threw a baby shower for them.
It was the first time I've hosted one and I was delighted by how it turned out.
Because I am spend way too much time looking at blogs and Pinterest, I felt certain we needed a theme.
And this is what I learned about a theme – it doesn't make your party harder, it makes your party easier (I know, is your mind blown too?) Because once we'd decided on a theme, picking food and decorations was about one bazillion times easier.
After ten seconds online, we decided on a rain theme (baby shower? The Internet is so clever).
We did no games because I loathe baby shower or bridal shower games and everyone just wants to visit anyway at the events I go to around here. No one seemed to mind at all that we basically just sat around talking and eating as fast as we could.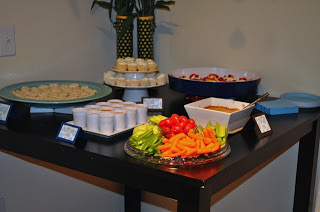 Food. Glorious food.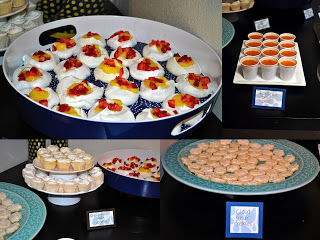 We tried to make all the food (with the exception of the jalapeno dip with veggies) rainy day or cloud related. So we had cloud cupcakes and cloud cookies and ridiculously good roasted tomato soap and (my contribution) Pavlovas (don't they LOOK like clouds?) with lemon curd and strawberries.
Besides the pavlovas and jalapeno dip, I also did the decorations, which was a fun little project that I forced Landen, my lovely houseguest, to help me with. I think she was happy to move out the next day.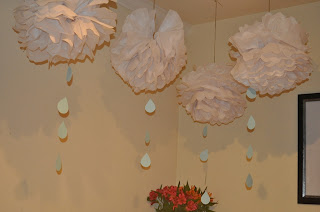 Clouds: the only ones in Texas the whole summer.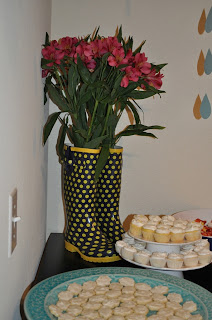 Rainboot vases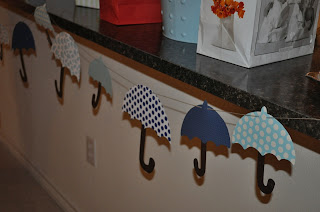 Umbrella banner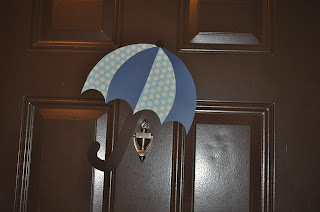 Front door umbrella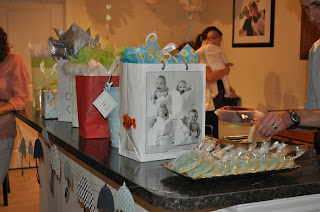 Gifts, take-home cookies and Adam, making toast in the background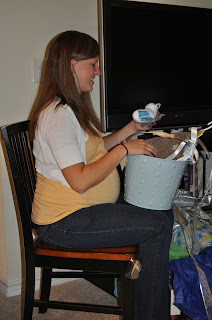 Lindsey opening gifts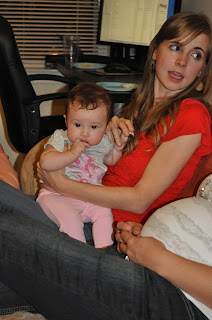 Holding someone else's darling child.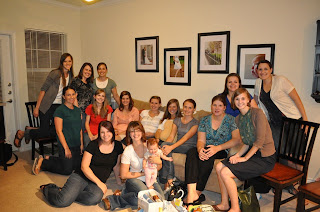 The whole group – we had a nice turnout
It was so fun that we hosted another one just a couple of weeks later (um, for someone else, obviously). I'm a baby shower machine! Have a baby and I'll throw you a shower too. I need an excuse to go buy out the paper section at Michael's and spend the whole night making banners.