In previous years, picking ten best books was harder because I read nearly 200 books a year.
Then I had more than one kid.
This year, I barely scraped past 70 books read this year (plus forty two thousand picture books), but I feel like I still read a LOT of good stuff.
These are the ten that stand out most to me as the most notable and very best books of 2016 on my reading list. If you're looking for something to kick off your 2017 reading year, all of these are excellent choices.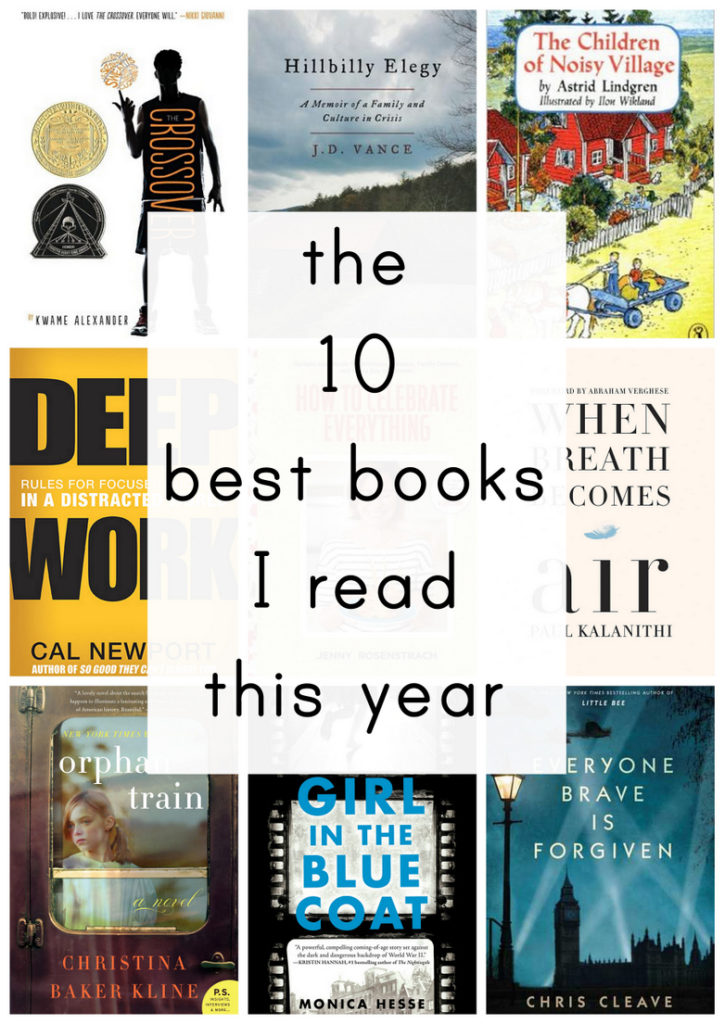 the best books of 2016 that i read
When Breath Becomes Air by Paul Kalanithi
I read this in January and I knew immediately that this book would make it onto this list by the end of the year. It's been wildly successful this year and for good reason – Kalanithi's memoir about his life as a neurosurgeon and then his unlikely lung cancer diagnosis was published after his death and it's beautifully written, witty, and full of love for life, learning, and people. Absolutely worth reading (full review here).
How to Celebrate Everything: Recipes and Rituals for Birthdays, Holidays, Family Dinners, and Every Day In Between by Jenny Rosenstrach
I loved her book Dinner: A Love Story and this one is equally delightful. I love her down-to-earth way of dealing with food and her absolute love of cooking, traditions, and family. After this book, I was dying to move in next door to her.
Deep Work: Rules for Focused Success in a Distracted World by Cal Newport
I kept meaning to write a review of this and never got around to it (is that a clear sign that I really need this book or what?). He's total no-nonsense about figuring out what you really want to accomplish in your life and then clearing away the clutter to make it happen. And whether you work in an office, an academic setting, or stay home with kids, I think there is lots to learn here. The perfect book to start out the new year, for sure.

Hillbilly Elegy: A Memoir of a Family and Culture in Crisis by J.D. Vance
This book was so fascinating to read – I blazed through it in less than a day – and I was glad to have read it before Trump won because it gave me lots to think about when his upcoming presidency was announced in November. I kind of want to go back and read it again now (full review here).
Everyone Brave is Forgiven by Chris Cleave
I know everyone loves All the Light We Cannot See, but that book took me forever to get through and frankly didn't do that much for me (I know, I'm a terrible person). This one, also about WWII, I found much more gripping. I loved the cast of characters and thought it was just extremely well done.
The Collapse of Parenting: How We Hurt Our Kids When We Treat Them Like Grown-Ups by Leonard Sax
I feel like I should be required to re-read this twice a year. It's not a perfect book, but it's pretty darn good with lots of useful, important ideas (full review here).
Orphan Train by Christina Baker Kline
I love it when I get completely sucked into a book and just want to spend all my time reading it. I was a wary of this one at the beginning with dual story lines, but I quickly was immersed in the book and read it in just a couple of days. It's reminding me that I need to go find some other orphan train books (full review here).
Girl in the Blue Coat by Monica Hesse
Another WWII book, this one a YA one. It takes place in Amsterdam and it was phenomenal. It was just such an exhilarating read from the first page to the last. Quick, intense, and well-written, I need more books like this in my life (full review here).

The Crossover by Kwame Alexander
I'm sort of trying to read all the Newbery winners (not fast or on any sort of timeline), so I've been meaning to read this since it won, but since it was both basketball and novel-in-verse, two things I'm not particularly into, I didn't get around to it for ages. And then I listened to the audio version and LOVED it. So well done and completely deserving of the Newbery.
The Children of Noisy Village by Astrid Lindgren
It's not that often that I read a book to Ella that I haven't already read, but this was a new one to me and I loved every second of the old-fashioned world in Europe it described. Just a perfect little read-aloud (full review here).
And if you'd like a printable copy of this list that you can take to your library or screenshot on your phone for easy access, just pop in your email address below and it'll come right to your inbox!
I'd love to hear what your best books of 2016 were so I can add them to my list of things to read. I'd really like 2017 to be the first year in the last five where I read MORE than the year before instead of less.
if you liked this post featuring the best books of 2016 that i read, you might also like these other posts: