A few weeks ago, when I was unpacking books in our new house, I realized our board book collection was just OUT OF CONTROL.
After more than a decade of having tiny babies or toddlers around, I'd amassed an enormous collection. It would have taken a full bookshelf just to hold them all, and the idea of holding on to them for decades was just overwhelming.
And so, in the middle of a pile of boxes, I went through every single one and donated three massive boxes of board books, just keeping the ones I most wanted for my own collection.
You'll notice I'm somewhat partial to board book collections and I kept those not because they were so sentimental and beloved by my babies, but because I love a pretty collection.
The other ones are ones that my girls absolutely loved, that we read over and over again, and that are dog-eared from being read (and chewed) so frequently.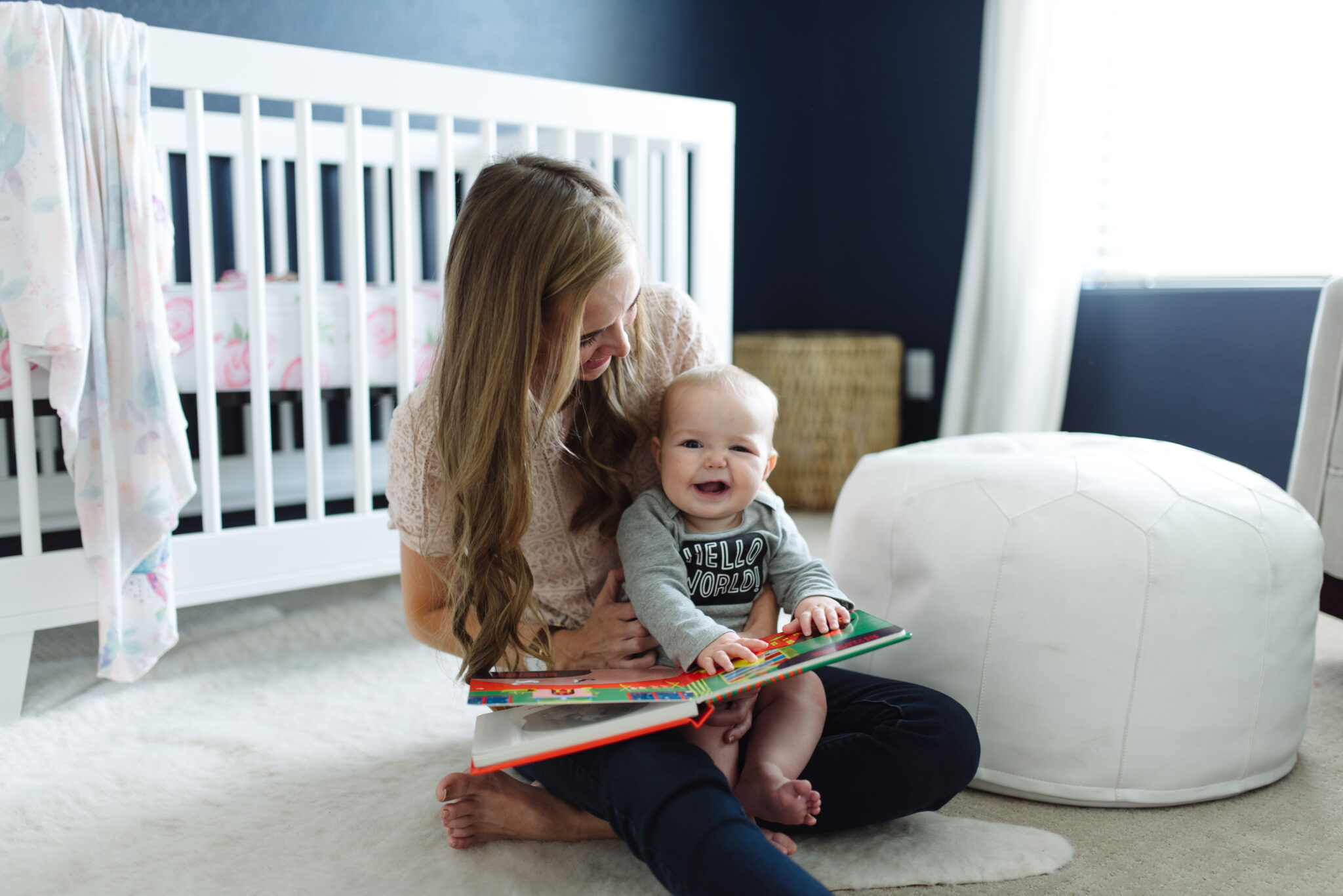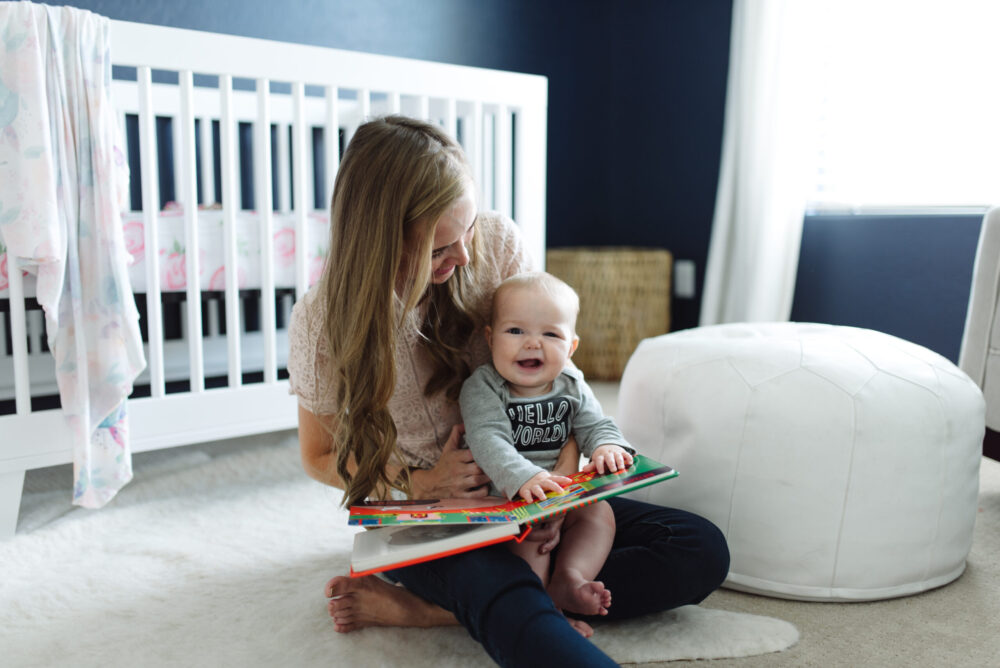 The Board Books I Kept
Pajama Time! by Sandra Boynton
I mean, I just LOVE Sandra Boynton and we own a ton of her books. I can recite basically every one of them – this one is my very favorite, but we also own and love
Moo, Baa, La La La!,
Oh My Oh My Oh Dinosaurs!,
Silly Lullaby,
Opposites, Horns to Toes and in Between,
The Going to Bed Book,
Doggies, and
Dinosnores.
Mr. Gumpy's Outing by John Burningham
I grew up reading this book and I just love it so much about Mr. Gumpy who takes his boat out and ends up with a whole host of passengers.
Piggies by Audrey Wood and Don Wood
If I was forced to choose a single favorite board book, it might be this one, which I remember from my childhood and now have read to my own children a bazillion times.
Counting illustrated by Emily Bolan
When you want to be a parent that reads to your child at bedtime, but also you just want to be done parenting for the day, this book is gold. Two words per page, with a total of five pages? Yes please.
Little Green Peas by Keith Baker
I really really love these Peas books by Keith Baker (although frankly, I think the picture books are better than the board books).
The Runaway Bunny by Margaret Wise Brown, illustrated Clement Hurd
Bart remembered basically no picture books from his childhood except this one which he specifically requested we get when Ella was born. I don't think I'd ever read it before we bought it!
Goodnight Moon by Margaret Wise Brown, illustrated by Clement Hurd
I mean, are you even allowed NOT to have this book?
Dear Zoo by Rod Campbell
This one is risky because the flaps are not that thick . . but it's worth it. My girls were OBSESSED with it and amazingly we survived with all the flaps fully intact.
Hug Machine by Scott Campbell
This is just the most delightful and sweet book. I especially love it as a board book.
Click, Clack ABC by Doreen Cronin, illustrated by Betsy Lewin
I'm pretty sure I read this book and the companion book, Click, Clack 123, one hundred thousand times to Ella.
I Carry Your Heart With Me by E.E. Cummings, illustrate by Mati Mcdonough
If you get a little something in your eye when you read this one – it's not just you.
The Very Hungry Caterpillar by Eric Carle
This is such a classic from the beloved Eric Carle. And the holes in the book work much better in a board book version than a picture book version, I think.
The Very Hungry Caterpillar's ABC by Eric Carle
I'm picky about ABC books, but this is a really well done one!
I Say, You Say Animal Sounds by Tad Carpenter
I wasn't 100% sure if I should count these in the board book section because they aren't true board books – the pages are thick but not QUITE as thick as a board book. Nevertheless, this book (and the companion book, I Say, You Say Opposites!) were well-loved at our house.
Boo Who? by Ben Clanton
This was Tally's FAVORITE board book for a good long while. And I didn't mind reading it on repeat because it was such a sweet and funny one.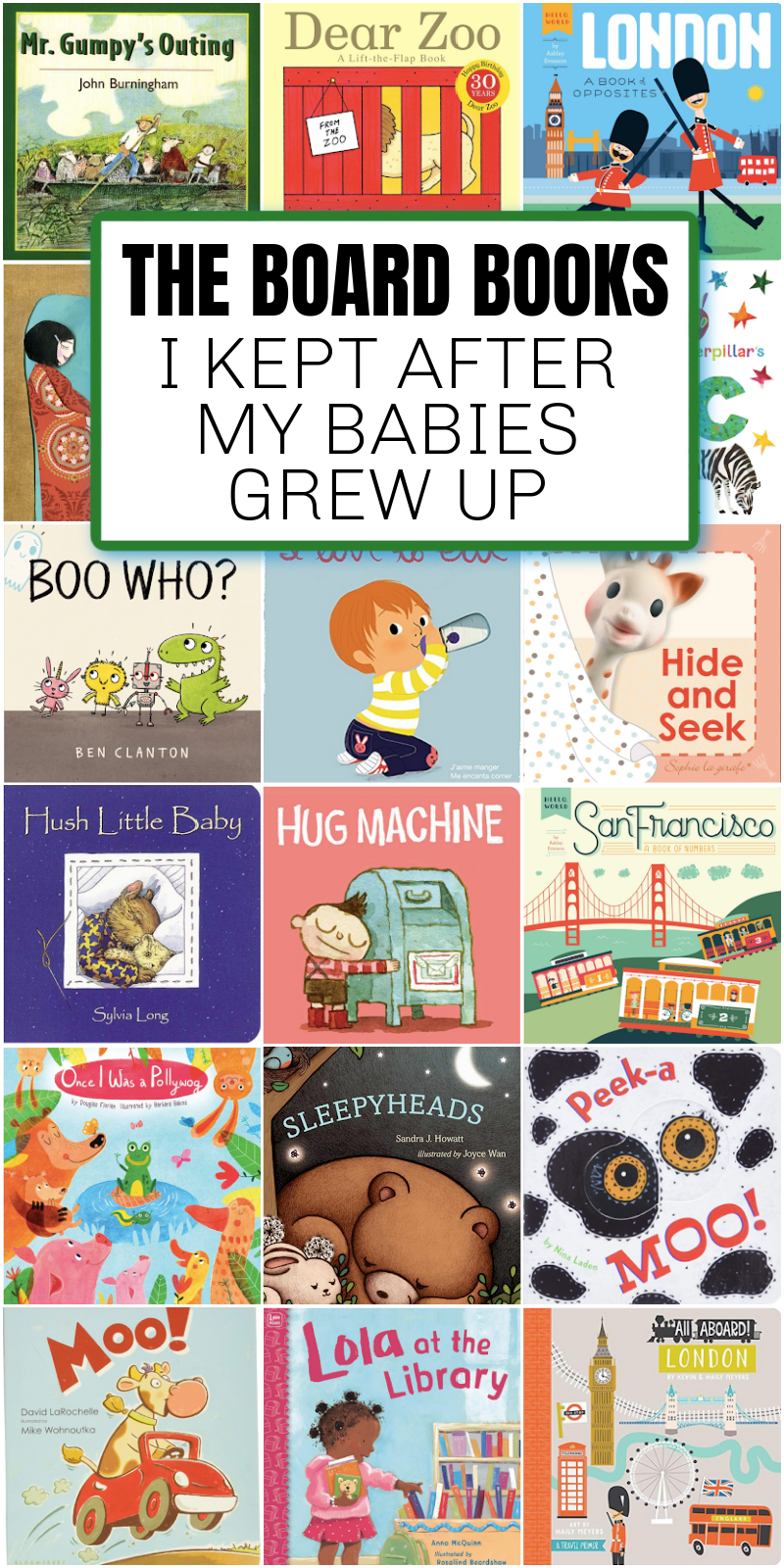 Baking Day at Grandma's by Anika Denise, illustrated by Christopher Denise
This book is so cozy and also makes me want to get in the kitchen.
Hide and Seek by DK
You probably know Sophie the Giraffe (I think we owned one at one point?) and this simple book with really strong flaps was a total winner for my girls.
I Love to Eat by J'aime Dormir
This book with text in three different languages was one of Ella's favorite – there are things to touch on most of the pages and it, along with
I Love to Sleep, were huge hits.
Are You My Mother? by P.D. Eastman
Is it a little strange? Yes. Did my girls just love, love, love it? Also yes.
Once I Was a Pollywog by Douglas Florian, illustrated by Barbara Bakos
This book about animals (and then a baby) growing from tiny babies into full grown animals is bright and happy and a huge hit at our house!
Sleepyheads by Sandra J. Howatt, illustrated by Joyce Wan
Peek-a-Zoo by Nina Laden
This tiny board book is a delight (there is a whole series of them – we also own
Peek-a-Moo!) and the big attraction is the mirror on the last page because if there is one thing a baby loves, it's seeing themselves in the mirror.
Hush Little Baby by Sylvia Long
My in-laws gave this one to Ani for her first birthday and we read it on repeat for a solid year. It's just so lovely with an emphasis on experiences, rather than things.
Moo! by David LaRochelle, illustrated by Mike Wohnoutka
This book consists of only two words and it still is laugh-out-loud funny. I'm not a particularly animated reader, but you can't help it with this one.
Lola at the Library by Anna McQuinn
My friend Bethany gave me this at Ella's baby shower and it was one of our most read board books for years and years.
Calling All Animals by Matthew Porter
My in-laws gave Ella this book and we probably read it 10,000 times over the last decade. All my girls have loved the retro illustrations, and the animals.
Quack! Quack!  by Roger Priddy
I can't remember where this board book came from but with the soft things to touch on each page, it was a hit with every one of my babies.
We're Going on a Bear Hunt by Michael Rosen, illustrated by Helen Oxenbury
I remember this one from my childhood and I just love it so much.
All the World by Liz Garton Scanlon, illustrated by Marla Frazee
My aunt and uncle sent us a copy of this when Tally as born and I love it so dearly. It's a perfect baby shower book and it's absolutely delightful with beautiful illustrations.
I Love You Through and Through by Bernadette Rossetti-Shustak, illustrated by Caroline Jayne Church
This was another one from my in-laws and it's so charming and sweet. It's been several years since I read it and I still could probably recite the whole thing from memory.
Baby Talk by Dawn Sirett
Ralphie gave Ella this book for her 1st birthday and it was a massive hit with all four of my babies. If I had to pick a top ten list of board books, this one would certainly make the cut.
Eyes by Michael E. Smith
This was a book from our Bookroo Board Book subscription and I just loved the retro design.
Jungle Animals by Max and Sid
This was another Bookroo title and Tally LOVED it so so much.
The Goodnight Train by June Sobel, illustrated by Laura Huliska-Beich
We got this one when Ella was a baby and it's one of the few board books Tally still reaches for when I read to her (she's 4.5!). It's such a sweet bedtime story with fun rhymes.
The Nice Book by David Ezra Stein
I love David Ezra Stein's books, and this one is especially sweet.
Press Here by Herve Tullet
This book is so beloved and I was delighted when they released a board book edition. I probably read this one to Tally 100 times or more.
Owl Babies by Martin Waddell, illustrated by Patrick Benson
I bought a bunch of board books when Ella was a baby and Barnes & Noble was selling used books for a few dollars each. This one was an instant favorite and all of my girls have enjoyed it (although none as much as Ella).
BabyLit Collection by Jennifer Adams, illustrated by Alison Oliver
I love these BabyLit books and I have a LOT of them, so there was no way I was getting rid of them. They'll go on the top shelf in my office and just look pretty. I have
A Little Princess, Jabberwocky,
Dracula,
Anna Karenina,
Aladdin,
Jane Eyre, 
Moby-Dick,
Pride and Prejudice,
The Wonderful Wizard of Oz,
The Odyssey,
Wuthering Heights and
Little Women.
War & Peace by Jack Wang and Holman Wang
I love these yarn scenes (I'm floored at the level of detail!) and I have a small collection of them, which are on display in our library bookshelves. We have
The Wonderful Wizard of Oz,
Pride and Prejudice, Moby Dick,
and Great Expectations.
Star Wars Epic Yarns a New Hope by Jack & Holman Wang
I grew up on the original Star Wars trilogy, so even though I'm pretty sure none of my children have even looked at these, I'm VERY into this little board book collection that includes A New Hope, The Empire Strikes Back, and Return of the Jedi.
Paris by Ashley Evanson
If I had to choose a single favorite place-related board book series (a fairly specific category if there ever was one!), it would be this one. I have all four books, which include
New York,
London, and
San Francisco.
My Little Cities by Jennifer Adams, illustrated by Greg Pizzoli
I love board books about cities and places, so obviously this collection was a must-have for me. I have London, New York, Paris and San Francisco.
All Aboard! London by Kevin Meyers, illustrated by Haily Meyers
These places board books are really fun, with tons of gorgeous details, and we have this one as well as the National Parks one and the Paris one.
And if you'd like a printable copy of this list that you can take to your library or screenshot on your phone for easy access, just pop in your email address below and it'll come right to your inbox!
I'd love to hear some of your favorite board books! Tell me which ones you could never get rid of in the comments!
If you liked this post about the board books I kept, you might like these posts too: