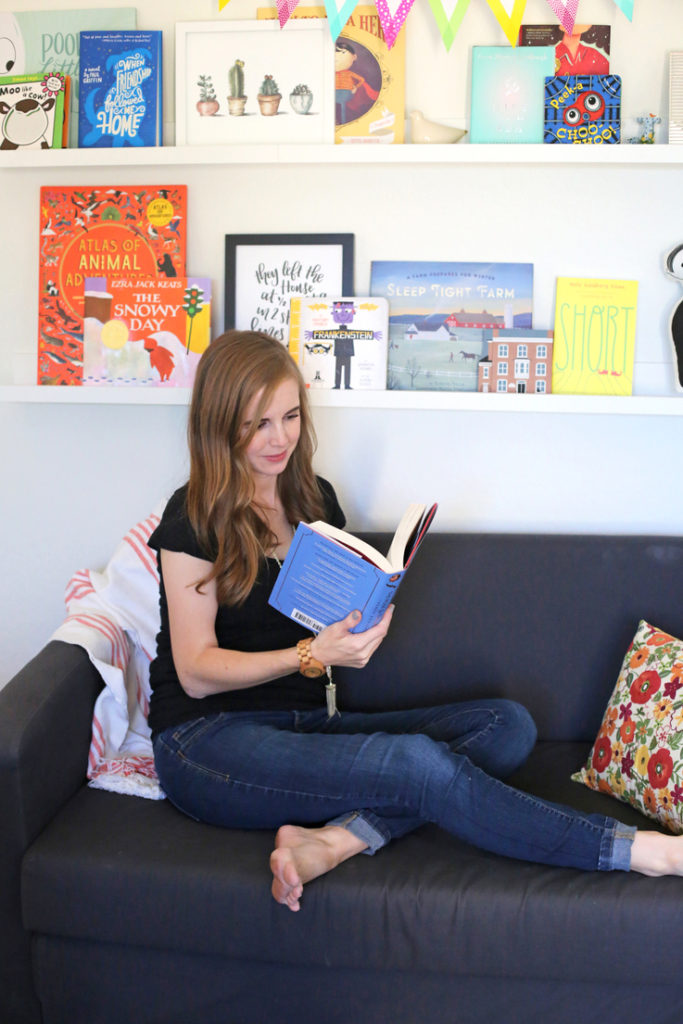 This is a sponsored conversation written by me on behalf of Audible. The opinions and text are all mine.


One of my favorite things about the end of the year is all the best-of lists of books.
Last year, one of my goals was to read 120 books.
Want to guess how I did with that? (Spoiler: terribly).
I BARELY cracked 70.
I feel like one of my problems this year was that 1) I didn't do a great job remember that was my goal, so this year I'll be posting it somewhere I can see it on a daily basis and 2) I didn't always know what to read next or have something around to pick up and read.
So for 2017, my goal is to be more thoughtful about planning what I want to read next and having things on hand to read so it's easier for me to pick reading over wasting time online.
I'm crossing my fingers that this year I'll actually break 100 books.
These are eight books that I'm looking forward to reading this next year:
books to read this year
The Underground Railroad by Colson Whitehead
This book about a woman desperately trying to escape her life as a slave in a Georgia cotton field, is on EVERY list, including Narrator of the Year from Audible, so this is high on my list.
Originals: How Non-Conformists Move the World by Adam Grant
I listened to Adam Grant's first book Give and Take back when we made the drive from Texas to North Carolina in 2013 and now I'm anxious to listen to his next book (preferably not driving through crazy rain in the dark in a strange city this time).
The Inquisitor's Tale by Adam Gidwitz
Someone called this book a new classic on their best-of list, and I've had a copy sitting on my shelf for close to a year. I'm determined to listen to this one, since I'm clearly not getting to a paper copy.
The One-In-A-Million Boy by Monica Wood
I checked this out over the summer, but it was so wildly popular that it was due back before I'd gone more than a chapter. But that chapter was good enough that I want to actually finish it!
The Course of Love by Alain de Botton
Modern Mrs. Darcy mentioned this book on her podcast and then listed it on her best of 2016 reads, so it's way high on my list of things to read this year.
Stuffocation : why we've had enough of stuff and need experience more than ever by James Wallman
I am not a minimalist, but it's a topic I have a lot of interest in and this looks fascinating.
The Sun Is Also a Star by Nicola Yoona
I used to read SO much Young Adult, and now I rarely read it, but this one has been getting so much buzz and also is narrated by the same woman who reads The Underground Railroad, so I'm in, because a good narrator makes all the difference.
Unselfie : Why Empathetic Kids Succeed in our All-About-Me World by Michele Borba
I just saw this book and without even reading the description, I knew I wanted to read it. I love a good parenting book, and I'm crossing my fingers that this is one of them.
I've also blown through about three audio books in the last two weeks, so I'm feeling motivated to listen to more audiobooks this next year.
Audible is hands-down the best place to get audiobooks – no waits, easy membership plans, and the most insane collection of titles out there. Plus you can get a free trial membership and pick any book from their giant catalog.
We got my dad a membership this year for Christmas because he loves to read but has basically zero time to actually sit down with a book.
I loved looking through their Best of 2016 list and adding more books to my to-read list. There are just so many good books out there, and I love that Audible makes it so easy for me to get through many more of the ones I want to read this year while I fold laundry or do dishes.
And if you'd like a printable copy of this list that you can take to your library or screenshot on your phone for easy access, just pop in your email address below and it'll come right to your inbox!
What's on your list for 2017?
if you liked this post of books to read in 2017, you might also like these posts: