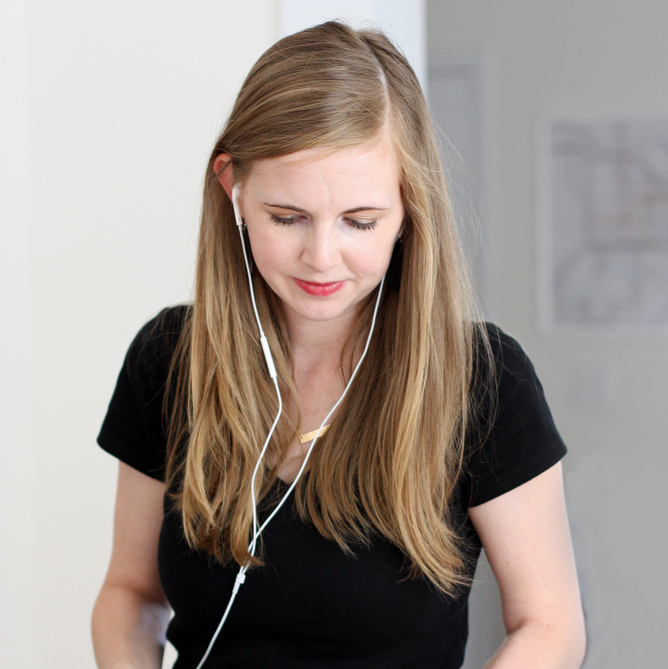 I listened to a few podcasts back in 2007, when you had to transfer them from your computer to your iPod before you went to the gym.
Then, when we were in London, I kind of started getting into podcasts again, enjoying the ability to download them straight to my phone instead of the whole transfer business.
I'm still way more of an audiobook listener than a podcast listener, but sometimes a podcast just is exactly the right length and mental concentration level for me while I run errands or work on a project.
I'll quickly admit that I don't have a big stockpile of podcasts that I listen to. Some that I used to love, I never listen to anymore and frankly, I think it's hard for most podcasts to stay really interesting for episode after episode (just me?).
I'm subscribed to about 15 different podcasts, but I really only listen religiously to three of them. The other ones, I catch an episode of here and there as the topics interest me or when I'm out of the other three.
my favorite podcasts
1. Young House Love Has a Podcast
I never really read their blog (a few posts here and there, but never consistently), but somehow I heard about their podcast and started listening when they only had about three episodes and it just charmed the socks off me. It makes me laugh, I think they're interesting, and I'm obviously way into house projects right now. I would really like to be their neighbors. (Also, I am obsessed with this episode they did about sponsored posts with three other bloggers).


2. Happier
I'm just the biggest Gretchen Rubin fan – in fact, my mom and I went to Seattle in October for their live podcast recording, which was delightful fun and we got to meet her and Elizabeth afterward (I'm still kicking myself that I didn't take my copies of her books to sign). This one is probably my very favorite podcast – it's just the kind of thing I really like, with lots of practical advice.
3. What Should I Read Next? 
Obviously this one is on there. I'll admit that I sometimes get behind on this one because I feel like I need to have a notebook nearby to jot down the books I need to add to my ever-growing to-read list. I'm so impressed by what a wide variety of readers she has on there and how many interesting books they talk about. And I think Anne Bogel is a rockstar interviewer (I was on an early episode last year, which was ridiculously fun).
Other notable ones:
Read-Aloud Revival
I love the variety of topics within reading to your children she covers, and I have lots in her backlog that I'm dying to listen to (The Art of Choosing Books, for instance, or Inspiring Parents in Children's Literature).


The Simple Show
Travel, Home, and Books? Of course I love this one. She's switched things up recently, with a co-host for each of those three topics, and I think they have great discussions on all sorts of interesting topics. It just feels like listening to friends chatting. And makes me wish I lived in Austin still.


Elise Gets Crafty
I subscribed to this one AGES ago and didn't start listening to it until maybe September. But I love all the stories of entrepreneurs and small businesses and bloggers and what works (or doesn't!) for them. Totally inspiring, fun, and eye-opening.
But really, I want to hear about what podcasts you love. I know there are tons of good ones out there that people love, and I'd like to have some more to listen to, especially as I start doing more running post-baby. Or, you know, while I'm nursing said baby.
If you liked this post about young house love podcast and others, you might also like these posts: