I've heard from MANY parents over the years who struggled to help their child love reading until they realized their child gravitated much more strongly toward nonfiction books than fictional stories.
When you're one kind of reader, it can be hard to imagine your child will love a type of book you yourself have very little interest in.
I have several children who LOVE nonfiction books and it's always a delight to find a great new nonfiction series to keep them going for a good long while.
Plus, it's really fun to hear the interesting facts they bring up at dinner and they love sharing something with the adults that we had no idea about!
Here are some of our favorite non-fiction series for middle grade readers!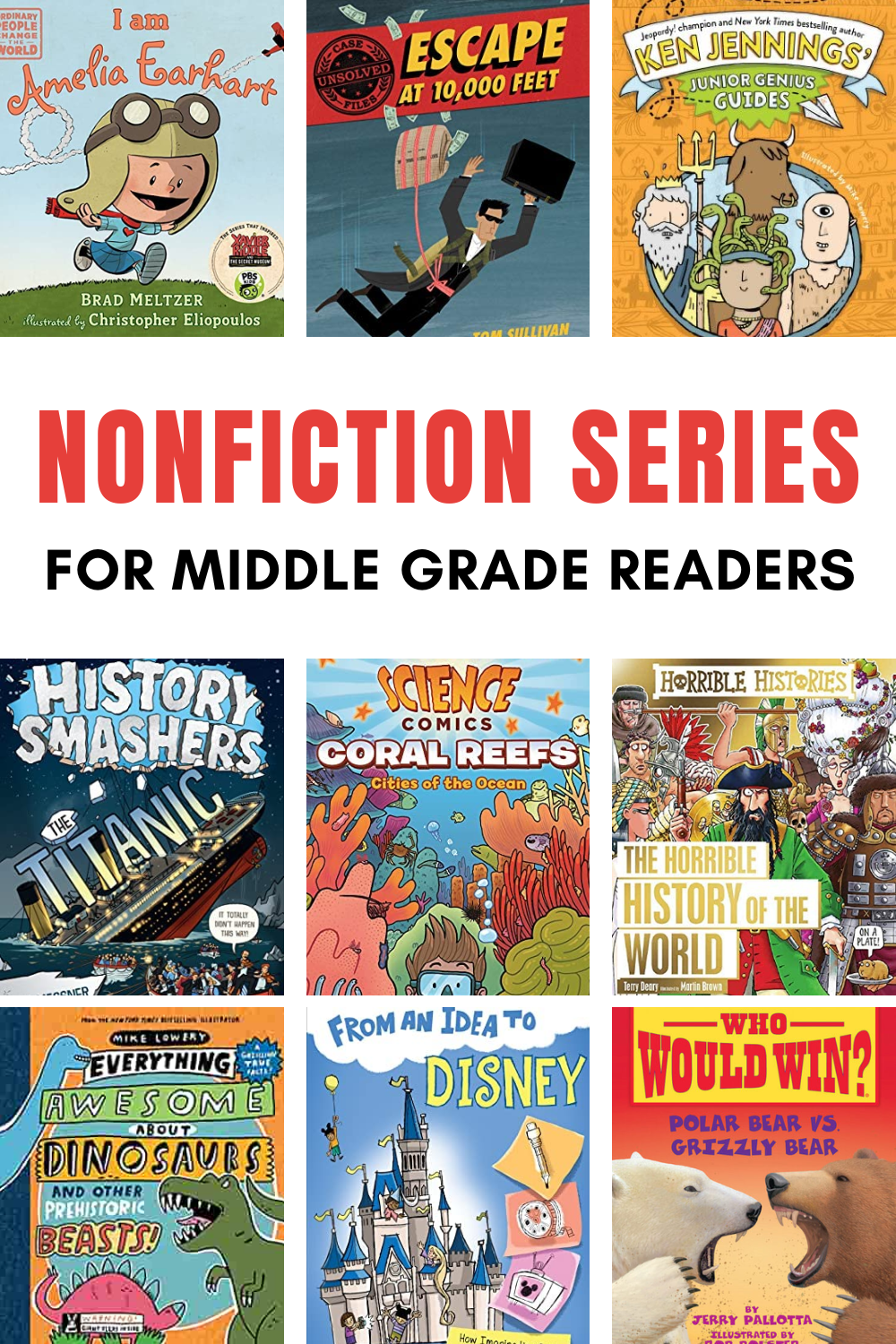 nonfiction series for 3rd-6th grades
Junior Genius Guides by Ken Jennings
7 book series // 160 pages
Remember Ken Jennings- the guy that won four million dollars on Jeopardy? He's the author of this non-fiction book series, starting with one about Greek Mythology. This seven book series includes fun trivia and quizzes and has great illustrations.
Horrible Histories by Terry Deary
51 book series // 100+ pages
It's no secret that history has some less than savory moments and infamous people. This series shines some light on those moments in a satirical way and lets you know all the facts about history you never knew you wanted to know like why Alexander the Great banned beards and who tried to kill her enemies with a cake made of poisoned bath water. (Yoto has some of this series and my 9 year old has especially loved them).
Who Was? by Who HQ
212 book series // 112 pages
This series of short biographies cover famous people living and dead and famous for all sorts of reasons – politics, sports, music, movies, and more. There are over 200 books in the series, so if your reader is a fan, this will keep them going for a nice long time. 
What Was? by Who HQ
62 book series // 112 pages
Each book in this series covers a different historical event with fact sheets, fun illustrations and great historical summaries. With sixty-two books you can learn about events from the Boston Tea Party to the Battle of Gettysburg and Pearl Harbor to The First Thanksgiving.
Unsolved Case Files by Tom Sullivan
3 book series // 110 pages
A graphic nonfiction series about real FBI cases that have never been solved. They're packed with fun illustrations, newspaper clippings, and theories of what could have happened. The two older girls and I have absolutely loved this series. 
History Smashers by Kate Messner
7 book series // 220 pages
For the non-fiction lovers, this History Smashers series is an absolute home run. These books "smash" everything you thought you knew about history. Find out what's true and what's not! This series is like mythbusters for history. Don't miss the other books in this series, including ones about the Titanic, Pearl Harbor, the Revolutionary War, and the Underground Railroad.
I Survived True Stories by Lauren Tarshis
3 book series // 175 pages
Five kids tell their stories from five real disasters. Their narrative makes these stories and their survival really come alive in an incredible way. The disasters covered in this book include The Children's Blizzard of 1888, The Titanic in 1912, The Great Boston Molasses Flood in 1919, The Japanese Tsunami in 2011 and the Henryville Tornado in 2012.
Get To Know Your Universe Science Comics by Andy Hirsch
26 book series // 130 pages
Every volume in this series covers a different topic from dinosaurs and coral reefs, to the solar system and volcanoes. They have amazing, colorful illustrations and cute comic strips interspersed throughout the books. These will be sure to delight kids and adults alike!
You Wouldn't Want to Be series by Andrew Langley
44 book series // 75+ pages
This series teaches history from a fun perspective of places and setting you would not want to find yourself. With full color illustrations, humor and interesting historical facts these books will really get your kids interested in history. They cover a broad range of historical events like WWII and Captain Cook discovering the Hawaiian Islands.
Bizarre Beasts Battles by Charlotte Herriott, Janey Levy, Caitie McAneney, Therese Shea, and Michael Sabatino
12 book series // 25 pages
Can you imagine a showdown between a black mamba and a blue-ringed octopus? Probably not because they live in completely different habitats, but if you could put these two venomous creatures against each other who would win? This book tries to answer that question as well as other unlikely animal matchups.
Everything Awesome About by Mike Lowery
3 book series // 128 pages
This book series goes way beyond the well known facts about dinosaurs and ventures into the wacky, weird and wild details. It has engaging illustrations and is sure to become a favorite for kids who want to know everything there is to know about dinosaurs.
Ordinary People Change the World by Brad Meltzer and Christopher Eliopoulos
30 book series // 40 pages
This wildly popular biography series is perfect for young readers. Each book is 40 pages long, has full-color illustrations and is bursting with interesting stories, quotes, and facts. They cover a wide range of people from politicians to athletes, movie stars to artists, historical figures to scientists. I think I love them as much as much as my girls do!

From an Idea to series by Lowey Bundy Sichol 
4 book series // 115 pages
How did an idea go from just that to Disney or an idea to Google or Nike or Lego? This book series answers that very question in a behind-the-scenes look at these amazing businesses. It covers the history, founders and current day status of these companies. I like the cartoonish illustrations and the fact and definition boxes throughout the books.
Magic Treehouse Fact Trackers by Mary Pope Osborne
42 book series // 115 pages
The Magic Treehouse books are a pretty well known series amongst anyone with grade schoolers. But this companion series is great and gives the facts behind the fun works of fiction. They have up to date information, facts, illustrations all narrated by the familiar characters Jack and Annie.
Who Would Win? by Jerry Pallotta
29 book series // 32 pages
This is another series that does unlikely animal matchups that wouldn't likely happen in the wild, but it's interesting to size up these beasts in a book. The different books include battles between a lion and tiger, a giant squid and a whale, and komodo dragon and a king cobra plus over twenty more! Great books for any animal loving kids.
And if you'd like a printable copy of this nonfiction series book list that you can take to your library or screenshot on your phone for easy access, just pop in your email address below and it'll come right to your inbox!
if you liked this post about nonfiction series books for upper elementary, you might also like these other posts: