There are audiobooks running almost non-stop in our family.
Whether we're driving to swim team in the mornings or the girls are listening before bedtime or during quiet time, you can almost always catch one of us listening.
And currently, middle grade audiobooks are the sweet spot in our house.
(If the term "middle grade" is new to you, it refers to readers between 8-12 years of age (or about 3-6 grades). It's confusing because it's not the same age or grade range as middle SCHOOL, but I don't make the rules).
With a 7, 9 and 11 year old, middle grade audiobooks are just about the right level for most of our children (our 5 year old can keep up with some of them and finds others too scary or advanced).
There are just so many good options out there now, whether you check them out on CDs from your library or download them from Audible or Libro.Fm.
However and wherever you're listening, I hope you'll find some fun new titles for your middle grader to enjoy!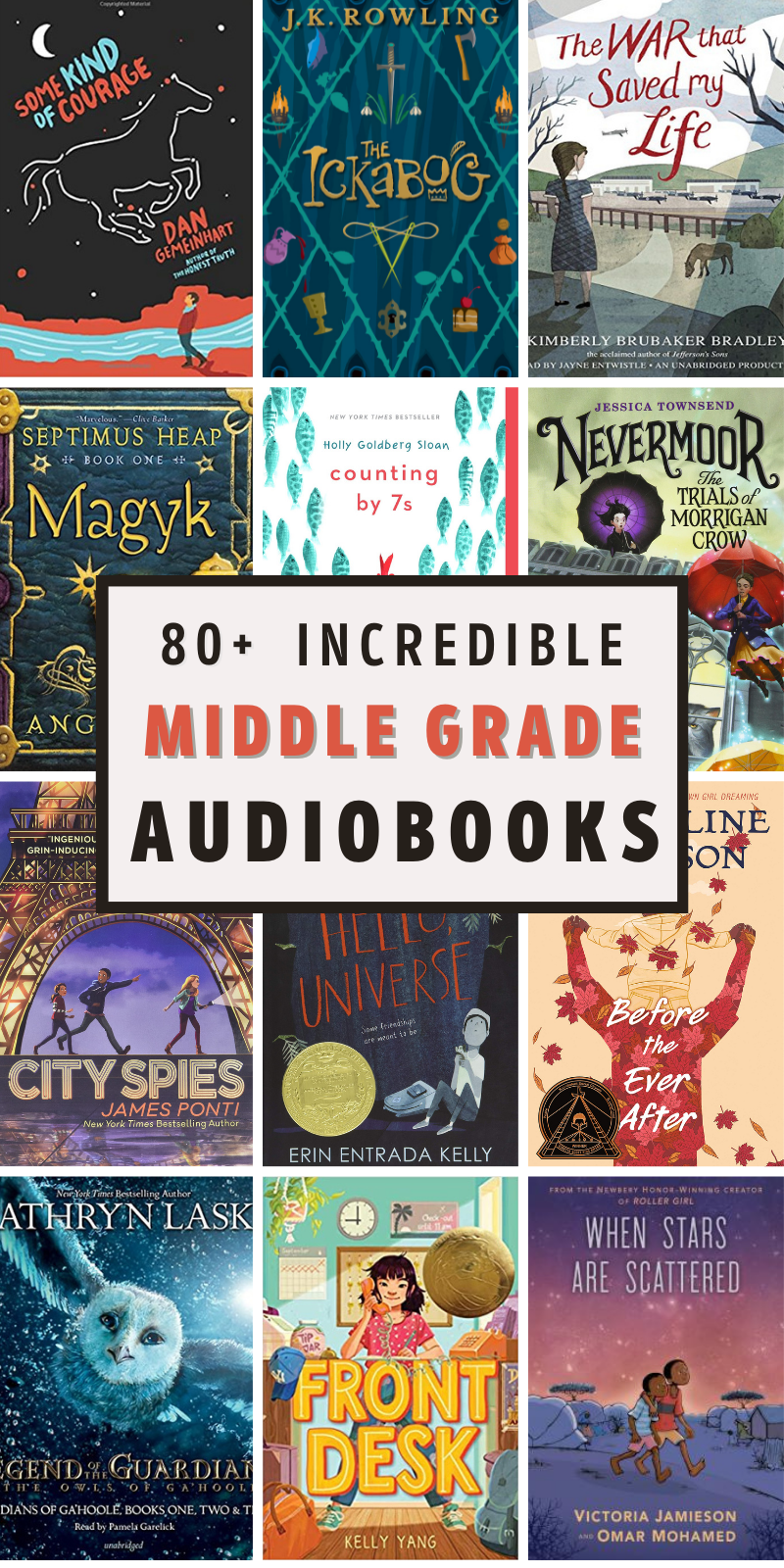 80+ Incredible Middle Grade Audiobooks
The Mysterious Benedict Society by Trenton Lee Stewart
13 hours and 17 minutes
I read this book back when I was a school librarian and have been a fan ever since. We listened to the whole 13+ hour audiobook in the car and my two older girls both LOVED it. As soon as we finished, Ella checked out the rest of the series and listened to them in a week (oh, to have that much listening time. . . ). The book begins with a strange ad in the newspaper asking super smart children to apply and when four children pass the test put before them. Now their job is to go on a secret mission at a mysterious school called the Learning Institute for the Very Enlightened, and puzzles, tests, and riddles will be everywhere they turn. The television series on Disney+ is also REALLY great.

A Series of Unfortunate Events: The Bad Beginning by Lemony Snicket
2 hours and 29 minutes
This wildly popular series is even more hilarious when it comes to life as a full cast audiobook – just be warned that when you listen to the first, you'll probably have no choice but to listen to them all. Such a great audiobook series for 3-6 grades!
Fablehaven by Brandon Mull
9 hours and 13 minutes
Not only is this a fun book, but it's also a big fat series, so if your children love it, there's plenty more where this came from. (Full review here).

Echo by Pam Muñoz Ryan
10 hours and 31 minutes
This is one of the books where I feel deeply sorry for anyone who read this book on paper instead of listening. It's just SO tremendously well done with the musical accompaniment really bringing the magic of this book to life.
Redwall by Brian Jacques
10 hours and 41 minutes
I grew up on this series (I read some of them at least ten times!) and I was so delighted to discover that they're full-cast audio productions. For your fantasy and animal lovers, these are unbeatable!

The Green Ember by S.D. Smith
7 hours and 55 minutes
This series takes a fun spin on a fantastical story with lead characters Heather and Picket rabbit. They make their way through a land filled with kingdoms, tyrants, and ultimately prove that good conquers evil in the end. This is the first book in a great series!
Artemis Fowl series by Eoin Colfer
6 hours
This one just came out as a movie on Disney Plus (although the reviews I'm hearing aren't great) and it was the July book for the 2020 Everyday Reading Book Club. If you love some magic and mischief, this is the kick off to a delightful series. 

The Chronicles of Prydain series by Lloyd Alexander
5 hours
I wasn't even familiar with The Prydain Chronicles until we got married and Bart's parents gave me the whole series as a gift (and then Bart went back and read them all again before I got to them!)

Land of Stories: The Wishing Spell by Chris Colfer
9 hours
I'm pretty sure I didn't see Ella for a month when she blazed through this entire series. Alex and Conner, sister-brother twins, open up a beloved book of stories only to find themselves sucked into the book. In a mysterious land where magic runs rampant, they find themselves interacting with fairy tale characters they've heard about all their lives. The real question is. . . can they ever get home?

Where the Red Fern Grows by Wilson Rawls
7 hours
I love love loved this book as a child and my children were fully engrossed by it when I read it to them. It's excellent as an audiobook too because you won't have to try to read through your tears. 

The Penderwicks: A Summer Tale of Four Sisters, Two Rabbits, and a Very Interesting Boy by Jeanne Birdsall
6 hours and 43 minutes
This series is pretty recent (in the last ten years), but it has the feel of a classic and we all loved these stories about four sisters and their summer vacation. There's a reason these books are BELOVED. My girls have listened to all the books in the series many times.
Percy Jackson series by Rick Riordan
10 hours
I grabbed my mother-in-law's copy of this book when we were living there and I suddenly found myself without a next book to read to the girls and they are SO INTO it. Seriously, there were shrieks of despair every night when I finished for the evening. I read it back in 2008 and it's fun to revisit – I enjoyed it MUCH more as a read aloud than I did when I read it solo! (Full review here).
Wonder by R.J. Palacio
7 hours and 10 minutes
We listened to this in the car as a family and all my girls were SO INTO it. There were so many good discussions that came from listening to it together – everything from how genes work to how we judge others based on appearance to sibling relationships.

Esperanza Rising by Pam Muñoz Ryan
4 hours and 42 minutes
I read this in one of my children's lit classes in grad school and just seeing the cover takes me right back to 2009. Esperanza never thought she would leave her incredibly nice ranch, beautiful dresses and all of the help around her home. Unfortunate events strike her family hard and force her and her mom to flee to California and make a home on a Mexican labor camp. Esperanza has to grow up quickly and adjust to her new lifestyle especially when her mom falls ill. 
From the Mixed-Up Files of Mrs. Basil E. Frankweiler by E.L. Konigsburg
3 hours and 45 minutes
This was a middle grade audiobook we listened to a few years ago and I was just completely overwhelmed by how GOOD this story about siblings that run away from home and live in the Metropolitan Museum of Art is. This woman is a master writer.

Peter and the Starcatchers by Dave Barry
8 hours and 40 minutes
This is such a fun twist on the classic story of Peter Pan. I mean, I'm already a massive fan of Dave Barry, but this was just perfection and the narration by Jim Dale of Harry Potter fame made it even more magical. (Full review here)

A Long Way From Chicago by Richard Peck
4 hours and 17 minutes
I love this book and it's sequel, A Year Down Yonder, about a brother and sister that go to spend the summer and then a full year with their unusual grandmother in the country. (Full review here)

Chronicles of Narnia: Complete Audio Collection by C.S. Lewis
33 hours and 45 minutes
During World War II, four siblings are sent to the countryside of London where they are to be kept safe from the war. One of the children finds a wardrobe that has the ability to transport them to a completely different world called Narnia. This series is full of excitement and adventure and has been beloved for generations. 

Tuesdays at the Castle series by Jessica Day George
6 hours and 21 minutes
My girls are OBSESSED with this series. We listened to the first one in the car and now both of my older girls have listened to the rest of the series on their own.

Lemoncello series by Chris Grabenstein
6 hours and 19 minutes
This is one of those middle grade novels that took the world by storm – it has been SO popular and for good reason. Mr. Lemoncello is a world-famous game maker AND he's designed the new city library. And on opening night, there will be a lock-in for kids where they have to solve the puzzles to find the hidden escape route. (You can see why it spent 100 weeks on the NYT Bestseller List). (Full review here)
Book Scavenger by Jennifer Chambliss Bertman
8 hours and 17 minutes
This is a three book series, and I'm pretty sure I've even checked it out from the library but never actually cracked it open (story of my life). Emily has moved to San Francisco and can't wait to meet Garrison Griswold who created Book Scavenger (a game where books are hidden around the country and there are clues to locate them. But when she discovers that Griswold is in a coma after an attack, she takes it on herself to figure out what Griswold's newest game was going to be.

The Boxcar Children by Aimee Lilly
1 hour and 47 minutes
I was obsessed with this chapter book series growing up and read probably a hundred of them. I like that the mysteries aren't too scary and I really love that they showcase siblings that like each other, get along, and work together to solve problems. These are short and perfect for younger middle grade listeners.
Harry Potter and the Sorcerer's Stone by J.K. Rowling
8 hours and 18 minutes
I hardly even need to include Harry Potter on this list because everyone already knows how incredible Jim Dale is as a narrator. But I have to mention it anyway! (Wondering when the right age to read Harry Potter is? I wrote a whole post about how to figure it out for your child here!)

Ella Enchanted by Gail Carson Levine
5 hours and 43 minutes
This might be one of my top five all-time favorite books. When Ella read it without me, it just about killed me and then I had to go back and read it aloud to all my girls.
I Will Always Write Back: How One Letter Changed Two Lives by Martin Ganda
8 hours and 51 minutes
This is a fantastic non-fiction story of two international pen pals that start as a school project and become life long friends. I included this one on the 2018 Summer Reading Guide.

Turtle in Paradise by Jennifer L. Holm
3 hours and 47 minutes
I only know Holm from the Babymouse series, so it was fun to read this historical fiction novel about a girl sent to live with distant relatives during the Great Depression and sets off with her cousins to find buried treasure. This book is funny, sweet, and not too long. Definitely a winner.

The Magyk series by Angie Sage
12 hours and 10 minutes
Magyk begins when Septimus Heap, the seventh son of the seventh son, vanishes on the night of his birth. The midwife declares him dead . . .but that might not be the whole story. And things really get interesting when, on the same evening, Septimus' father finds a newborn baby girl abandoned outside.

Amari and the Night Brothers by B.B. Alston
11 hours and 12 minutes
This is a fantasy book that snagged spots on many best of the year lists when it came out. I considered just giving it to Ella to read but . . . I didn't want to miss out on this story about a girl who is determined to find her missing brother and discovers that magic is real in the process. We all loved this one! 

How to Train Your Dragon by Cressida Cowell
3 hours and 30 minutes
Ella listened to this whole series and loved every second of it. My sister has three boys and they are obsessed with it too. There are 13 books in the series and these stories of Vikings and dragons are fast paced and delightful. 

The Wednesday Wars by Gary D. Schmidt
7 hours and 27 minutes
Oh my word. If you've been around for any length of time, you know how deeply obsessed I am with this book. I read a paper version and then went back and listened to the audio version which was absolutely amazing.  (Full review here)

Hello, Universe by Erin Entrada Kelly
5 hours and 17 minutes
This one won the Newbery and follows four children in a neighborhood who are all dealing with their own struggles and come together to solve a problem. It's a sweet story that's perfect for enjoying as a family. 

A Place to Hang the Moon by Kat Albus
8 hours and 5 minutes
It's 1940 in London, right in the middle of World War II when three children become orphaned. Unsure what to do, they leave their home and head for the countryside in hopes of finding a good temporary or even permanent home. This one is PHENOMENAL – one of my favorite books I've read with my children.
The Tiger Rising by Kate DiCamillo
2 hours and 11 minutes
This is another great novel from one of my favorite authors, Kate DiCamillo. She writes about Rob Horton, an 11 year old boy who finds a caged tiger in the woods behind the hotel where he lives with his father. He and his new friend, Sistine, have to decide what to do with this new found discovery while also coming to terms with Rob's past.
Before the Ever After by Jacqueline Woodson
2 hours and 14 minutes
I often struggle with novels in verse, so listening to them makes them much easier for me to appreciate. This one is TERRIFIC – it follows a young boy who's father is a professional football player and hugely beloved. And now he's starting to act strangely with angry outbursts followed by long periods of silence. I won't lie – I sobbed through the end of this one.

Loot: How to Steal a Fortune by Jude Watson
7 hours and 6 minutes
When March's burglar father dies, March discovers he has a twin sister he never knew about and the two of them are sent together to a terrible orphanage. But they aren't going to stay there. . . .they're going to follow their father's lead, pull of a stunning heist and live like royalty!

The Graveyard Book by Neil Gaiman
7 hours and 43 minutes
I'd heard a lot about The Graveyard Book even before it won the Newbery since it's by Neil Gaiman, a man who inspires a following like few others. It was so lovely and poignant and also sweet and funny. (Full review here)

The Beatryce Prophecy by Kate DiCamillo
4 hours and 19 minutes
Baby Beatryce is found in the stalls at the monastery. She is dirty, bloody, sick as can be and clinging to a goat. As the monks take care of Beatryce, they figure out she has powers the king wants and he will do anything to get his hands on the girl.
The Terrible Two series by Mac Barnett
3 hours and 22 minutes
My girls have listened to these books about the antics of two pranksters on repeat for months – if you have a child who likes humor, some slapstick, and a little naughtiness, these books are for them.
Princess Academy by Shannon Hale
7 hours and 24 minutes
I've listened to this one multiple times and I never get over how GREAT the production is of this one (my girls loved it too) about a remote mountain town that becomes host to a competition to choose the next Princess who is prophesied to come from this town. (Full review here) 

The Vanderbeekers of 141st Street by Karina Yan Glaser
5 hours and 39 minutes
We just finished this one in the car last week, and it was such a fun story about five siblings who are about to lose their beloved brownstone home in Harlem, thanks to a cantankerous (and mysterious) landlord who refuses to budge.

Running Out of Time by Margaret Peterson Haddix
5 hours and 22 minutes
Jessie and her family live in a frontier village in 1840 and when diphtheria sweeps through the village, there's no hope. Until Jessie's mother tells Jessie the big secret – it's actually 1996 and their village is a reconstructed tourist site. Now Jessie's mother is tasking her with slipping out into the real world to bring back the medicine that can save them all.

The Hardy Boys series by Franklin W. Dixon
4 hours
I don't know that I ever read a single Hardy Boys book growing up – I was more of a Nancy Drew girl myself – but it was fun to see Ella dive into an updated graphic novel series of these classic mysteries.

The One & Only Ivan by Katherine Applegate
3 hours and 46 minutes
I pretty much don't care for animals (I know) and I STILL think this is one of the best kids books ever, Newbery winner or not. When a book is this sweet, funny, and well-written, who cares if it's narrated by a gorilla? Not me. (Full review here)
The Magic Misfits by Neil Patrick Harris
4 hours and 13 minutes
A street magician runs away and finds something he never expects in a sleepy New England town- friends and magic! He teams up with his new found friends to save the town from villainous B.B. Bosso!
Spy School series by Stuart Gibbs
6 hours
This series is super popular and I'd never read it, so I picked it up for one of our read-alouds. It's definitely intended for older middle grade readers (when I read it aloud, my five and seven year olds didn't care for it at all). 

The Candy Shop War by Brandon Mull
10 hours and 26 minutes
Ella's best friend from Arizona wrote her a letter recently mentioning that she was reading and loving the Fablehaven series. Naturally, Ella was anxious to read it too, but when our library didn't have it checked in, we grabbed another book by Brandon Mull and Ella has been THRILLED by it. I mean, magical candy that gives superpowers? Throw in a fight against evil and Ella was ALL in.

Matilda by Roald Dahl
4 hours and 18 minutes
I think Roald Dahl's books are just MADE for listening and I could have added many of his titles. Matilda is one of my favorites, plus it's narrated by Kate Winslet.

The Wingfeather Saga by Andrew Peterson
8 hours and 19 minutes
The three gifted Igiby siblings pull together their smarts, heart, and courage to defeat the evil Fangs of Dang who have crossed the dark sea to rule the land with malice. This audiobook also includes a PDF of maps, illustrations and character guides.
Lucky Broken Girl by Ruth Behar
6 hours and 40 minutes
Based on the author's own life, this is the story of Ruthie, a Cuban-Jewish immigrant girl living with her family in New York City. She loves life in the city, playing hopscotch with her friends outdoors, and attending school. But after a car accident, she's put into a full-body cast and spends a year home in bed recovering. While her world has become very small, she discovers lots about herself, her family, and the neighbors around them, and it's a completely compelling and heart-warming story. This one was on the 2017 Summer Reading Guide!

Insignificant Event in the Life of a Cactus by Dusti Bowling
5 hours and 27 minutes
My big girls listened to this one repeatedly last summer. Moving is never fun, but it's especially unpleasant for Aven who was born without arms. A new town and school means she'll have to explain herself repeatedly to a bunch of strangers. But in her new town, she make friends with Conner, who also feels like an outsider in their school. And together, they embark on solving a mystery at the dilapidated theme park her parents are running.

Framed! by James Ponti
5 hours and 23 minutes
Ella has loved the City Spies books, so when I discovered this mystery series by the same author, I snagged them all for Ella who blew through them in a week. This book follows Florian Bates who is the only kid that the FBI Director has on speed dial (and a kid that a whole lot of criminals want taken care of). After a move to DC, Florian and his new friend Margaret uncover a mystery that involves a major crime ring, the FBI and the National Gallery. It's up to them to solve the mystery AND get their homework done.
Nancy Drew Diaries by Carolyn Keene
3 hours and 35 minutes
I grew up reading the original Nancy Drew books so it's fun to see the same characters in this new version of the mystery stories. Ella LOVES this series and has read them over and over again.

I Survived Books by Lauren Tarshis
1 hour and 16 minutes
If you have a non-fiction lover, these short middle grade books about big historical events are really fun and high action. They're a perfect fit for reluctant readers, especially those with low patience for made up stories. 
The False Prince by Jennifer A. Nielsen
8 hours and 14 minutes
Ella blew through the whole series and then insisted Bart listen to them too. Like a good dad he did, he started them and then loved them just as much as she did. Highly recommend!

Wings of Fire by Shannon McManus
8 hours and 32 minutes
This new middle grade fantasy fiction is a gripping tale about seven dragon tribes that have been at war for generations. A plot is hatched to finally bring an end to the fighting but the five dragonets that are at the heart have a different plan.
Hatchet by Gary Paulsen
3 hours and 42 minutes
Ella (like so many readers before her) was completely absorbed by this story of a boy alone in the wilderness trying to survive after a plane crash.
Dragon Rider by Cornelia Funke
11 hours and 35 minutes
I know Cornelia Funke best for her Inkheart series, but Ella LOVES this book about a boy named Ben and a young dragon called Firedrake who are both determined to find a place here dragons can live peacefully. Of course their quest is full of challenges and the story is jammed with surprises, mysterious creatures and terrifying villains. The audiobook is read by Brendan Fraser and it's terrific.

Front Desk by Kelly Yang
6 hours and 30 minutes
This middle grade novel, about a family that comes to the US from China in the 90s, is such a fascinating look at the immigrant experience. Highly recommend this, plus the sequels! (Full review here)

The War That Saved My Life by Kimberly Brubaker Bradley
7 hours and 38 minutes
I read this WWII middle grade novel about children who were evacuated from London to the countryside during the Blitz in 2015 and still remember it so clearly – it's fantastic and a worthy recipient of a Newbery Honor. (Full review here)

The Wild Robot by Peter Brown
4 hours and 14 minutes
The girls and I listened to this fun audiobook a few years ago and I've heard from SO MANY families that have loved this one too.
Riding Freedom by Pam Muñoz Ryan
2 hours and 21 minutes
Nobody does historical fiction like Ryan and this one, about Charlotte Parkhurst, follows her fight to follow her dreams in the 1800s when women had very few options.

Mrs. Smith's Spy School for Girls by Beth McMullen
6 hours
After a failed escape from her boarding school, Abigail discovers her school is actually an elite spy-training program! She goes through a crash course in Spy Training 101 in order to find her recently gone missing, mother, who is also a top agent!
My Side of the Mountain by Jean Craighead George
4 hours and 36 minutes
A great survival story, Sam is so unhappy living with his family in New York City that he runs away to the Catskill Mountains. He learns about courage, danger and independence as he figures out how to survive all on his own.
Aru Shah and the Nectar of Immortality by Roshani Chokshi
11 hours and 19 minutes
This bestselling fantasy novel is the fifth and final one in the series about he Pandava quintet. It's an exciting story with some unexpected twists and a great finale to an excellent series.
Nevermoor: The Trials of Morrigan Crow by Jessica Townsend
11 hours

Morrigan Crow was born on Eventide, the unluckiest day for any child to be born, and thus lives a cursed life. As she awaits her fate, she is whisked away into the safety of a secret, magical city called Nevermoor. She learns that to stay in the safety of Nevermoor she has to compete in four difficult trials and discover her own extraordinary talent- or have to leave the city and face her deadly fate.
Song for a Whale by Lynne Kelly
6 hours and 34 minutes

Despite being deaf, 12-year-old Iris is a tech genius, but because she is the only deaf person at her school, people treat her like she's not very smart. When she learns about Blue 55, a real whale who is unable to speak to other whales, she feels a connection with him and invents a way to sing to him! She has to figure out a way to play her song for him.
Alice's Farm: A Rabbit's Tale by Maryrose Wood
11 hours and 8 minutes
Alice, a brave young cottontail rabbit has to figure out how to work with the others animals on the farm, including some that would rather eat her, in order to save the farm from developers that would rather bulldoze it.
The Remarkable Journey of Coyote Sunrise by Dan Gemeinhart
9 hours and 12 minutes
Coyote and her dad have lived together on the road in an old school bus for the past five years, ever since her mom and two sisters died in a car crash. She hasn't been back to her home state of Washington in all that time, but when she learns the park where she and her mom had buried a cherished memory box is about to be demolished, she devises a plan to get her dad to drive over 3,000 miles in four days to retrieve it.
The Fairy-Tale Detectives: The Sisters Grimm by Michael Buckley
6 hours and 9 minutes
I first heard about this series nearly a decade ago from my mother-in-law who read it with one of my nieces and Ella spent a year blazing through the ten books of the series. Two orphaned sisters are sent to live with their grandmother (who they didn't even know existed) in a strange little town called Ferryport Landing. When they arrive they soon learn that they have descended from the Brothers Grimm and the book of fairy tales those brothers wrote? Is actually history. And as one fairy tale mystery after another pops up in their town, it's up to the sisters to solve the mysteries. This series is just DANG fun, with all the characters from every fairy tale you know popping up. The question is, who can they trust and who is trying to take them down?
The Mystwick School of Musicraft by Jessica Khoury
8 hours and 18 minutes
This magical book was the first one we listened to together after we joined Audible Plus – it's delightful!

Frindle by Andrew Clements
1 hour and 40 minutes
Andrew Clements is just a master of the school story, and this is his most popular one, about a boy who wants to get his whole school calling pens "frindles." Andrew Clements is just a MASTER of the short middle grade novel.
Theodore Boone: Kid Lawyer by John Grisham
5 hours
Theodore Boone is 13 years old and obsessed with the law. He dreams everyday of becoming a lawyer is is constantly networking himself and studying the law. Because of his nosy nature, he ends up in the middle of a murder case and only Theo knows the truth about the main suspect. As an adult reader, I didn't love it nearly as much as his adult mysteries, but it's still a fun read. (Full review here)

The Genius Files by Dan Gutman
6 hours and 8 minutes
In this fun novel, Coke and Pepsi have to evade their crazed health teacher and two guys in bowler hats by accomplishing some pretty crazy feats. Jumping off cliffs, escaping their burning school and jumping off sand dunes are just a few of the challenges they face in this thrilling tale.
Houdini and Me by Dan Gutman
3 hours and 18 minutes
My girls were absolutely transfixed by this book. They didn't know much about Houdini before this and we all loved the photographs of the real Houdini scattered throughout the book. In this story, Harry is a young boy who lives in the house Houdini once inhabited and loves learning more about the famous magician. But things take a surprising turn when he discovers an old flip phone and it starts receiving texts from someone who claims to be the real Harry Houdini.
Nanny Piggins by R.A. Spratt
4 hours and 7 minutes
Our family is OBSESSED with Nanny Piggins – the stories are so wacky and funny and my girls could listen for hours. She also has several other series which are equally delightful (although Nanny Piggins remains the top contender at our house).
Legend of the Guardians, Book 1-3 by Kathryn Lasky
16 hours and 42 minutes
This three in one audiobook is the basis of the animated movie, Legend of the Guardians. It Is the story of Soren, Gylfie, Twilight and Digger as they seek the truth, reunite with their families and protect the owl world from danger.
Astrid the Unstoppable by Maria Parr
6 hours and 10 minutes
Astrid, nicknamed "the little thunderbolt" loves racing down the hillside on her sled and singing loudly as she goes. She frequently visits her unlikely friend Gunnvald, her 70 year old best friend and godfather. Astrid's world gets turned upside down at the arrival of a tall woman who everyone seems to know except her. Astrid devises a plan to set things right again.
The Phantom Tollbooth by Norton Juster
4 hours and 41 minutes
My mom did the majority of the reading aloud when I was growing up, but this one my dad read to me (and only me!) and I'll forever have fond memories of it. Plus, it's just so darn clever.

City Spies by James Ponti
6 hours and 50 minutes
City Spies is the story of five kids from all over the world brought together to operate out of a secret MI6 base in Scotland, working on cases that adults can't get anywhere near. It's clever and funny and fast-paced and a total kid pleaser. This is the first in the series which currently has 3 books.

Charlie Thorne series by Stuart Gibbs
8 hours and 19 minutes
Genius Charlie Thorne is in the race of her life to solve a 2000 year old mystery, in which she has to fight against ruthless enemies, match wits with Cleopatra and prevent the most powerful treasure of the ancient world from falling into the hands of evil. This novel has it all and be sure to check out all the books in the series!
FunJungle series by Stuart Gibbs
7 hours and 26 minutes
Twelve year old Theodore "Teddy" Roosevelt Fitzroy and his friend Summer McCraken put their heads together to solve the hippo homicide at the FunJungle. Will they crack the case and bring justice to Henry the hippo?
Boys in the Boat (Young Readers Adaptation): The True Story of an American Team's Epic Journey to Win Gold at the 1936 Olympics by Daniel James Brown
5 hours and 36 minutes"
My mom and I both read this incredible book about a team of young college boys who competed in the 1936 Olympics in Nazi Germany and pulled off an astounding win against all odds. A year or two later, when we went on a trip to Seattle together, we visited the University of Washington where the team was from and saw their boat hanging on display in the ASUW Shell House. This is the young reader version of the adult novel and it's a great one for the whole family!
Gregor the Overlander by Suzanne Collins
6 hours and 33 minutes
You'll recognize Suzanne Collins' name from The Hunger Games, but before there was Katniss there was Gregor and Bart sped through this entire middle-grade series in a few weeks on audio. It can be a little intense, so if you have easily scared kids, you might want to wait until they're a bit on the older end of middle grade.
Out of My Mind by Sharon Draper
6 hours and 49 minutes
Melody is 11 and because she has cerebral palsy, she can't walk or talk or write. In fact, most of the people she interacts with think she has very low brain function. It turns out? She's actually super smart. If she can just figure out how to let anyone know it. This one is TERRIFIC.
Little House on the Prairie by Laura Ingalls Wilder
5 hours and 45 minutes
I grew up on these books (I lived in Wisconsin until I was almost 7 and we went to the rebuilt Little House in the Big Woods which I still remember very clearly) and waited my whole life to have children of my own to read them to. When Ella was in kindergarten, we read the first four books together and my girls have listened to the audio dozens of times since then.
The Tale of Despereaux by Kate DiCamillo
3 hours and 30 minutes
This is a Newbery winner about three different characters – a tiny mouse, a rat who loves the light, and a little girl who wants to be a princess. (Full review here)

When Stars are Scattered by Victoria Jamieson
3 hours and 42 minutes
You might think a graphic novel is really best enjoyed when you can see the . . . you know, graphics. But the audio version of this stunning book is out to prove you wrong with a full-cast narration that brings this true story of a young boy living in a refuge camp in Kenya, caring for his non-verbal younger brother and trying to attend school to life in the most stunning way. In fact, people who have listened to this audiobook tell me they feel sorry for people who read it on paper instead of getting to experience the audio version. This is a terrific one for both older middle grade readers and adults!

And if you'd like a printable copy of this list that you can take to your library or screenshot on your phone for easy access, just pop in your email address below and it'll come right to your inbox!
What other middle grade audiobooks have you loved? I'd be delighted if you shared your favorites in the comments!
If you liked this list of middle grade audiobooks, you might also like these posts: