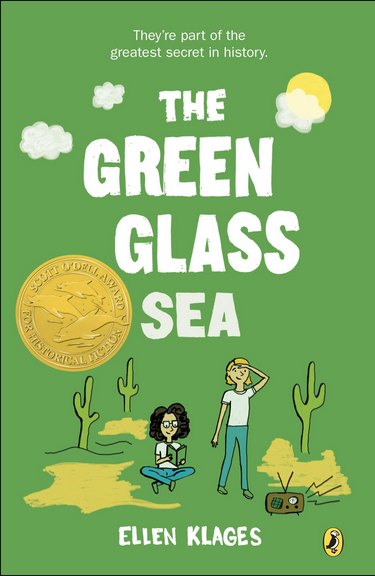 9 of 10: I loved The Green Glass Sea, another title from the Massachusetts Children's Book Award list. This is excellent historical fiction about the Manhatten Project, a topic there isn't a lot written about for kids. My students seem to be really interested in it too, with some encouragement.
Like much of the world, it seems, I have an interest in World War II. With two grandfathers that fought in the war (one as a bombardier and one in the navy), it might be hard not to. I've read a lot of historical fiction dealing with this time period (most recently Ten Cents a Dance), and this one is really a gem.
the green glass sea by ellen kleges
Dewey is nearly eleven, living with her grandmother in St. Louis, while her father is in Chicago doing war work. He was formerly a physics professor at Harvard, but once the war started up, the government recruited him to work on their projects.
Now Dewey's grandmother has suffered a stroke and so Dewey is being shipped off to live with her dad (to her delight). But instead of him showing up to take her back to Chicago with him, an army woman shows up and puts her on a train, bound for New Mexico, where, to her surprise, her father is.
She ends up at Los Alamos, a location that didn't even appear on maps in that time, and she is quickly enrolled in school and settles in to life there, delighted to be with her father on a daily basis, even if he sometimes doesn't come home until she's in bed.
No one, of course, talks about what everyone is working on, although the kids speculate endlessly about what "the gadget" might be. Dewey has always been a little bit of an outsider, content to work on her own inventions, especially since her leg, shorter than her other, requires her to wear an odd looking shoe and makes it hard for her to run quickly or participate in the games the other children play.  She doesn't mind the differences, though, and in Los Alamos, she finds a school where they allow her to skip about three grade levels in math, and the streets are full of professors from top universities and Nobel prize winners eat dinner at the same restaurant you do. It's kind of magical for Dewey.
Suze, on the other hand, who has TWO parents involved in the project, hates being in Los Alamos, especially because she hates her outsider status. She's just too big and bossy and all her attempts to fit in end up making her the point of ridicule. The idea of being even more on the outside by associating with Dewey is absolutely unappealing to her. And yet, association is forced when Dewey's dad has to go to Washington for an extended trip, and Dewey moves in with Suze's family.
The setting of this book was so real – you could just feel the dusty streets, the pounding sun in the summer, the hastily assembled housing for the families, and the old-timey feel of the general store where the kids assemble for cokes and ice cream on hot days.
It's always fun to read a book, I think, where you know more than the characters. You know, of course, what "the gadget" is and what it will be used for and how it will affect the outcome of the war.
The cover of the school's copy (a paperback) is, sadly, even less appealing than this one, which I think has prevented it from ever being checked out. I'm hoping it'll circulate pretty well now that I've introduced them to it.
If you liked this review of the green glass sea, you might also like these books: