9 of 10: For a girl like me, raised on Little House on the Prairie and Caddie Woodlawn, Hattie Big Sky was like finding a long lost friend. This is a slightly more grown-up version of those books, but still retains the same feel. I loved Hattie Big Sky from the first moment to the last.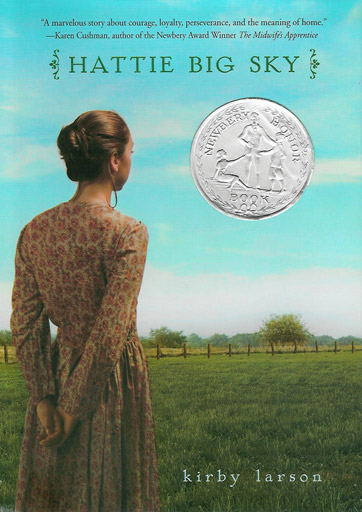 Hattie Big Sky by Kirby Larson
Hattie has been an orphan (of course she is) for years, shuffled between unwilling relatives since childhood. Now, at sixteen, her great almost-aunt is ready to ship her off to work as some sort of maid. Hattie, of course, hates the idea, but finds herself saved when a letter arrives declaring that her uncle (a self-proclaimed scoundrel) has died and left her, his only living relative, his homestead in Montana.
Despite her aunt's protests, Hattie packs her things, leaves Iowa and heads to Montana where she finds herself alone on the prairie in a tiny little shack, with one horse and one cow to her name, plus the responsibility of "proving up" within the next nine months ("proving up" requires her to pay $37 in filing fees, plant 40 acres of the land, and put up several miles of fencing). Normally she would have three years to prove up, but because her uncle started out on the claim over two years earlier, she has only a little time to do what is required.
And all of this set against the backdrop of World War I. You don't hear as much about homesteading and farming in the modern era, after the invention of cars. It's a little disconcerting to have Hattie sitting on her front stoop and looking up to see a motorcycle roar into her front yard.
Hattie has a school friend, Charlie, who is off in Europe serving in the war and she writes to him consistently. To him, she talks not only of her growing love for Montana and the difficult life there, but also the hatred for German-born homesteaders that is becoming increasingly prevalent. The family she is closest to in Montana has a German husband/father and he is often the target of such bigotry as the war drags on. The idea of going out to homestead at sixteen is just the sort of thing I loved as a child and still find completely intriguing.
And you can't get a better heroine than Hattie. She is so determined to make this all work – the miles of fence posts that have to be put up, plowing, planting, harvesting, keeping up with her chickens, horse, cow, and cat.
I think these kinds of plots are generally aimed at a younger audience, but this one is marked as 10-16 and it's pretty accurate. This book has enough complexity for it to be interesting to those who might have thought they'd aged past the homesteading kinds of books. As a side note, I listened to this book on CD and the narrator, Kirsten Potter, is perfect. Oh, I loved her. She was Hattie.
Hattie Big Sky was the perfect weekend book – real, honest, and so likable I wanted to cry – I listened to much of it lying on the couch on Friday afternoon. A nice change from the angsty teenage love stories I also love.
If you liked Hattie Big Sky by Kirby Larson, you might also like these books: